Your mother just called and she's requesting these Cinnamon Swirl Pancakes for breakfast on Sunday. These pancakes are sweet and cinnamon-y, fluffy and crispy-edged, just what every mother and weekend morning deserves.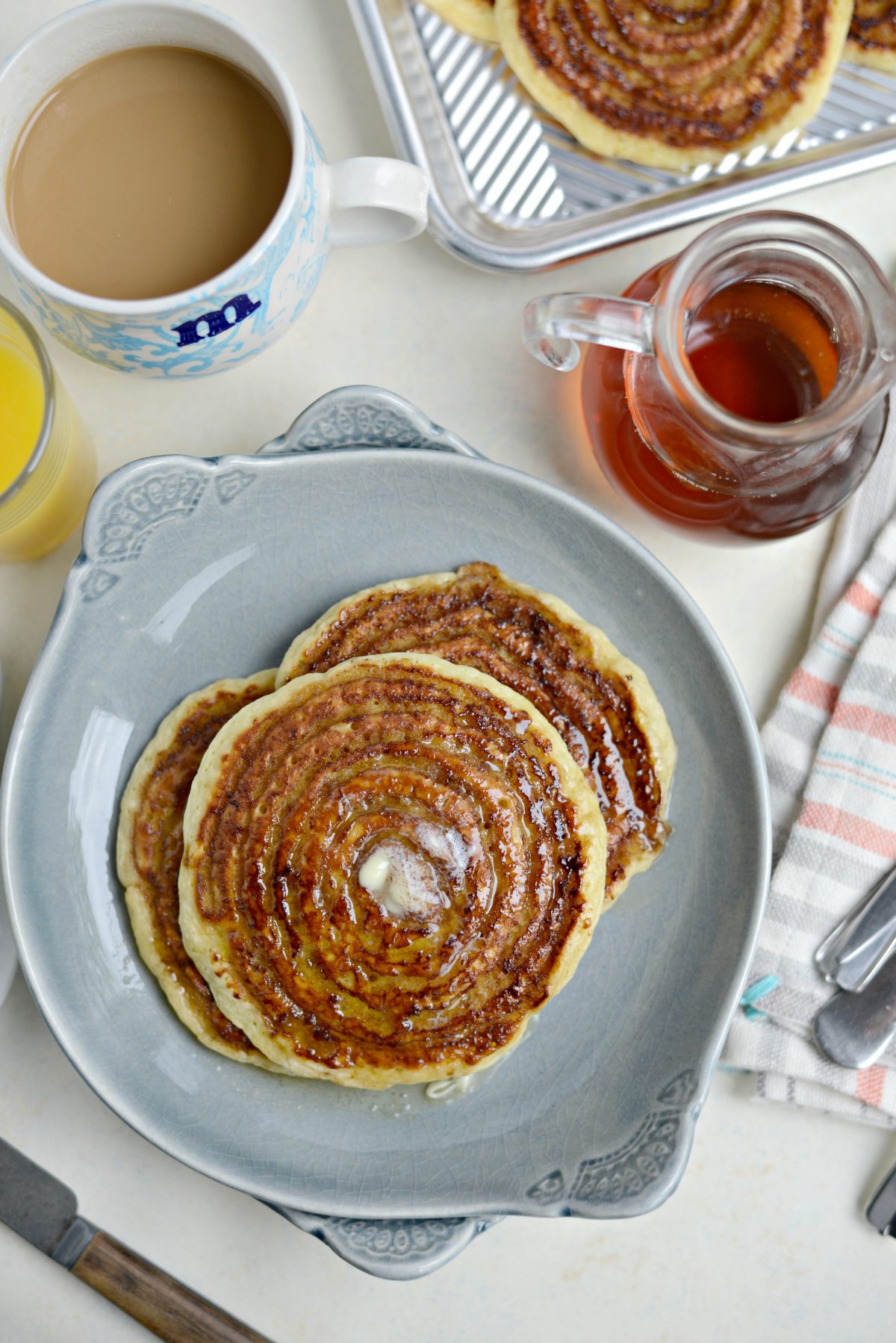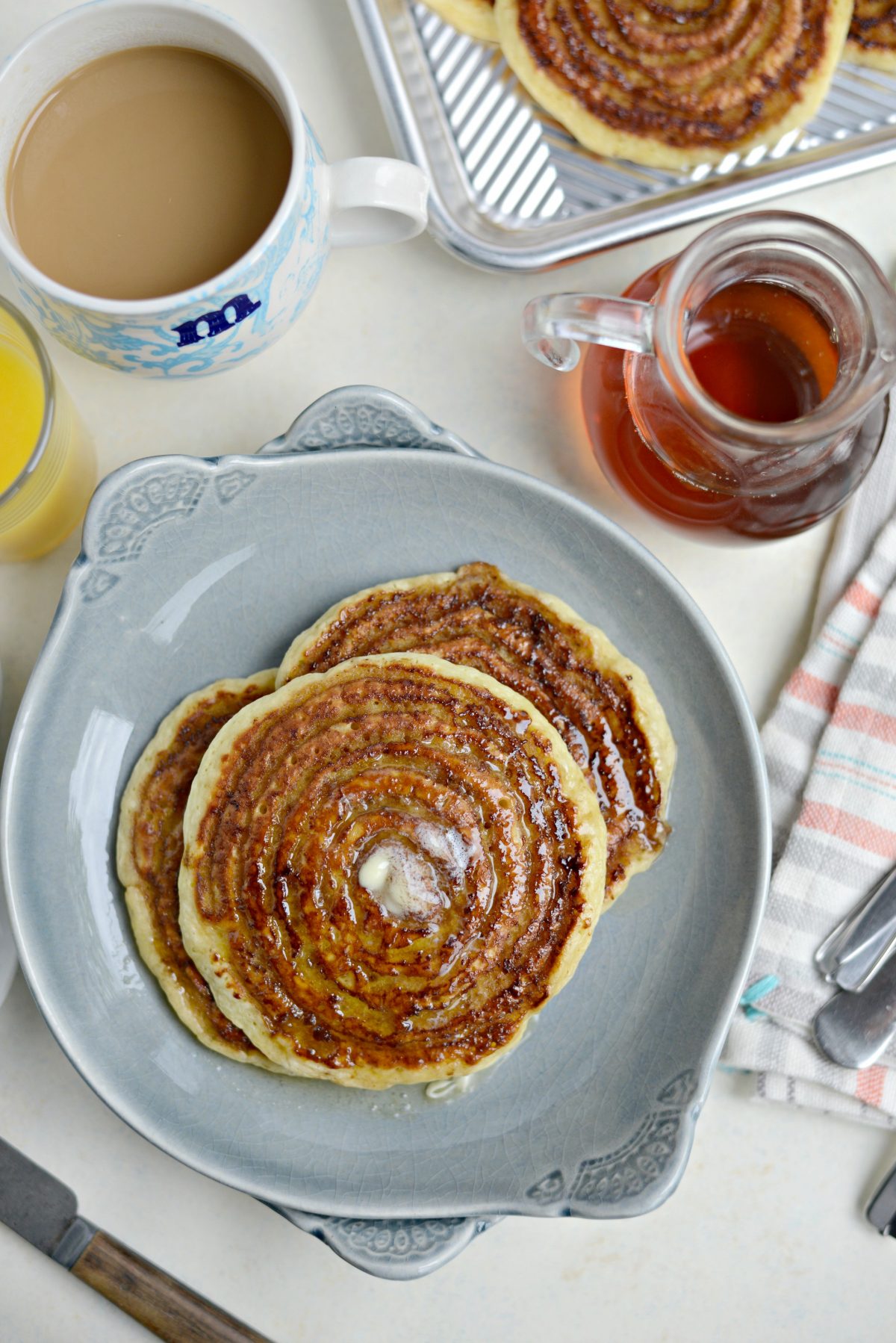 Today, for your weekend pleasure, I serving up the most epic cinnamon swirl pancakes. We're talking cinnamon rolls meet pancakes in the most delicious fashion. However if you actually want to turn these into cinnamon roll pancakes, then whip up a quick cream cheese glaze and drizzle over top.
Inspired by the goodies in my box from Fair Trade USA, I decide that this Mother's day I want you to have pancakes. Pancakes caramelized from a brown sugar cinnamon swirl. Preferably served in bed. And if it's it's not to much trouble, then perhaps a mimosa to wash it all down? Breakfast tray is optional. However coffee in bed is a must.
Okay, so maybe this is what I want. A girl can dream.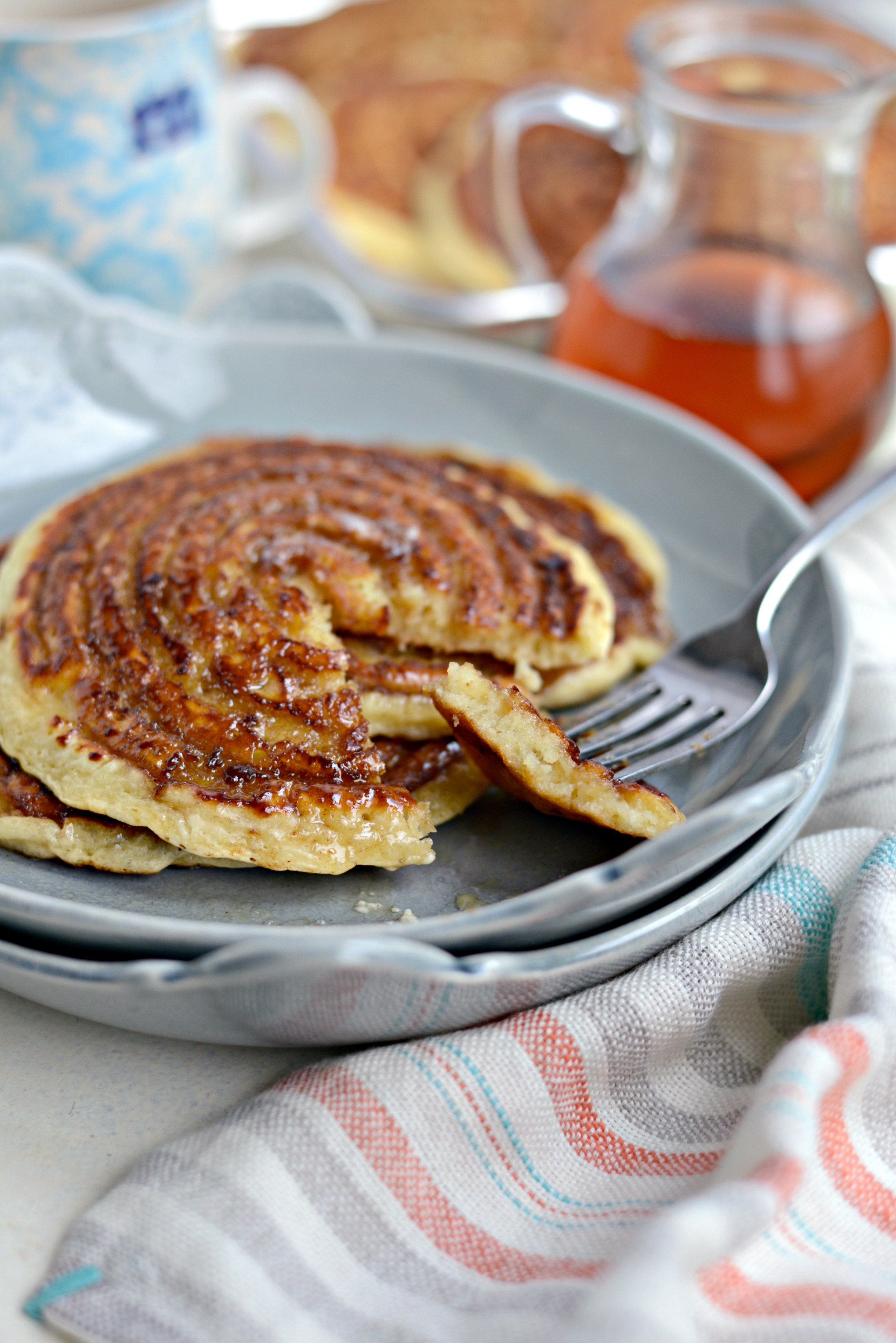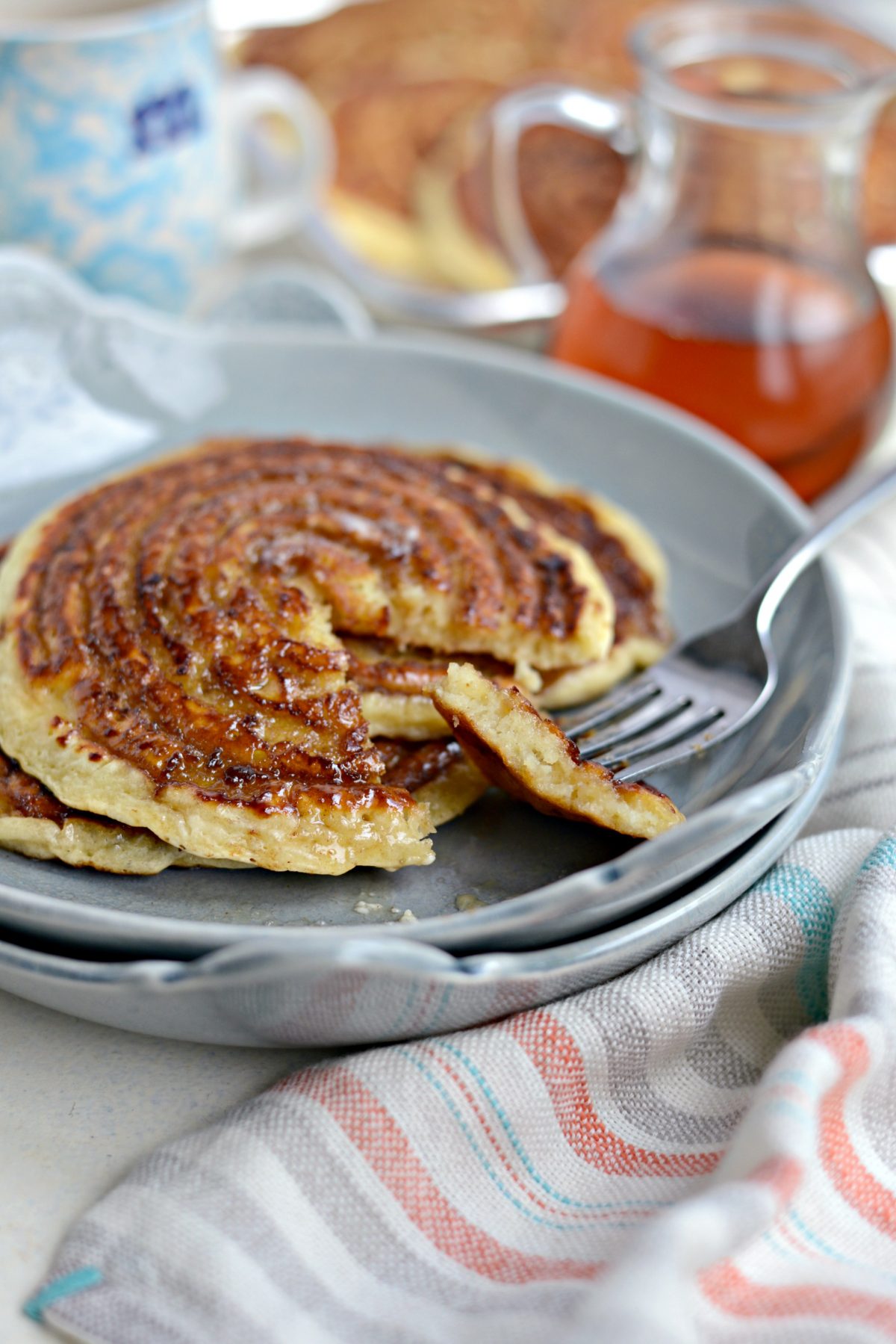 For one of you, thanks to my dear friends at Fair Trade USA, they're giving one lucky SS reader a box of Fair Trade goodies! More on that at the end of the post but in the meantime, if you've been reading this hear blog for the past 7 years, you're most likely familiar with Fair Trade and are accustomed to my semi-frequent posts/recipes and all of the fabulous products. Every Fair Trade purchase matters! Buying Fair Trade items is a gift that keeps on giving. Not only is there the comfort of knowing you're purchasing quality goods, but you are also supporting the farmer and community surrounding them.
Today, we are recognizing the importance of empowering women. From fairer wages, to educational opportunities to funding for health services, Fair Trade supports and enables women farmers and workers to lift themselves out of poverty, provide for their families, gain leadership opportunities, and so much more.
To learn more you can read all about it here.
Here are past #FairHer Posts I've done that you might be interested in:
2014 : Banana Chocolate Streusel Mini Muffins
2015 : Chocolate Fondue
2016: Iced Hot Chocolate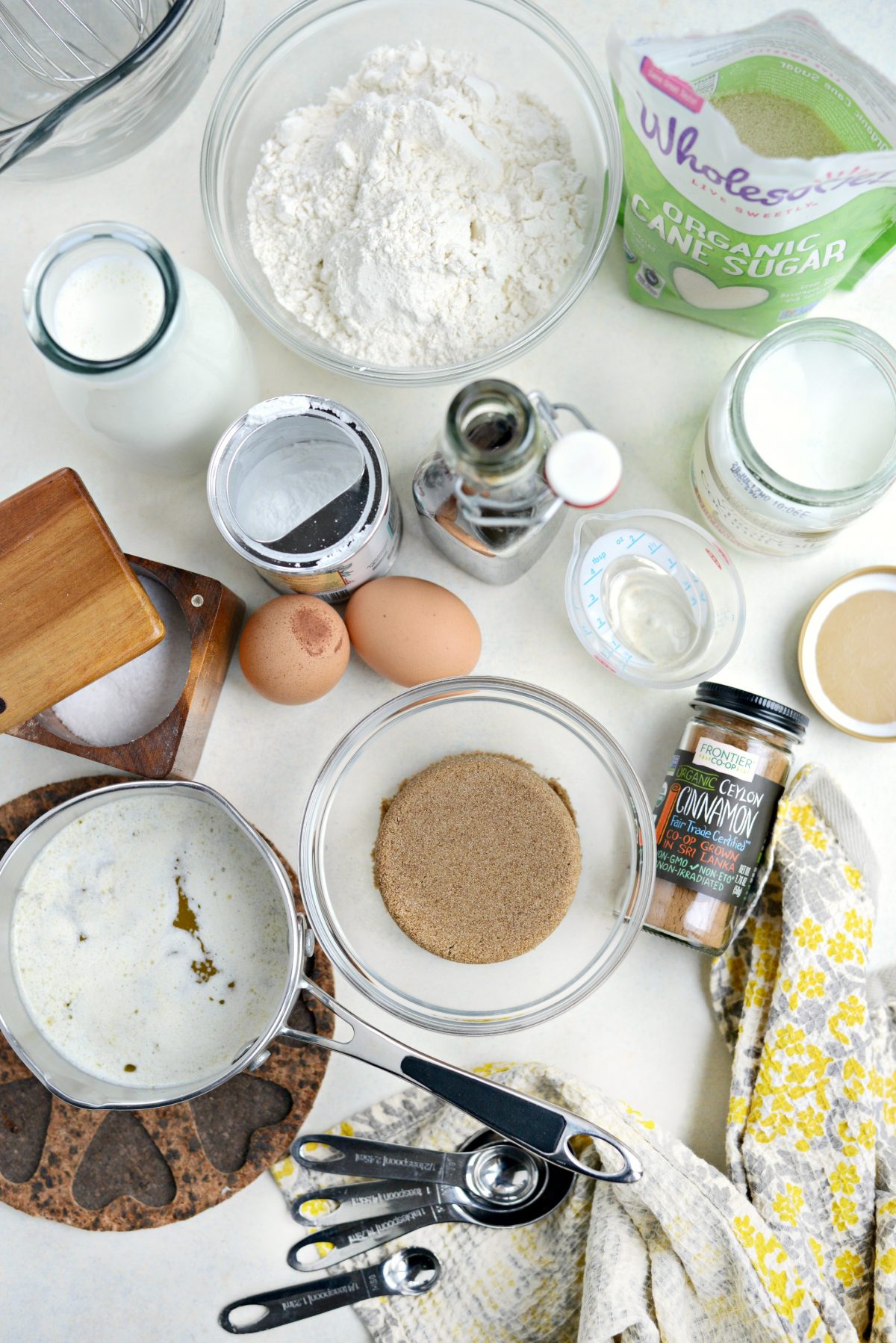 There's a good chance you have all the ingredients in your kitchen cupboards and fridge to make these this very weekend. All you need is flour, sugar, baking powder, milk, eggs and vanilla. For the cinnamon sugar swirl you'll need dark brown sugar, butter and cinnamon.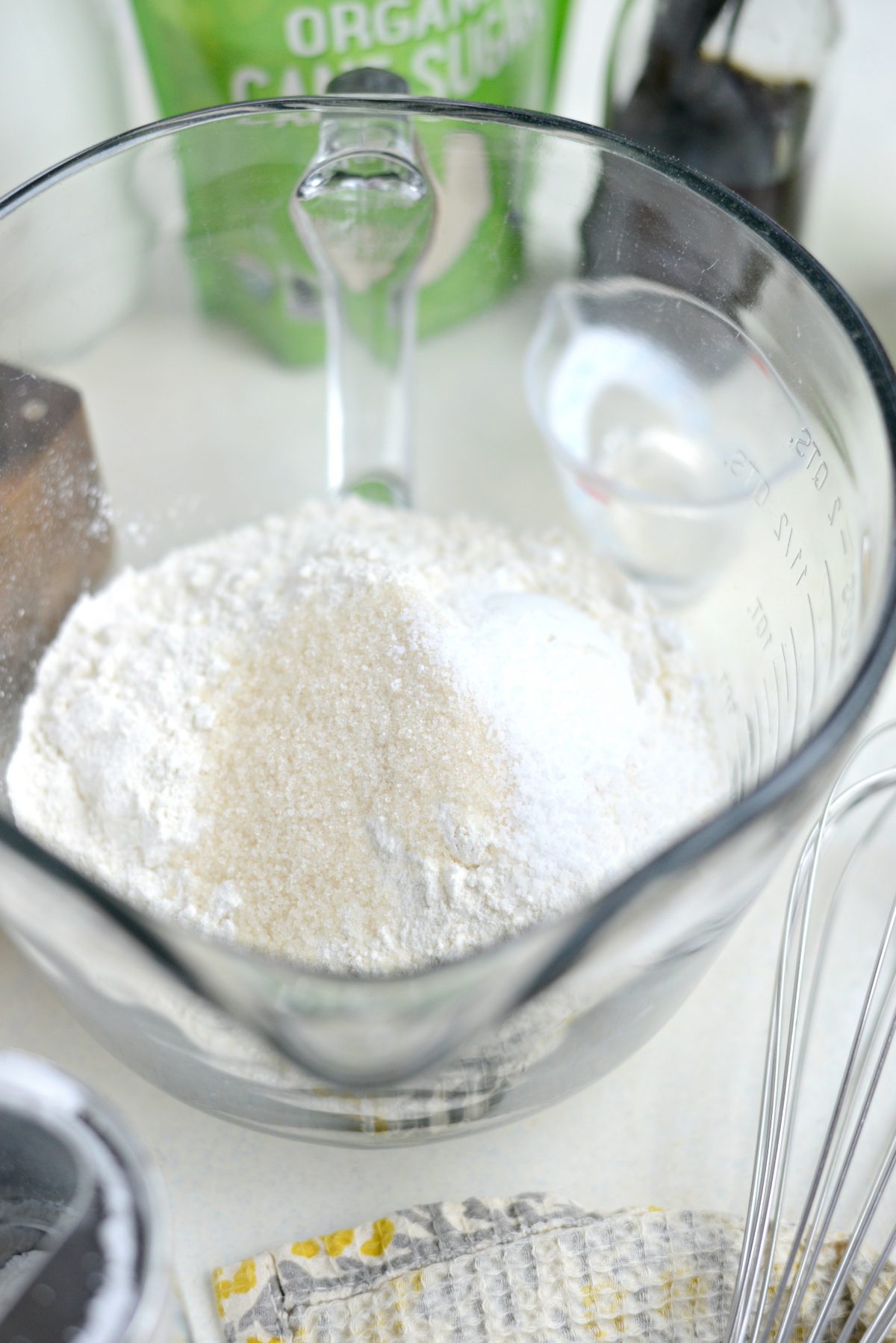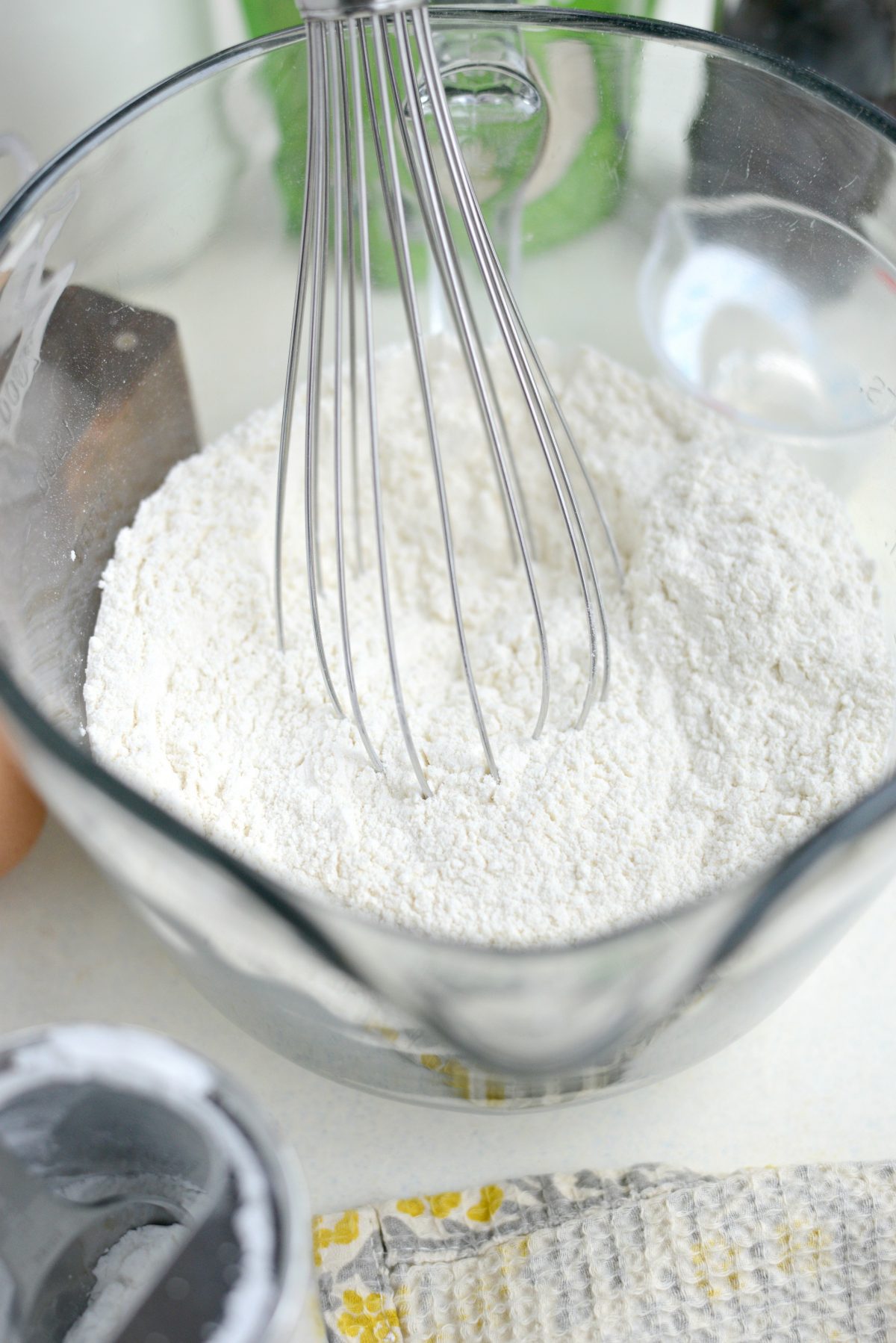 In a medium bowl whisk together the 2 cups flour, 1 tablespoon of both sugar and baking powder and a teaspoon of kosher salt.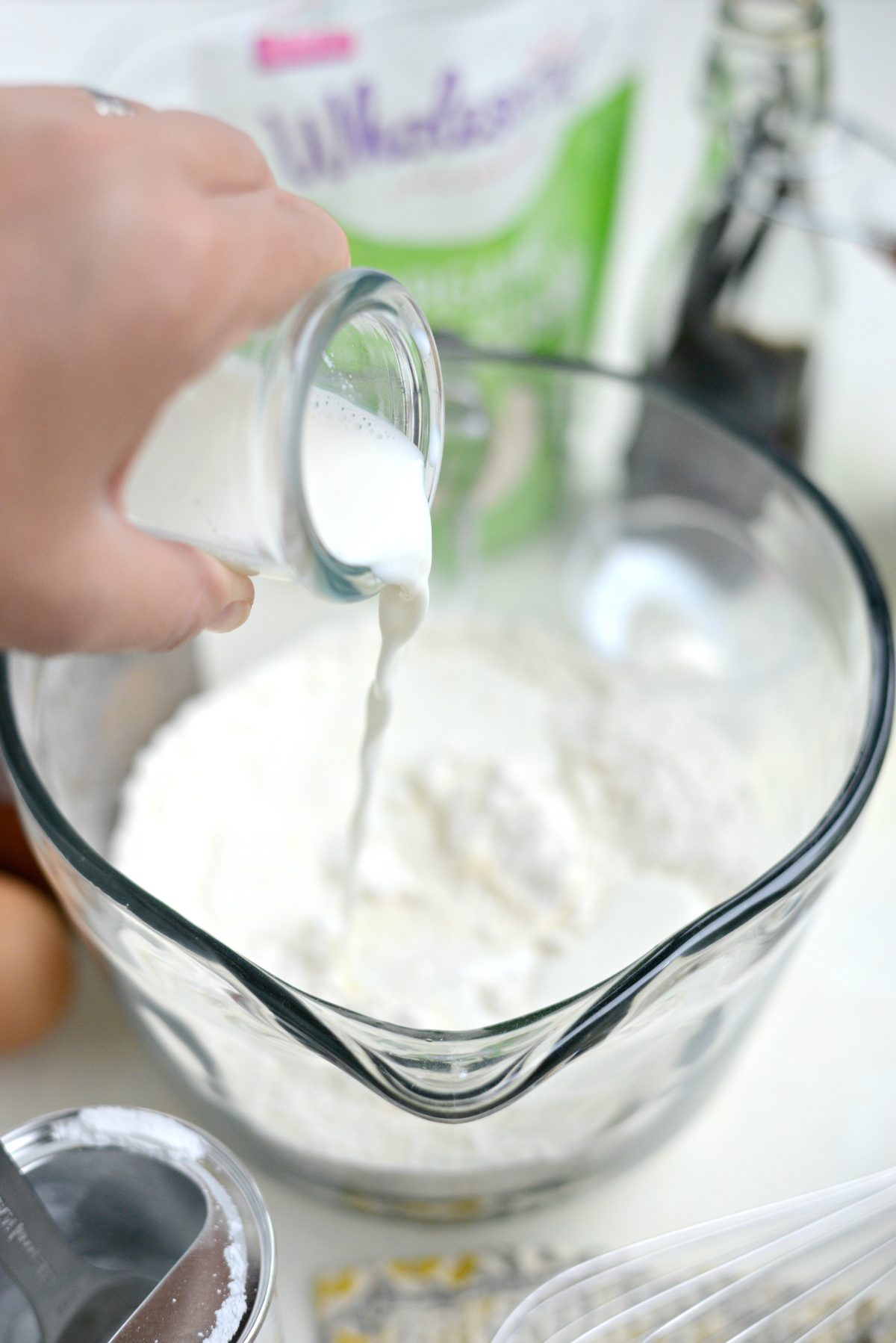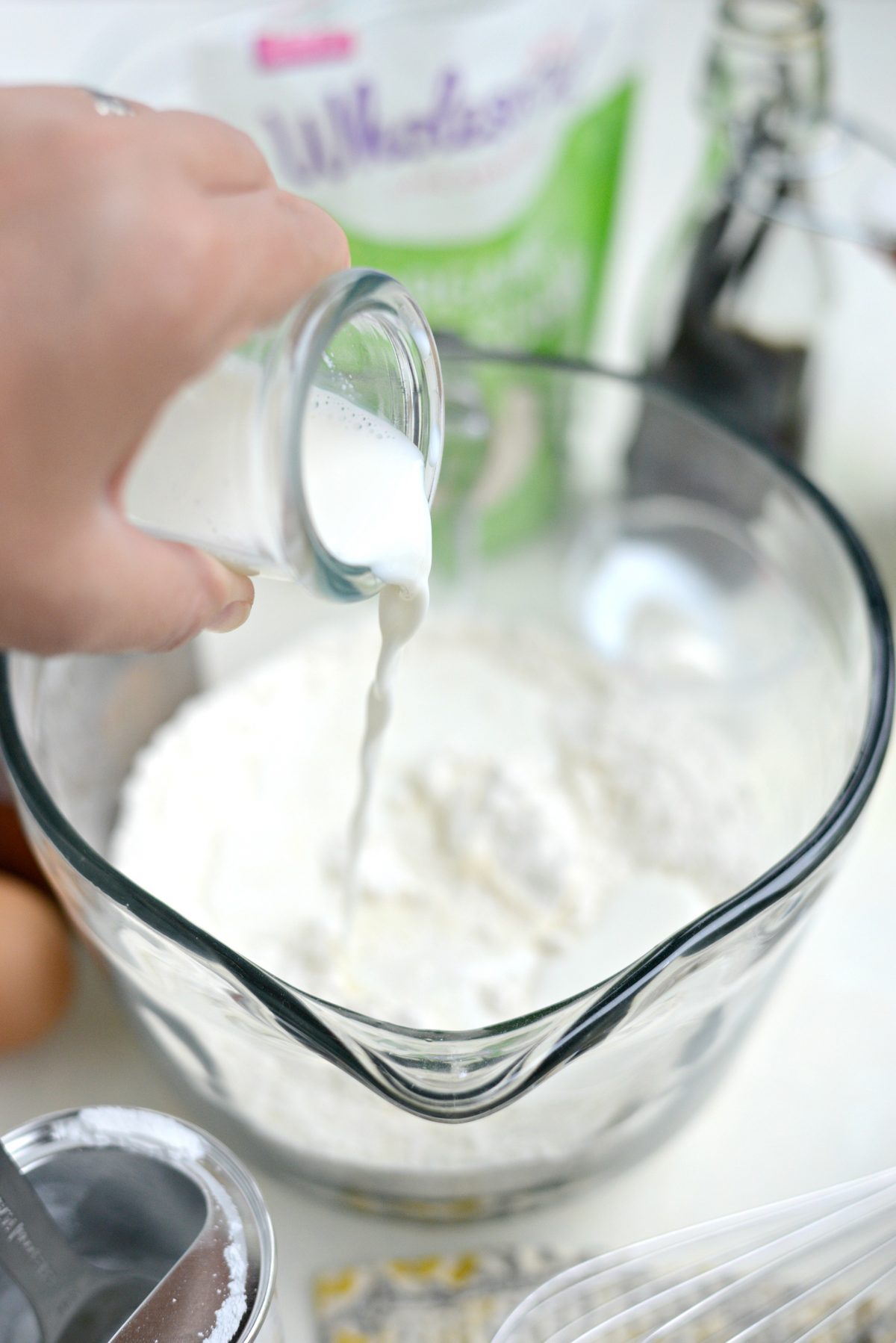 Next, pour in the 2 cups of milk, crack in both eggs and 1/2 teaspoon of vanilla extract.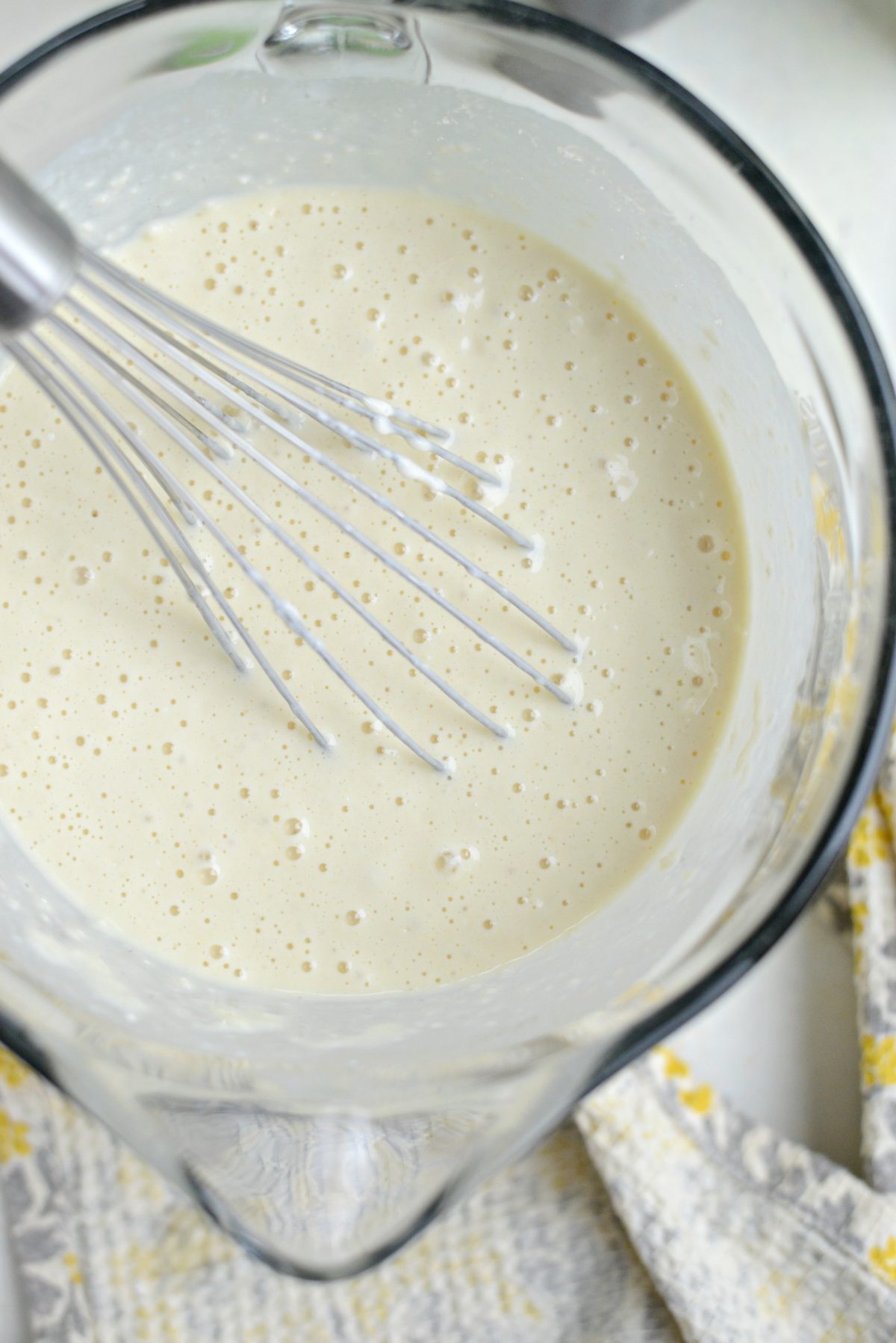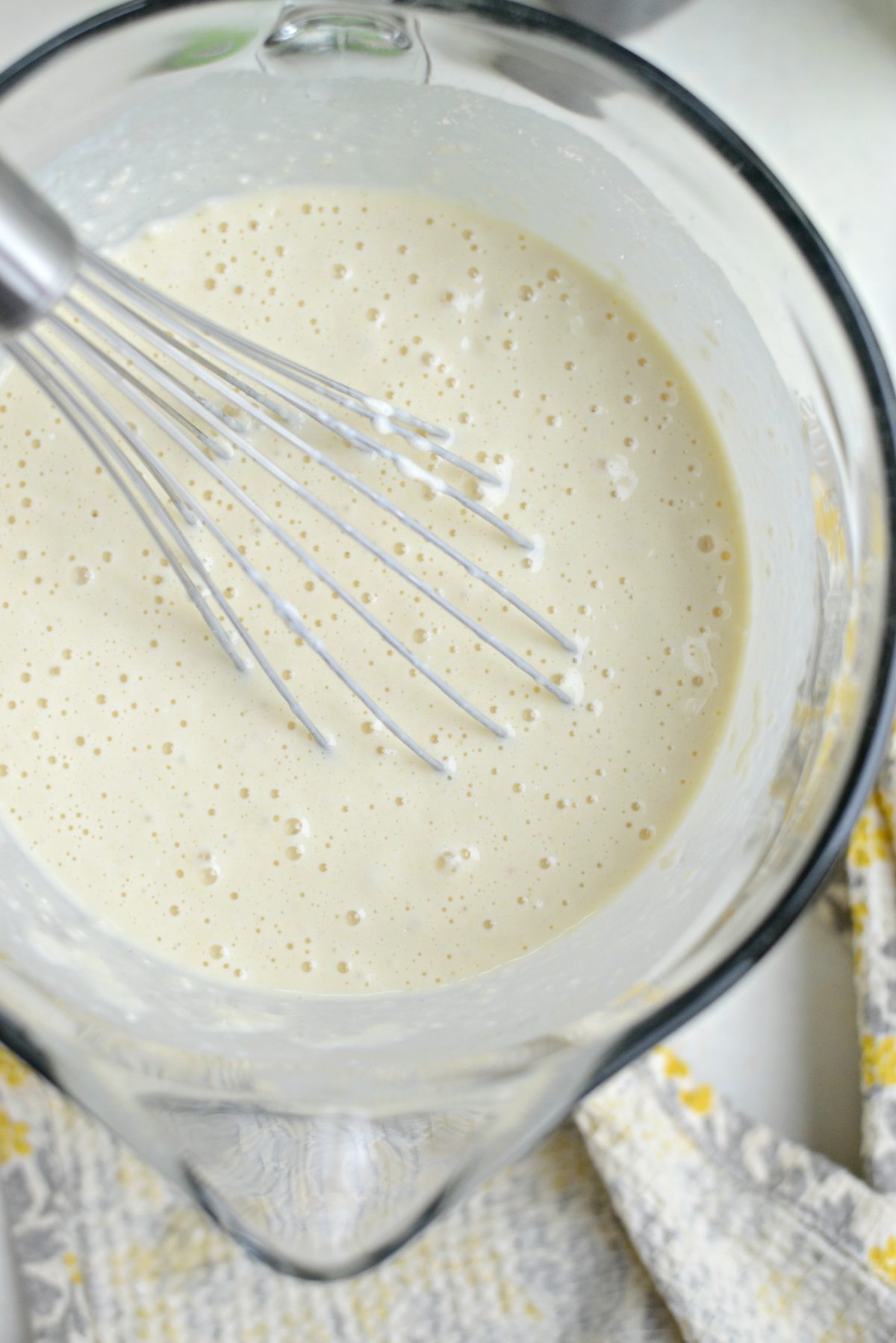 Then whisk until the wet ingredients are incorporated into the dry, pour in the tablespoon of melted coconut and set aside.
In a small saucepan, melt the 1/2 cup (1 stick) of unsalted butter and stir in the 3/4 cup of dark brown sugar and rounded tablespoon of cinnamon.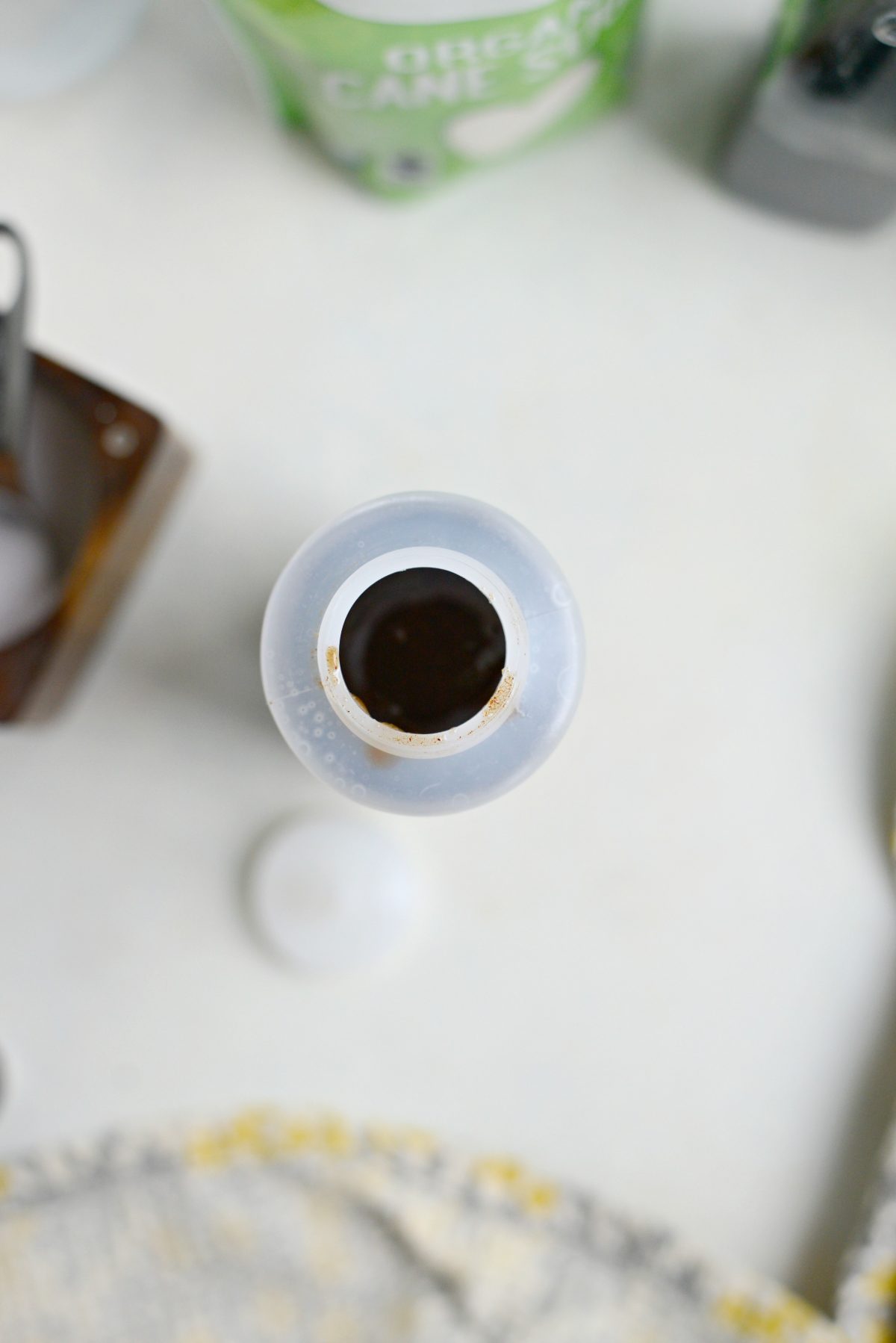 I pour it into a reusable squeeze bottle, which will make it a whole lot easier to drizzle into a spiral. Otherwise you can pour into a ziplock baggie and snip the corner. I use a bottle like this (affiliate).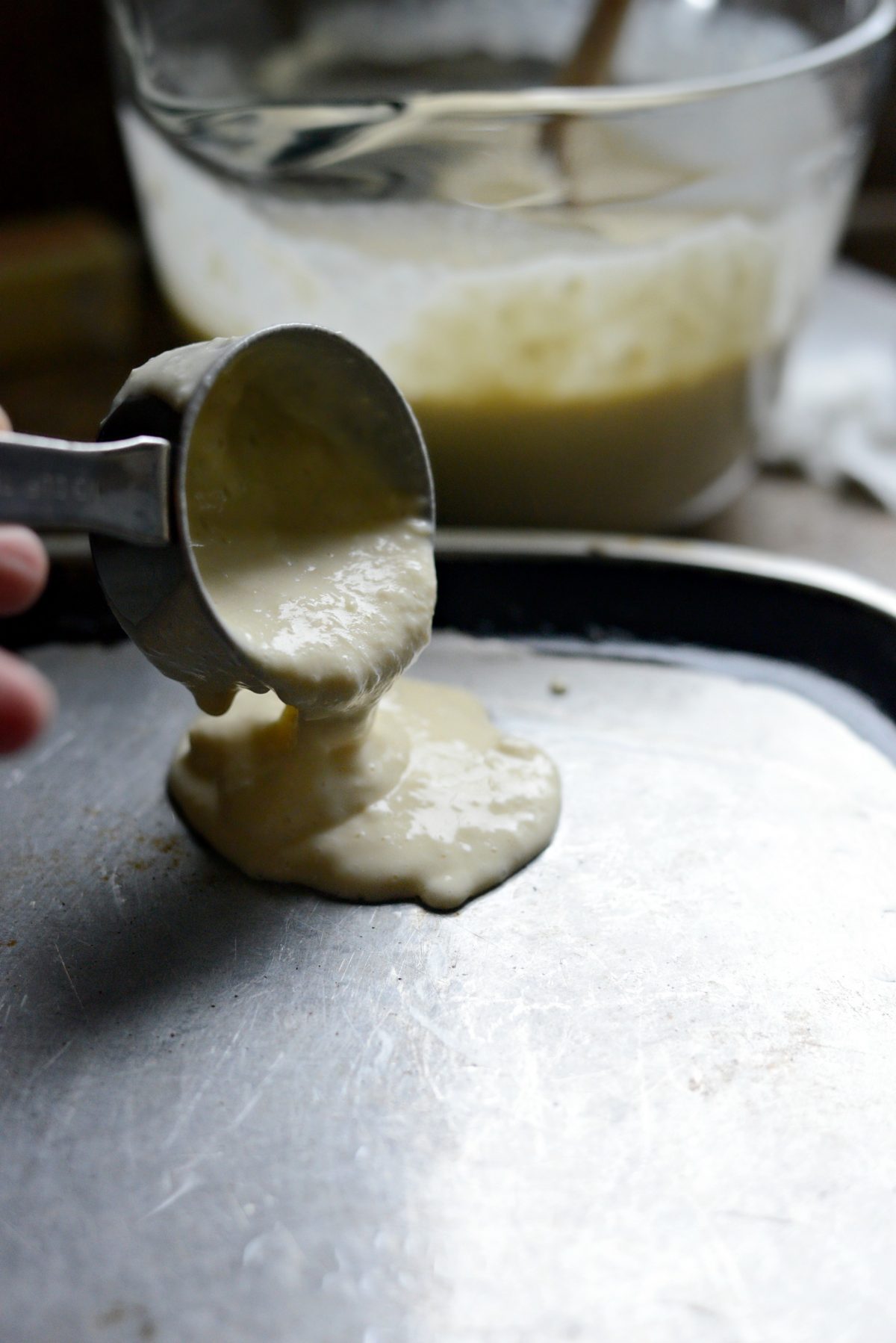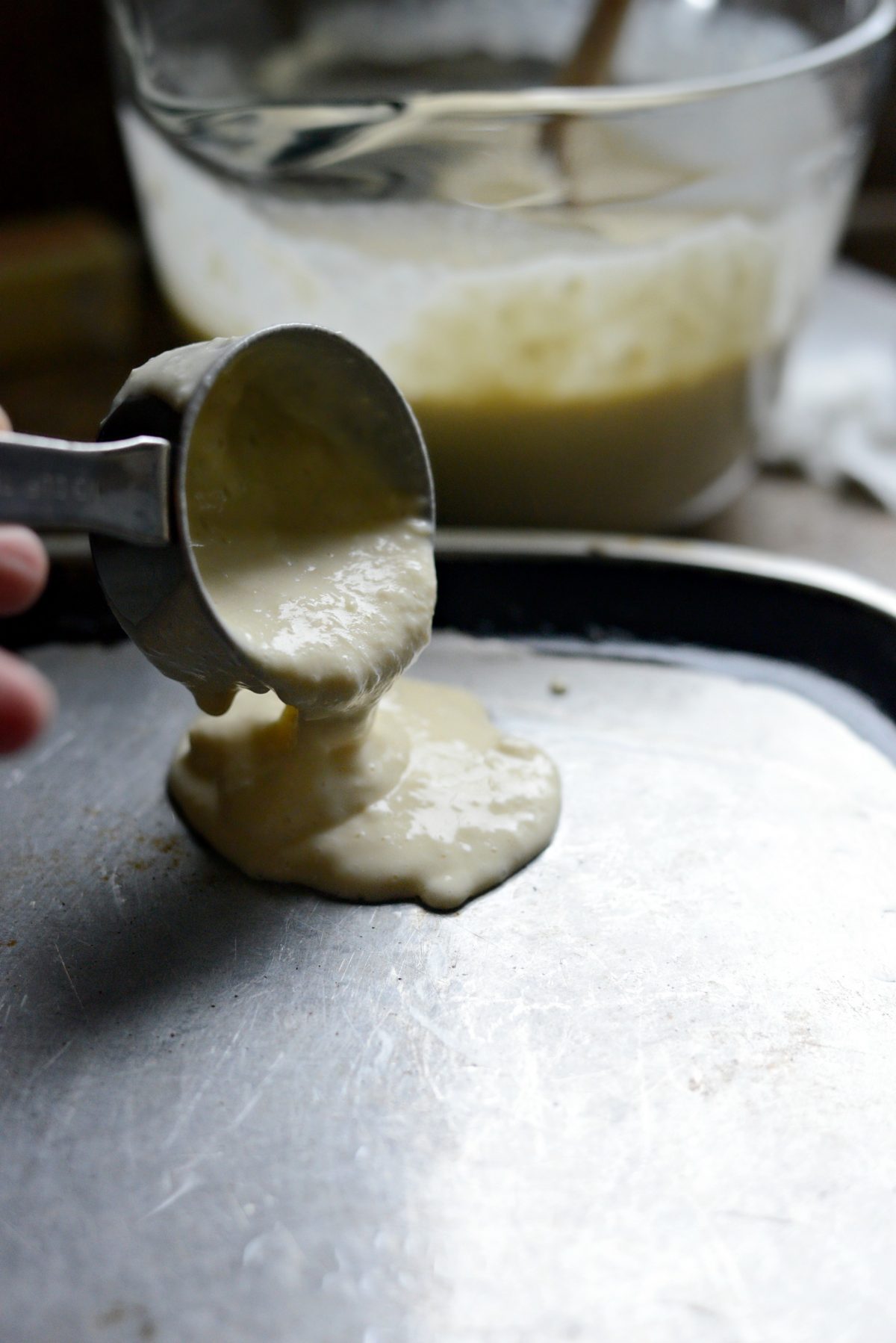 Preheat a griddle to 400° and grease with coconut oil. Pour 1/3 cup of the pancake batter on to your griddle.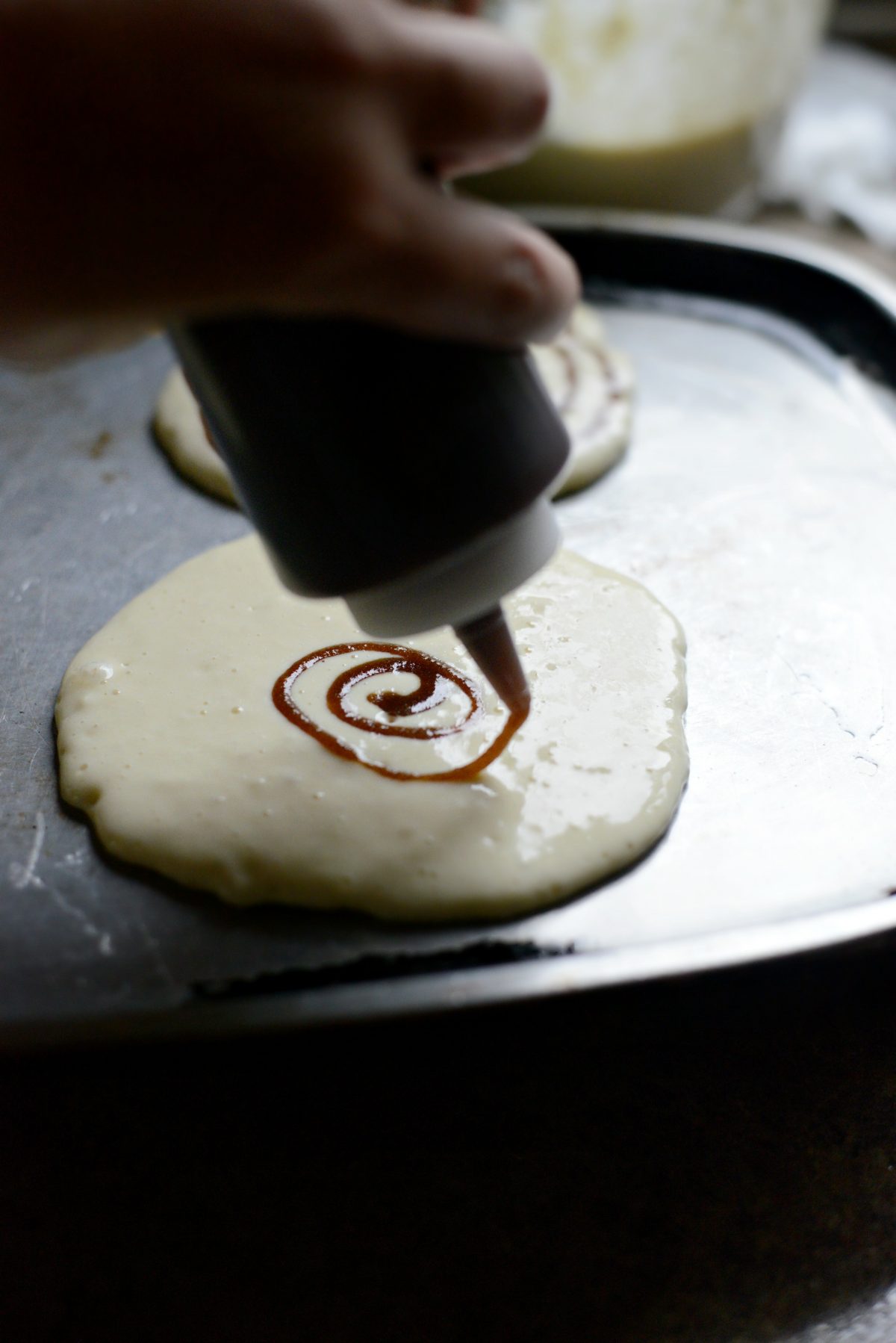 Now that the batter has spread out, start in the center, and then drizzle the brown sugar and cinnamon mixture in a spiral design.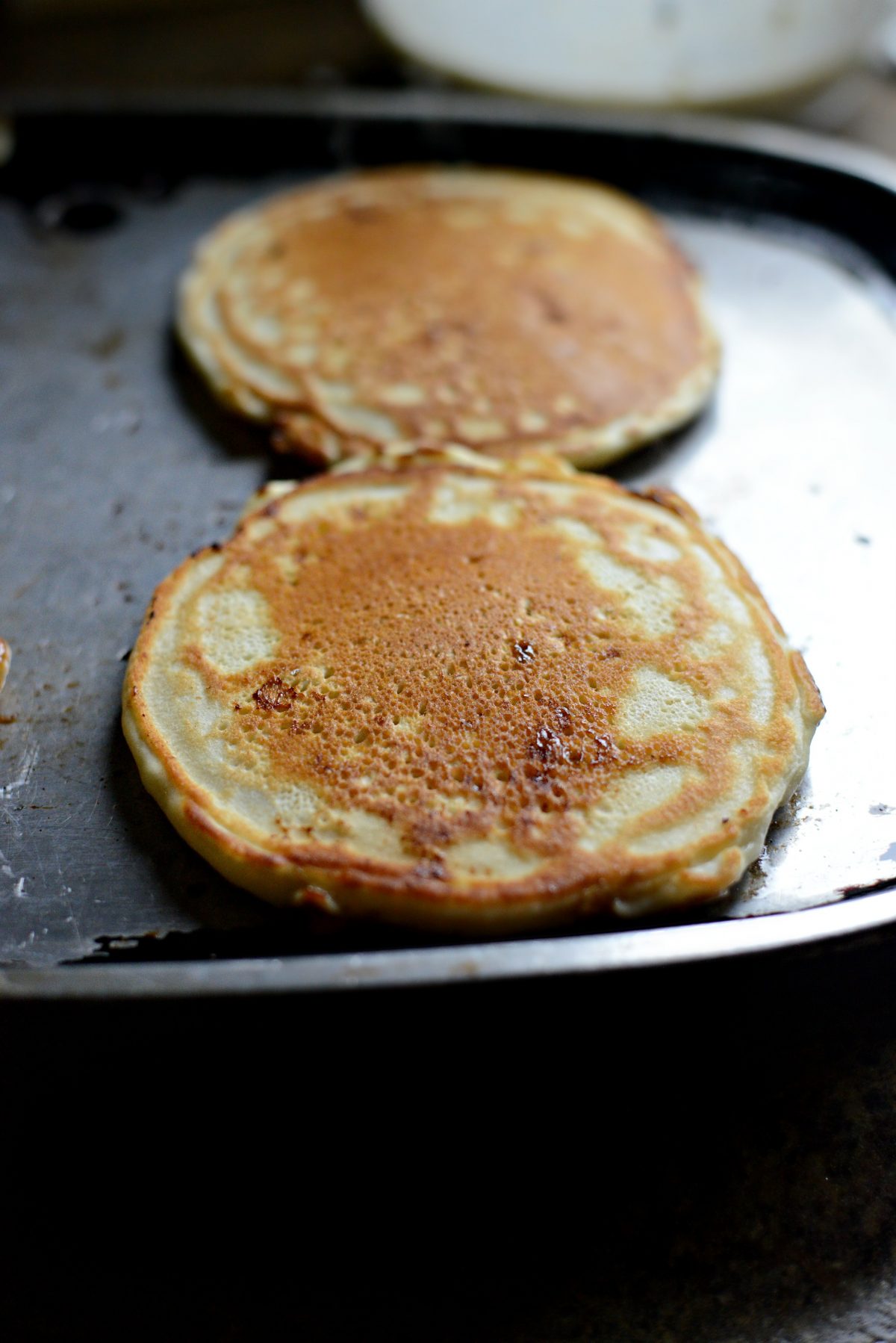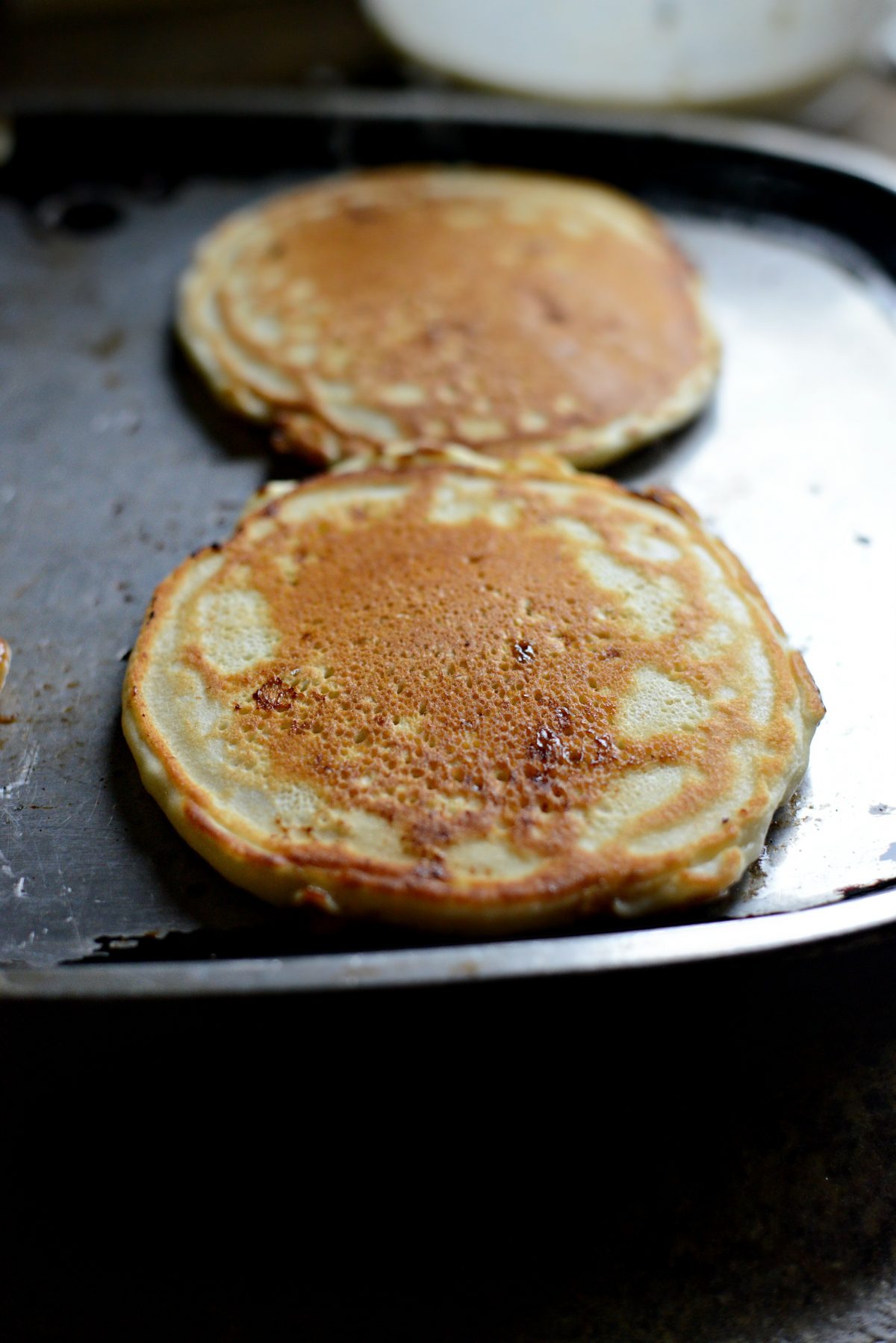 Then, once the bubbles pop and stop filling back in, flip and cook for and additional 1 to 3 minutes. You want the brown sugar mixture to have a chance to caramelize.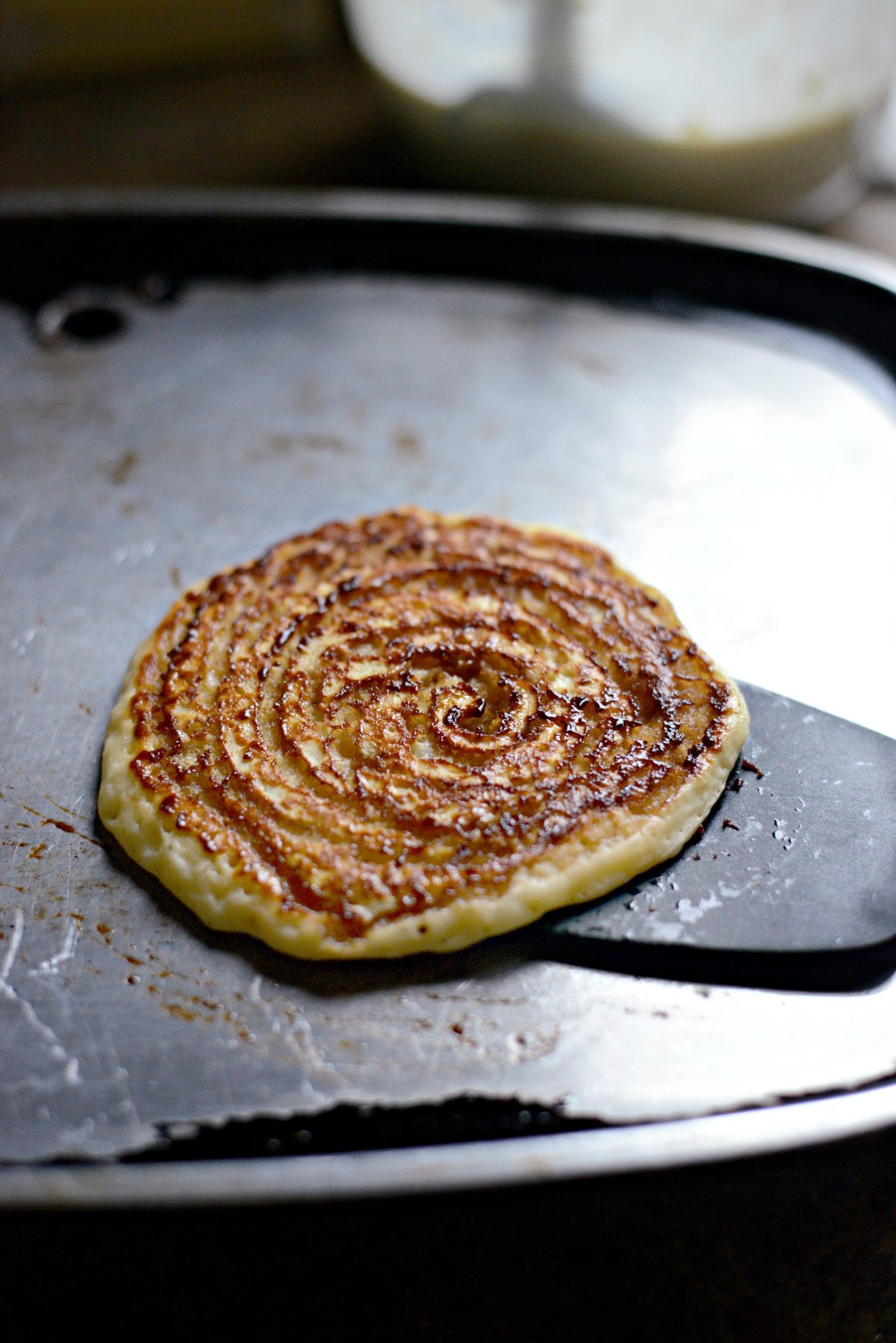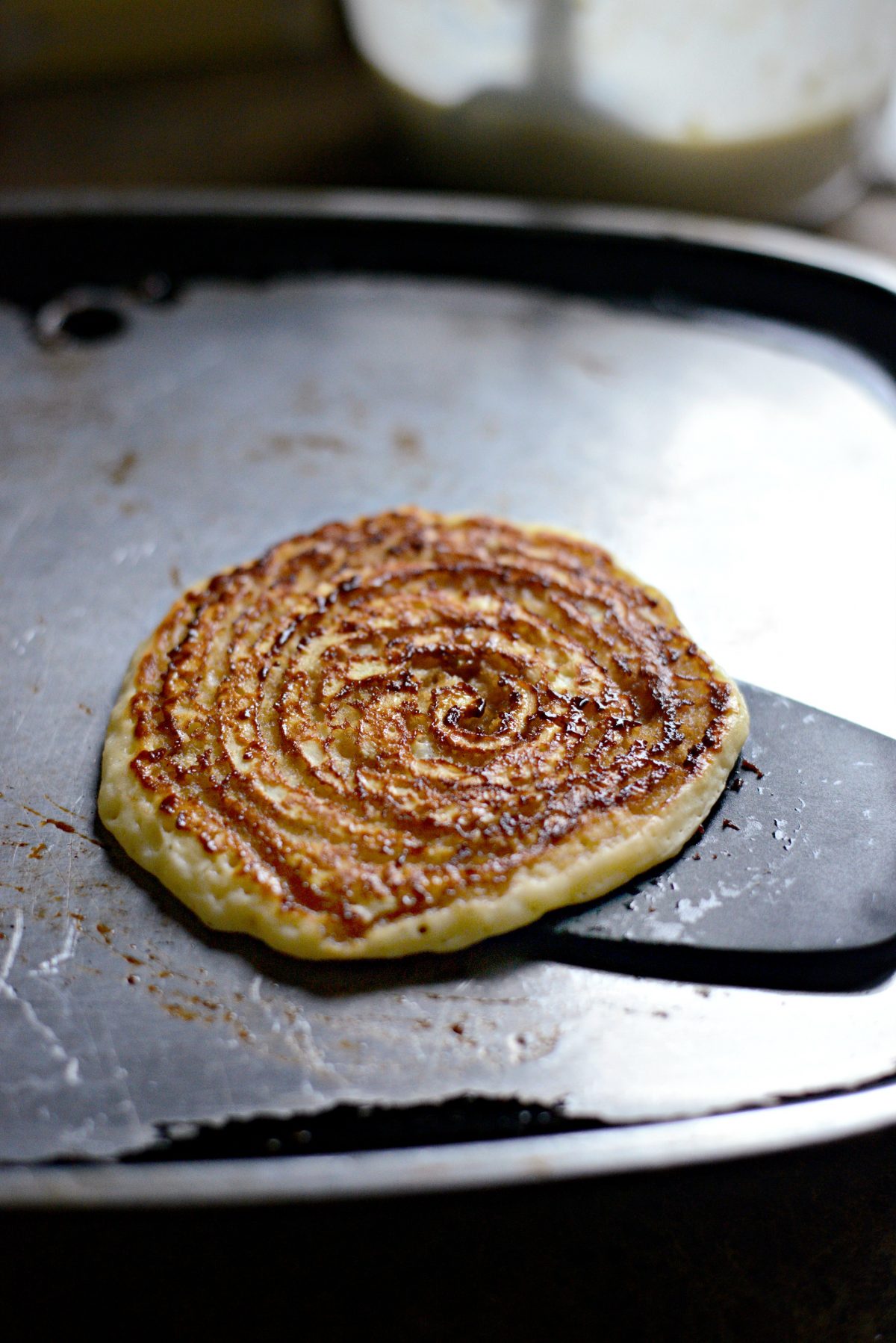 YUM!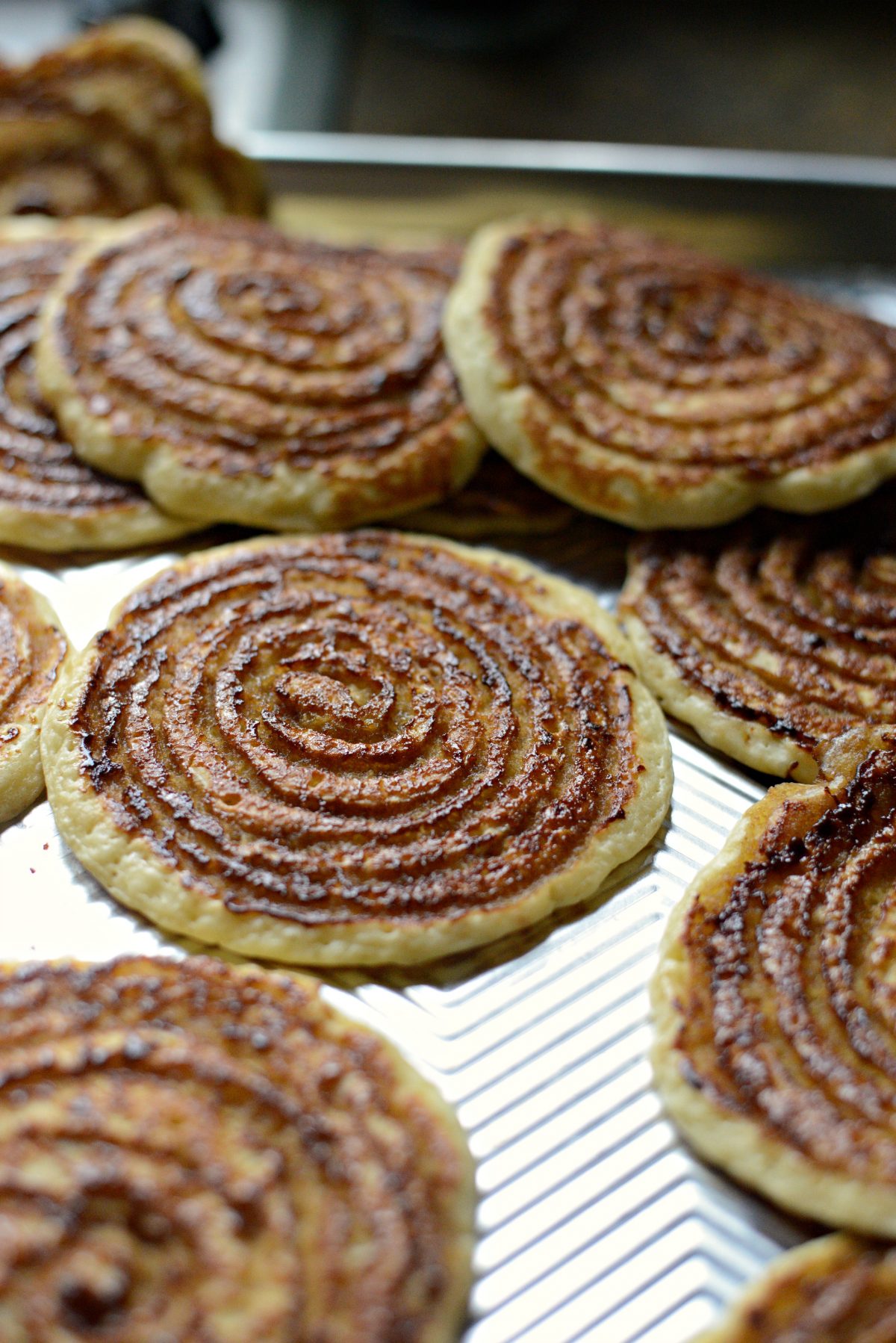 Next, transfer the pancakes onto a rimmed metal sheet pan and keep hot in a 250° oven.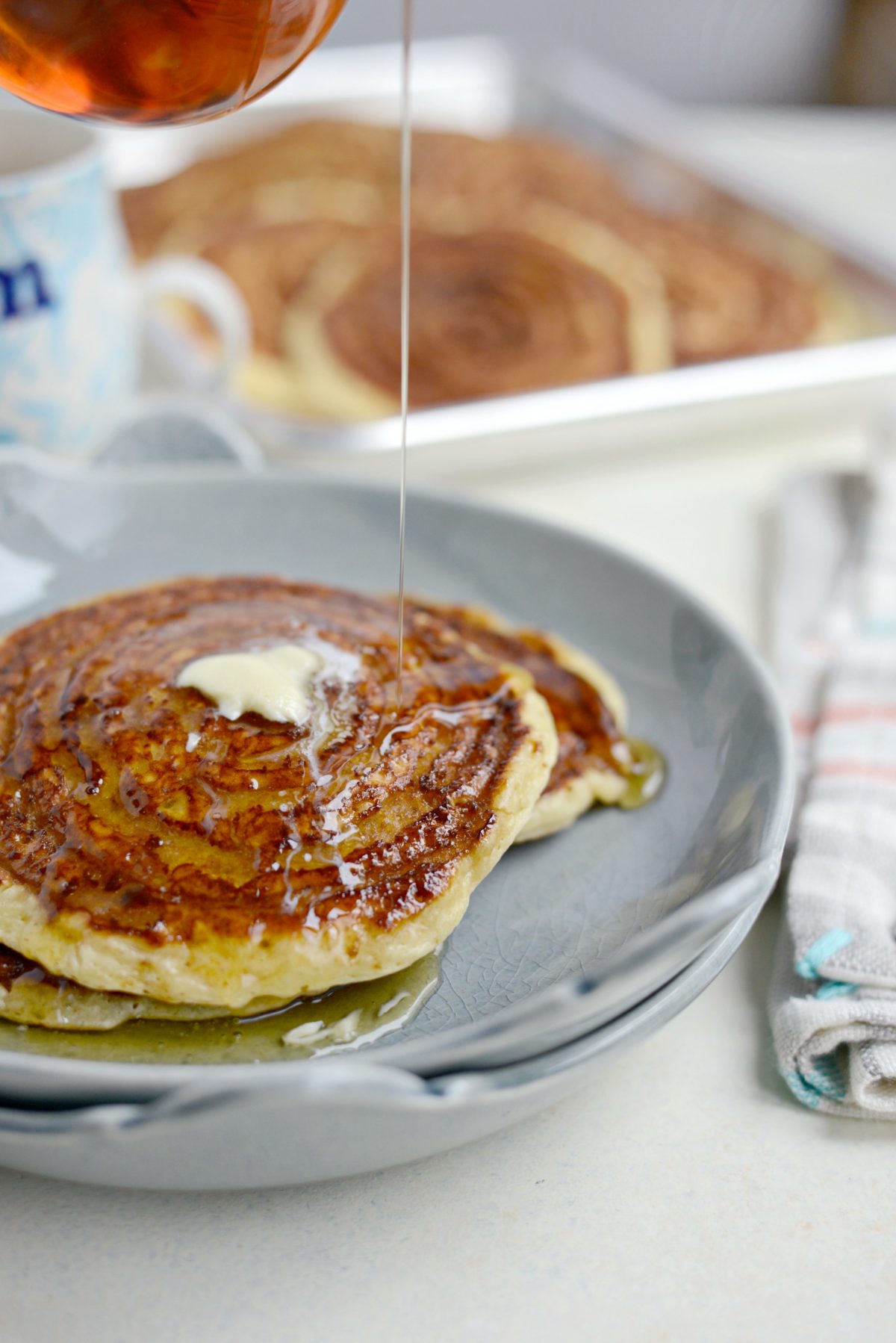 Lastly, stack then butter and drizzle with real maple syrup.
Tender, fluffy pancakes with crispy, caramelized brown sugar edges. Trenches perfect for holding melted butter and maple syrups. Cinnamon swirl pancakes will change your life!
Enjoy! And if you give these Cinnamon Swirl Pancakes a try, let me know by snapping a photo and tagging me on twitter or instagram!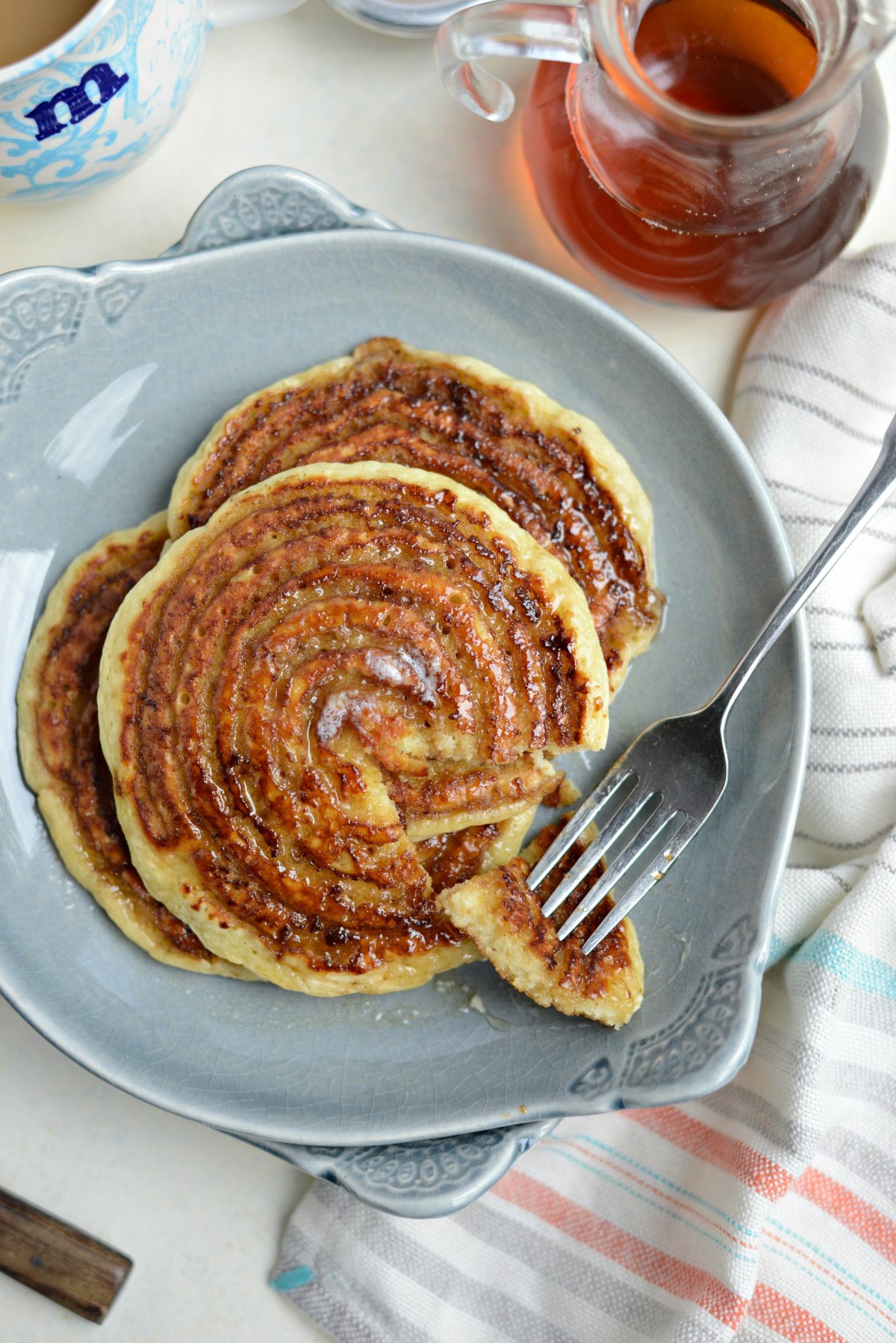 My cookbook Simply Scratch : 120 Wholesome Homemade Recipes Made Easy is now available! CLICK HERE for details and THANK YOU in advance!
[this post contains affiliate links.]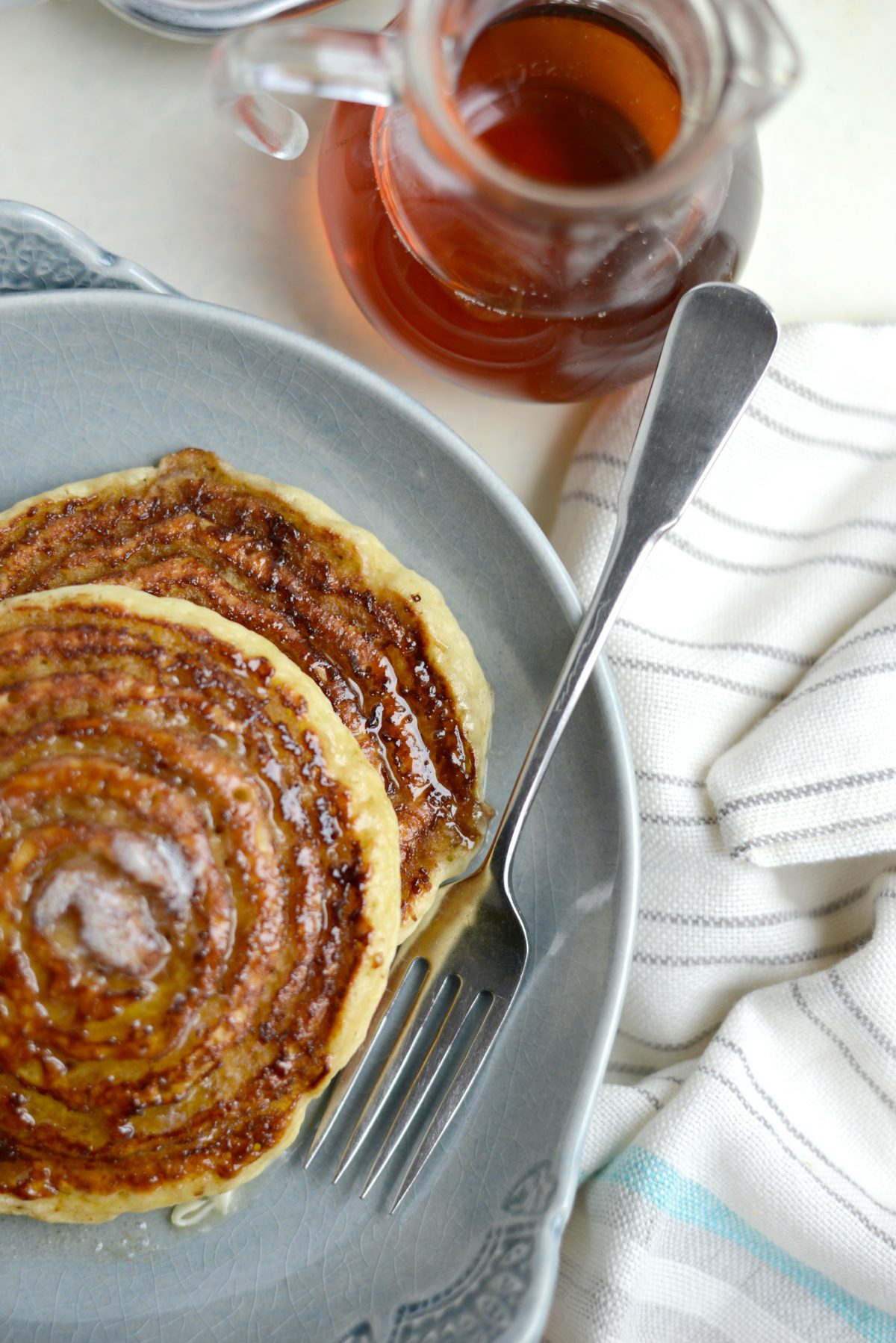 This post may contain affiliate links.
Buy the Cookbook: Simply Scratch : 120 Wholesome Homemade Recipes Made Easy Now available on Amazon »
THANK YOU in advance for your support!