This strawberry acai smoothie + chocolate chia pudding cups are nutritious and delicious! Grab a spoon and dig in and enjoy the flavors as them mix. [this post contains affiliate links.]
Is it breakfast? Or is it dessert? Who cares when it tastes this good and is good for YOU?!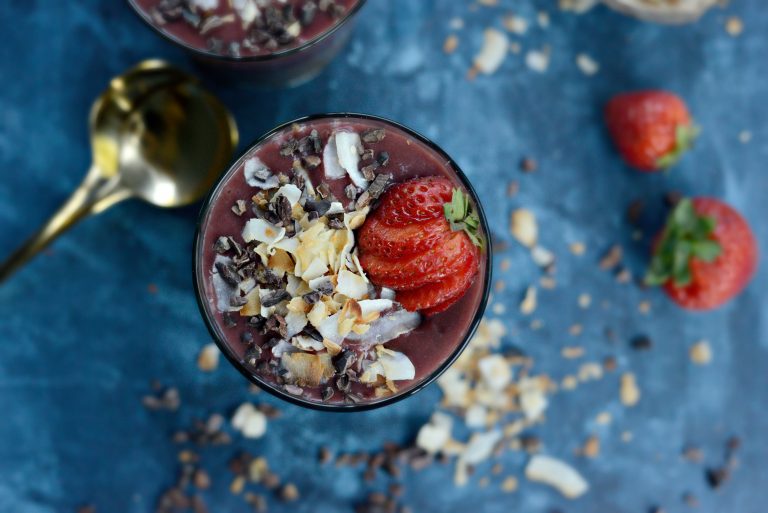 By now you've noticed smoothie bowls all over the web. Colorful bowls of your favorite fruit/veggie/greens blended into thick smoothies, poured into bowls and then topped with fruit, seeds, nuts or anything else you can dream up.
I've yet to partake in the smoothie bowl craze, but I'm so totally down for some smoothie pudding cups. For real. This layered treat is wholesome enough to kick start your morning but with just enough chocolate to be considered (or pass for) a dessert. These cups are packed with protein, superfruit goodness and just the thing to jumpstart your morning or a healthful way to end a busy day.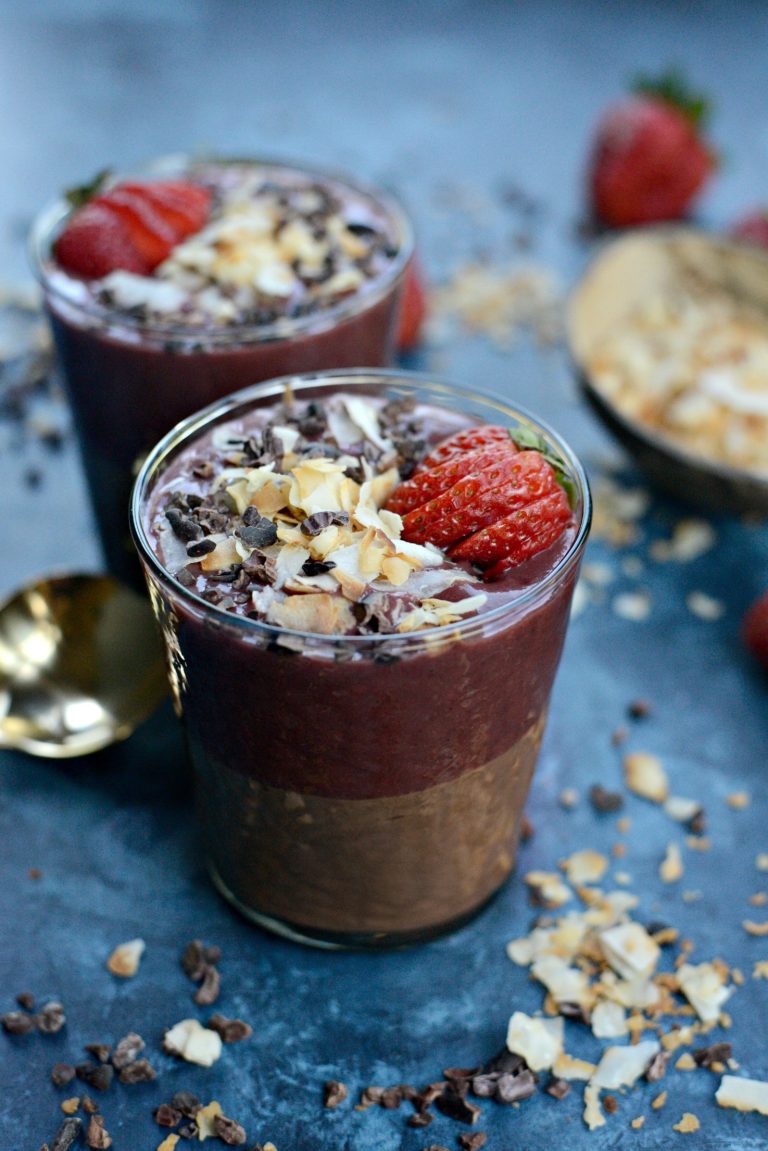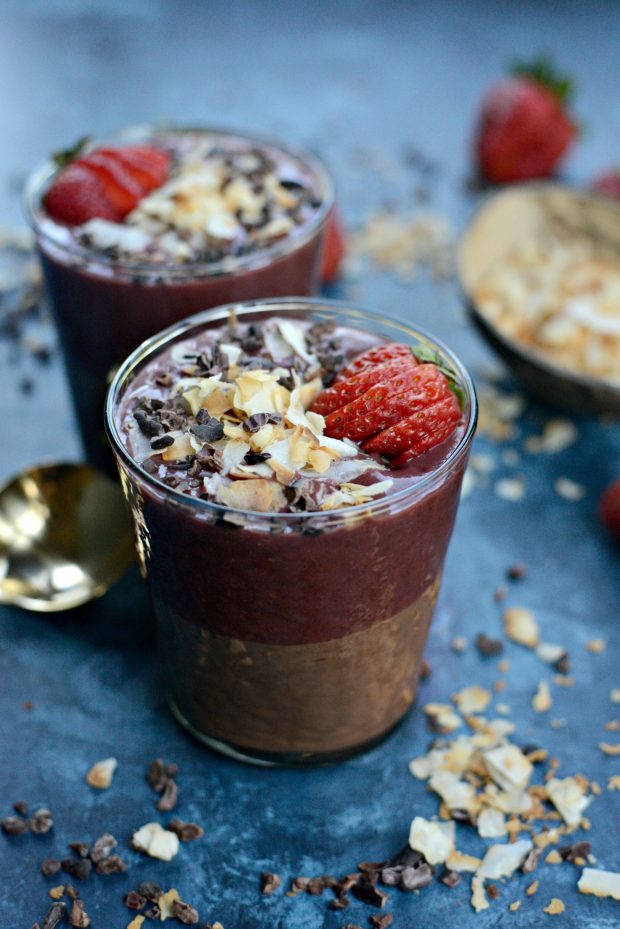 Let's call it bressert, shall we?
I was selected as 1 of 20 bloggers, instagrammers and foodies to partake in a Bob's Red Mill and Sambazon #SuperFoodShowdown. Our mission: creating a one of a kind recipe that's tasty enough for a foodie and healthy enough for an athlete in spirit of the Olympics! The Instagram post that has the most "likes" wins! So if you're feeling like casting a vote this way, head on over (@simply_scratch) and click the <3. Thank YOU!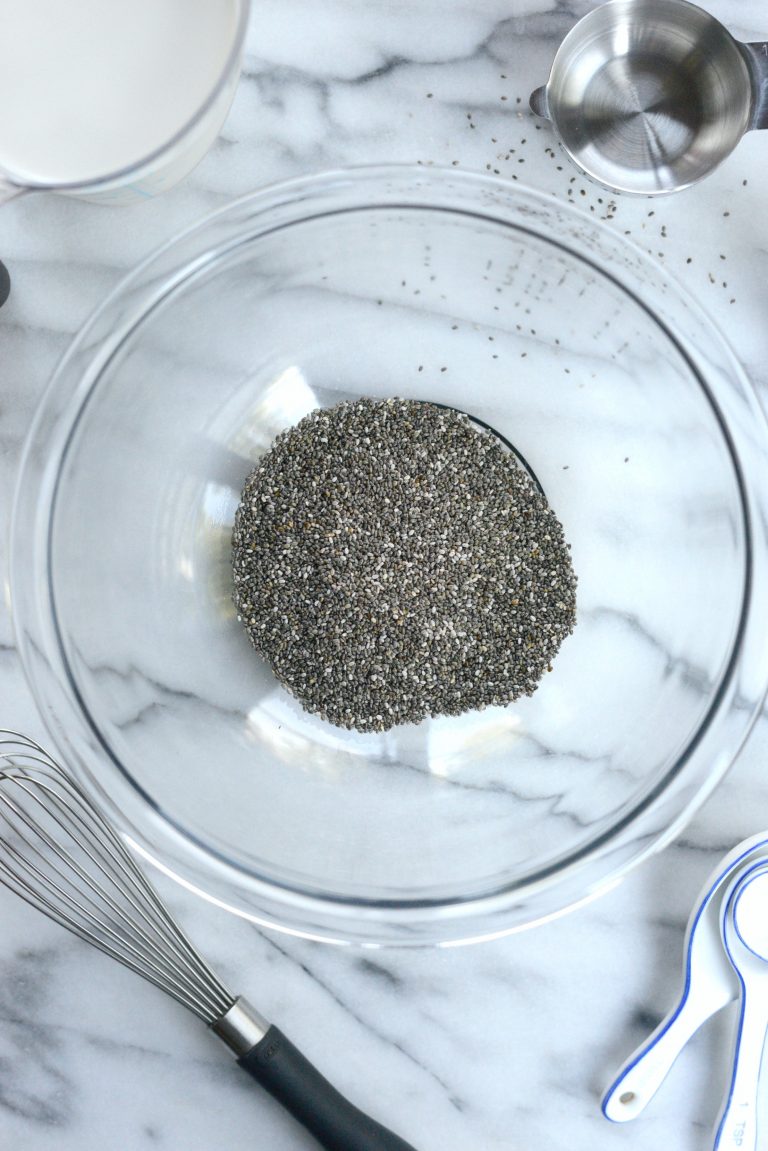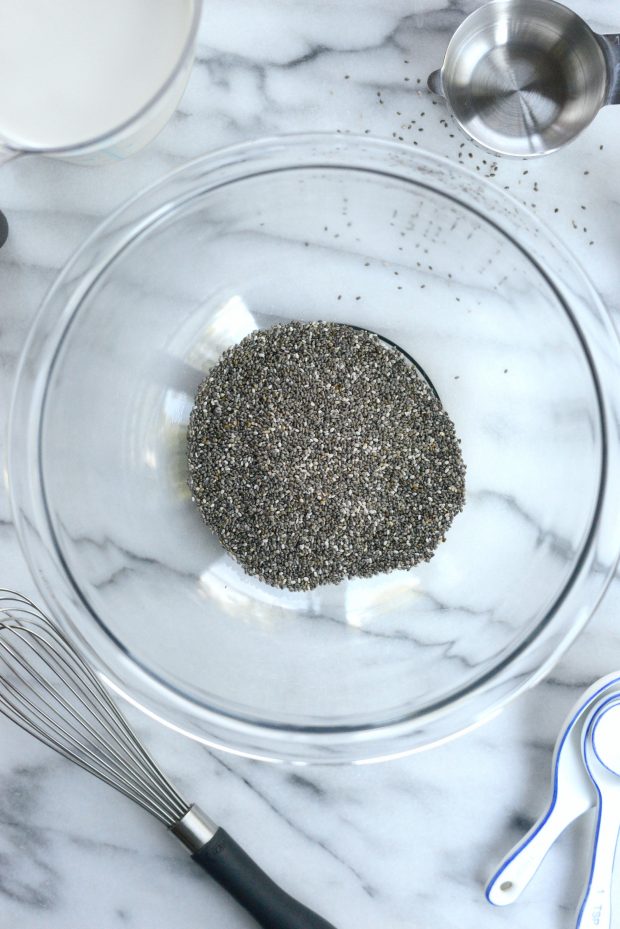 The chia seed pudding is as simple as it gets. First, place 1/4 cup of chia seeds in to a bowl.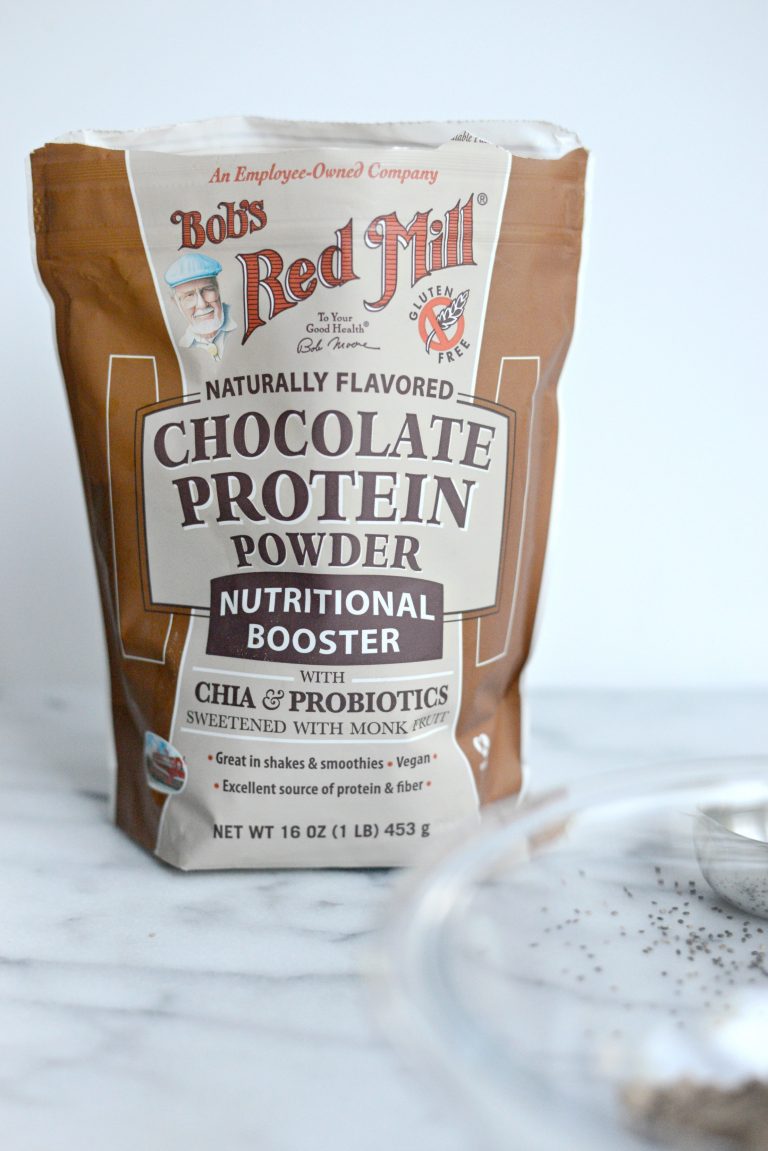 Then add two scoops of this amazing Bob's Red Mill vitamin and nutrient packed protein powder, plus an extra tablespoon of unsweetened cocoa powder just to enhance and deepen the chocolate flavor.
Then pour in 1 tablespoon of maple syrup.
Next whisk in 1-1/2 cup of milk. I used my all time favorite almond milk; toasted coconut almond milk from Califia Farms. SO good!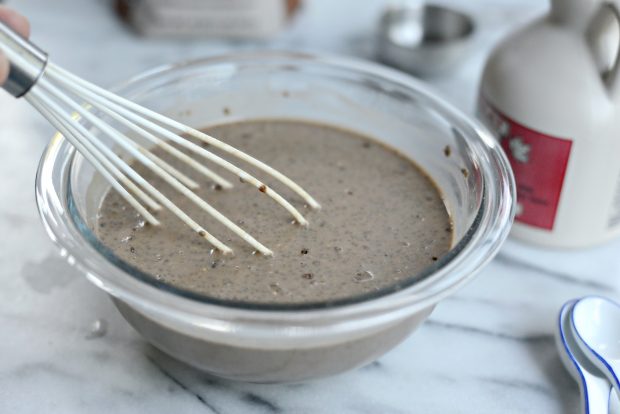 Then whisk until smooth, then cover and refrigerate for a few hours to over night. Then blend in your blender to make it smooth as silk.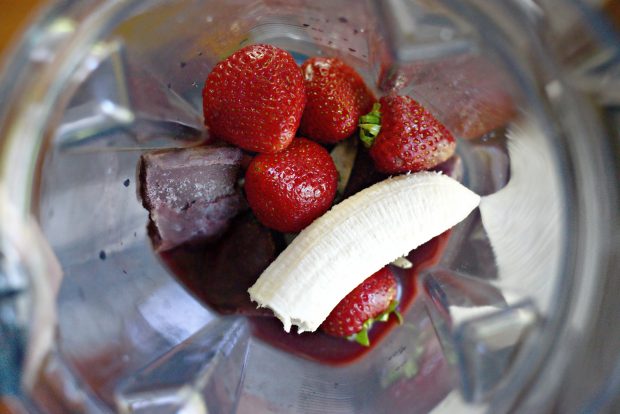 Next, rinse out your blender (I use my Vitamix) and then add in a semi-frozen Sambazon Original (açaí berry with guaraná) superfruit smoothie pack. Then add in 1/4 cup pomegranate juice, 5 to 6 large strawberries and small banana.
Then blend until smooth. This alone is crazy delicious.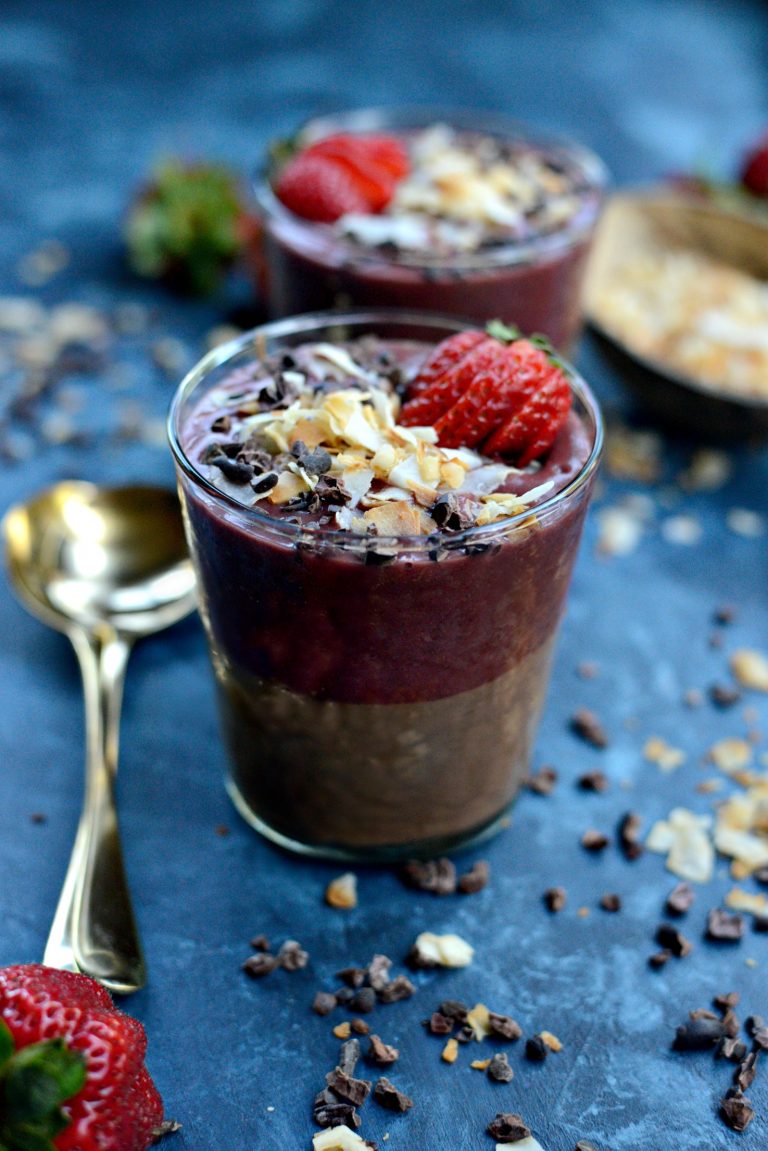 Starting with the pudding, divide the pudding and smoothie mixture among 2 to 4 cups.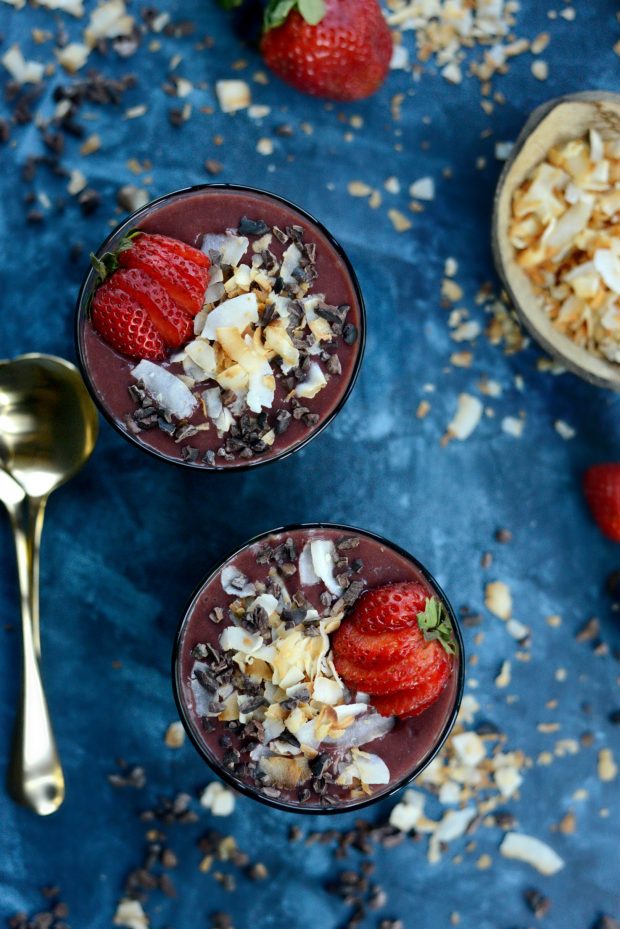 I topped mine with toasted unsweetened coconut, cacao nibs and slices of fresh strawberry. Bananas, more chia seeds or granola would work well here too, the sky is the limit!!
I really love the flavor of the fruit smoothie, especially when it mixes into chocolate chia seed pudding with each spoonful. Those flavors together along with the added texture of the fresh fruit, coconut and nibs sends it over the top. I ate the entire cup. However the true test was when I slid the second cup over to my youngest daughter, Malloree. If you recall, she is my pickiest eater. Well, I'm happy to report… she gave it TWO thumbs up! SCORE!
So not only do you get a delicious layered snack/breakfast/dessert but you get all the nutritional benefits from the chia seed, chocolate protein powder (thank you Bob's Red Mill!), superfruit smoothie pack (thank you Sambazon!), pomegranate juice and fresh fruit. Even the cacao nibs are a superfood.
Healthy eating never tasted so GOOD!
Enjoy! And if you give this Strawberry Açaí Smoothie + Chocolate Chia Pudding Cups recipe a try, let me know! Snap a photo and tag me on twitter or instagram!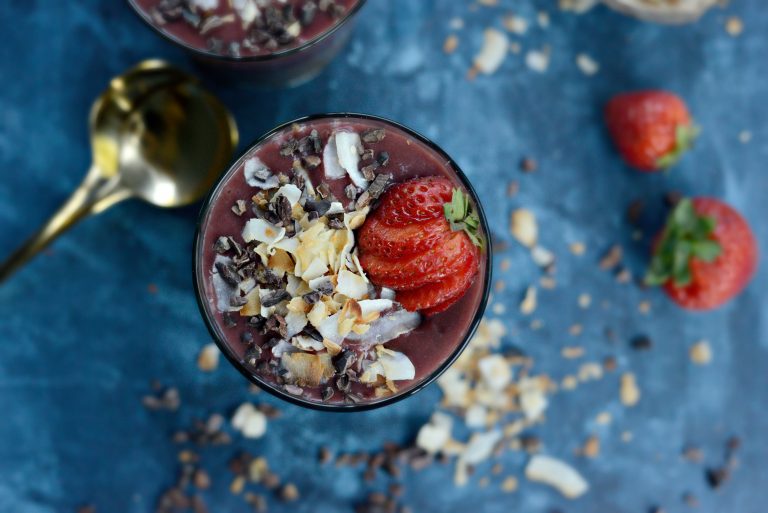 My cookbook Simply Scratch : 120 Wholesome Homemade Recipes Made Easy is now available! CLICK HERE for details and THANK YOU in advance!
[this post contains affiliate links.]
I was given product from Bob's Red Mill and Sambazon to create a one of a kind recipe that's healthful and delicious. All thoughts are my own and I love these brands!
This post may contain affiliate links.
Buy the Cookbook: Simply Scratch : 120 Wholesome Homemade Recipes Made Easy Now available on Amazon »
THANK YOU in advance for your support!