This raw sweet potato salad has this major crunch thing going on. There's the leafy greens, red onion, broccoli sprouts and raw (yes raw!) sweet potato. Let's all jump on the raw sweet potato wagon for a moment, shall we?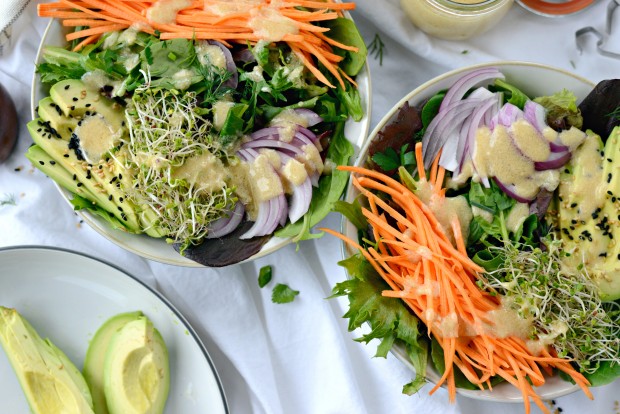 This whole idea of eating sweet potatoes raw is fairly new to me. You too? Great. Let's discuss this.
It wasn't until last week when I watched a video (I think it was Food52?) where they cut a sweet potato into thin matchstick pieces and made a small salad with the uncooked potatoes. Raw. Sweet. Potatoes. Sit and let that thought percolate for a moment.
That was the moment I knew I was going to make this raw sweet potato salad.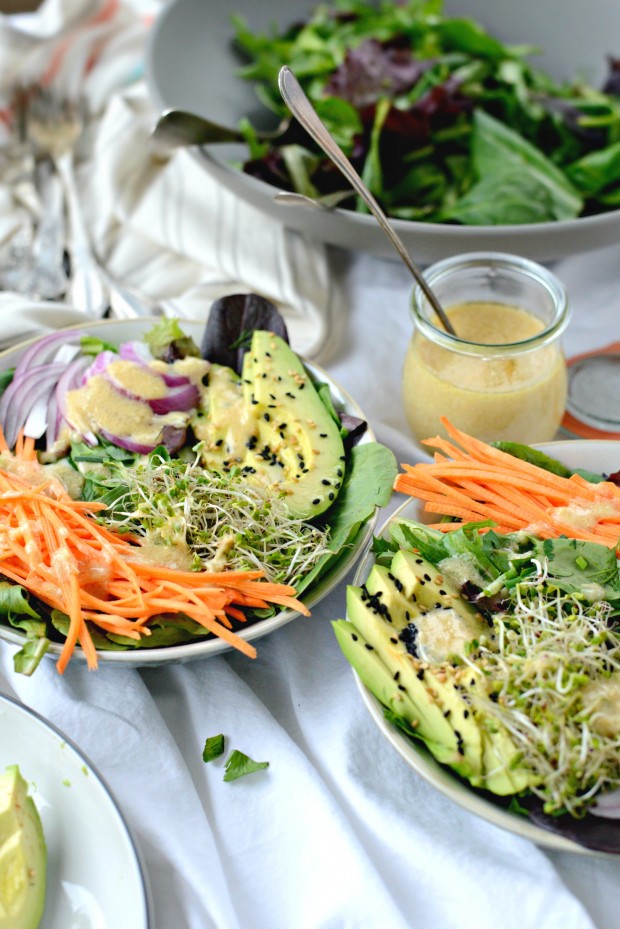 It totally makes sense right? Sweet potatoes have a better texture raw versus, let's say, a russet. They're full of dietary fiber, vitamins and are extremely b-e-a-u-t-i-f-u-l. Your brain is thinking carrot but your taste buds are like, nope it's a sweet potato. It's genius.
So what do raw sweet potatoes actually taste like? Well, to me they aren't as sweet (like at all) unlike when they're roasted or baked. So their flavor is subtle and the crunch is undeniable. That's why they're great for popping into salads raw. No roasting, pan sauteeing or boiling. You just need a julienne peeler or if you have spiralizer or mandolin that has a julienne attachment you can use those too.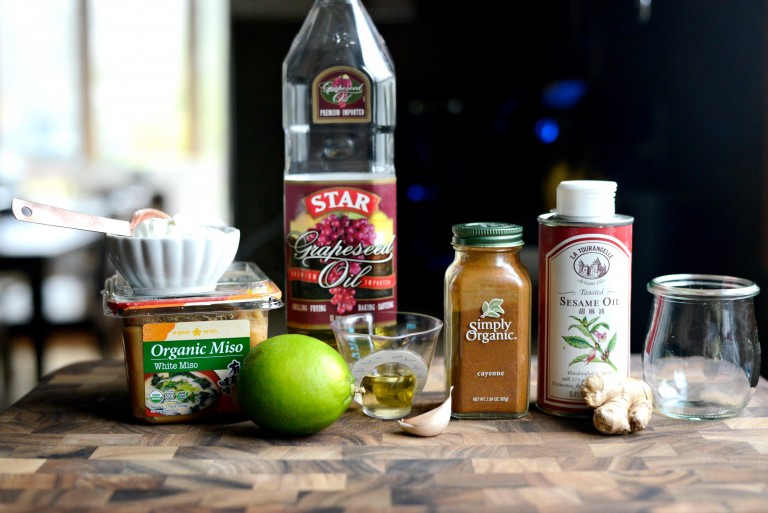 Miso is amazing. I literally just got that tub of organic white miso last week and I've already made two recipes using it. I'm smitten. Typically white miso is found in the refrigerated section in the produce area of most major grocery stores or health food stores. But the one at my local store wasn't organic, so I took my search to amazon and received it in two days. (thanks amazon prime!) But buying organic is my preference and doesn't have to be yours.
How To Get Ripe Avocados To LAST:
The trick to storing ripe avocados so they last is a no-brainer, it's easy and effective and has saved me SO much money. First buy hard to the touch, bright green avocados and allow them to ripen on the counter. Once they are black, soft to the touch (NOT squishy) pop them into the fridge. Because here is where they will last for quite a few days! You guys this has changed my life and I owe this trick to my sisters. No more wasted avocados!

Scoop out two heaping tablespoons of the white miso and add into to a medium bowl. Add in a teaspoon of grated fresh ginger root and grate in a smallish clove of fresh garlic.


Season with 1/8 teaspoon of cayenne. This is not a spicy dressing fyi, but it can be if you wanted to bump it up to 1/4 teaspoon. Squeeze in the juice of an entire lime (around 2 tablespoons) and add in 2 tablespoons rice vinegar.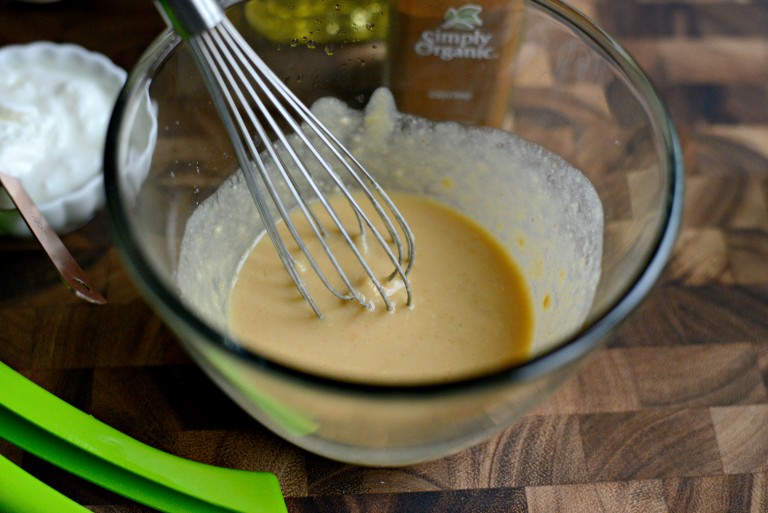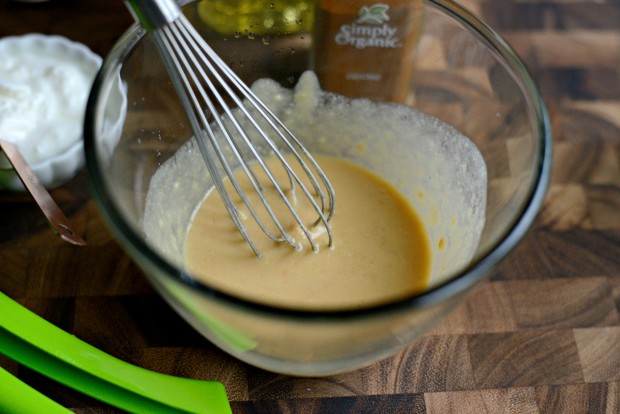 Whisk those together to get the miso loosened up and mixed in…

Continue to whisk while slowly pouring in the 1/4 cup of both grapeseed and sesame oil. Once those are in, I add in 3 tablespoons of full fat plain yogurt. If you want this to be dairy-free, simply omit the yogurt- it will still taste amazing, trust me!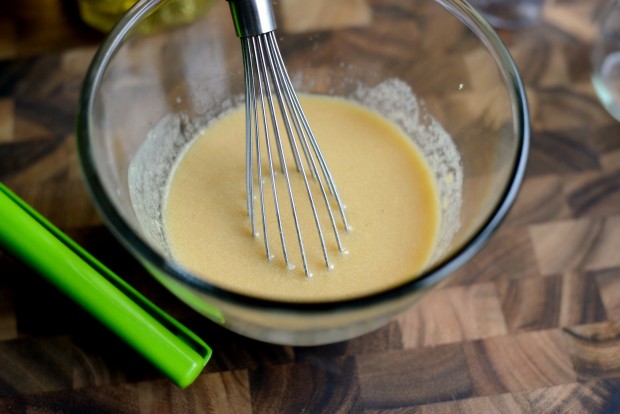 And there you have it! Homemade miso dressing. This stuff is seriously the whip.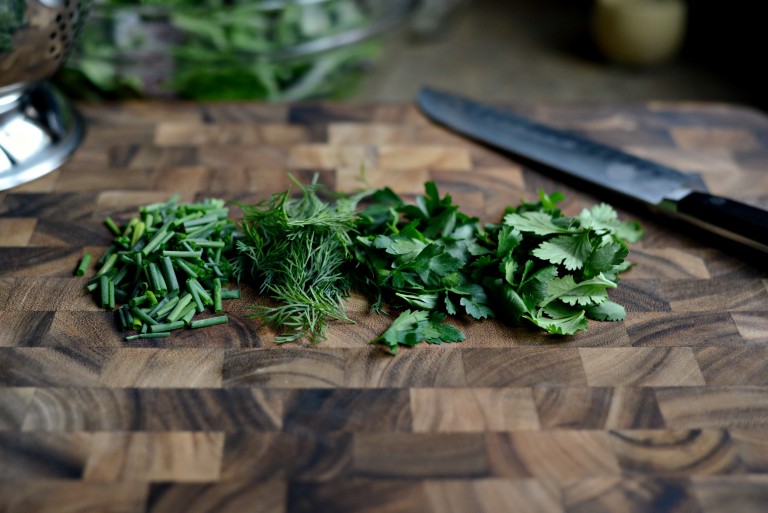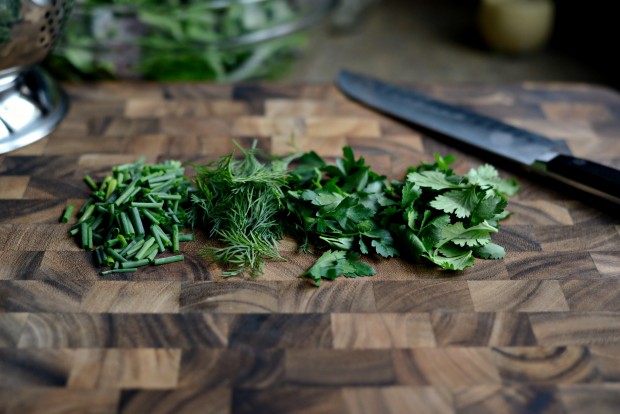 Moving on to the salad. Do you ever have herbs lying around that you need to use before they go bad? Try adding them to the salad greens! Use any herbs you like, simply mix and match and chop. In this salad, I'm using chives, dill, parsley and cilantro- about a tablespoon of each. This does not have to be exact measurements.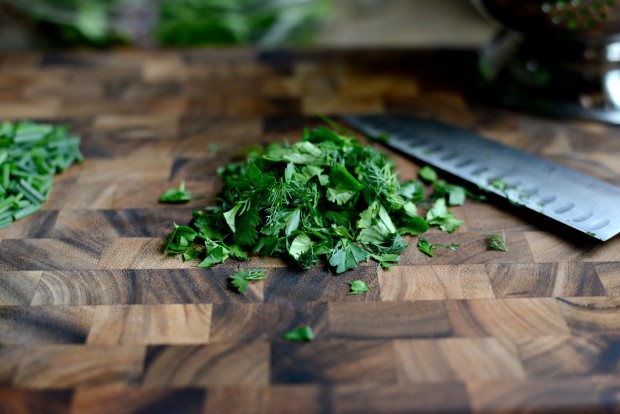 I already chopped the chives into 1/2 inch pieces and scooted them off to the side, but I piled the other herbs together and coarsely chopped them.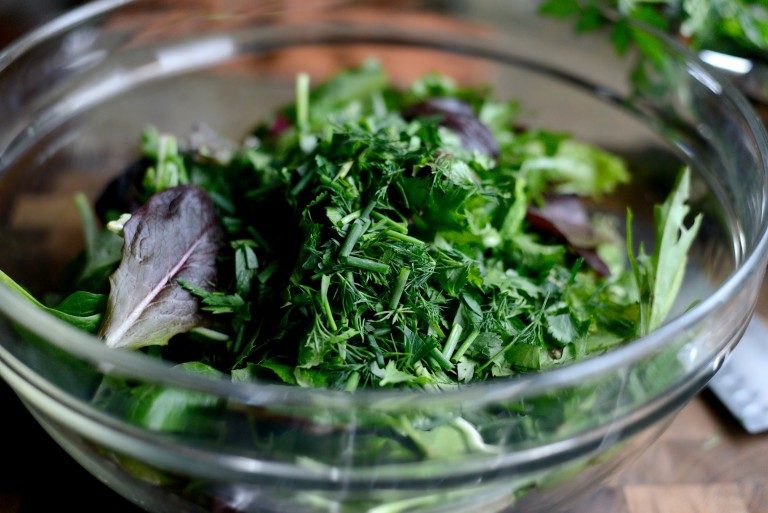 Add all the herbs to 10 or so ounces of some baby spinach and mixed spring greens- or whatever greens you like! Then toss to combine.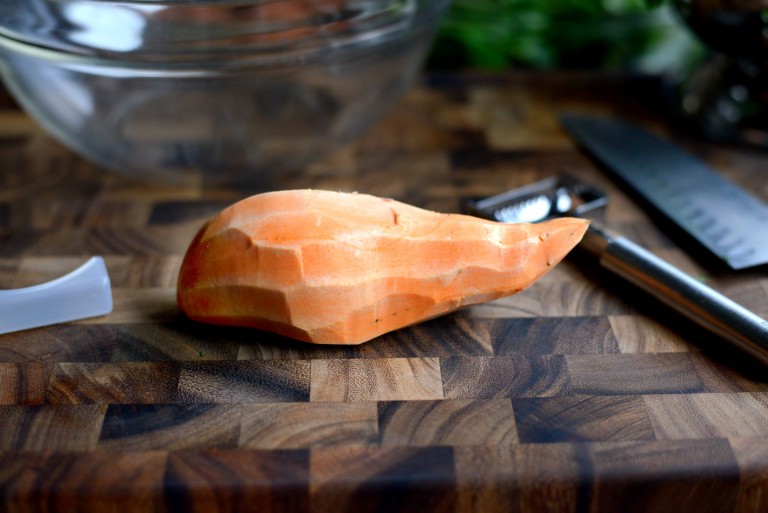 Peel a medium sized sweet potato. Slice a small portion of the bottom and top off so it has a flat surface to lay on and for making it easier once you start to use the julienne peeler.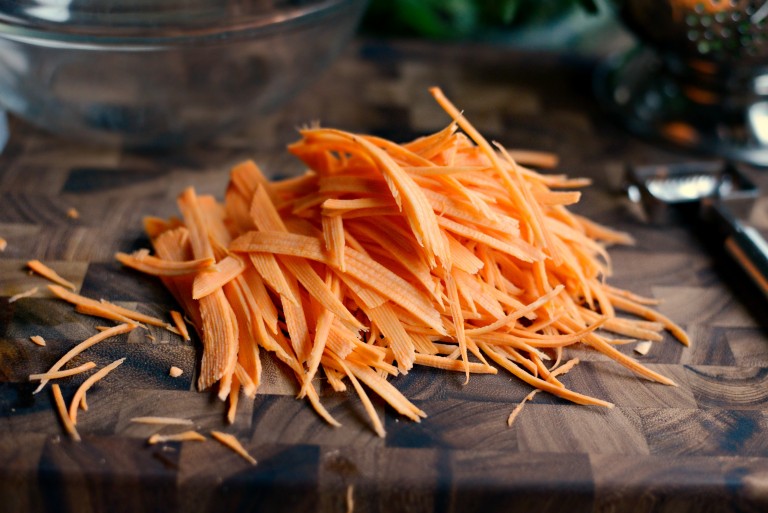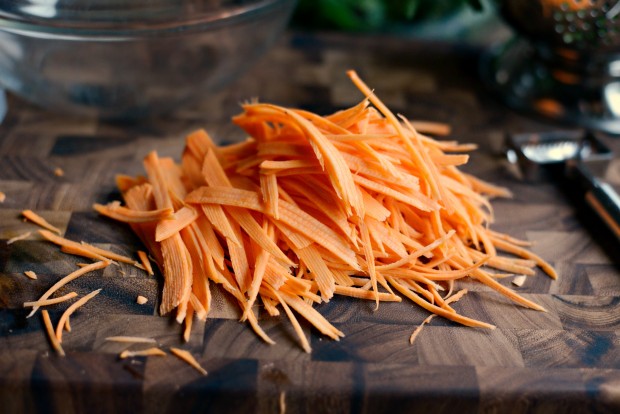 Here's your sweet potato strips! Then (using a knife) I slice up a small red onion and medium avocado… totally forgot to take pictures of those, but I think you get the idea.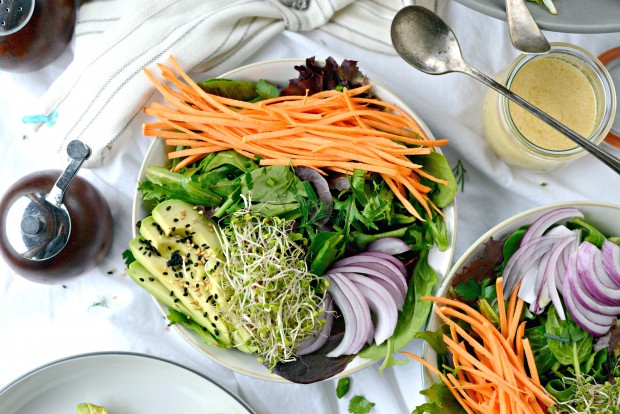 Then just divide the herb-y spring greens on to plates or into bowls, top them with 1/4 of the sweet potato mixture, a little red onion, a few slices of avocado, broccoli sprouts or micro greens.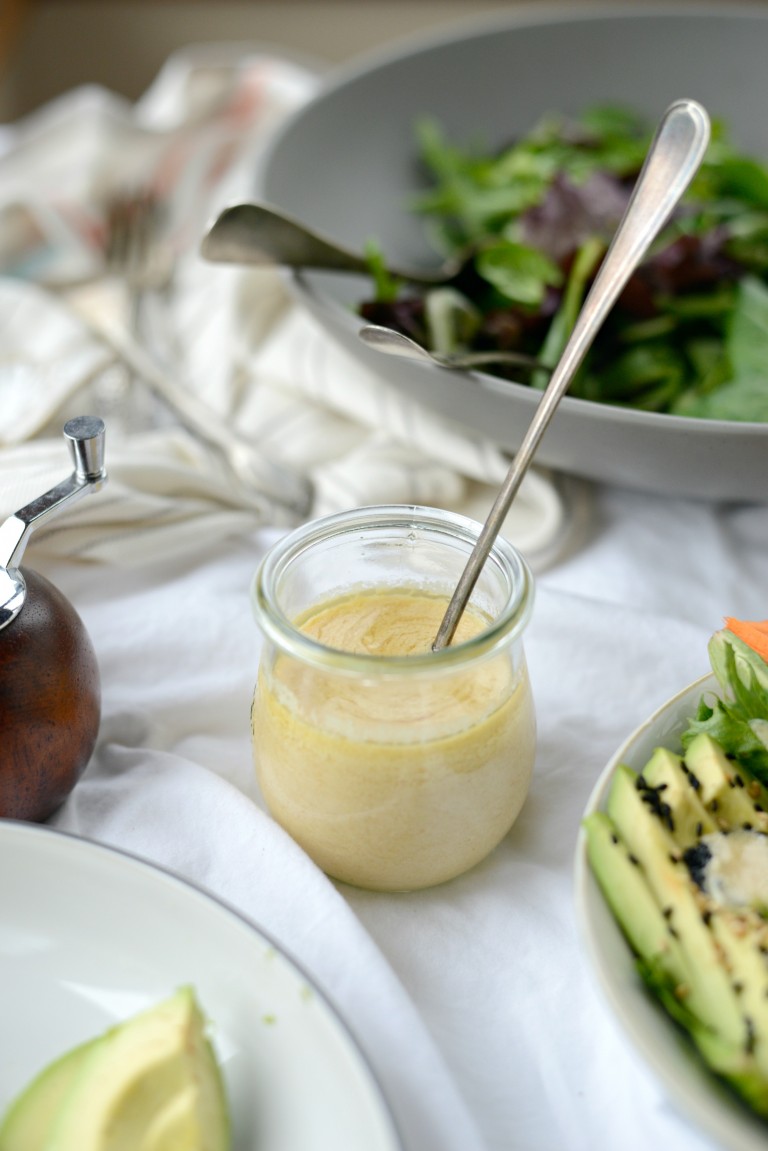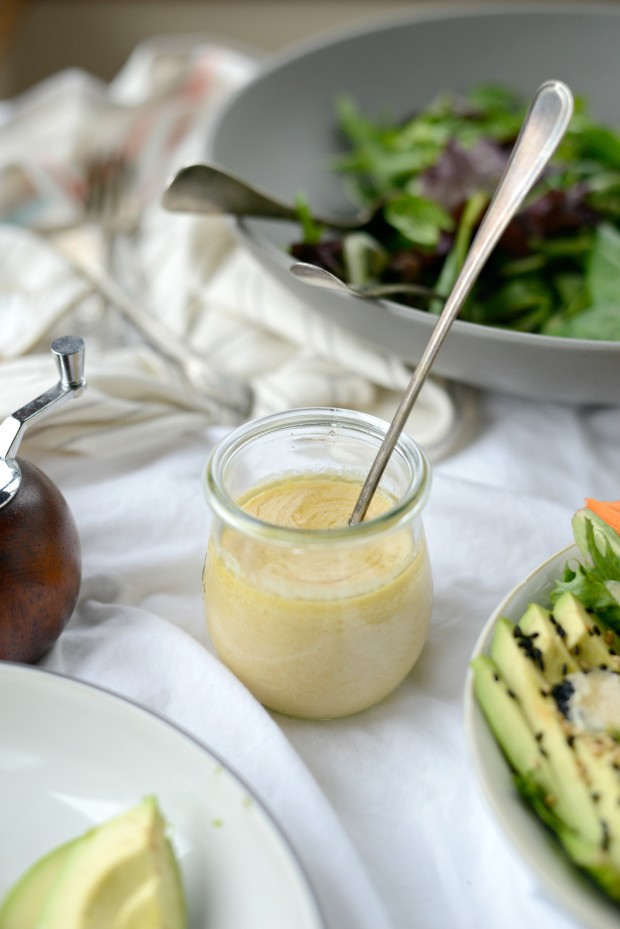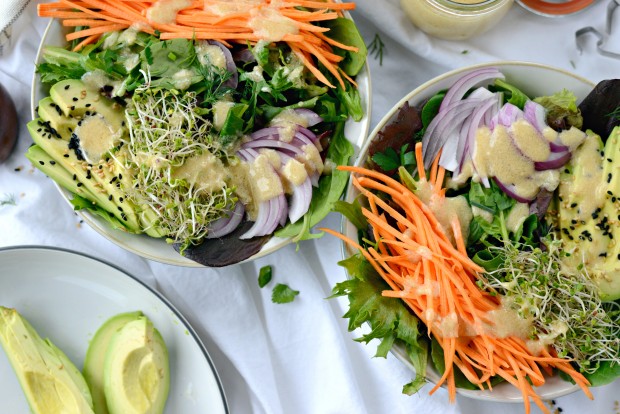 Lastly, drizzle the miso dressing by the spoonful over top. It's the crown jewel to this sweet potato salad, I swear!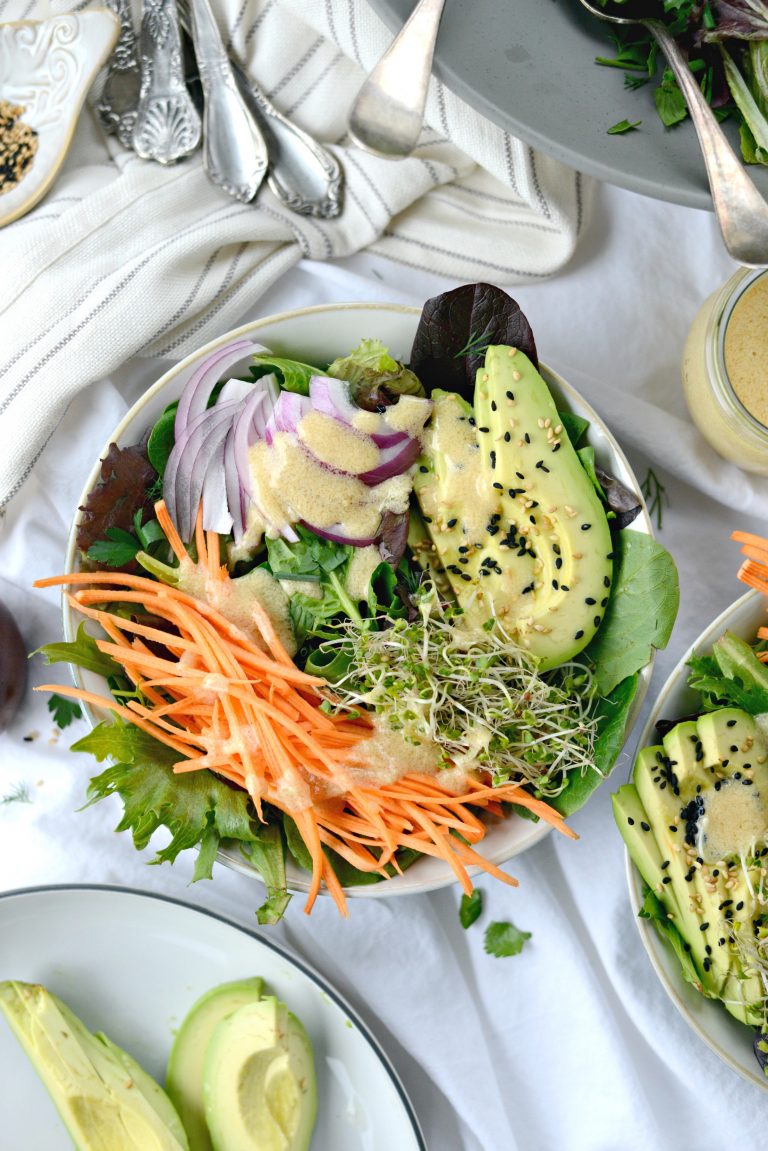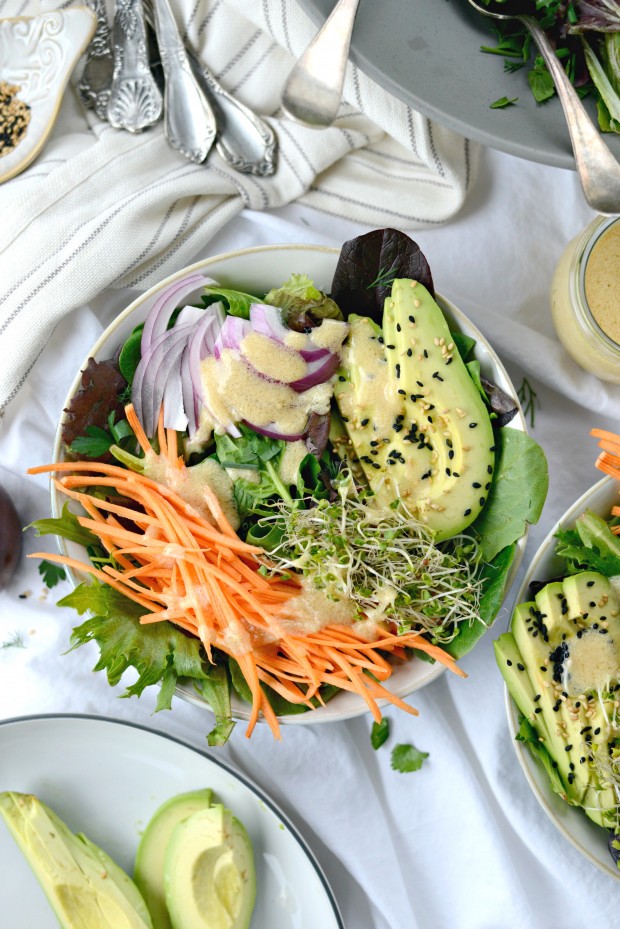 The dressing really compliments all the veg going on in this salad. And for extra points you can sprinkle black and toasted sesame seeds over top. I really like the flavor of toasted sesames in this!
Prettiest raw sweet potato salad everrr!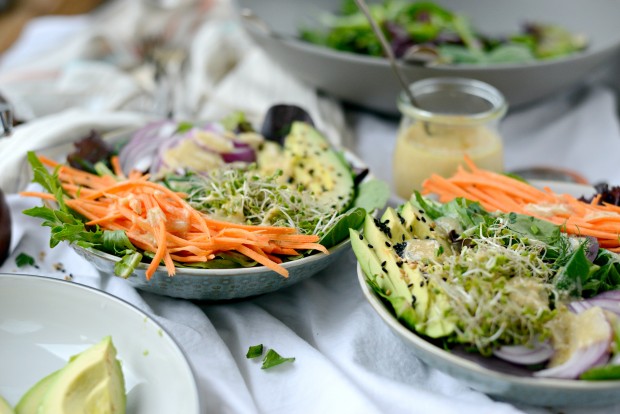 Alright friends! Once you've had a chance to get over your ham, cheesy potato and deviled egg coma or maybe you just want a good salad to kick off spring, I think you should make this light, healthy and crunchy raw sweet potato salad. I just know you'll love it.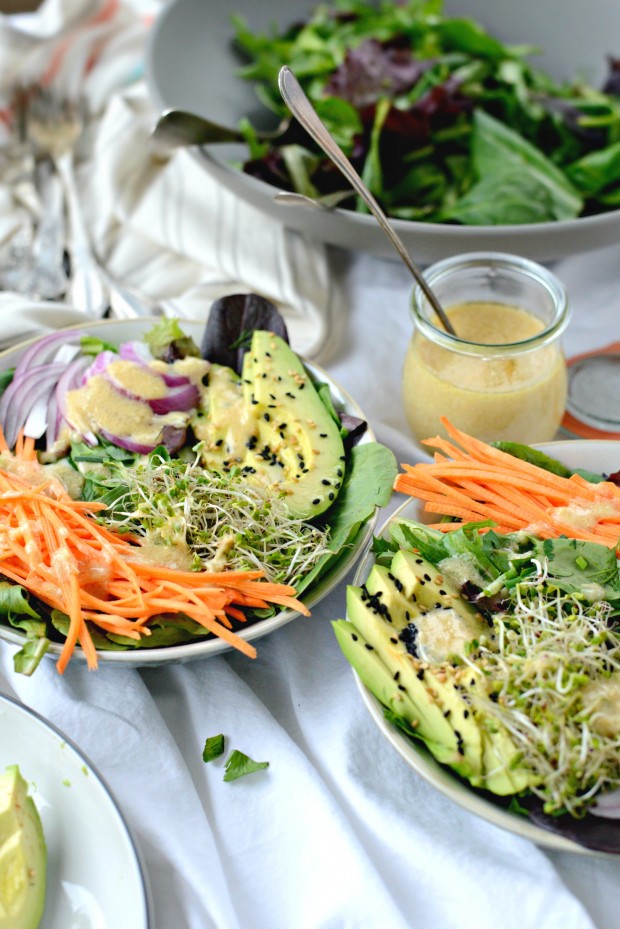 My cookbook Simply Scratch : 120 Wholesome Homemade Recipes Made Easy is now available! CLICK HERE for details and THANK YOU in advance!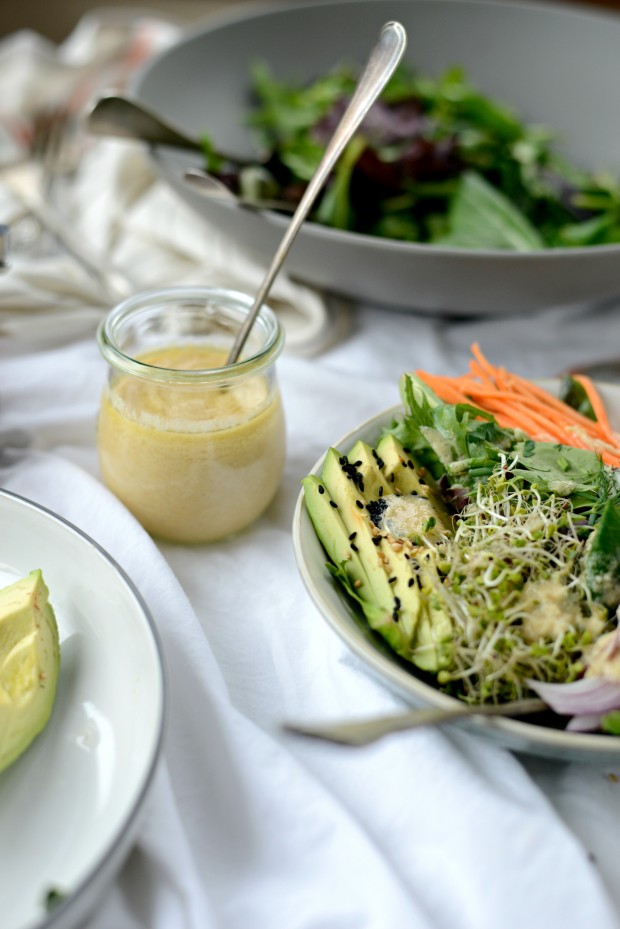 the miso dressing was adapted from the new york times
[this post contains affiliate links]
This post may contain affiliate links.
Buy the Cookbook: Simply Scratch : 120 Wholesome Homemade Recipes Made Easy Now available on Amazon »
THANK YOU in advance for your support!