Lots of colorful vegetables in this Rainbow Crunch Salad. Easy, fresh and delicious! Serve as is or as a beautiful side with seafood or chicken.
Chopped salads are my favorite kinds of salads. All those perfectly chopped pieces of veg that scoop perfectly onto my fork. Yeah, did I mention it's totally perfect?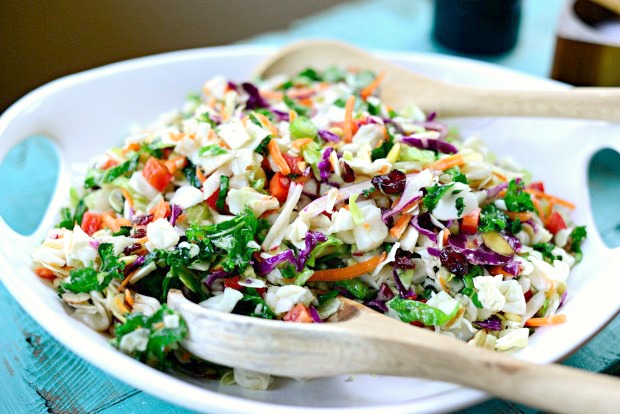 I prefer my chopped salads with lots of color, texture and packed with healthy goodness and I've recently fell in love with these bags of salad-meets-slaw that I found at my grocery store. I know, I used the word "bag" BUT trust me on this, it's full of chopped veggies like romaine, radishes, carrots, green onions and kale and they are great for quick slaws, salads or as a topping in tacos and when in a pinch.
When my friends at STAR reached out to me to create a recipe using their STAR Ferran Adrià Signature Series Garlic Olive Oil I was thinking about one of my sisters slaw recipe she brings to our family things. It's a dairy-free cole slaw that is light and bright and healthy. I took her recipe and converted it into a slaw-like-salad (using these chopped veggies bags) while making a light garlic version of her vinaigrette.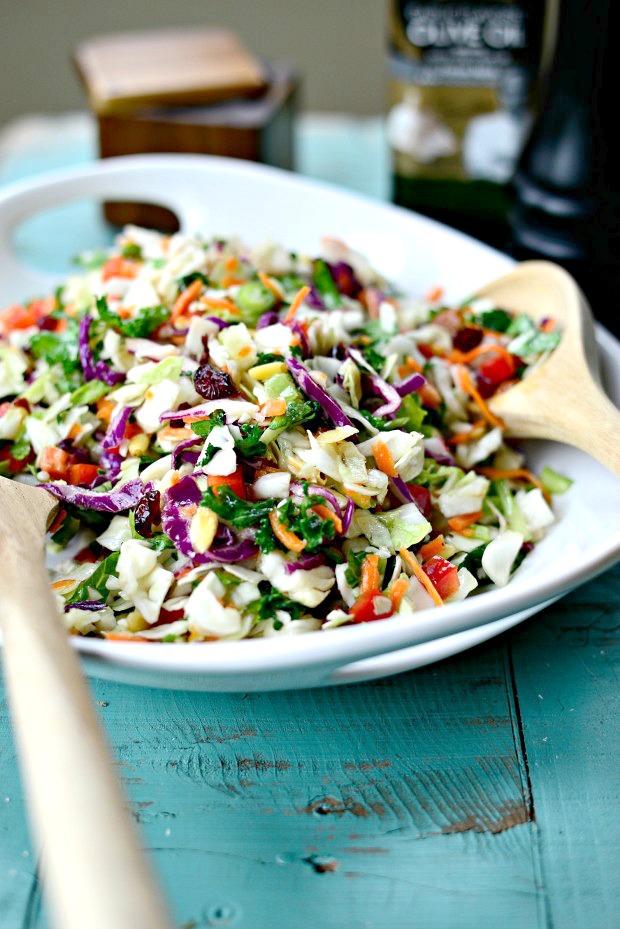 Typically I prefer to chop all my vegetables myself than buy pre-chopped anything, but with girls in sports and only a sliver of time to get dinner on the table, sometimes I cheat. I'll use a couple of these bags for this quick light salad and I refuse to feel guilty about it. It saves SO much time, putting this salad on the table in under 15 minutes. I think we all deserve a break from chopping every now and again.
But feel free to use 2 to 3 cups of both purple and green shredded cabbage or a combination of leafy greens, broccoli slaw and other vegetables.
Just wing it.
In this salad I like to add in toasted nuts, red bell peppers, dried cranberries and make a simple vinaigrette.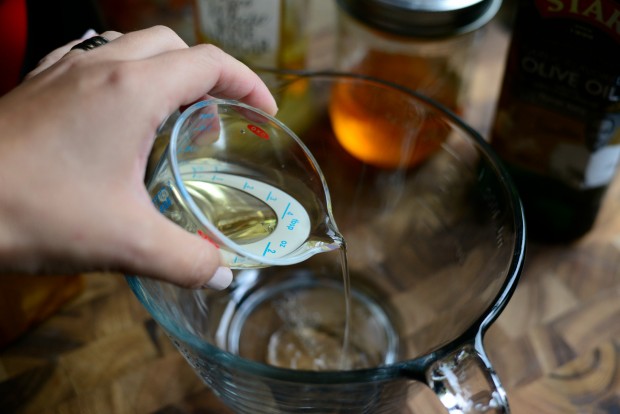 Into a medium bowl, pour in 3 tablespoons of white wine vinegar…
I (heaping) tablespoon of honey…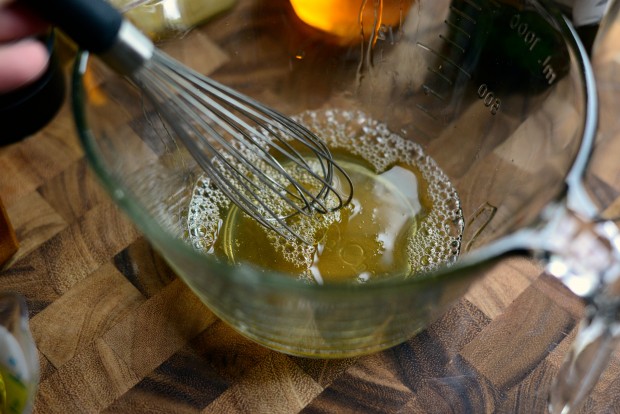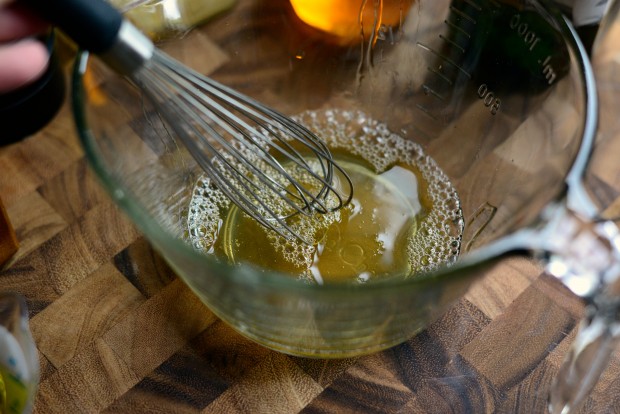 …and quickly whisk to dissolve the honey into the vinegar.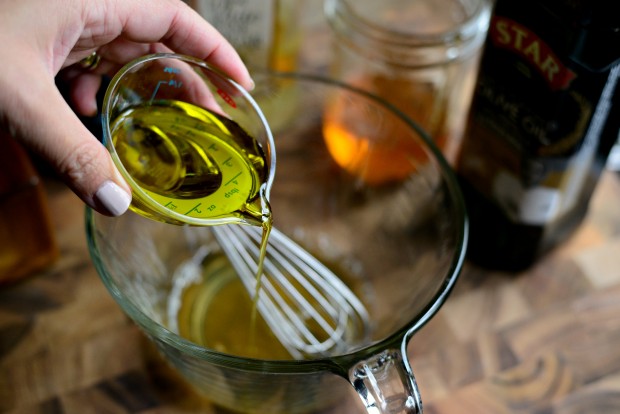 Next pour in garlic infuse olive oil. (STAR Ferran Adrià Signature Series Garlic Olive Oil is available exclusively at select Safeway and Vons stores.)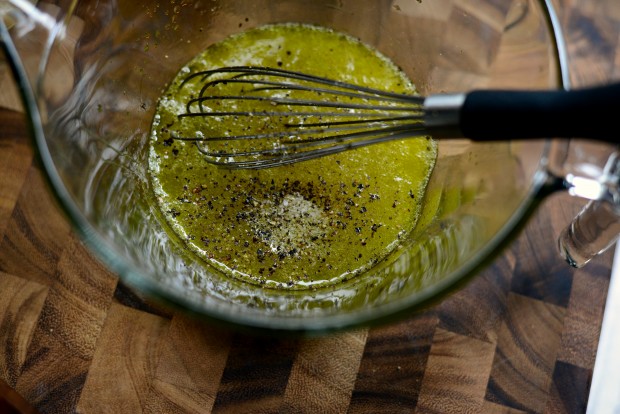 Then season with a 1/2 teaspoon kosher salt and freshly ground black pepper to taste.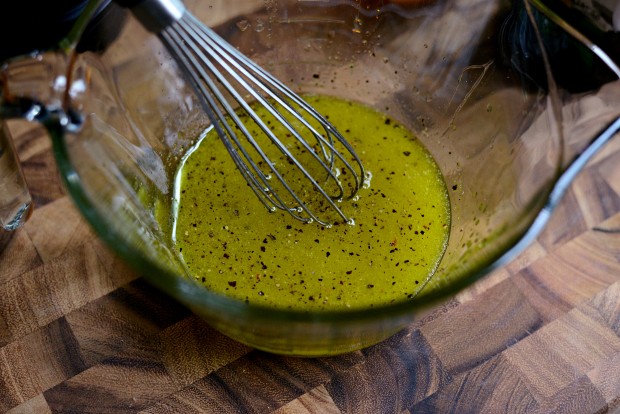 Lastly, whisk to combine.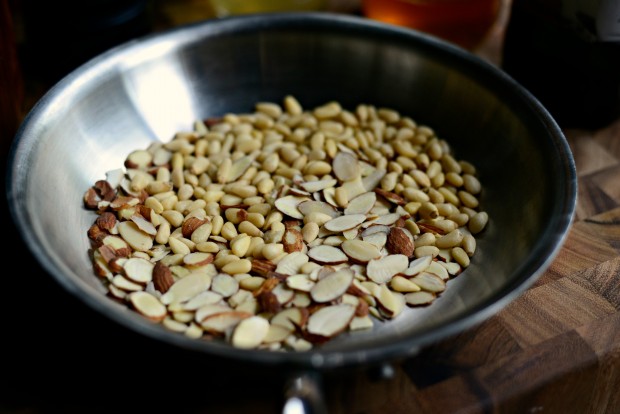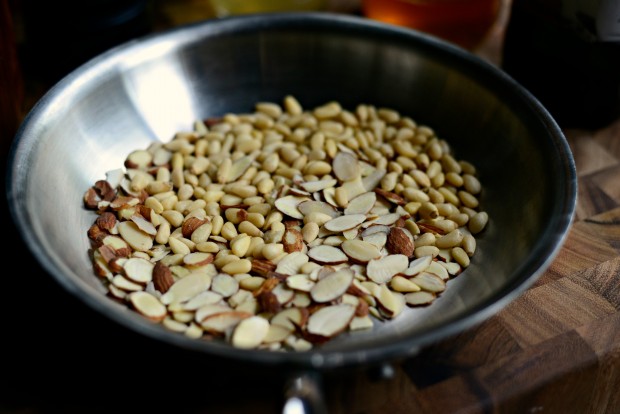 Next add 1/4 cup sliced almond and pine nuts into a dry skillet. Heat over medium/medium-low and gradually toast the nuts until lightly golden, stirring occasionally to keep from burning.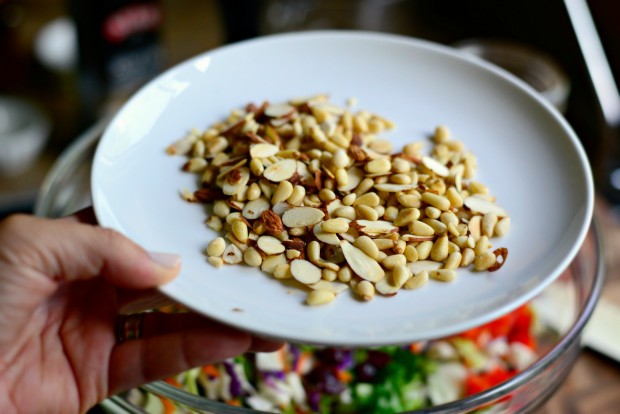 Transfer to a clean plate to cool.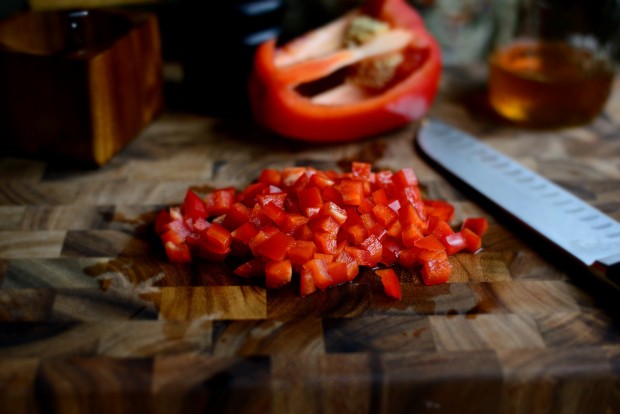 All that's left to do is finely dice up 1/2 cup of red bell pepper…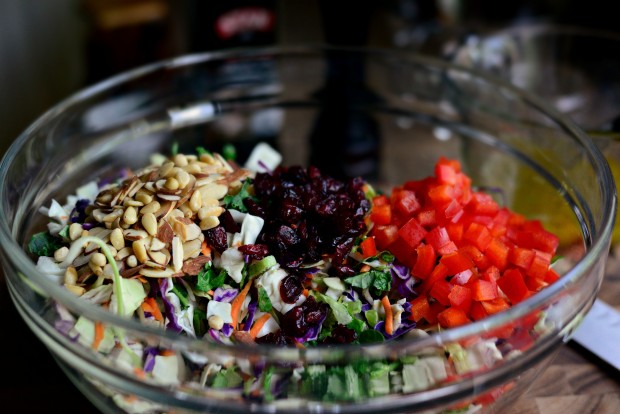 Then add the chopped vegetables into a large bowl along with the (cooled) toasted nuts, craisins and peppers.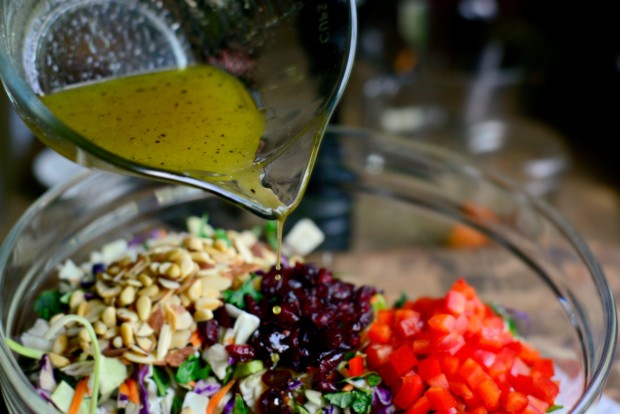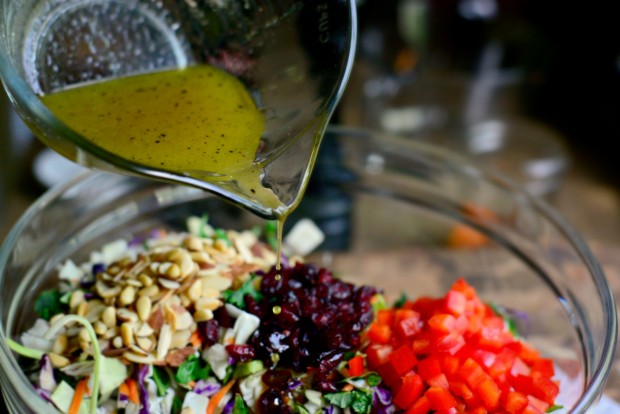 Next, pour in the dressing…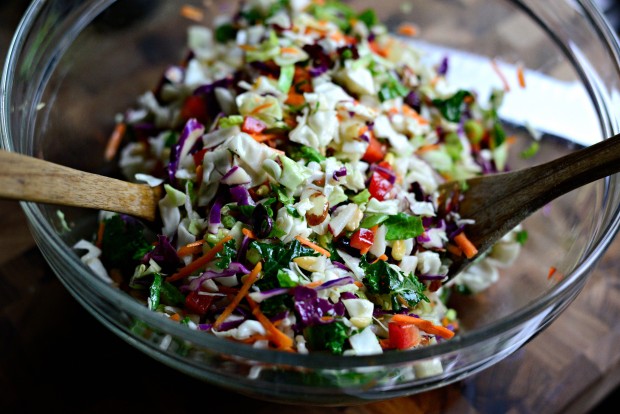 Then toss to combine the goodness.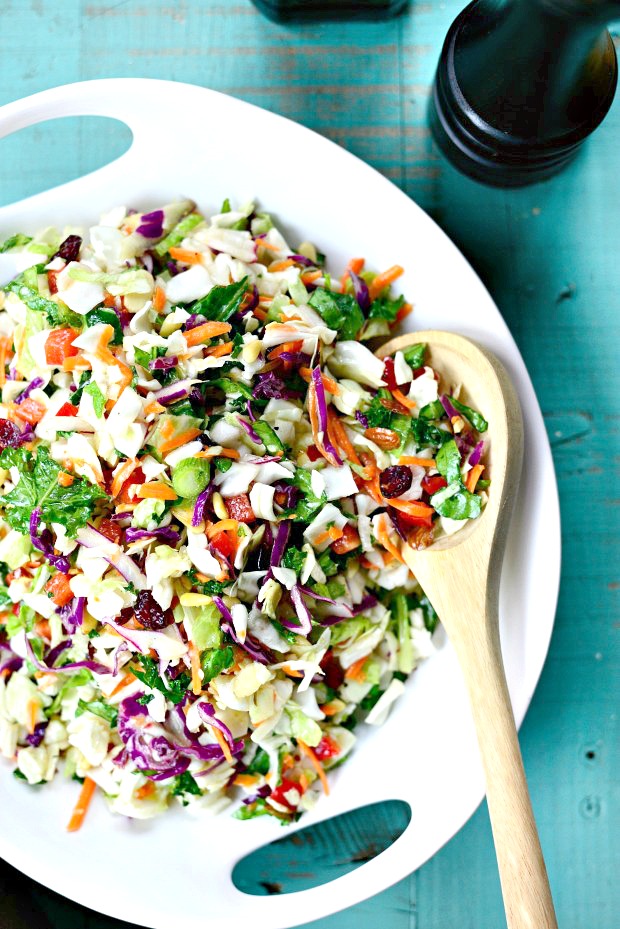 Seeeee this rainbow chopped salad is so easy! And healthy and amazing, guilt free too!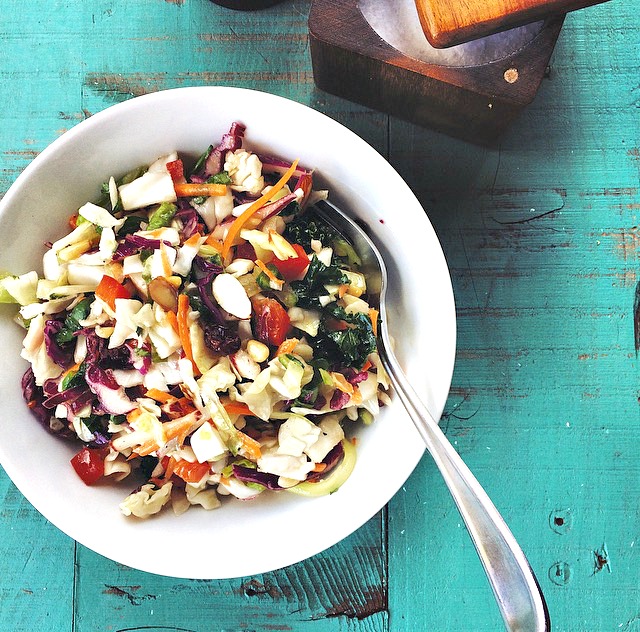 I like to make a batch of this rainbow crunch salad just for me and eat it for daysssss. (insert thumbs up emoji here)
Enjoy! And if you give this Rainbow Crunch Salad recipe a try, let me know! Snap a photo and tag me on twitter or instagram!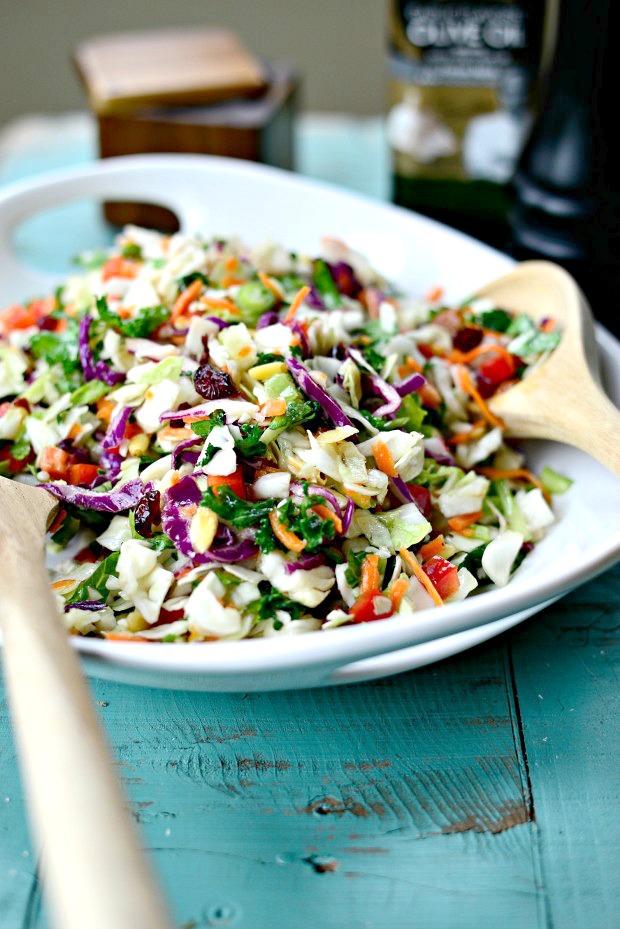 My cookbook Simply Scratch : 120 Wholesome Homemade Recipes Made Easy is now available! CLICK HERE for details and THANK YOU in advance!
[this post contains affiliate links.]
This post may contain affiliate links.
Buy the Cookbook: Simply Scratch : 120 Wholesome Homemade Recipes Made Easy Now available on Amazon »
THANK YOU in advance for your support!