Banana bread overnight oats, is all the things we love about banana bread but for breakfast. It's the best oatmeal that has ever happened to me. Overnight
It's been a little over a month since I posted this oatmeal recipe. Too soon? I hope not because I eat oatmeal on most mornings and I'm always looking for fun new ways to flip the script on my favorite breakfast.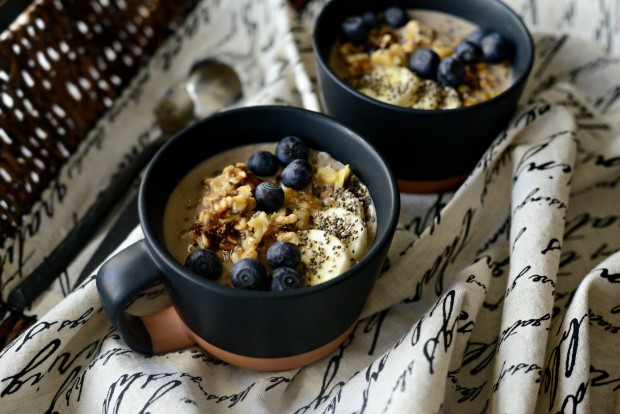 How is it possible I've lived on this earth for thirty-fuh something years and NOT make overnight oats? Like it never dawned on me to throw oatmeal plus milk plus whatever else into a bowl and then leave it in the fridge overnight. OVER-FRIGGIN-NIGHT-OATMEAL!!! Sorry to shout, but my mind is kind of blown. Because I love the fact that not a single stove-top burner needs to be turned on to make this oatmeal. I KNOW! It's crazy, yet I'm sure you're sitting there thinking about how you've been making overnight oats for decades and how I'm late to the party. Well, you're right… I'm late. So darn late.
Over coffee, my friend Nichole was telling me how she's been doing the whole overnight oats thing for breakfast lately and I sat there, slack-jawed while thinking; holy-baby-Jesus-in-a-manger! I need to jump on this. If you follow me on instagram, you've probably seen my bowls of oatmeal slash bowls of fruit with a side of oatmeal. I love my oatmeal, especially loaded with lots of goodies and this is banana bread oatmeal doesn't disappoint!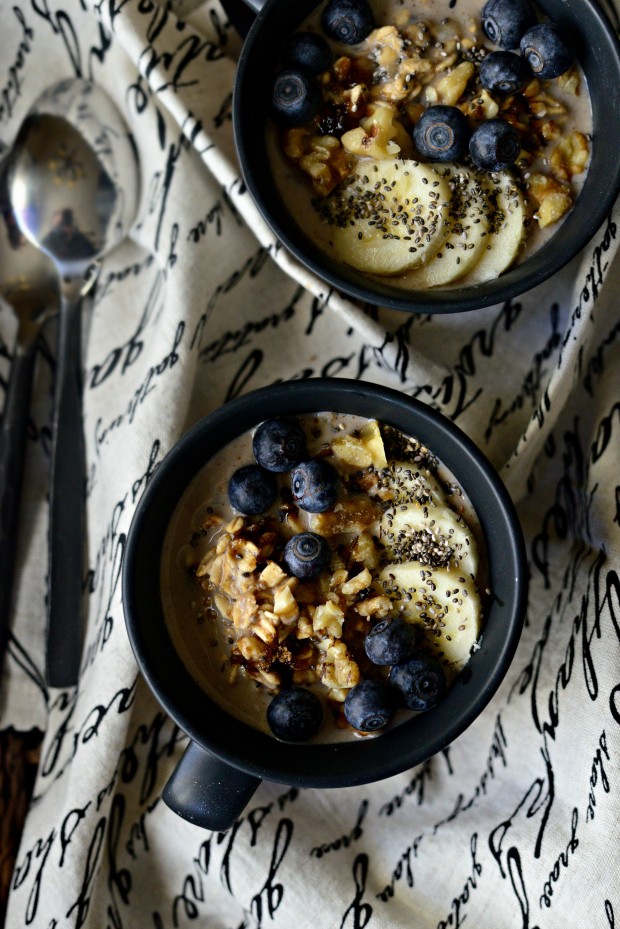 I made this batch at noon and just popped it into the fridge. The milk softens and plumps the oats just like they would on the stove top! Nichole eats her overnight oats straight from the fridge. Um, I can't do that. I cannot even comprehend cold oatmeal, it just doesn't compute.
To me, oatmeal = warm = cozy, so I reheat mine and load it with toppings. Naturally.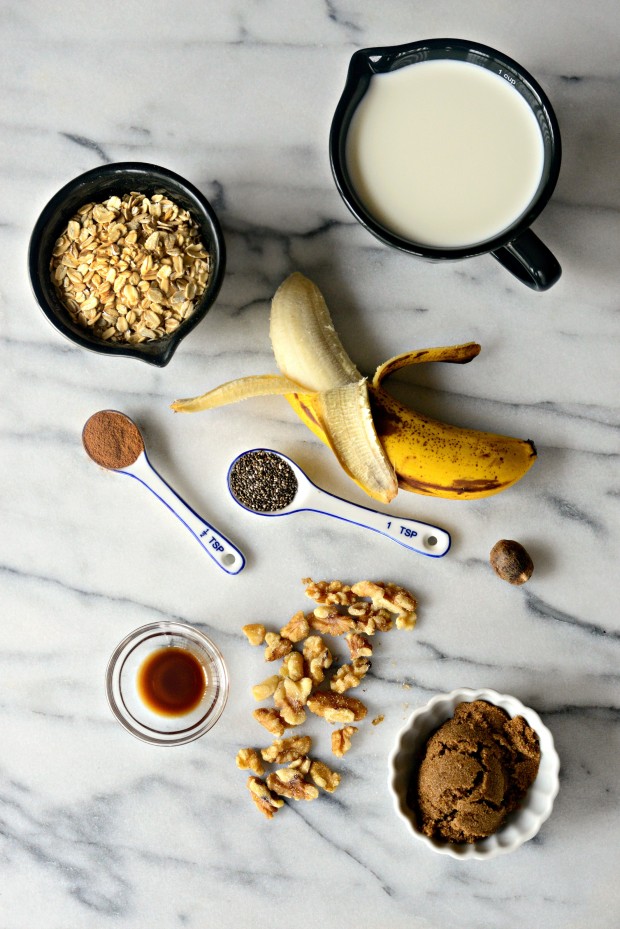 I decided I needed to use up the ripe bananas I had and was inspired to do a riff on banana bread, but in oatmeal. Complete with walnuts, spices and chia seeds for a little extra nutritional oomph. Here's how to do it…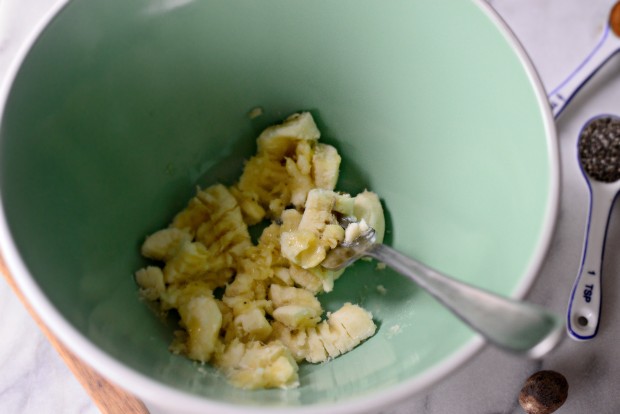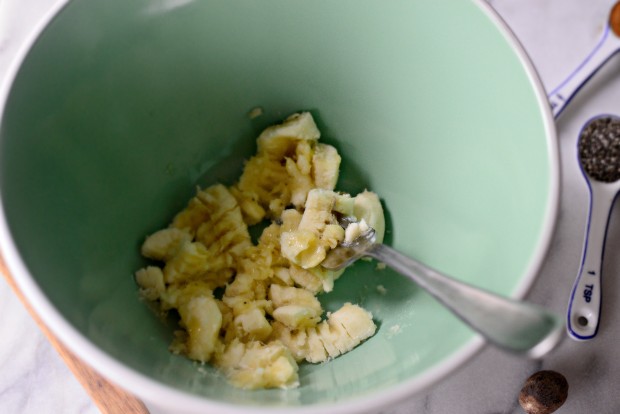 Start by smashing up a banana. I use a fork to get the job done.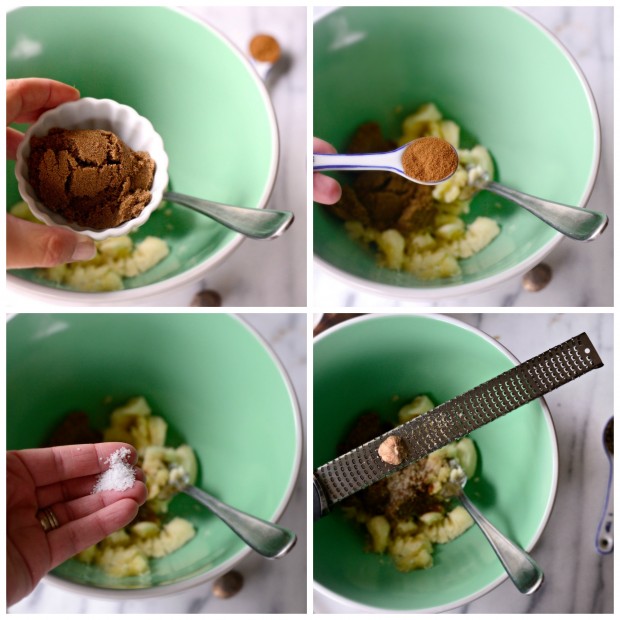 Then add in two tablespoons dark brown sugar, 1/2 teaspoon ground cinnamon, a pinch of salt and about 1/4 teaspoon of freshly ground nutmeg (just eyeball it!).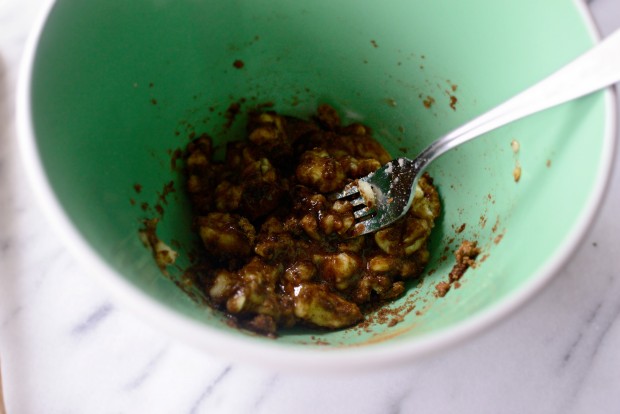 Next give it a quick mix, breaking up any clumps of sugar.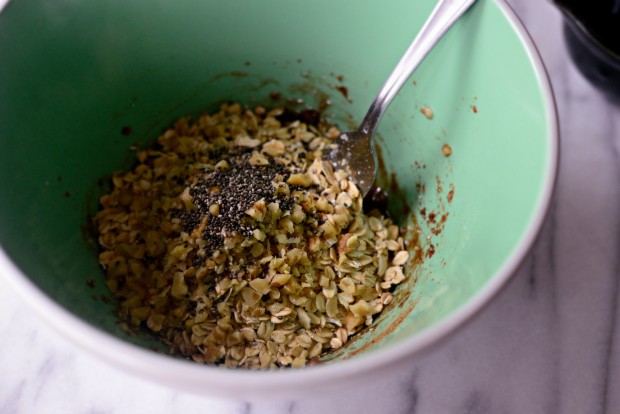 Then add in the 1/2 cup of thick-cut oats, 1/4 cup chopped walnuts and the teaspoon of chia seeds.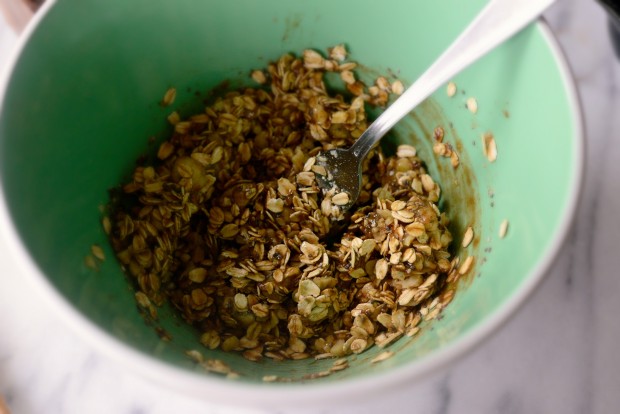 Looking good already!
Then lastly just add in the 1/2 teaspoon of vanilla extract and a cup of whole milk.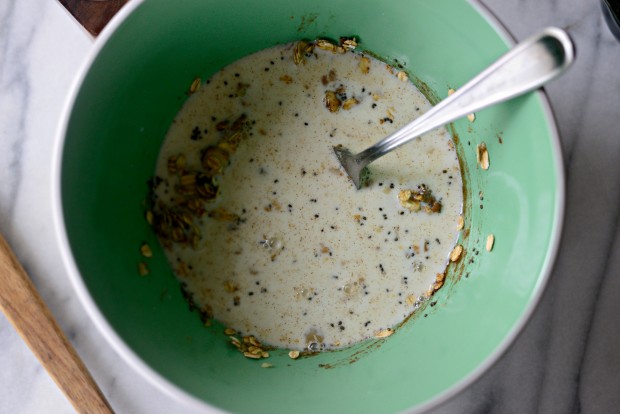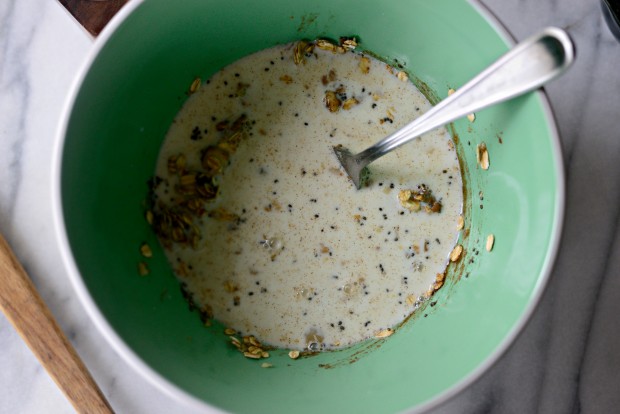 That's it!
Stir and cover the bowl tightly and pop into your fridge for the night and you'll have breakfast ready and waiting for you in the morning. What could be better (or easier) than that?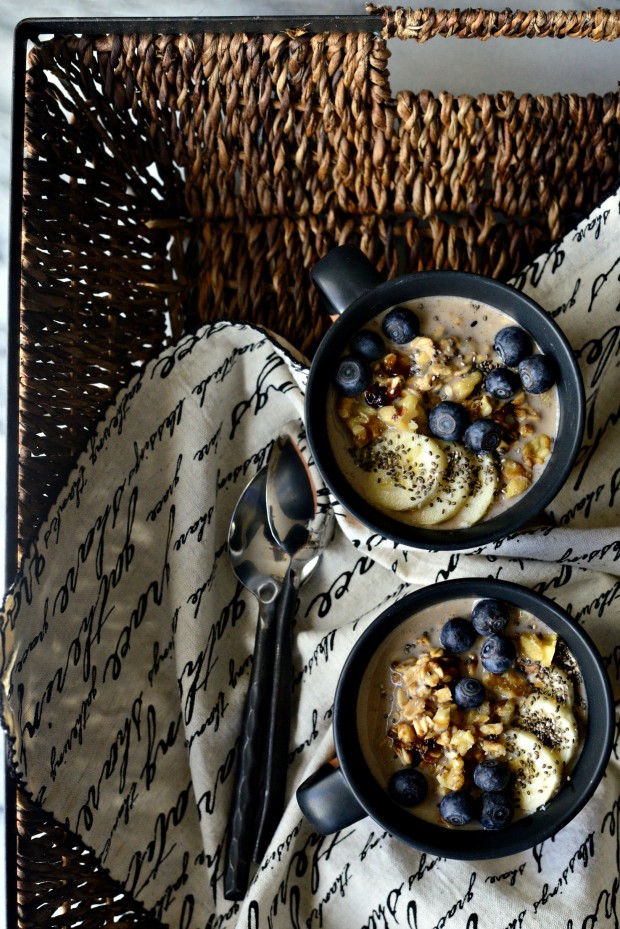 This oatmeal makes for a quick breakfast option when you have little time to spare in the morning. After reheating mine, I like to add a sprinkle of dark brown sugar, a few slices of banana, more chopped walnuts, a little more chia seed and fresh blueberries. SO good.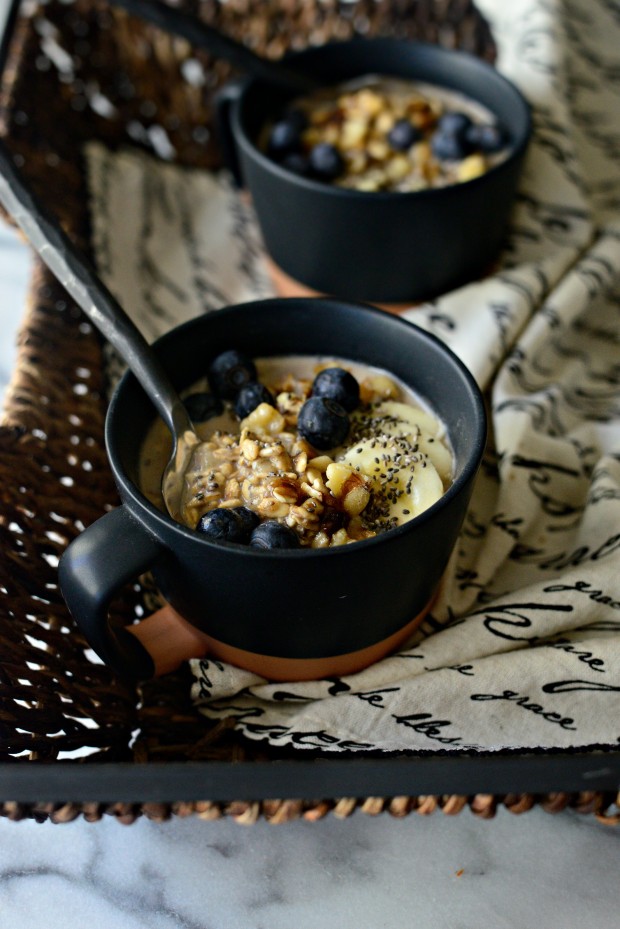 And the best part? These banana bread overnight oats tastes just like banana bread (!!!).
It's the best oatmeal that has ever happened to me. Overnight.
Enjoy! And if you give this Banana Bread Overnight Oats recipe a try, let me know! Snap a photo and tag me on twitter or instagram!
My cookbook Simply Scratch : 120 Wholesome Homemade Recipes Made Easy is now available! CLICK HERE for details and THANK YOU in advance!
[this post contains affiliate links.]
This post may contain affiliate links.
Buy the Cookbook: Simply Scratch : 120 Wholesome Homemade Recipes Made Easy Now available on Amazon »
THANK YOU in advance for your support!