A baked cake doughnut infused with chai tea, strong coffee and dipped in a coffee glaze. A warm and cozy doughnut.
Boy do I have a treat for you today! Megan from Wanna Be a Country Cleaver has stopped by to do a guest post and she brought with her delicious recipe too, Dirty Chai Doughnuts!! My heart skips a beat just typing those three words!
Now if you don't know Megan, well, you should. Her personality is positively infectious, and her recipes are fun and innovative. Dirty Chai Doughnuts for example! Megan is also someone I call friend. We chat, virtually cheers'd with big fat glasses of wine and we're even legit facebook friends. She's got a sarcastic attitude that I absolutely adore, which is actually why we get along so well, or maybe it's that we share the same fear of basements and things with too many or not enough legs. Anywho, I have a feeling you're gonna love Megan's recipe, because it's covered in a COFFEE GLAZE!!!

After a weekend full of carbo-holic food adventures that included food trucks, VooDoo Doughnuts, and multiple chai teas you'd think I'd be burned out. But apparently all of the gluttony I succumbed to has only fueled the fire for more.
High-five, Portland. You treated me well.

Upon my fiancé's and my return to Seattle our stash of VooDoo doughnuts and artisan coffee was in dreadfully low supply – it only stood to reason that I should combine what bits I had strewn around my kitchen to sustain my new fangled addiction to VooDoo doughnuts and long held affair with Dirty Chai lattes.

Have you experience a Dirty Chai before? To all of you out there who have, good for you! To all of you who have yet to adventure into this other worldly caffeinated delight, do it. Now.

A dirty chai is a chai tea with a shot of espresso and sometimes a half shot of vanilla syrup. Pretty simple. Warm. And cozy, with a little jolt for those who can't wake up without a boost. Like me. My obsession with them began during my college days in my college town's corner coffee house, with them dubbing it the Fly Boy. And flying I was. It was much needed after a full week of early hours and late nights during midterms. Dang am I glad those days are behind me…
Behind me those days of midterms and late nights may be but the dirty chais are never far from my mind or taste buds.

When I can't get my hands on one, or just want a carby baked version (as any self respecting Czech girl would) – I now have a go-to recipe for just such an occasion. And now, so do you! I give you the dirty chai doughnut.
Enjoy! And if you give this recipe a try, let me know by snapping a photo and tagging me on twitter or instagram!
My cookbook Simply Scratch : 120 Wholesome Homemade Recipes Made Easy is now available! CLICK HERE for details and THANK YOU in advance!
Yield: 13 Doughnuts
Dirty Chai Doughnuts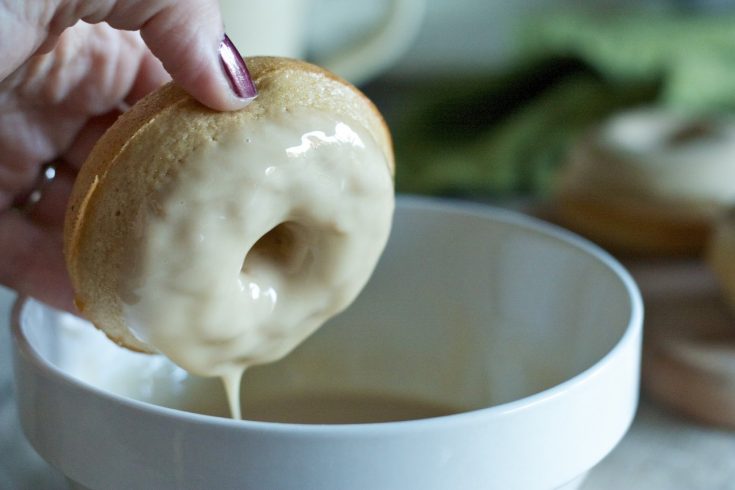 A baked cake doughnut infused with chai tea, strong coffee and dipped in a coffee glaze. A warm and cozy doughnut.

Prep Time 15 minutes

Cook Time 8 minutes

Total Time 23 minutes
Ingredients
FOR THE DOUGHNUTS:
2 cups cake four

3/4 cup sugar

2 teaspoons baking powder

3/4 teaspoon kosher salt

1 (1 ounce) package powdered chai
1/2 cup buttermilk

¼ cup strong coffee
½ tsp. vanilla extract
2 eggs, lightly beaten

2 tablespoon butter, melted
FOR THE GLAZE:
1 cup powdered sugar
4 tablespoon strong coffee
Instructions
Preheat your oven to 425°F.

In a large bowl, whisk together flour, sugar, baking powder, powdered chai, and salt. Beat in buttermilk, coffee, eggs, vanilla and melted butter until fully incorporated.
Spray doughnut pan with non-stick spray, filling each cavity with 1/4 to 1/3 cup doughnut batter.
Bake in your oven for 8 minutes, or until light golden brown.
In small bowl, whisk together powdered sugar and coffee until sugar is dissolved and mixture is runny.
Pour over each doughnut, or dunk tops of doughnuts into glaze and turn right side up to set.
Serve while still slightly warm.
Recommended Products
As an Amazon Associate and member of other affiliate programs, I earn from qualifying purchases.

[this post contains affiliate links.]