The Black and Bleu Burger is ground beef stuffed with bleu cheese, grilled and and topped with blackened onions, bacon, lettuce and mayo. Divine!
Wanna know a couple things I'm obsessed about lately?
This burger. Really burgers in general. And I've only made this one a zillion and one times and it covers every single one of my hankerings. Bacon, cheese WIN!
Now, I wasn't planning on blogging this recipe at all because it was suppose to be one of those quick and easy dinners. And for once a meal without the camera slung around my neck. But since I can't resist the urge to take pictures of food, and I couldn't possibly deprive you of this burger.
I started by mixing a pound of both ground sirloin and chuck and made 6 patties. Then I simply stuff the centers with Gorgonzola cheese.
In the past I have stuffed burgers with cheddar, Colby jack and bacon, but Gorgonzola is still my cheese of choice. Or choice of cheese. My cheesy choice. Ha!
Then just before grilling I make a dimple in the center of the burger to keep the burger flat during grilling.
Next, sprinkle it with a little burger seasoning that may or may not be McCormick Hamburger seasoning. In a single pinch it has the perfect amount of salt, pepper and garlic. LOVE IT!
Then place the grilled burger on top of a toasted bun with a few strips of extra-crispy bacon. Then and some charred red onion rings.
hence the black in the title!
Top with crisp, fresh romaine lettuce leafs and there you have it, a totally rocked out burger. Have I sold you yet?
I normally don't cut my burgers in half, I'm particularly fond of biting into a thick burger and letting the crumbs and juices chill out on my face. But you all HAVE to see the little surprise inside. Ooey. Gooey. Cheese! I mean C'MON! It's freaking awesome I tell you! There is something about blackened red onion, bacon and blue cheese that makes me smile… like one of those "pudding face" smiles. 😀
So I'll leave you with this burger. Meanwhile I go and run 57 miles and do 8,500 sit-ups just to work off some of that cheese and bacon. While I'm doing that… tell me… what's your favorite burger?
Enjoy! And if you give this The Black and Bleu Burger recipe a try, let me know! Snap a photo and tag me on twitter or instagram!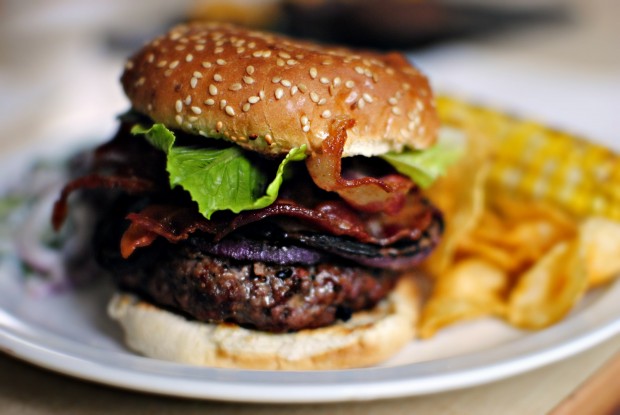 This post may contain affiliate links.
Buy the Cookbook: Simply Scratch : 120 Wholesome Homemade Recipes Made Easy Now available on Amazon »
THANK YOU in advance for your support!