This sweet potato cornbread starts with a traditional cornbread mixed with sweet potato puree and honey which adds so much to the already delicious flavor.
With spring finally here, I've been in the process of "spring cleaning" out my pantry, which can be scary. I found that I had a few too many cans of pinto beans, so this week I had Chili on the menu and it was my perfect opportunity to make cornbread!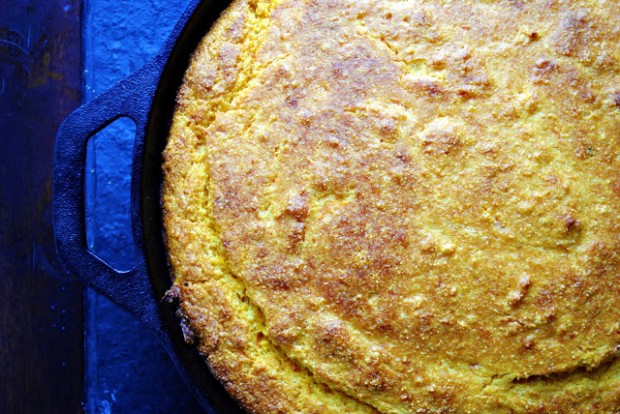 But not just any cornbread recipe, sweet potato skillet cornbread.
The smell of this baking in the oven is fantastic. And once baked it yields thick slices just begging to be buttered or broken up into chili.

The ingredient list is pretty straight forward. For the sweet potato mash; I just roasted my sweet potatoes for an hour or so until tender and Amanda boils hers, so pick your method and just go with it!

Preheat your oven to 375 and butter a 10 inch cast iron skillet then set it aside.

In a large bowl; add eggs, sweet potato mash, buttermilk and honey.

Whisk until blended.

In a food processor add the cornmeal, flour, salt, baking soda and baking powder. Amanda adds a 1/2 to a 1/4 teaspoon of ground ginger. I didn't have any in my cupboard… but next time I'll have to try it for sure!

Process until combined.

Throw in the stick of butter, cut into chunks.

Process again until coarse.

Add the cornmeal mixture to the sweet potato mixture.

Stir. This smells reeeeeeeeeeeeally good.

Pour into the prepared skillet and bake in your preheated oven for 40-45 minutes. I rotated the pan half way through.

Let cool for about 5-7 minutes.

But before you slice it, take a nice deep breath in… ahhh.

It's almost too pretty to cut into. But I'm sure the delicious smell of buttermilk, sweet potato and cornmeal will overpower you to do so. My family, loved this fun twist on a classic and will be served a lot in my house for sure! Enjoy!
Enjoy! And if you give this recipe a try, let me know by snapping a photo and tagging me on twitter or instagram!
My cookbook Simply Scratch : 120 Wholesome Homemade Recipes Made Easy is now available! CLICK HERE for details and THANK YOU in advance! 
[this post contains affiliate links.]
adpated from the seegirlcook blog (2011)
This post may contain affiliate links.
Buy the Cookbook: Simply Scratch : 120 Wholesome Homemade Recipes Made Easy Now available on Amazon »
THANK YOU in advance for your support!