This recipe had me at lemongrass. These lemongrass squares with coconut shortbread crust are sweet, tart, buttery and delicious!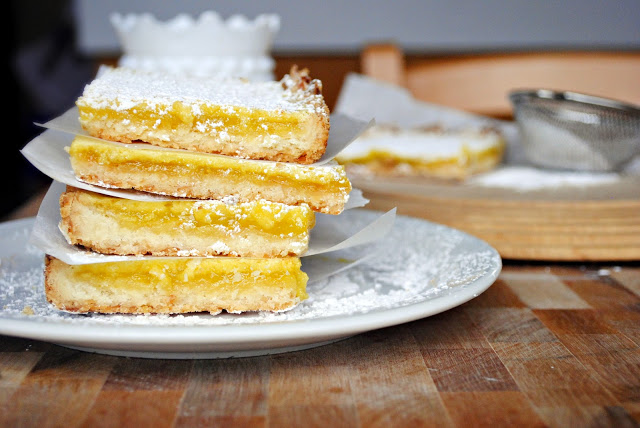 I'm a huge lemon fan! Lemon zest in my pancakes, lemon juice over my fish and definitely lemon in my bars! And the simple fact that this recipe calls for both lemons and lemongrass totally excited me!
I first spotted this recipe in my March issue of Bon Appétit. There is a section dedicated to lemongrass, with recipes like a Lemongrass Mojito and Malaysian Beef Curry, but this recipe won me over with its simple ingredients, easy approach and what turned out to be delicious results!!
From the moment I took the first bite of this dessert I knew this was a keeper. The coconut shortbread crust is flakey and tasty, which would be great all by its self. But the lemongrass filling!!! Oh my word… it's… it's… ooey and gooey and oh so lemony! Words cannot EVEN describe how I love these bars. And since I am writing about my new favorite dessert, I think it fitting that I eat one while I type. You know, for creative purposes.
To Make These Lemongrass Squares You Will Need:
For The Shortbread Crust:
unbleached all-purpose flour
sweetened shredded coconut flakes
powdered sugar
kosher salt
unsalted butter, room temp, plus more for pan
FOR THE FILLING:
sugar
lemongrass stalks, tough outer layer removed, finely chopped (scant 1/2 cup)
lemons (juice of)
eggs
all-purpose flour
kosher salt
powdered sugar, for dusting
Butter a 9x13x2 metal baking pan.
To start, in a large mixing bowl, add the 1-1/2 cups flour, 1 cup sweetened shredded coconut flakes, 1/2 cup powdered sugar and 1/2 teaspoon kosher salt.
Then mix until combined.
Next slice up 1/2 cup (1 stick) plus 3 tablespoons room temperature butter and add it to the flour mixture.
Mix on low until the dough forms wet crumbles.
Tip the coconut shortbread it into the buttered pan. And with your impeccably clean fingers, press it evenly on the bottom and up the sides about 1/2 an inch up the sides of the pan.
Slip the pan into your preheated oven and bake on the middle rack for approximately 20 minutes, or until lightly golden. Once the crust is removed you should reduce the ovens temperature to 325°.
Thinly slice 5 stalks of lemon grass and add along with the 1-1/4 cup sugar to a food processor.
Pulse until the lemongrass is blended in with the sugar.
Mmm lemongrass sugar.
I bet this would be yummy in iced tea or an adult beverage of some sort.
Next, juice 2 to 3 large lemons or until you have 5 tablespoons of fresh lemon juice.
Strain the lemon juice through a mesh strainer before adding to the sugar mixture. Pulse for about 30 seconds.
Next add the 3 whole eggs and pulse for 10-15 seconds.
Finally add in the 1/4 cup flour.
Lastly, season with a pinch of kosher salt.
Blend until smooth and glorious.
Pour into the hot crust.
Lean over and take a deep breath.
Now place in the oven for 22-23 minutes or until filling is firm.
Remove and let cool.
Cut.
And dust with a tablespoon of powdered sugar or until you heart is content!!
Enjoy! And if you give these Lemongrass Squares a try, let me know! Snap a photo and tag me on twitter or instagram!
This post may contain affiliate links.
Buy the Cookbook: Simply Scratch : 120 Wholesome Homemade Recipes Made Easy Now available on Amazon »
THANK YOU in advance for your support!