Let's get something straight. I don't like potatoes. I love them. And I mean L-O-V-E! I love them grilled, baked, twice-baked, mashed, hashed, fried, au gratin, roasted, broasted you name it… am I leaving any out? I'm pretty sure there isn't one single potato recipe I don't like.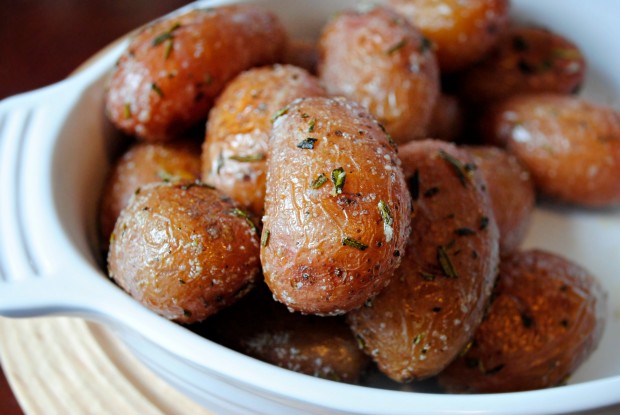 In my goody box that I received from STAR Fine Foods was this garlic infused olive oil. I was extremely intrigued by it and couldn't wait to try it out on this recipe. Why this recipe? Well roasted potatoes and chopped garlic usually don't go together unless the garlic is roasted in its skin with some oil and then removed. And burnt garlic just won't do for this recipe. This oil adds just the right amount of garlic flavor without it being over powering and too garlicky. The best part, there is no need to worry about bitter burnt garlic. I'm now thinking of all the different ways I can use this stuff! Oh the possibilities!
These taters however are perfect for those after work dinners, but elegant enough for those special occasions! I made these to go along with my Chicken Cacciatore, but honestly whether it's chicken, steak or fish sticks… these won't disappoint! And really I see no reason why you shouldn't make this at the most earliest convenience! Go find yourself some STAR Garlic Infused Olive Oil, grab the other 4 ingredients and make these pronto! If for some reason you can't find STAR's Garlic Infused Olive Oil at your grocery store, don't panic, you can visit STAR's site and purchase it there… just don't forget to look at all the other products as well!

It's pretty basic. Potatoes, salt and pepper, rosemary and garlic infused olive oil.

Rinse and scrub the potatoes.

Bring up a large pot of water to a boil and add the potatoes whole. You don't want them to cook all the way in the pot. But after 12 to 15 minutes check with a knife and you should meet some resistance. They now can be pulled off the burner and drained.
But while the potatoes are "par" cooking you can get started on the rosemary.

Take the rosemary off the stem by pulling the leaves backwards off of the stem. Smell your fingers because they will smell YUMMY afterwards!

Give them a nice ol' chop!

Okay so now you have drained the potatoes and then place them in a large bowl.

Drizzle with the garlic infused olive oil. For a pound and a half, you only need a tablespoon.

Sprinkle generously with sea salt and fresh cracked black pepper.

Toss with the chopped fresh rosemary and spread out on an aluminum sheet pan. Roast in a 400 degree oven for about 10-15 minutes.

I pulled them out half way through and tossed them around to get them crispier on the other sides.

You know they are done when a knife is inserted smoothly without any resistance what-so-ever.
Enjoy! And if you give this recipe a try, let me know by snapping a photo and tagging me on twitter or instagram!
My cookbook Simply Scratch : 120 Wholesome Homemade Recipes Made Easy is now available! CLICK HERE for details and THANK YOU in advance!
[cft format=0]
This post may contain affiliate links.
Buy the Cookbook: Simply Scratch : 120 Wholesome Homemade Recipes Made Easy Now available on Amazon »
THANK YOU in advance for your support!