Today my sister Christine came over for a visit and a photo shoot of this Italian Grilled Cheese Sammies. Christine takes the most beautiful photos; she normally takes pictures of families, babies etc., but today I asked her if she would shoot the photos for my post. I was excited, she was excited and it was a blast! She truly is talented! The best part of the whole visit was seeing my super adorable niece and of course eating these Italian Grilled Cheese Sammies afterwards. So this post is dedicated to Christine, my niece Meredith and baby Papasian who will be arriving in September! xoxo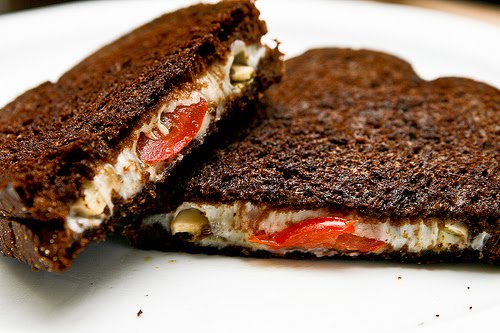 This recipe was featured on The Pioneer Woman Cooks!

The ingredients are: pumpernickel bread, provolone cheese, 1 roma tomato, 1-2 mini bella mushrooms, 2 tablespoons of pesto, and you will need some butter.

Slice your tomatoes thin, so when you bite into the sandwich you can bite through the tomato (and it all won't slide off the bread, which would be a total shame and possibly a stain!!)

Slice your mushrooms thin too, but don't worry these won't stain a bit!

Preheat a pan over medium/ medium low heat. Butter one side of each piece of bread; the trick here is that a thin layer of butter equals a crispier grilled cheese!

First place the bread butter side down on a pre-heated pan.

Layer one slice of provolone cheese…

Roma tomatoes…

Mushrooms…

Pesto…

Then top with the second slice of buttered pumpernickel bread.

Cover with a lid and let the steam help melt the cheese. In a few minutes, flip and cover again. Since pumpernickel is a dark bread, it might look burnt, but it's not (unless it smells burnt 🙁 that also would be a shame).
All should be fine if you just keep checking on it!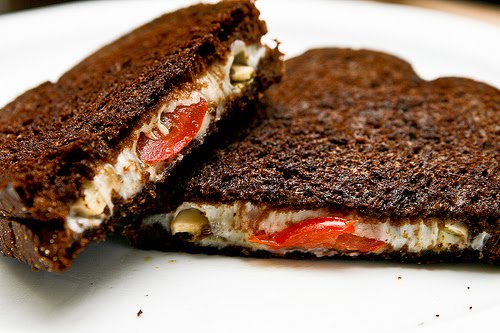 Look at the oooey goooey goodness!

YUM! (I think she is totally selling this sandwich!)
Enjoy! And if you give these Italian Grilled Cheese Sammies a try, let me know by snapping a photo and tagging me on twitter or instagram!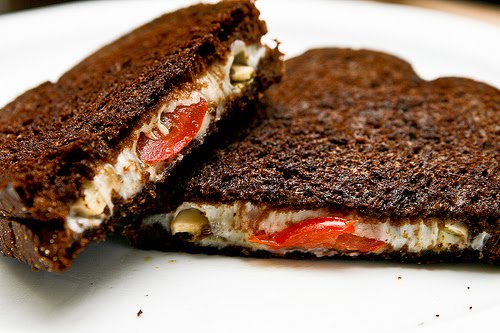 My cookbook Simply Scratch : 120 Wholesome Homemade Recipes Made Easy is now available! CLICK HERE for details and THANK YOU in advance!
[this post contains affiliate links.]
This post may contain affiliate links.
Buy the Cookbook: Simply Scratch : 120 Wholesome Homemade Recipes Made Easy Now available on Amazon »
THANK YOU in advance for your support!