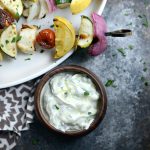 Homemade Tzatziki
Print Recipe
If you haven't made your own tzatziki, this is your chance to experience such an amazing sauce. Whether you topping lamb in a pita, grilled vegetables or with crispy baked pita chips this fresh and vibrant condiment is extremely easy and delicious.
Using a box grater, grate the entire cucumber. Place into a fine mesh strainer or colander, season with a generous pinch of salt. Toss and let the cucumber drain into your sink or a large bowl for 1 hour or so.

In a medium bowl combine the yogurt, lemon juice, olive oil, garlic, mint and drained cucumber. Stir to combine, taste and season with more salt to your preference.

Cover the bowl tightly with plastic wrap and refrigerate for 1 to 2 hours or overnight so the flavors can develop.