Back in October we celebrated Fair Trade month and I shared with you the importance of buying Fair Trade items and how it impacts the workers of those farms and the community. Well this Mother's Day how about we recognize those mothers… the mothers that work hard on those farms and in the communities every day? Just like here in the US… they are the backbone of their community, they work hard and deserve recognition and celebration.


The mothers and farm workers are an essential part to the farming equation. With Fair Trade those mothers have been able to emerge as leaders in their community. They serve as board members, lead committees and are working hard to improve education for their children. When you buy Fair Trade, you're making a huge difference by ensuring that those moms receive safe working conditions and paid maternity leave.
If you head on over to Fair Trade USA and read about the mother's featured you'll be amazed and I bet you will connect with at least one of them.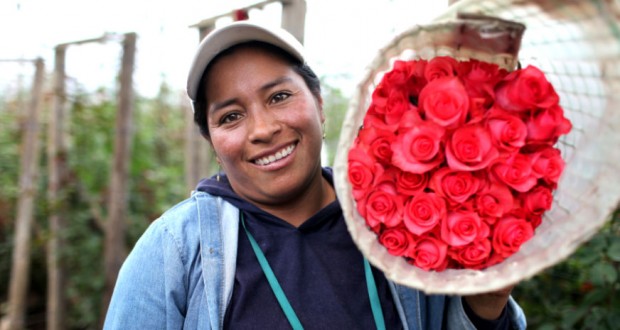 For me it was Elvia Alamachi. Although our lives are not total mirror images, we both are 32 and have two daughters that are 12 and 9. Elvia packs those gorgeous roses at the Agrogan flower farm in Cotopaxi, Ecuador. When she's not doing that she's studying alongside her daughters earning her high-school diploma!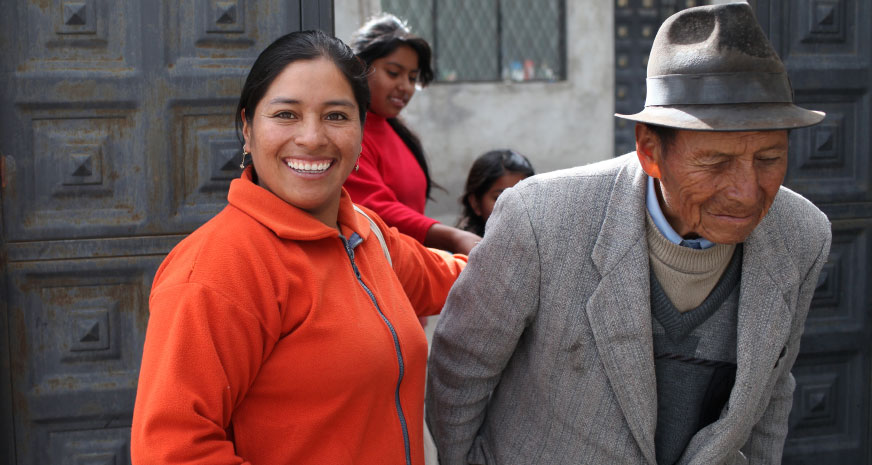 Elvia is a part of the Fair Trade committee and she, along with her co-workers, have invested in the Fair Trade premiums to build a children's reading program, health clinic and a shopping club for inexpensive groceries. What an amazing woman she is and all made possible by the Fair Trade organization and those who buy and support them!
Elvia is just one of the six amazing mothers spotlighted on the Fair Trade USA website. Click on over and read about the others and their amazing stories and/or watch this short yet sweet video it will melt your heart for sure.
So in celebration of Mother's Day, Fair Trade USA and I want to spotlight the wonderful and hardworking women and mothers behind the farms by sending one of you a glorious box of Fair Trade goodies right to your doorstep!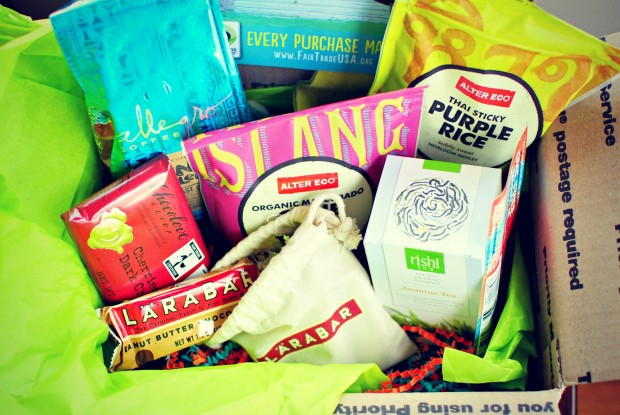 I'm absolutely in LOVE with everything in this goodie box! Here's what you'll get:
·      Rishi Tea: Rishi's Jasmine Tea is an organic green tea blended with jasmine blossoms, using a traditional tea-scenting process. It's also Fair Trade Certified to boot!
·      Allegro Coffee: The Los Niños Blend is from Fair Trade Certified cooperatives in Latin America. Allegro partnered with an organization called Coffee Kids to help enable 80 families improve the quality of their land by applying better land management techniques. The end goal is to help coffee farming families learn the proper tools to increase their food sovereignty.
·      Alter Eco Thai Sticky Purple Rice: This unique purple grain is glutinous when cooked and has a delicate, sweet palate. Due to its rich taste and beautiful color, this traditional rice is used by local communities for feasts and celebrations. It is grown exclusively in the fertile soil of the Esan Plateau, in the East of Thailand, situated close to the Cambodian border. If you like this, we also recommend giving Alter Eco's other rice products a try!
·      Alter Eco Cane Sugar: This sugar has all the versatility of everyday granulated sugar, plus an amazing depth of flavor that makes it the ultimate secret ingredient. Try it in your coffee, in your favorite baking recipes, or sprinkled on fruit, yogurt or morning toasts.
·      Chocolove: Tucked away in Boulder, Colorado is Chocolove – a company dedicated to creating a delicious chocolate bar, paired with the romance of love. Inside each bar of Chocolove you'll find a classic romantic poem you can keep or share with loved ones. What does yours say?
·      LARABAR: Made from whole foods, each flavor of LARABAR contains no more than nine ingredients. The cocoa and coffee used in LARABAR is Fair Trade Certified, meaning your afternoon snack or treat not only tastes good, but does good too!
·      Bhakti Chai: Don't miss the coupon for a FREE 16 oz Iced Bhakti Chai inside your box of goodies! Get your spice on with this delicious brew of Fair Trade Certified black tea, fresh-pressed organic ginger, fiery spices and non-GMO soy milk. Check out www.bhaktichai. com/find-bhakti for retail stores near you.
To Enter: Simply leave a comment below and you're entered to win! This giveaway will go on until Wednesday May 15 at midnight and the winner announced Thursday morning. All I ask is that you spread the word about buying Fair Trade… share this with all of your friends, family and neighbors! Oh and 1 entry per person please! Good luck! Sorry this giveaway has closed.
Happy Mother's Day to all of you mothers all over the world.
This post may contain affiliate links.
Buy the Cookbook: Simply Scratch : 120 Wholesome Homemade Recipes Made Easy Now available on Amazon »
THANK YOU in advance for your support!