Air Fryer Jalapeño Cheddar Bagels are deliciously spicy and cheesy. A quick no-yeast dough made with ingredients like Greek yogurt, roasted jalapeños and sharp cheddar are formed into bagels and air fried. This recipe yields 4 bagels.
Another day, another air fryer bagel recipe!
I love making homemade bagels. But not the ones you probably think. I started making bagels using a no-yeast dough a few years ago and haven't looked back.
And of you are like me, and cheese and jalapeños are your favorite food groups, well then you are going to swoon over these deliciously spicy bagels. They're studded with roasted jalapeños, sharp cheddar cheese, granulated garlic and poppy seeds – you know, all the good things in life.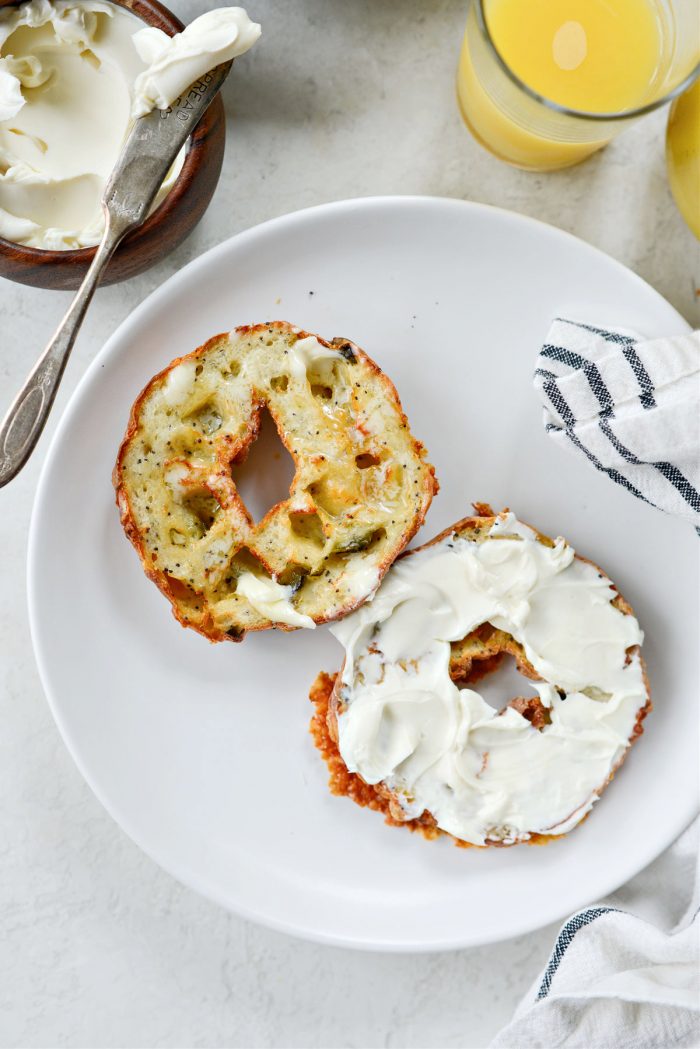 This recipe comes together quickly and you can have bagels for breakfast fast.
To Make These Air Fryer Jalapeño Cheddar Bagels You Will Need:
unbleached all-purpose flour
baking powder
poppy seeds
dehydrated chopped garlic
onion powder
kosher salt
jalapeños
sharp cheddar cheese
greek yogurt
egg wash (egg + water)
butter or cream cheese (for serving)
Start by moving an oven rack to the highest position and preheat your broiler on high. Place 1 to 2 jalapeños (depending on how spicy you want these to be) on a foil-lined, rimmed baking sheet. Lightly spray with olive oil and broil until the skin is charred on all sides.
Once blackened, transfer to a small bowl and cover tightly with plastic wrap. Let them sit for 10 minutes or so, until safe to handle.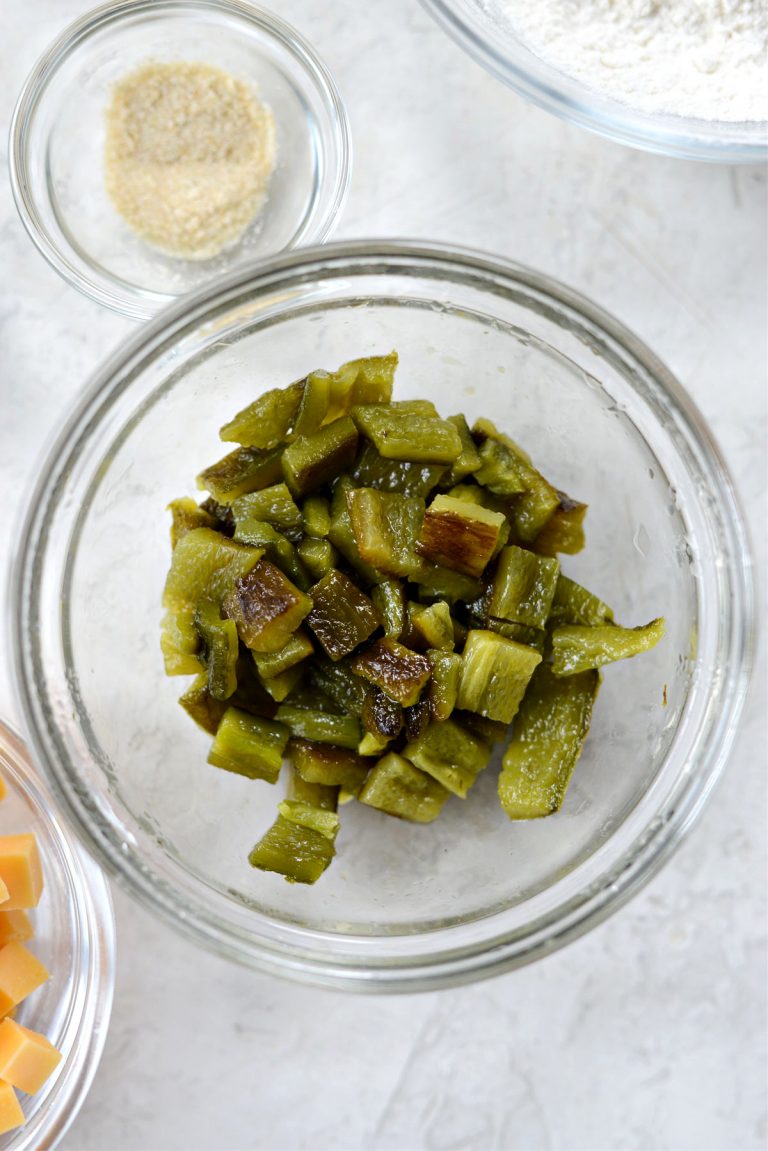 Once they have cooled a bit, remove the outer charred skin, ribs and seeds and discard. Finely dice the jalapeño flesh.
In a large mixing bowl add; 1 cup plus 2 tablespoons unbleached all-purpose flour, 2 and 1/4 teaspoon baking powder, 1 teaspoon poppy seeds, 3/4 teaspoon dehydrated chopped garlic, 1/2 teaspoon onion powder, 1/2 teaspoon kosher salt and 3 ounces diced sharp cheddar.
Toss to combine and add in 1 cup plain, nonfat greek yogurt.
Using a spatula, stir well until incorporated. Add a little flour as needed if the dough is overly sticky.
Transfer the dough to a clean, lightly floured surface.
Divide into 4 somewhat equal pieces.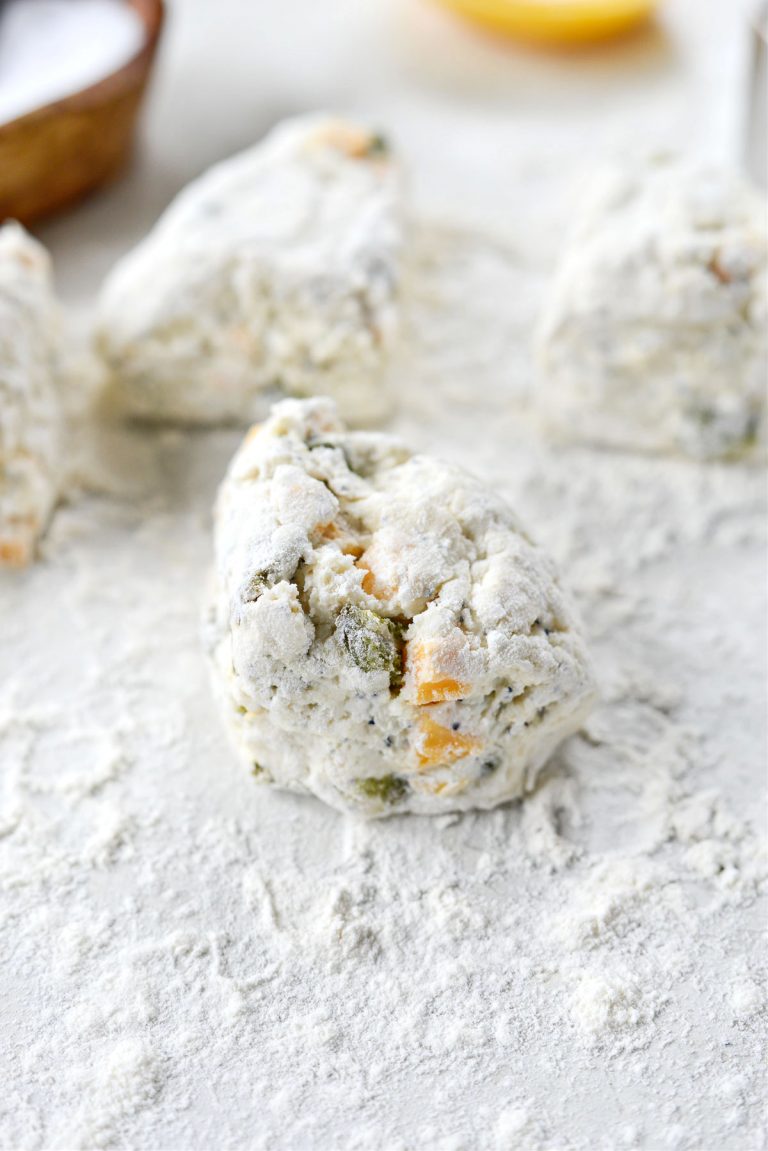 Working with one piece at a time, roll in some flour.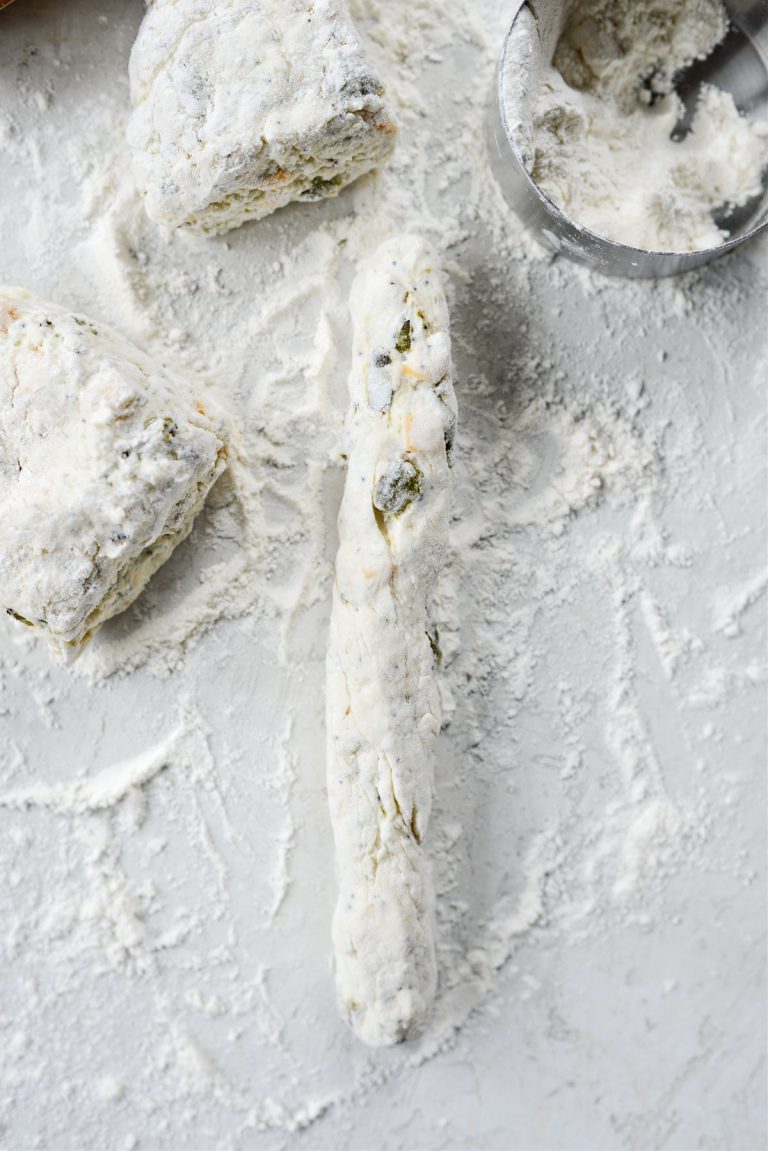 Shape into a log.
And then into a bagel by connecting the ends, pinching to secure. Place on clean parchment and repeat with the remaining three pieces of dough.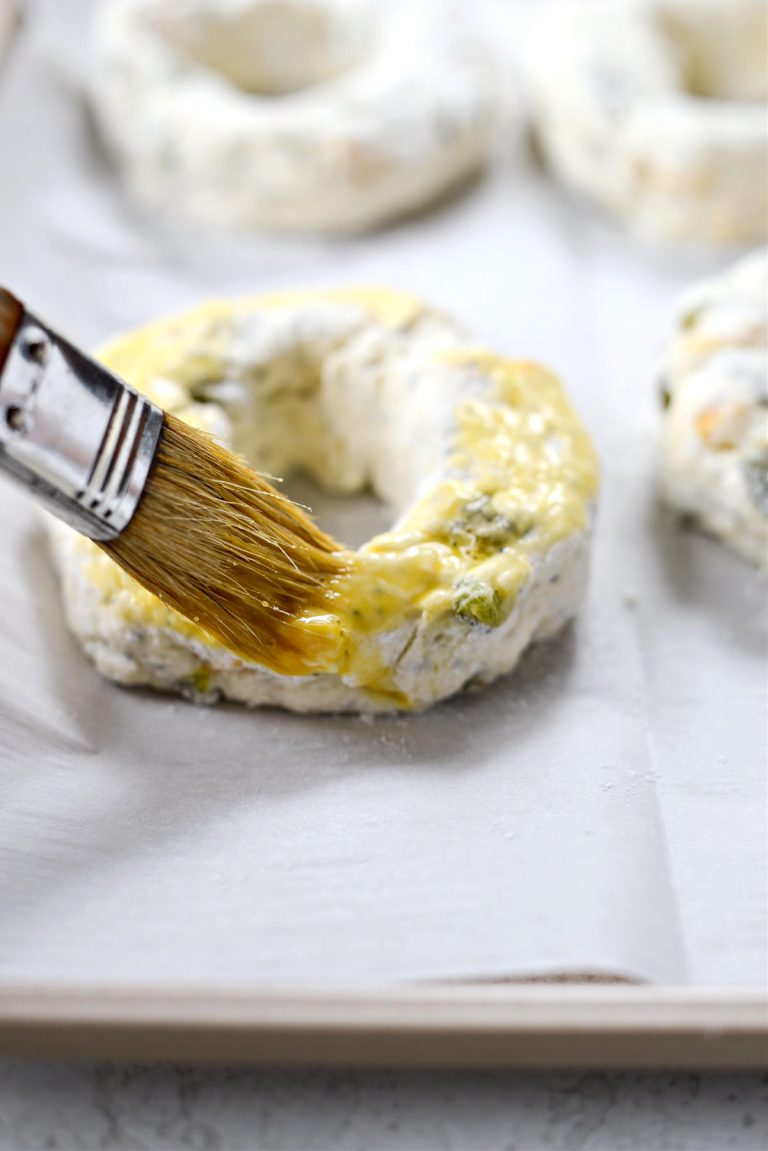 Lightly bean an egg with 1 tablespoon of water and brush the tops and sides of each bagel.
Sprinkle with a little extra poppy seeds if desired.
Preheat your air fryer to 330°
What Is Air Frying?
An air fryer is a counter top appliance that requires less oil (anything from a few spritz to 1 tablespoon) yet produces crispy food that rivals most deep fried foods. By using circulating hot air, it moves at a high speed so the food tends to cook in a fraction of the time.
There are a bunch of different makes and models of air fryers. My husband did the research (as he's known to do) and found this air fryer [affiliate] to be one of the best. But do your research and purchase one that fits your lifestyle.
How is Air Frying Healthier?
Air frying is healthier because only a thin layer of oil coats the food and when the hot air comes in contact it will crisp. Saving you a ton of fat and calories (without sacrificing any flavor!) because food is not being submerged in a vat of hot oil.
Keep in mind, not all air fryers are equal. Some preheat and some do not. Some are smaller than others therefore you may need to work in smaller batches to air fry.
For more Air Fryer recipes, click here for my growing collection.
Once preheated generously spray your air fryer insert and add 2 of the bagels. Air fry for 12 minutes or until golden brown.
Air fry for 12 minutes or until golden brown.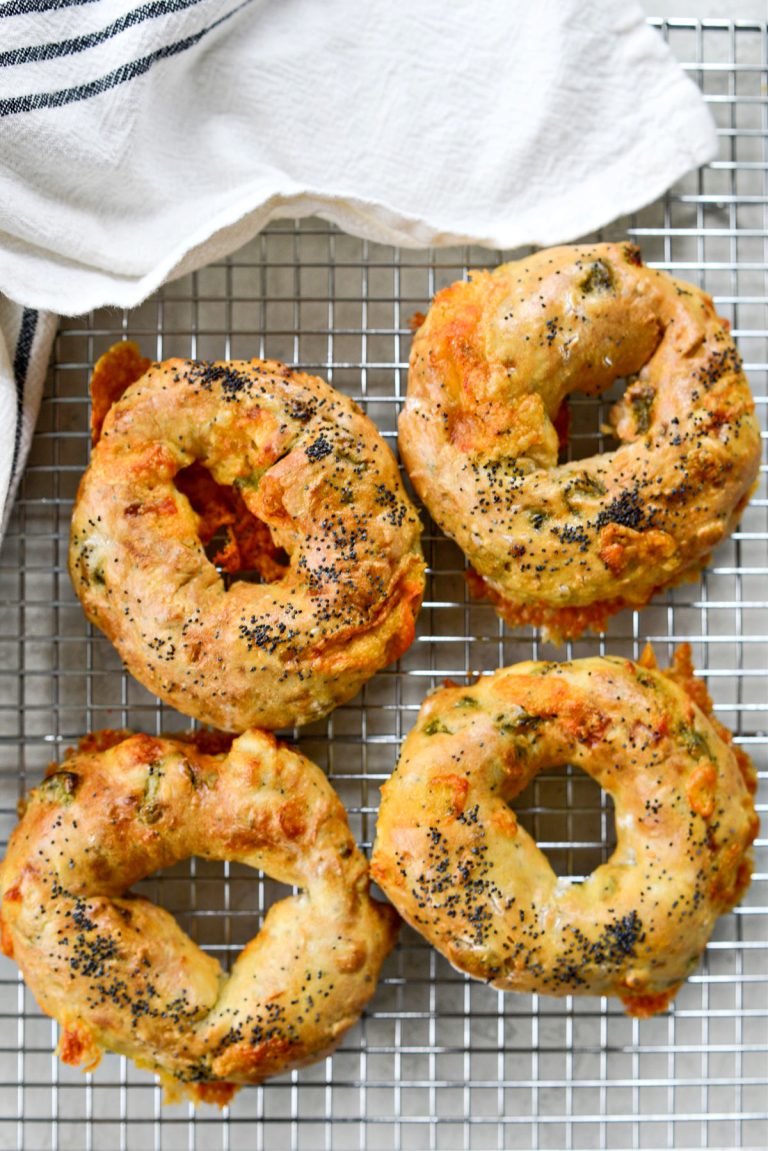 Use a spatula to remove the bagels, the cheese likes to stick. Transfer to a wire cooling rack and repeat with remaining bagels.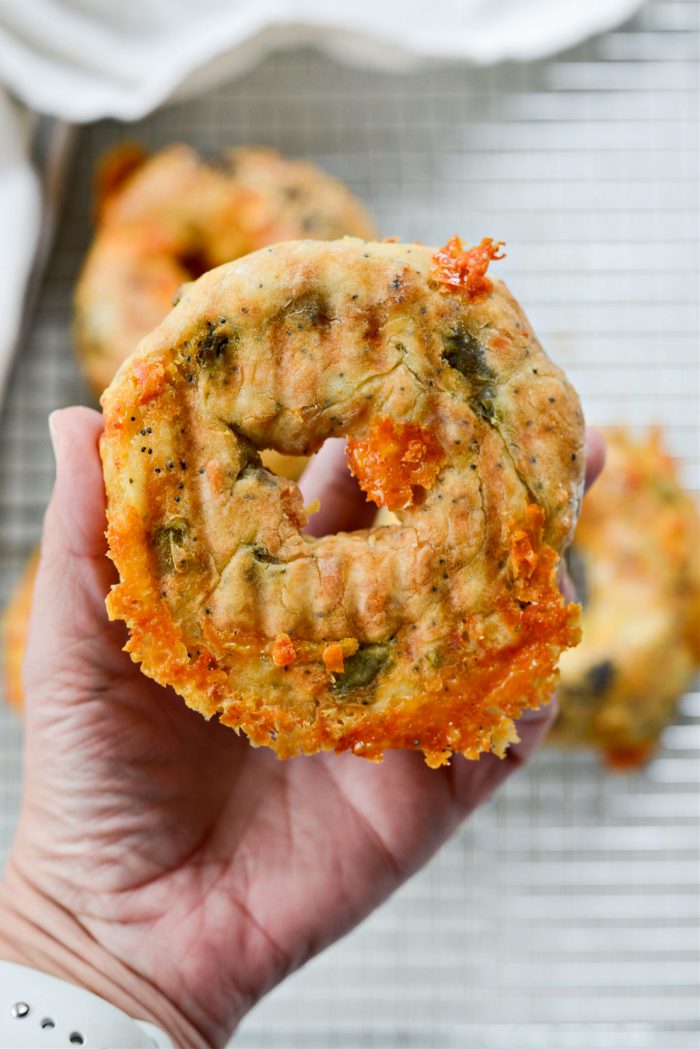 Can we take a moment to appreciate the crispy cheese bottom of this bagel?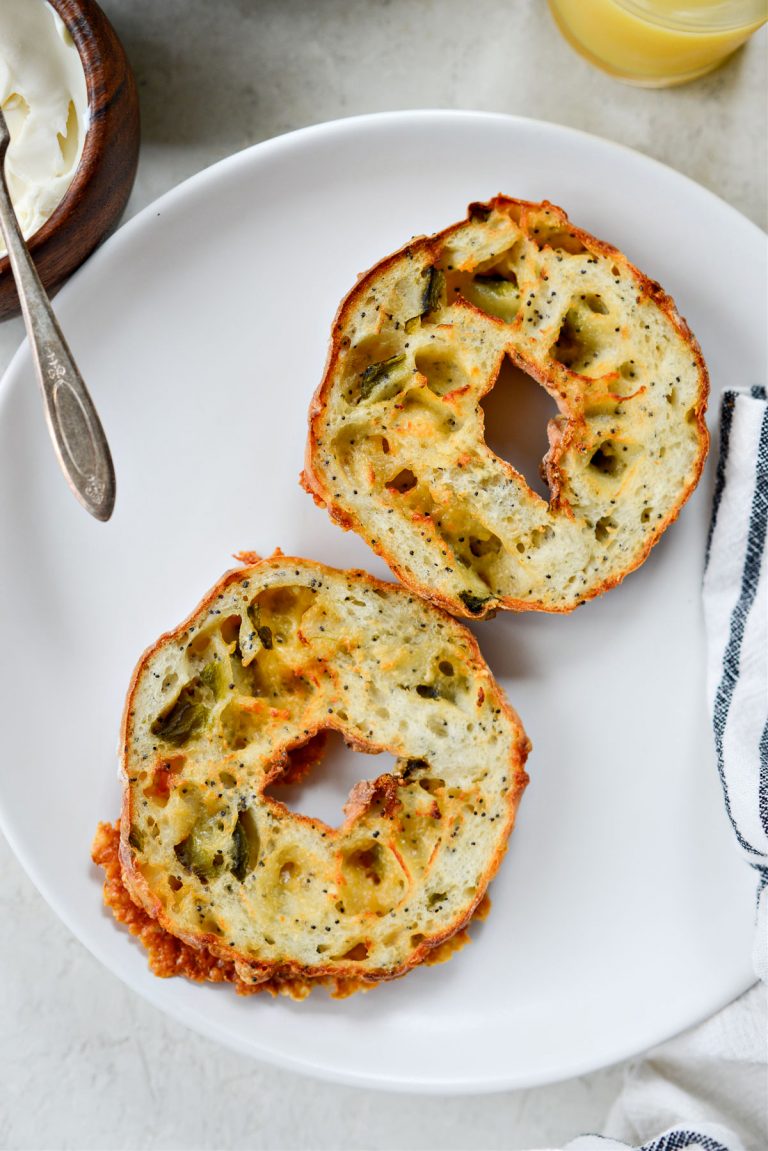 How To Toast A Bagel In The Air Fryer:
Increase the heat of your air fryer to 360°.
Slice the bagels in half horizontally and pop the two halves into your preheated air fryer.
Air fry for 2 to 4 minutes or until desired toasty-ness.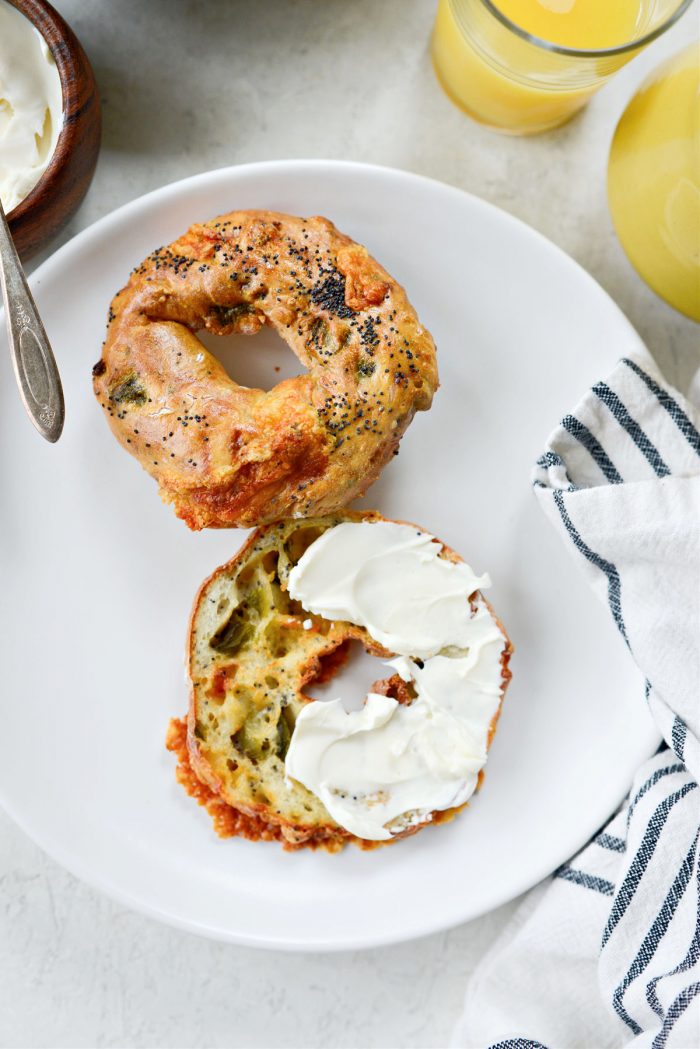 Swipe with butter or cream cheese (I personally love greek yogurt cream cheese!) and enjoy these spicy cheddar-y bagels!
Click Here For More Air Fryer Bagel Recipes!
Enjoy! And if you give this Air Fryer Jalapeno Cheddar Bagels recipe a try, let me know! Snap a photo and tag me on twitter or instagram!
This post may contain affiliate links.
Buy the Cookbook: Simply Scratch : 120 Wholesome Homemade Recipes Made Easy Now available on Amazon »
THANK YOU in advance for your support!