Make this North African Shrimp with Summer Vegetable Couscous your next meal! Deliciously spice crusted shrimp sits on top of a garlicky roasted summer vegetable couscous. This recipe is perfect for meal prepping in advance. Enjoy it warm or chilled. Serves 4 to 6 in about 40 minutes.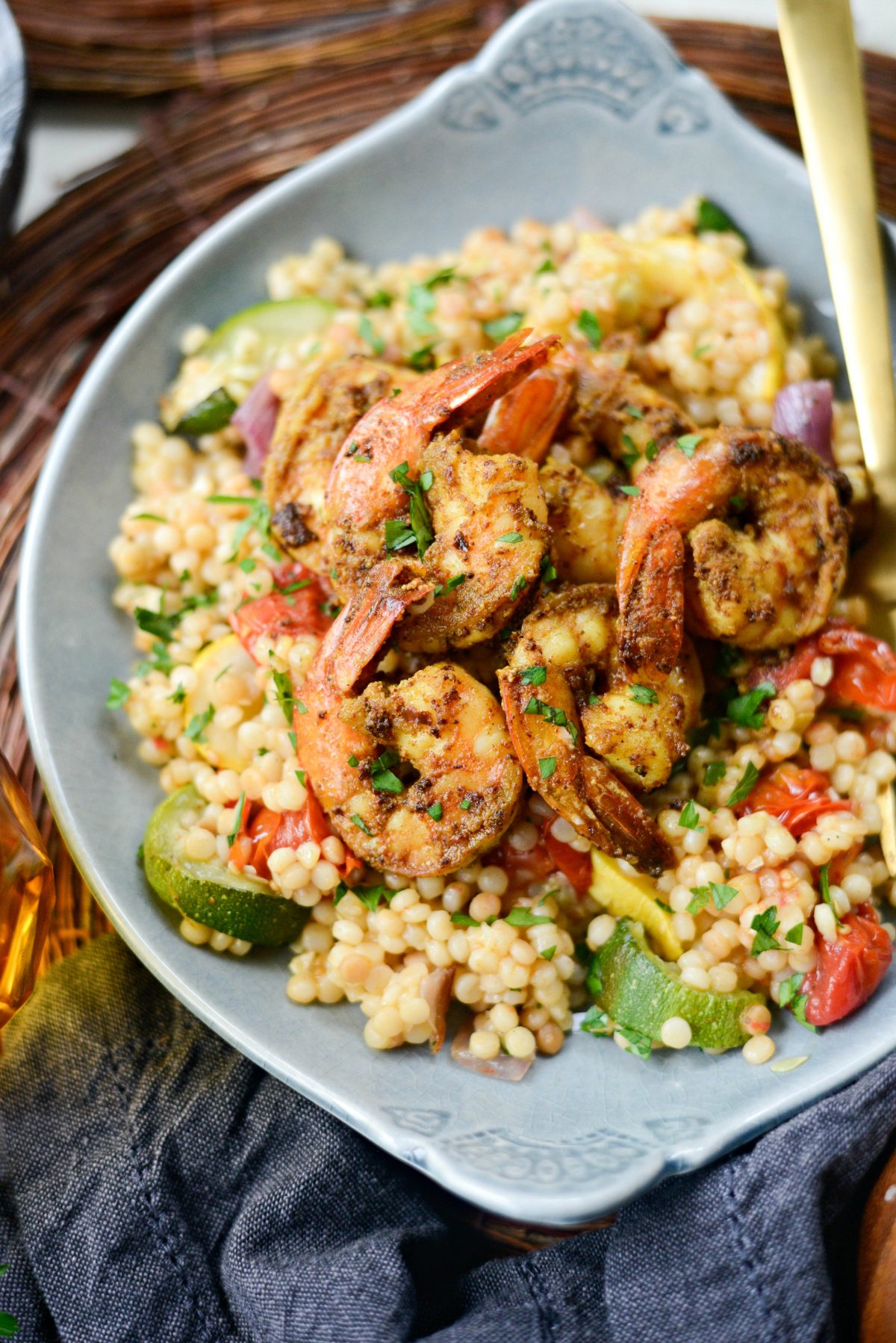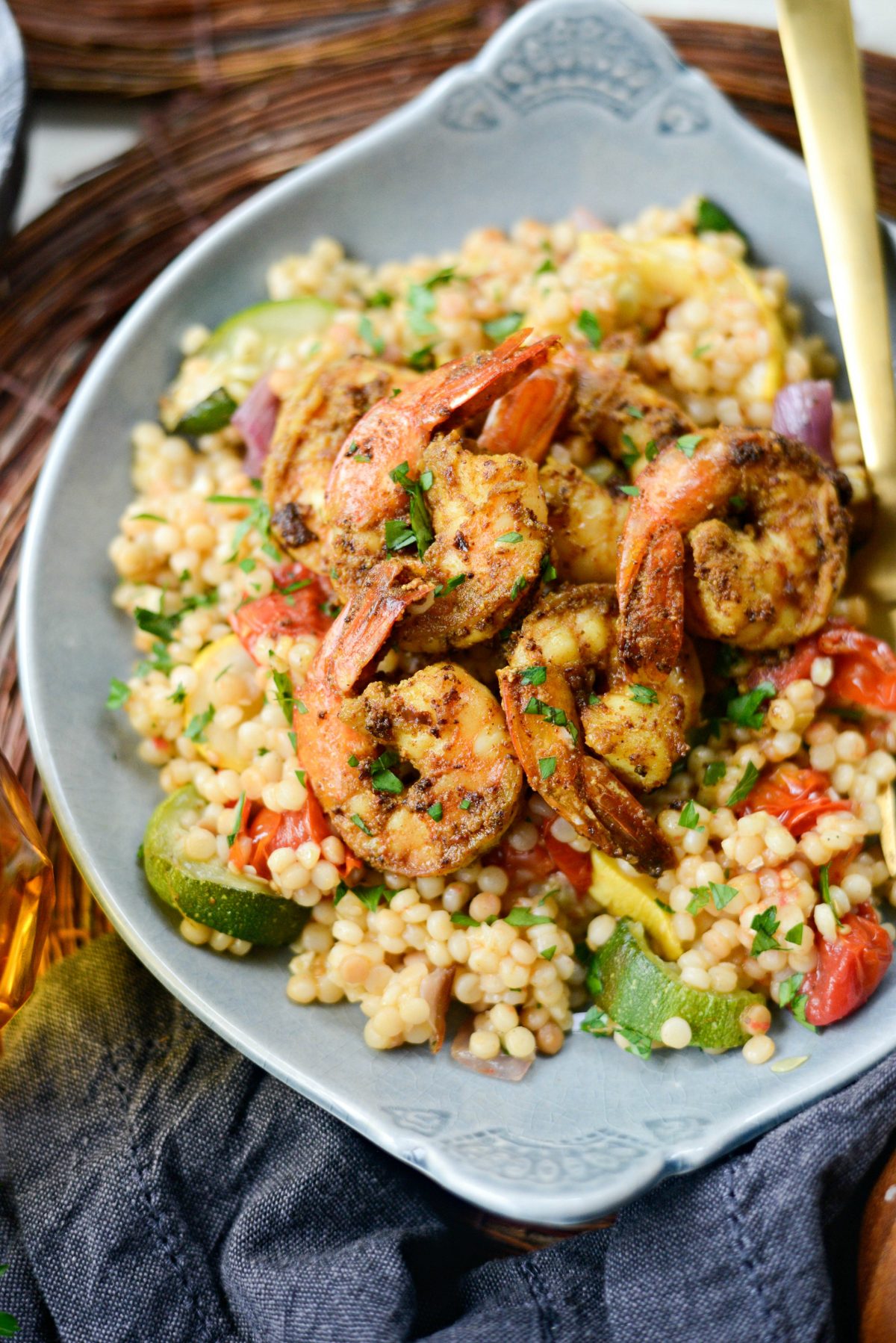 The story of this recipe begins with a road trip to Grand Rapids, Michigan with one of my best friends Heidi.
We trekked west across the mitten to Grand Rapids, to go to a small venue concert. We stopped beforehand for dinner and drinks at Rockwell | Republic. It's a cool and cozy restaurant that serves up delicious food using ingredients from local area farms.
which if you didn't know, this is totally my kind of thing.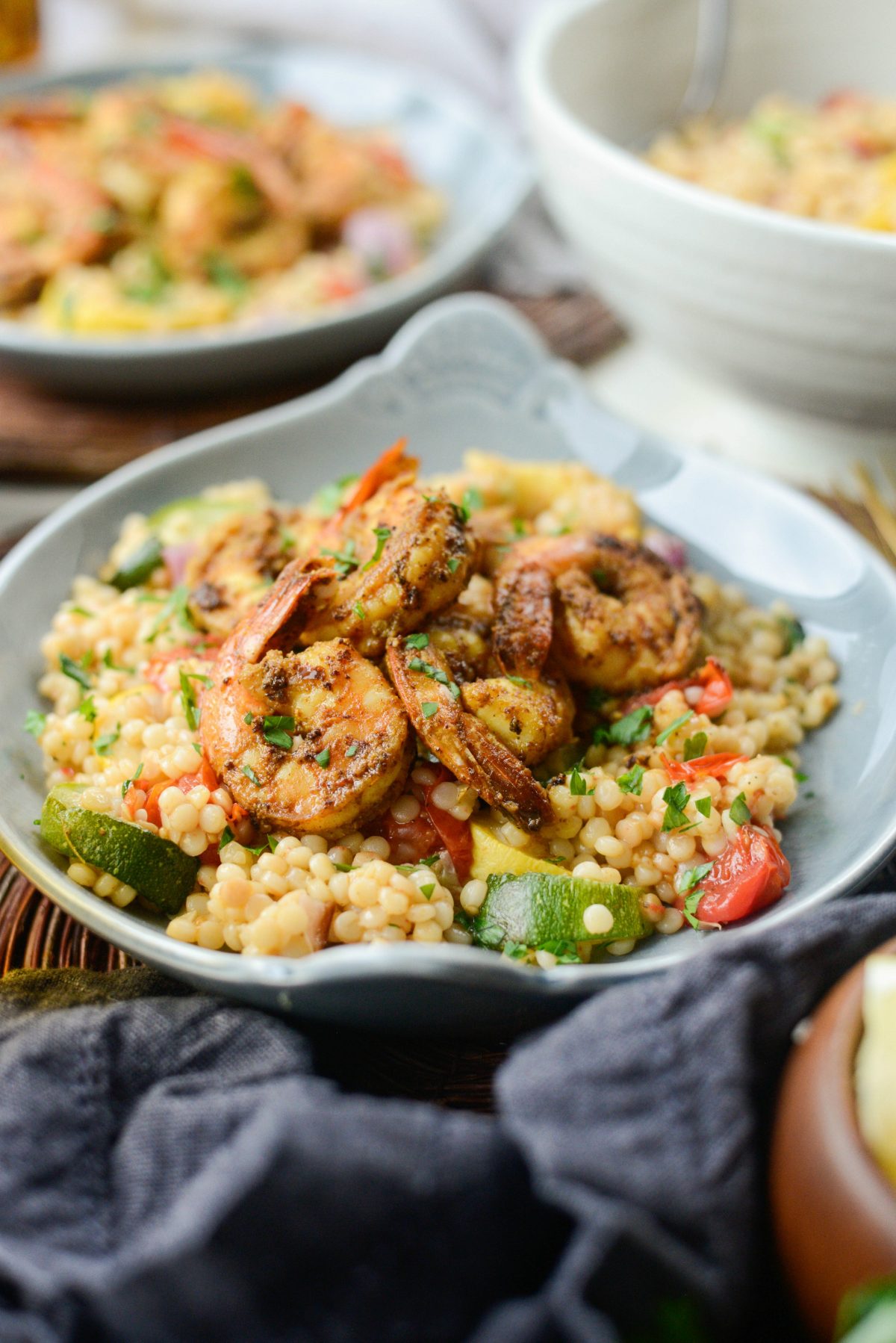 Heidi and I split a pitcher of the most delicious sangria and shared bunch of apps instead of ordering our own main courses. One of those apps was this smoky North African Shrimp on a vegetable Israeli couscous and yes, it was awesome. I haven't been able to forget it. The spice crusted shrimp were so intoxicatingly aromatic and flavorful that I was a little sad it was just an appetizer and not an entree (and also that I had to share it 😉).
It was so good that I went home and devised a plan… aka a recipe.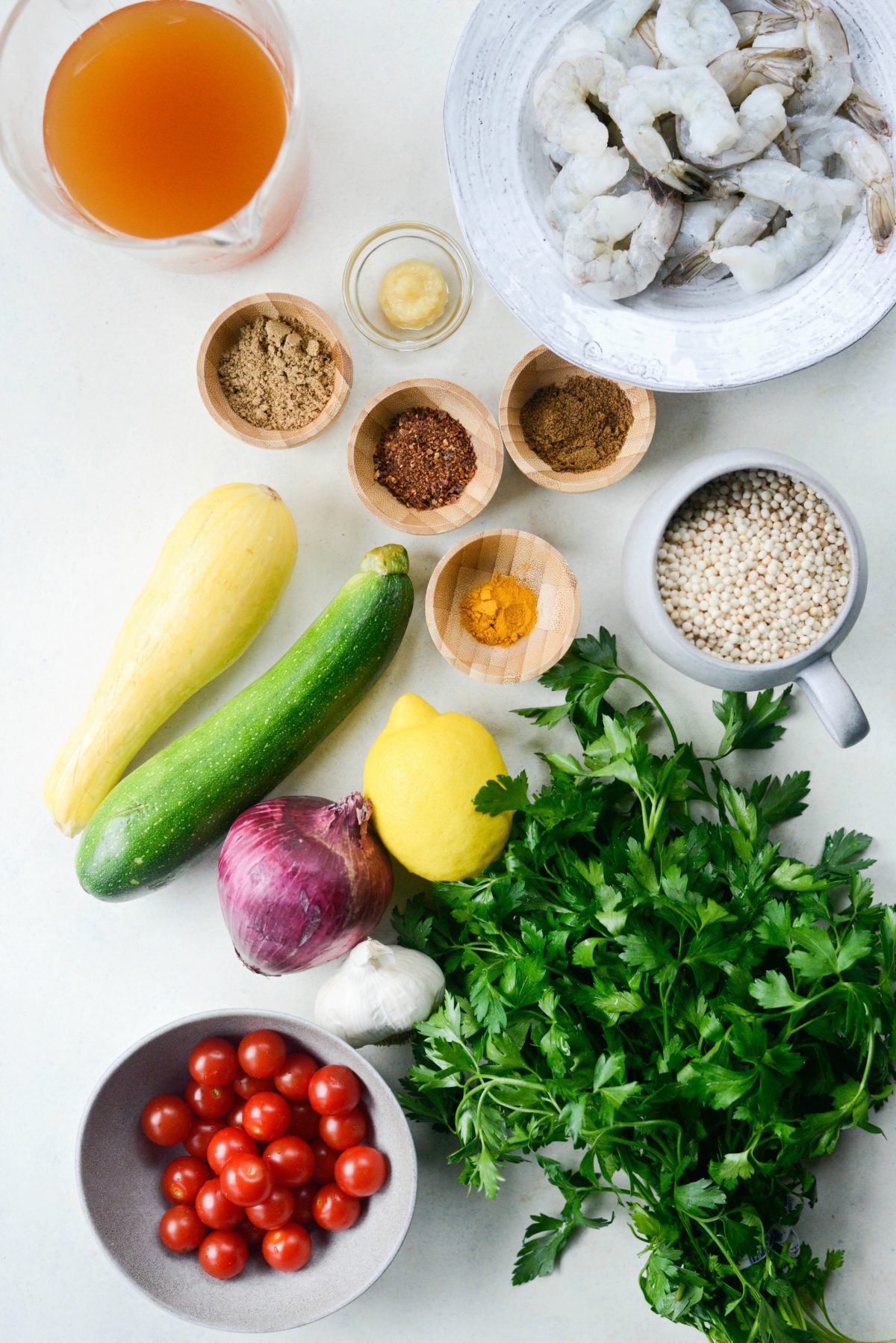 To Make This North African Shrimp You Will Need:
shrimp
fresh ginger
coriander
cumin
aleppo pepper
salt
turmeric
olive oil
fresh lemon juice
Israeli couscous
garlic
zucchini
summer squash
red onion
cherry tomatoes
black pepper
fresh parsley
What I love most about this recipe is that so much of it is fresh ingredients!
Aleppo pepper may be a little tricky to locate at your regular grocery store. I order mine online from Penzey's Spices, but you should be able to find it at most specialty spice shops. Back in the day, I would stop in the Penzey's by my work while I was on my lunch break. But now ordering online is way easier.
Now let's COOK!
For the shrimp marinade:
In a big-o-bowl, grate in 1 teaspoon of fresh, peeled ginger root or to save some time, use the pre-grated stuff. Remember, this is a judge free zone. Next measure and add in the 2 teaspoons of ground coriander, 1 teaspoon of cumin and 1½ teaspoons of the aleppo pepper, 1/2 teaspoon kosher salt and 1/4 teaspoon turmeric. Just a little FYI, aleppo pepper is smoky and sweet with a subtle heat. It's not out of control spicy-hot by any means so if you're a little leery about it, don't fret.
Think milder, smokier red pepper flakes.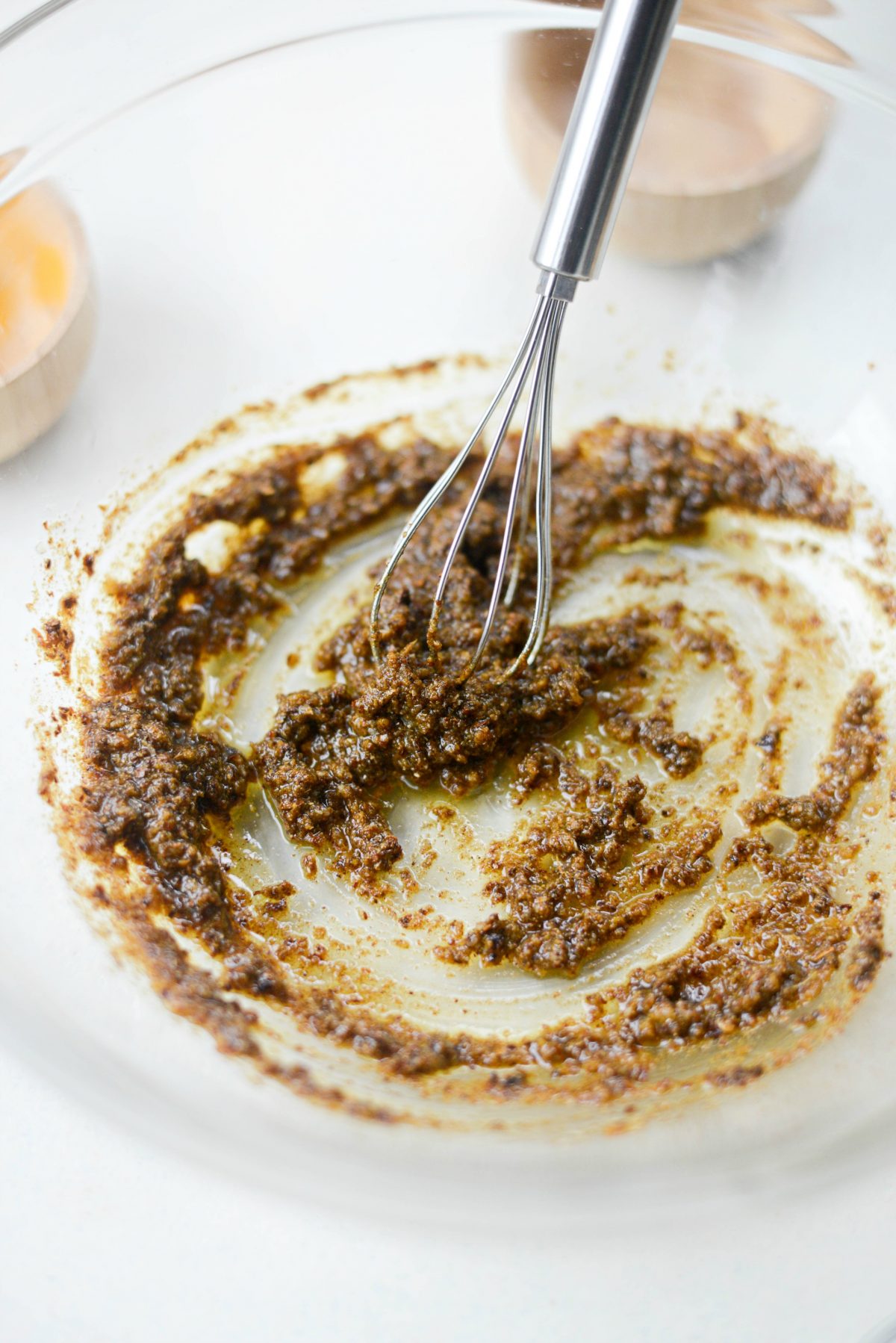 Lastly measure and add in 2 tablespoons of extra light olive oil and whisk it all together to form a paste like consistency.
This right here, smells pretty darn amazing!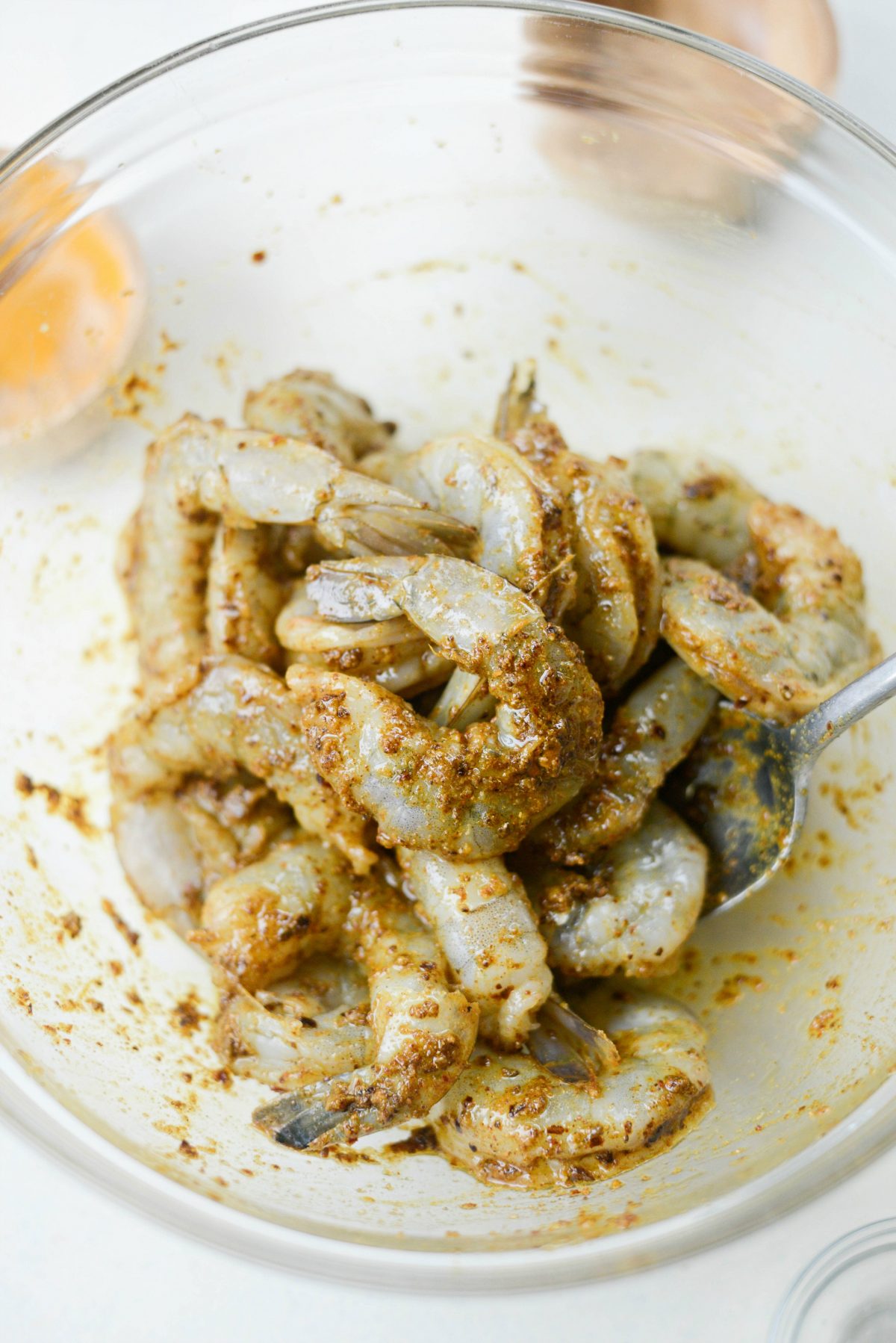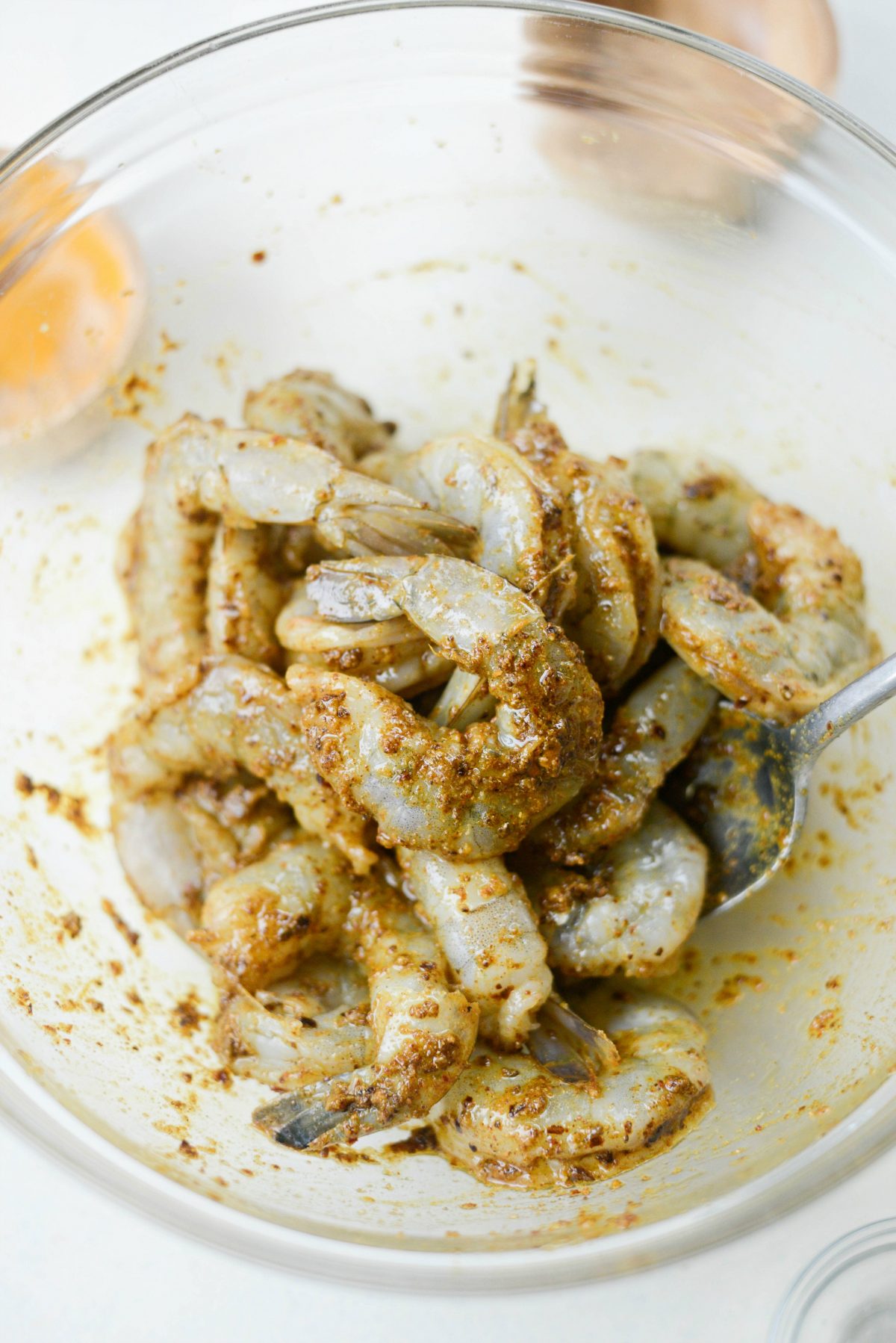 Now introduce a pound of shrimp (16/20) to the marinade and toss to coat. Let the shrimp marinade either on the counter for 15-20 minutes or pop into the fridge for a couple hours.
During this time, I like to make the couscous.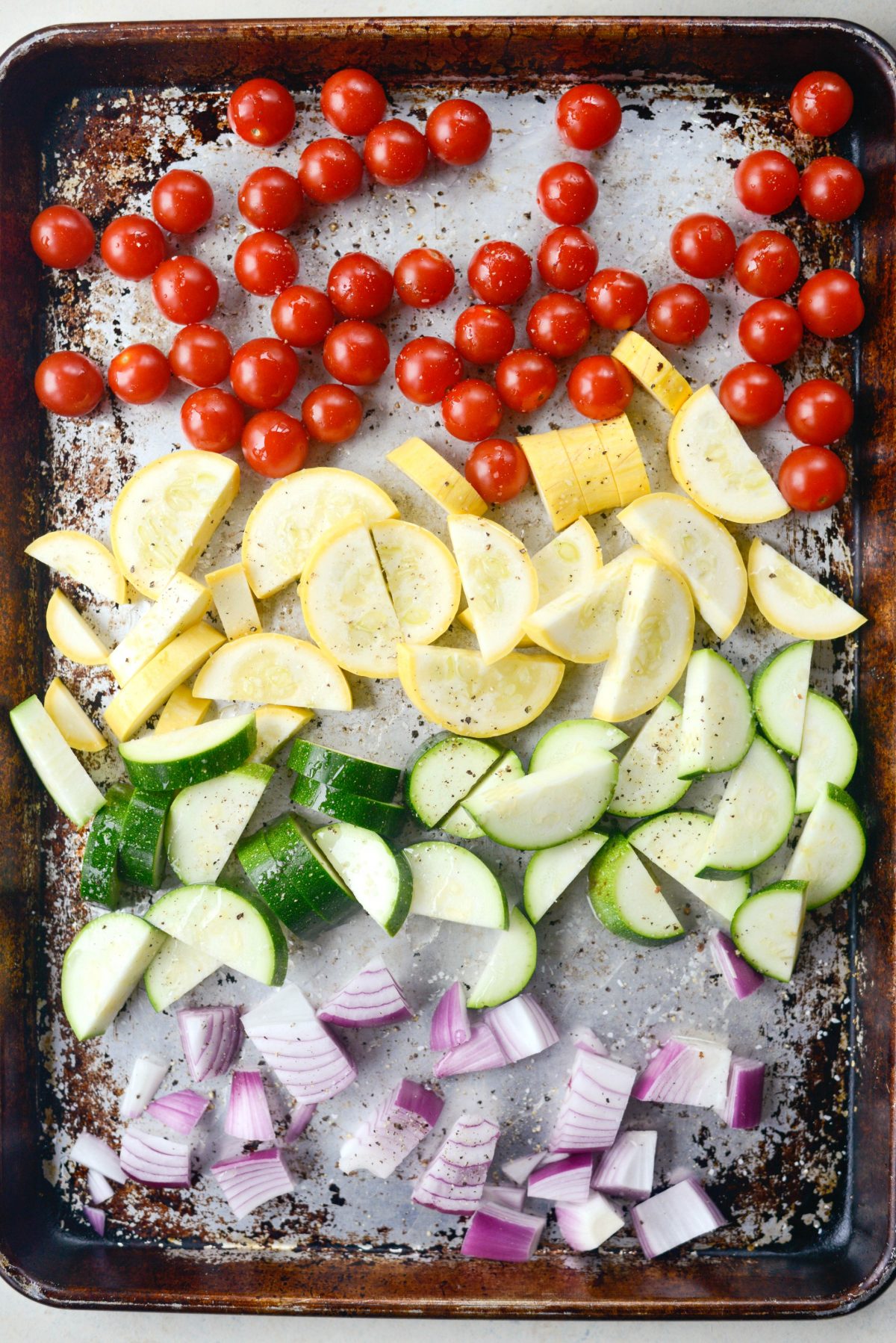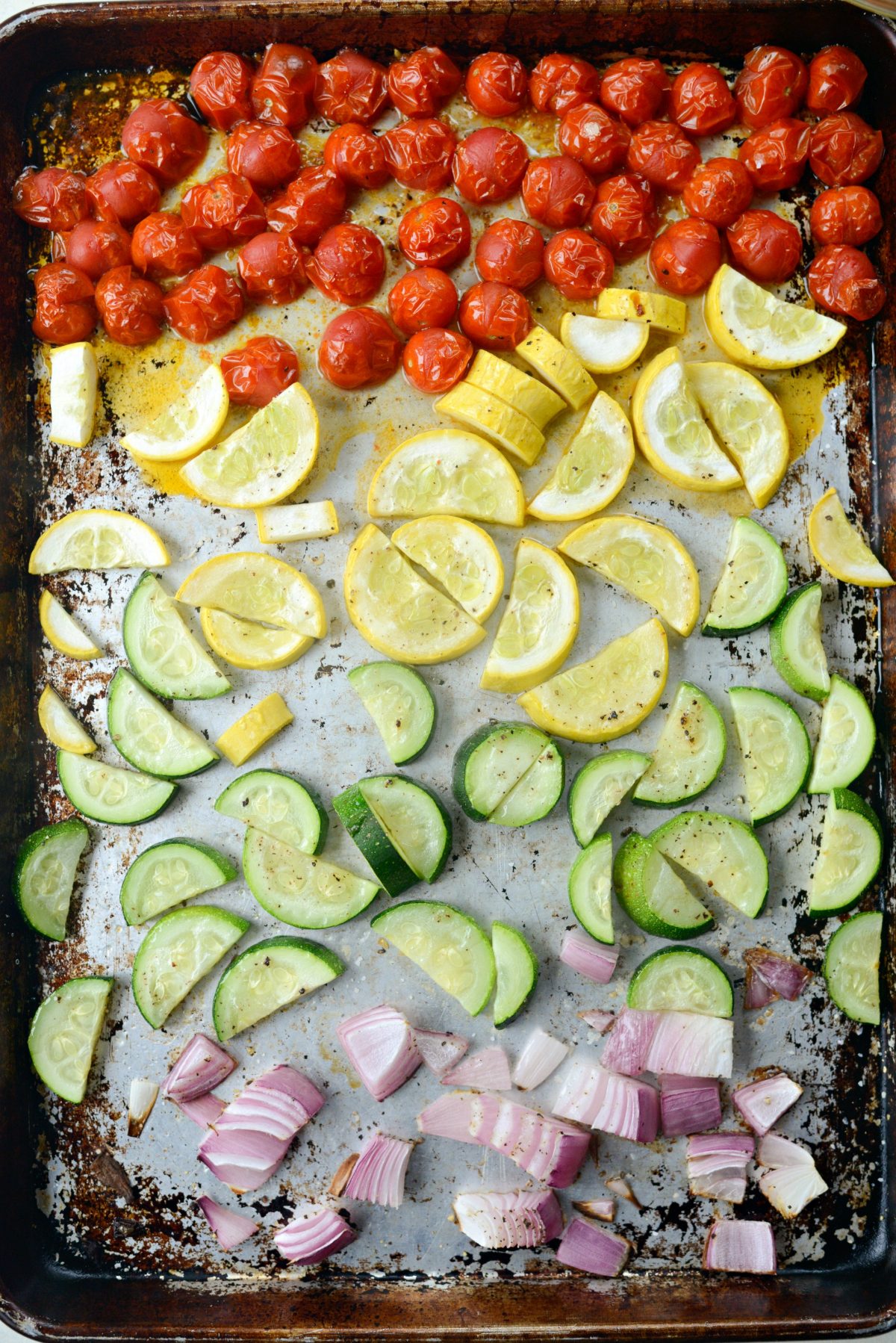 Roast the veggies.
Preheat your oven to 400° and place a pint of (washed) cherry tomatoes, 1 sliced (half moon style) yellow summer squash and zucchini and 1/2 a diced red onion. Drizzle the veggies with some olive oil and season with a few pinches of kosher salt and freshly ground black pepper.
Use your impeccably clean hands to toss them well so the veggies are coated evenly in the oil. Pop them into your preheated oven and roast for 18 to 20 minutes. I rotate the pan halfway through but leave the veggies undisturbed so the edges can caramelize.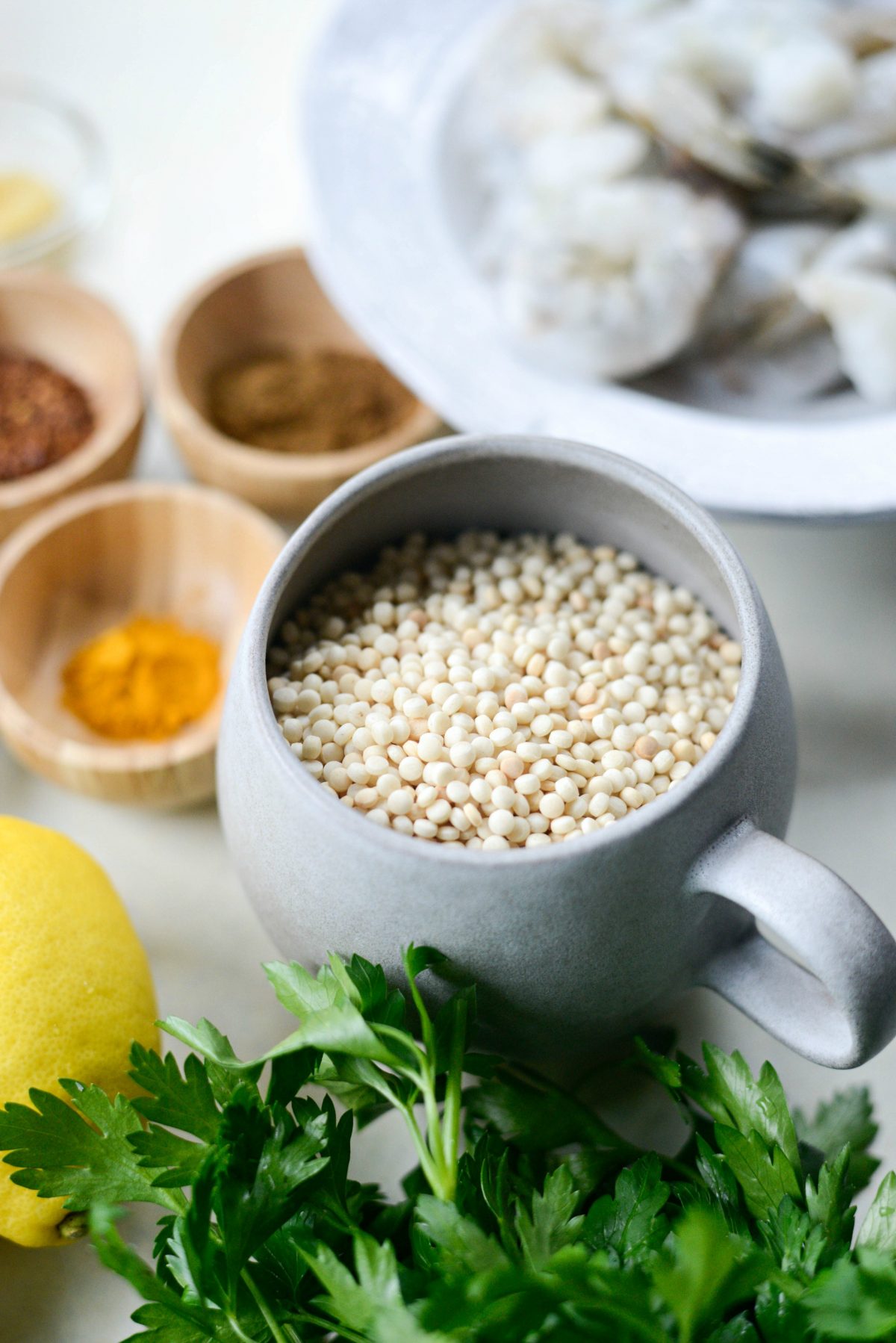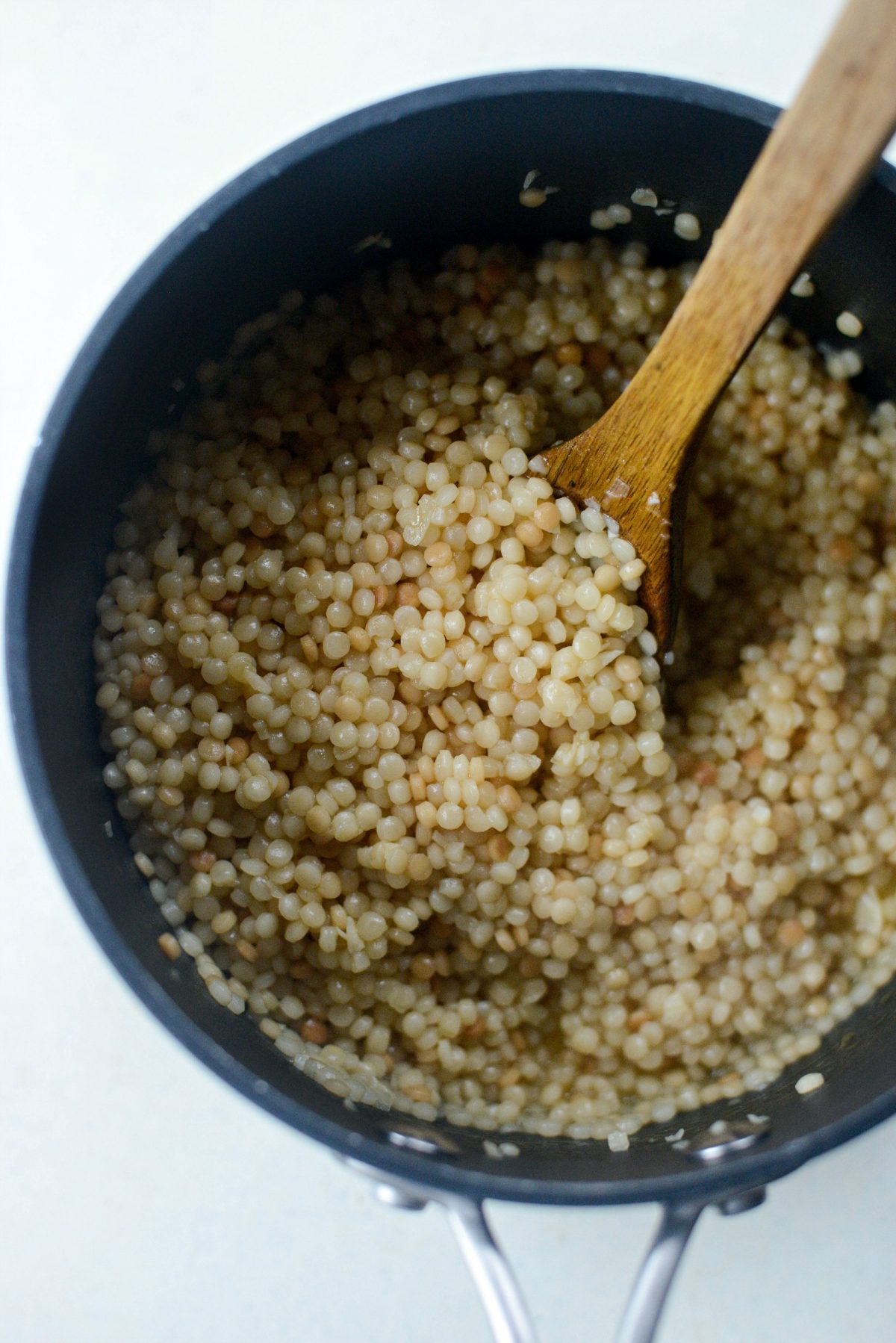 For the couscous:
In a large saucepan measure in 1 tablespoon of olive oil and heat on medium. Then add in 2 cloves of minced, grated or crushed fresh garlic. Stir and cook until fragrant, about 1 minute. Then add in the 2-1/2 cups of vegetable broth or stock, cover and bring to a boil. Once boiling, stir in 1-3/4 cups of Israeli couscous and replace the lid. Follow the package directions for cooking times but usually it's around 8 to 10 minutes, stirring occasionally.
Keep in mind, not all of the broth will be absorbed and it should give the couscous a sauce-like appearance..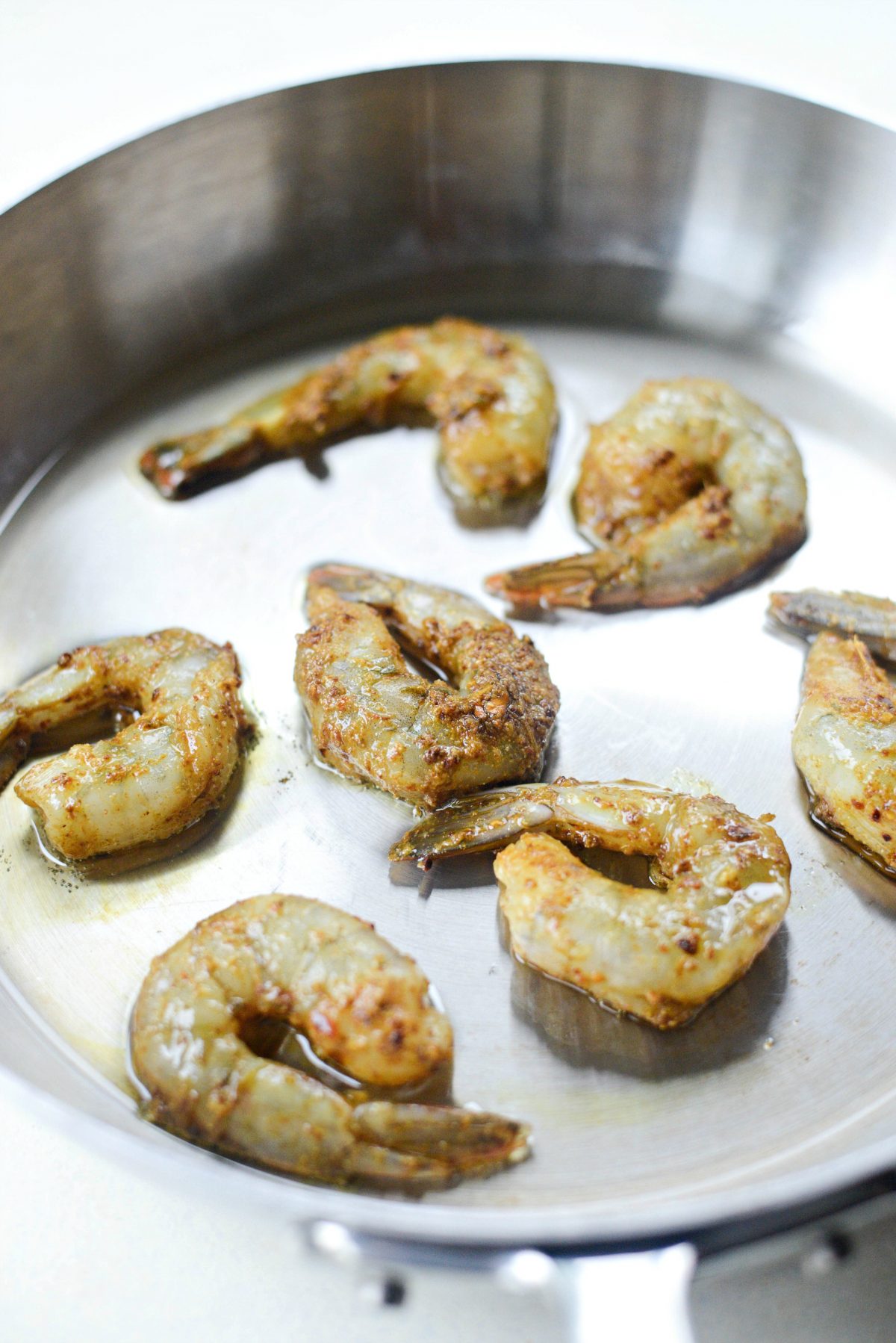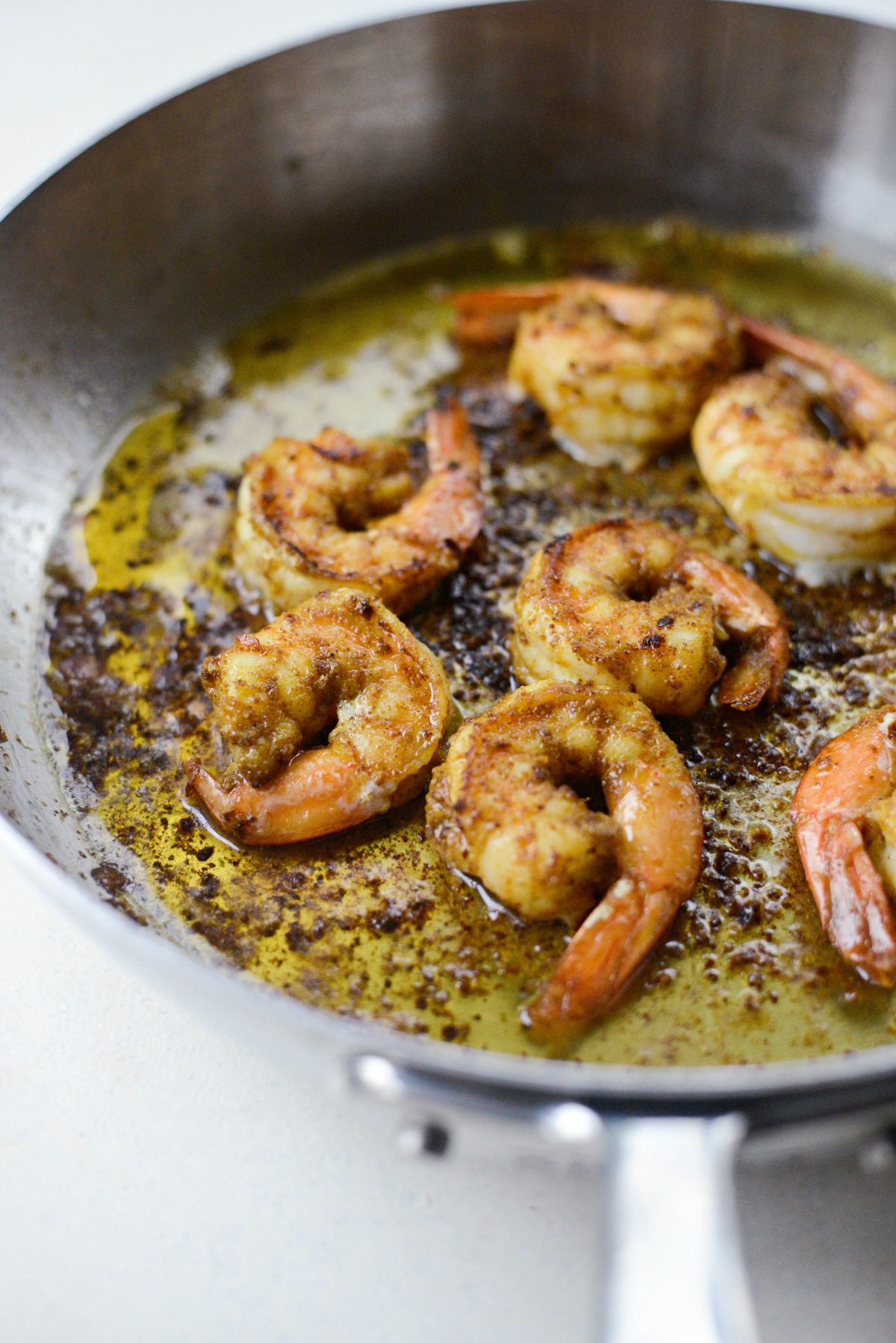 Cook the Shrimp!
Now in a 10-inch heavy skillet heat 2 tablespoons of olive oil on medium-high. Once hot, work in batches adding in the shrimp, try not to overcrowd. Allow the shrimp to cook for 2-3 minutes a side, then flip and repeat. Transfer the shrimp to a clean plate and repeat with the remaining shrimp. Adjust the heat under the pan so the spices don't burn.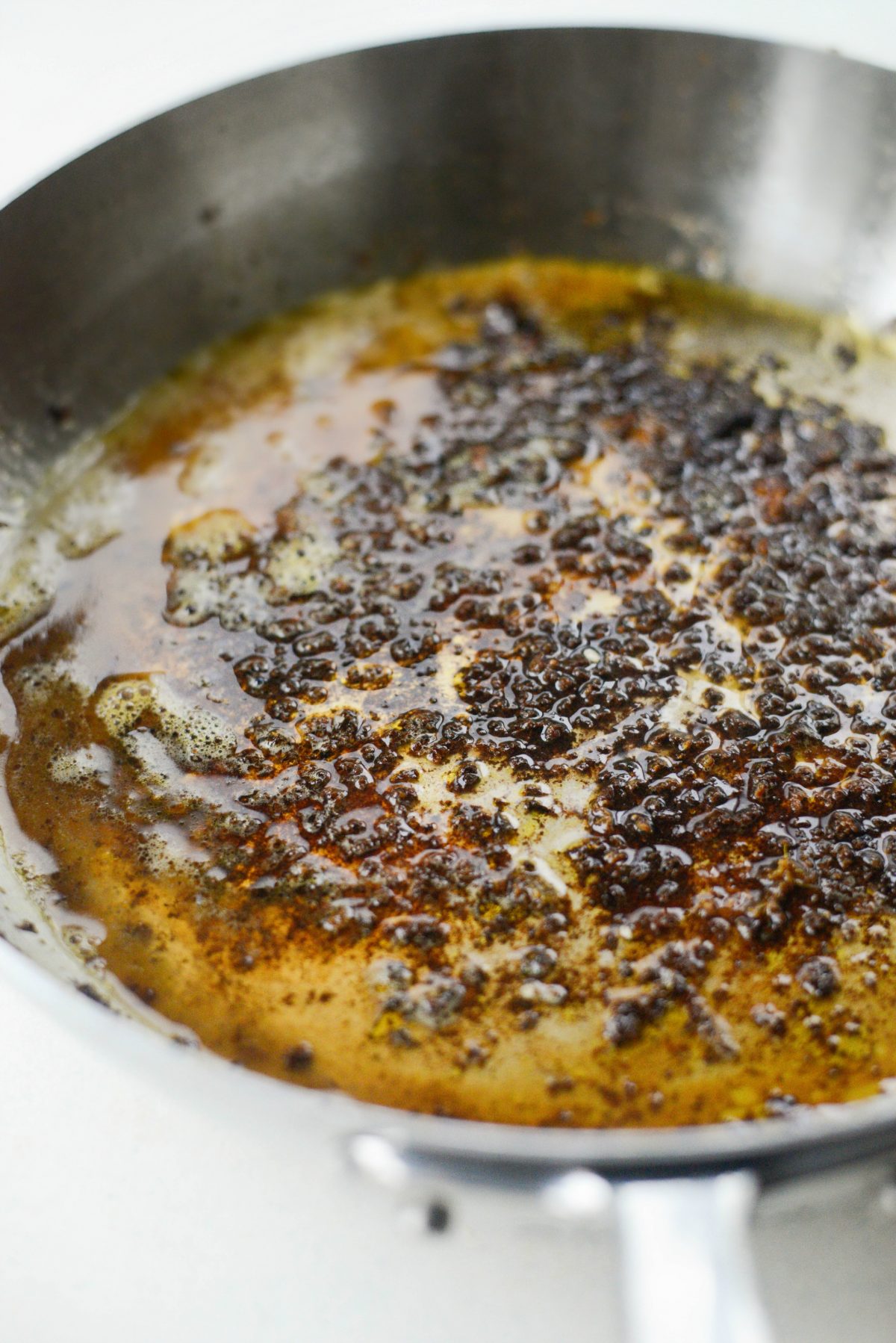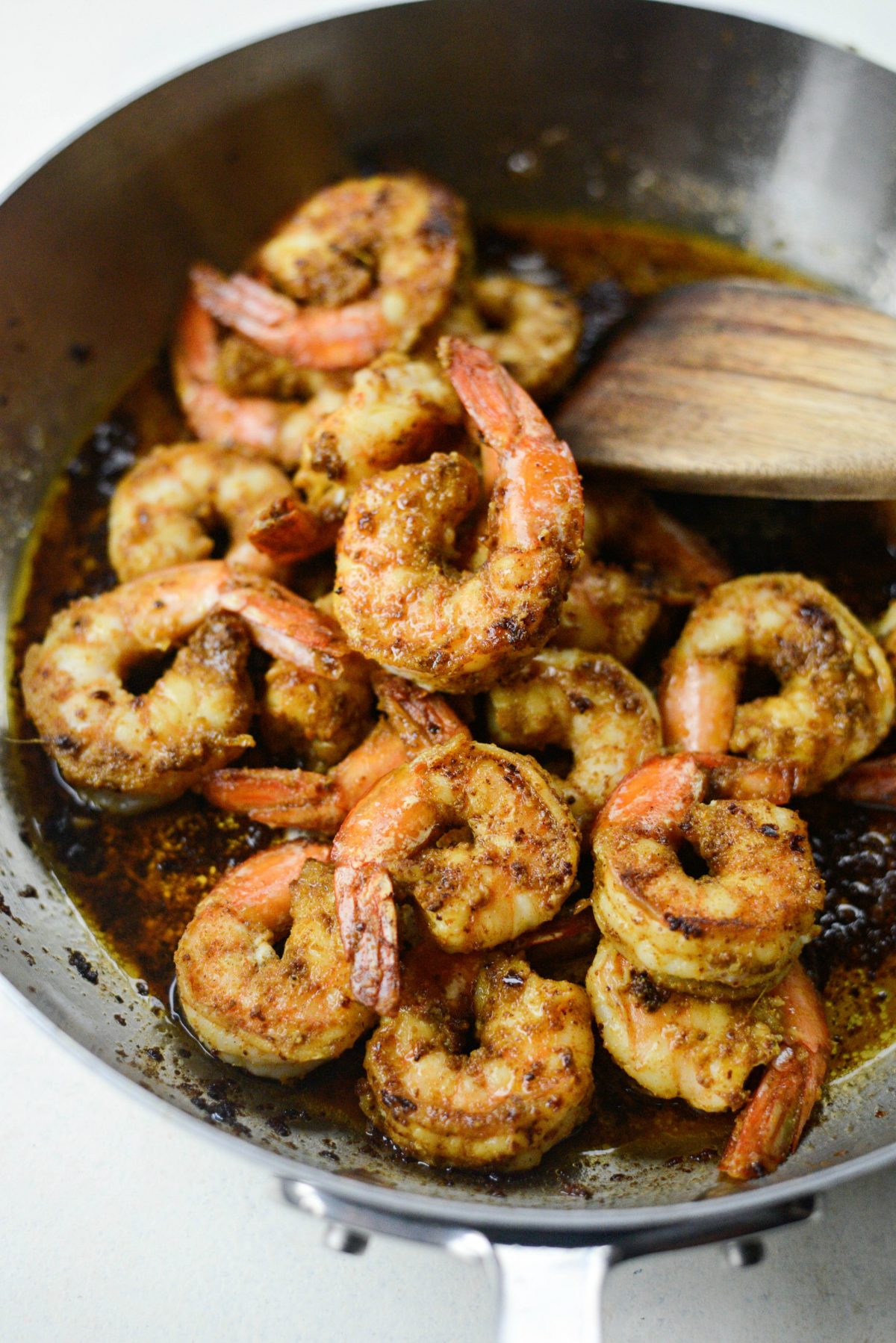 Once all of the shrimp are cooked, reduce the heat to low and drain off any excess oil. Squeeze in 1/2 a lemon and scrape those browned bits off of the bottom. Add the shrimp back in, toss and heat through and keep warm.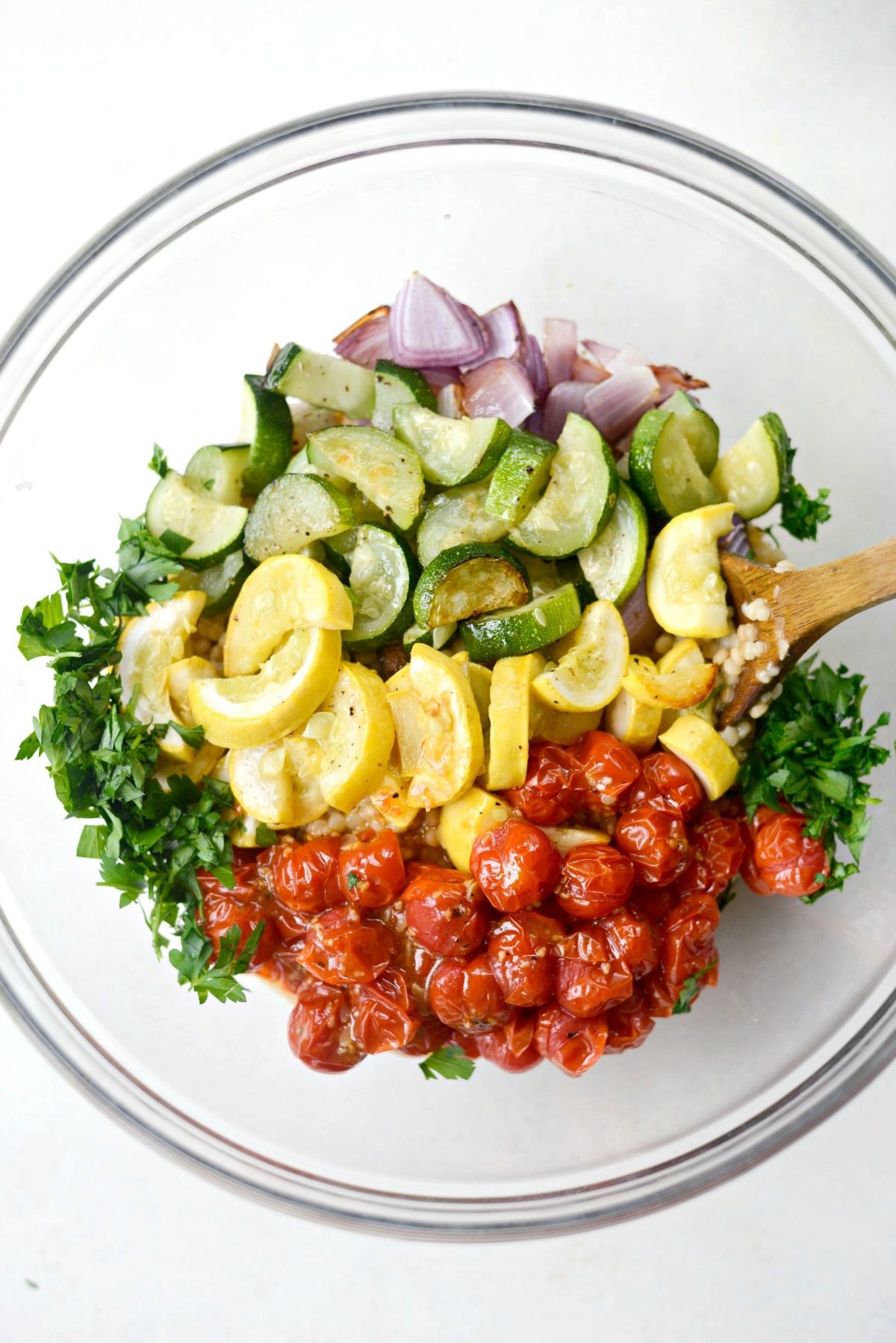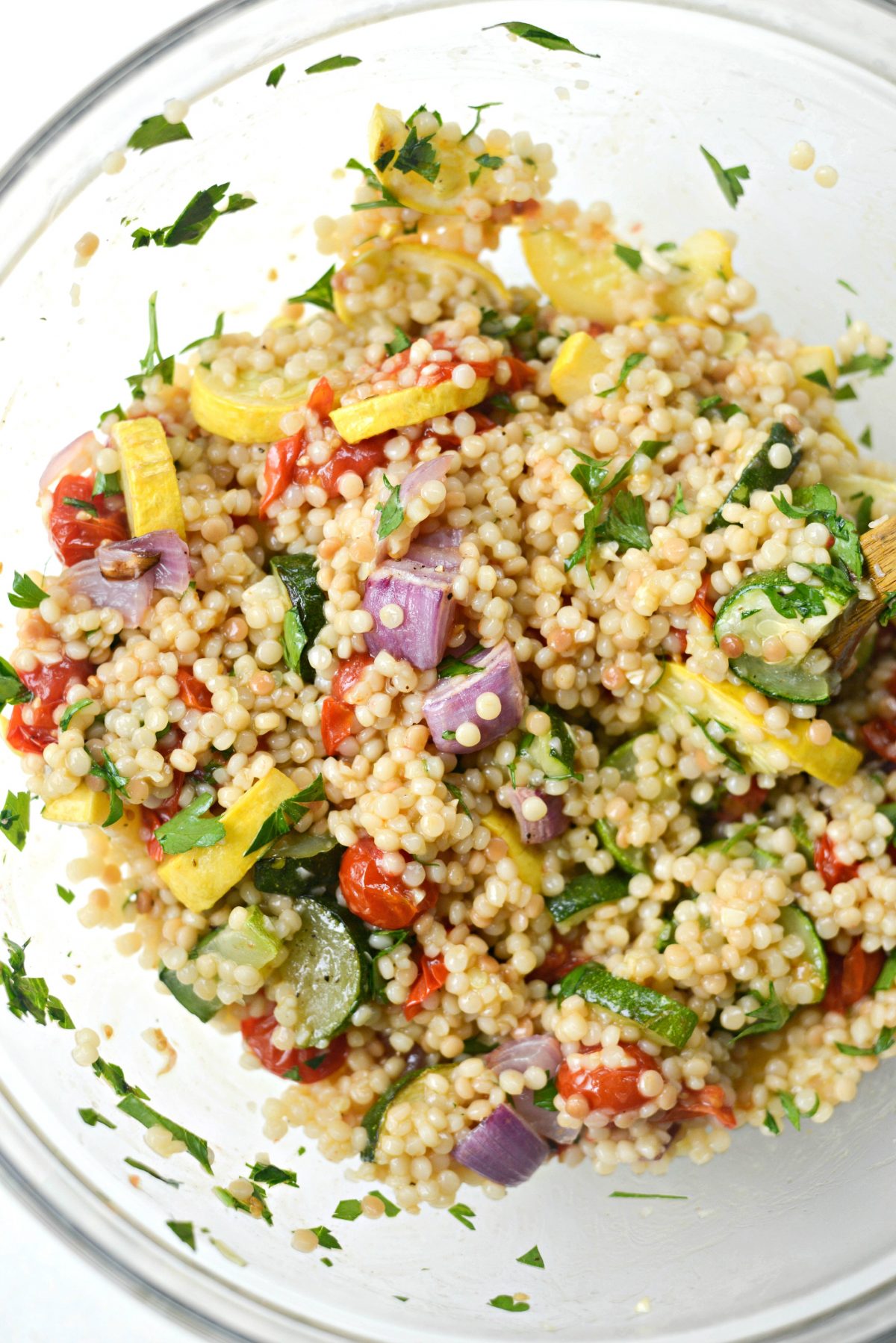 Around the same time, the couscous should be cooked, add it into a large mixing bowl along with the roasted veggies and any of their juices that accumulated in the pan.
That, my friends, is liquid gold.
Add in 1/4 cup chopped fresh parsley and gently toss to combine. Season with more salt and freshly ground black pepper to your taste.
Gorgeous!
Spoon some of the summer vegetable couscous onto a plate and top with 5 or 6 of the North African shrimp and more minced parsley for garnish.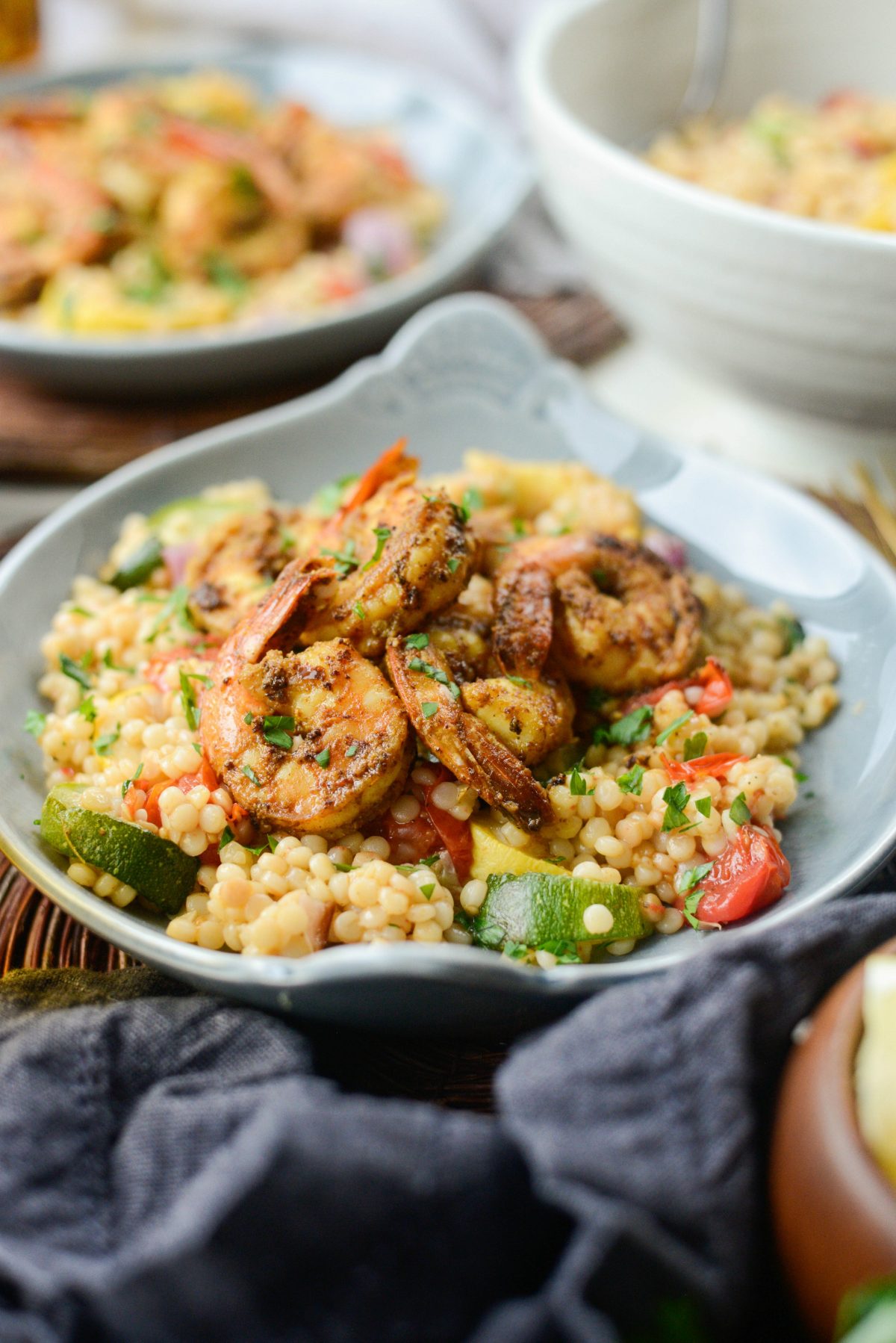 First thing, I really love this recipe. It's not quite like Rockwell's version but it was so good that I don't even care. SO much flavor! And secondly, this is good warm or cold. I took chilled leftovers to the beach and they were delicious cold! This recipe is also great for meal prepping for the week – you're welcome.
So so in food-love with this North African Shrimp recipe. Go on and give it a whirl and let me know what you think!
Enjoy! And if you give this North African Shrimp recipe a try, let me know! Snap a photo and tag me on twitter or instagram!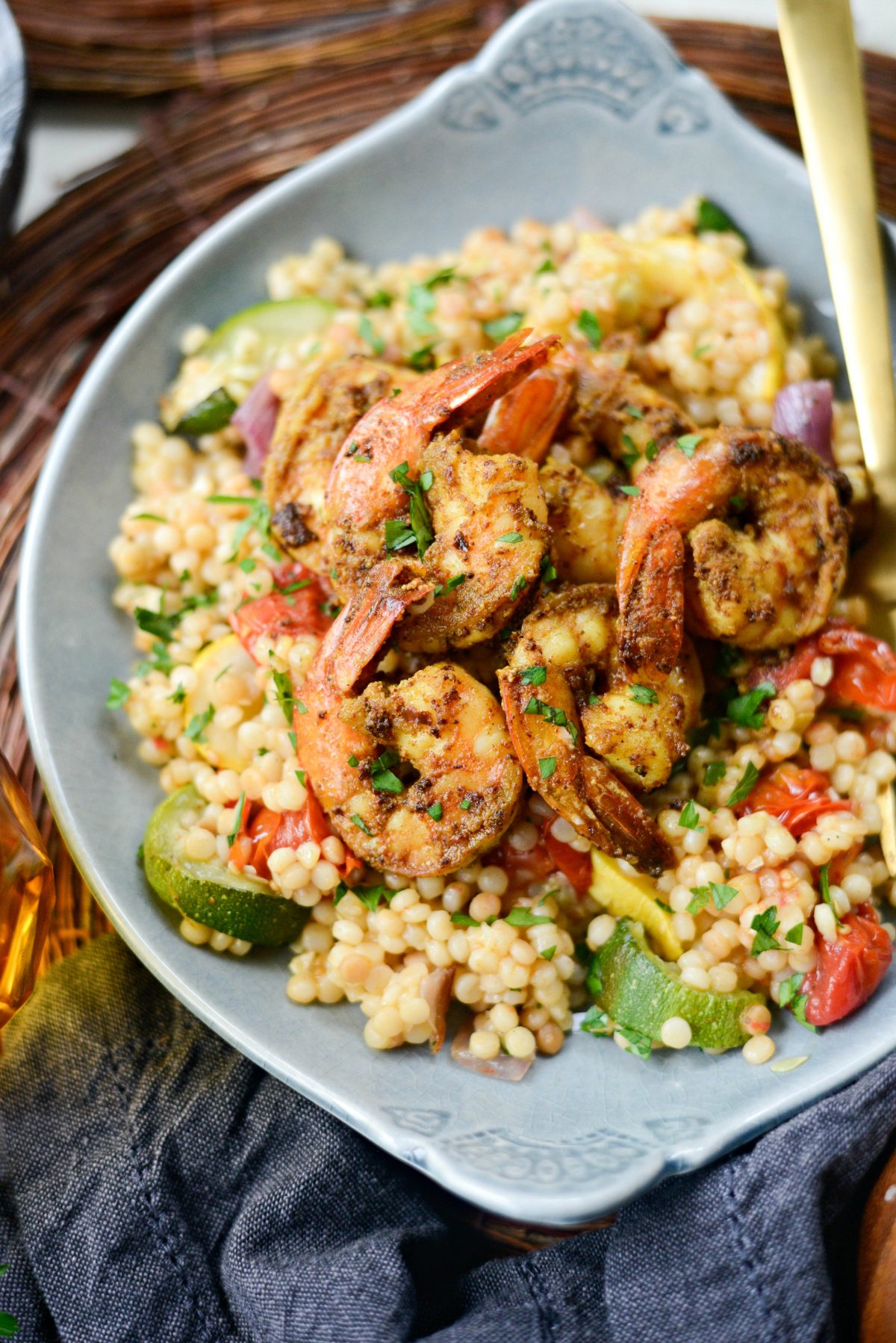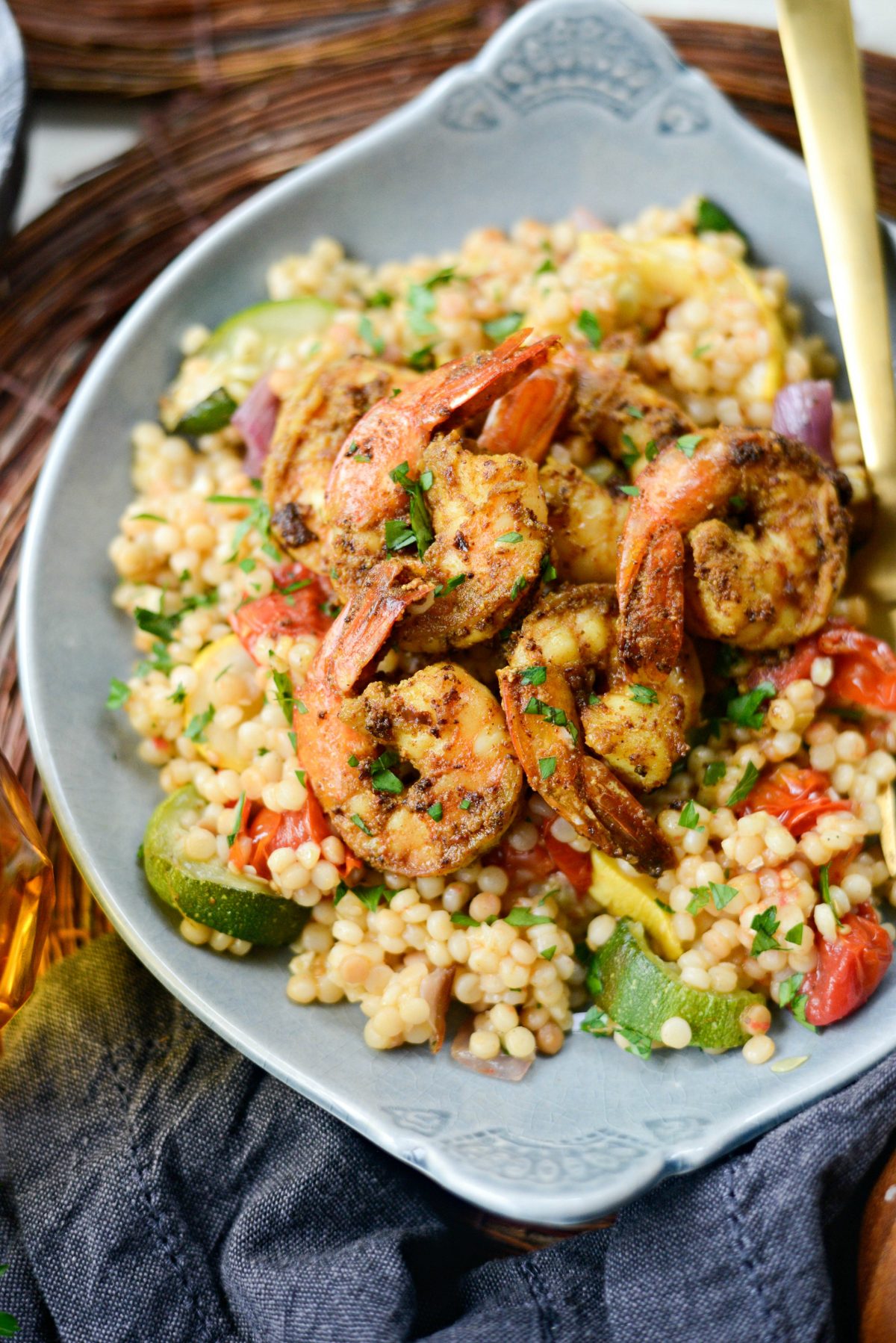 This post may contain affiliate links.
Buy the Cookbook: Simply Scratch : 120 Wholesome Homemade Recipes Made Easy Now available on Amazon »
THANK YOU in advance for your support!