Aunt Vieve's Hummus Recipe with Toasted Pine Nuts is just one of many authentic and delicious family recipes you can find in Liz Della Croce's (of The Lemon Bowl) fourth installment of her Food From Our Ancestors series.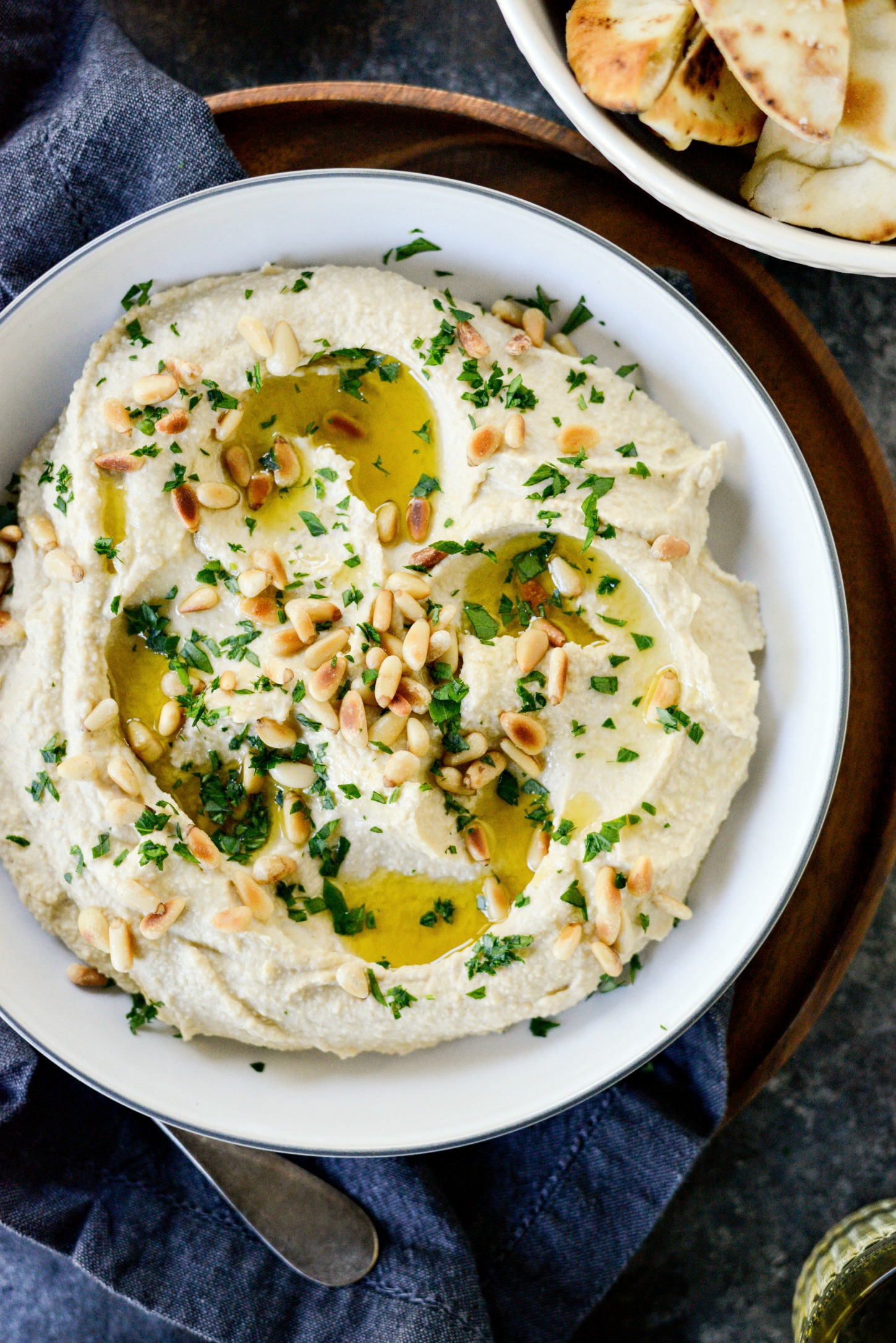 Smooth as silk, bright with lemon and flavorful from garlic and cumin. This is my new go-to hummus recipe and should be yours too!
As you can most likely imagine, I've made a ton of hummus in my lifetime. I even have a few of the recipes here on SS. All are delicious and worthy of a pita or carrot stick, but can I call them authentic?
Probs not.
Now that I think of it, I don't believe I've ever had a plain, original hummus that wasn't some a form Ina Garten's recipe. So when I was reading through Liz's latest installment of her Food From Our Ancestors series : The Ultimate Syrian Sunday Dinner and spotted Liz's Aunt Vieve's hummus recipe with toasted pine nuts, I knew it was meant to be.
I have loved hummus since the first time my sister Kelly brought it along with tabbouleh to a family Christmas gathering.
While waiting for dinner I stuffed myself on hummus slathered pita bread with copious amounts of tabbouleh piled high. I ate so much that I had to skip dinner. We decided on an appetizer only Christmas party after that night.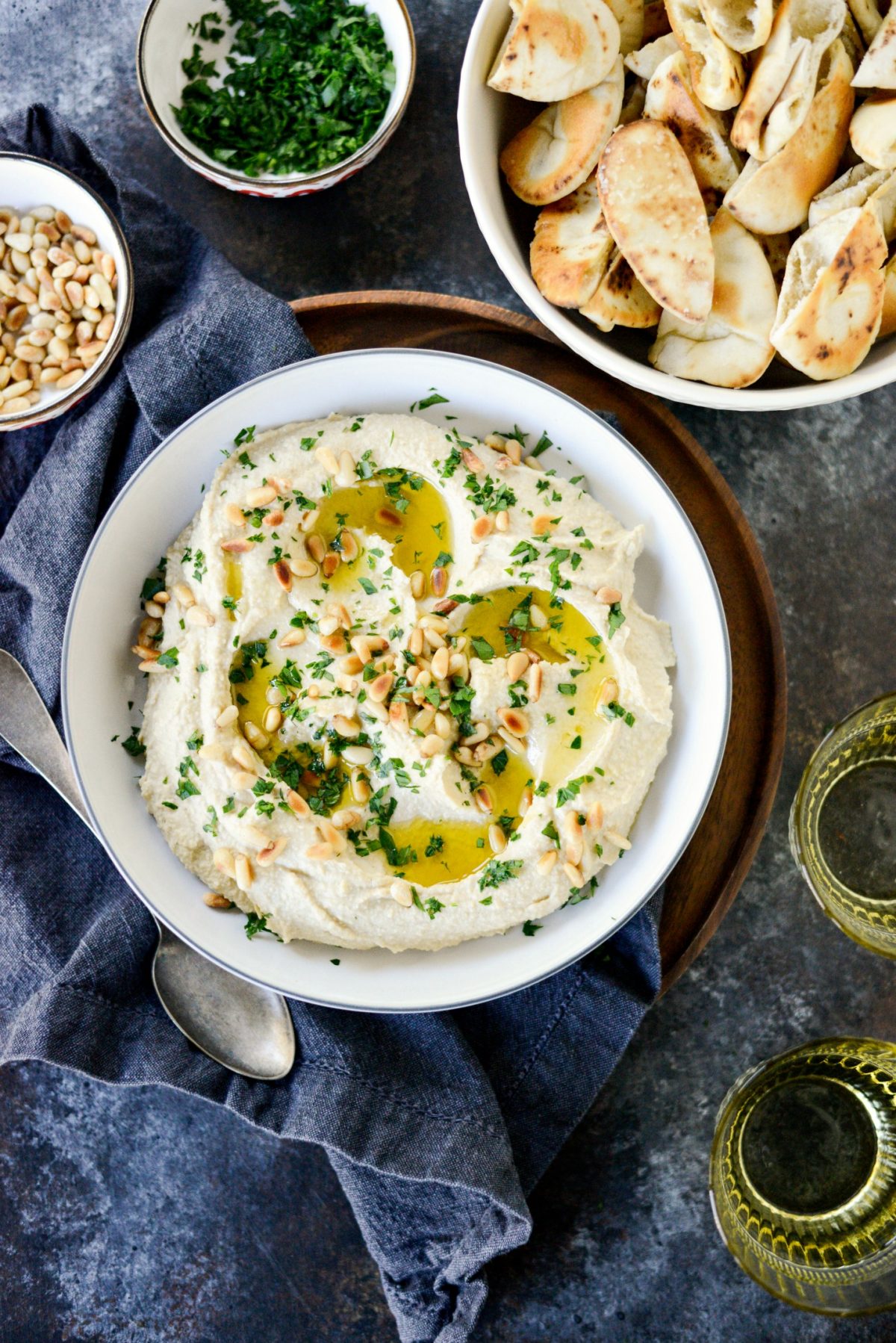 It's one of my favorite dips of all times.
Hummus is one of those appetizer-slash-dips I will make whenever I'm feeding crowd. It can be served with soft pita or crisp, toasted pita wedges– as seen above. I will also serve it with fresh veggies like carrots, sugar snap peas [<—my favorite], peppers, celery and jicama.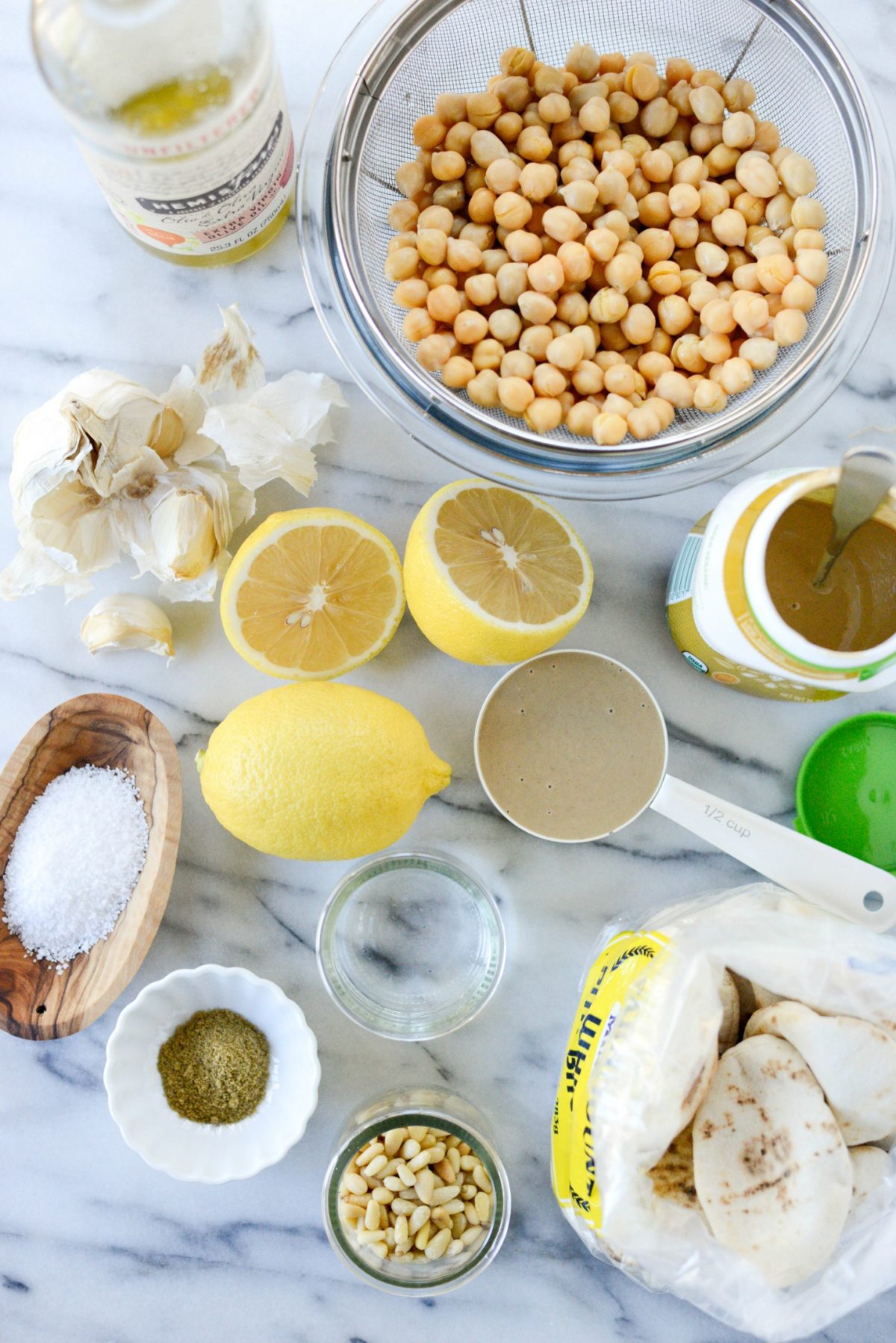 To Make this Hummus Recipe You Will Need:
chickpeas
tahini
lemon juice
olive oil
garlic
cumin
kosher salt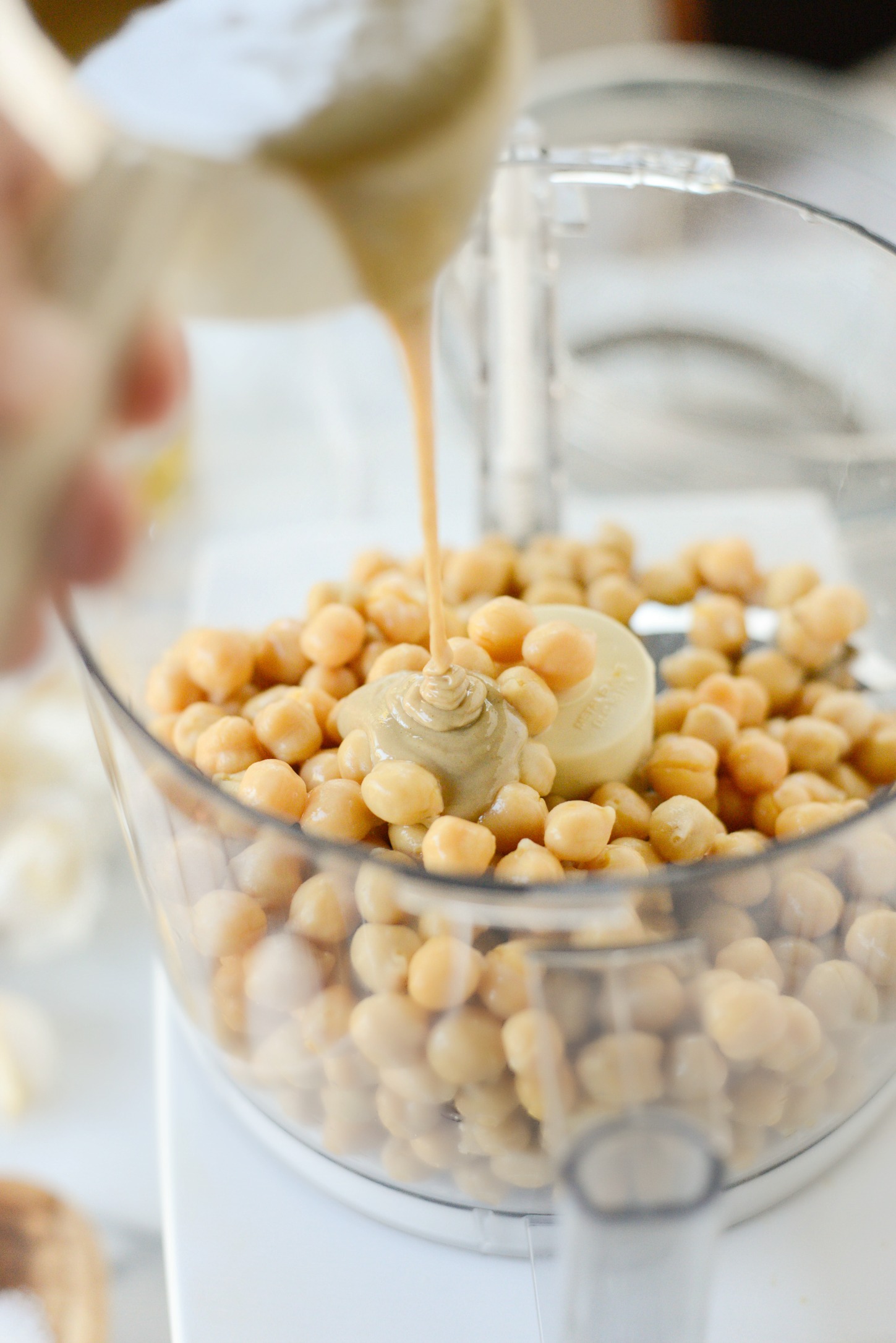 Drain and rinse two 15-ounce cans of chickpeas (garbanzo beans) and add them into the bowl of your food processor that's fitted with the blade attachment. Then add in the 1/2 cup of tahini.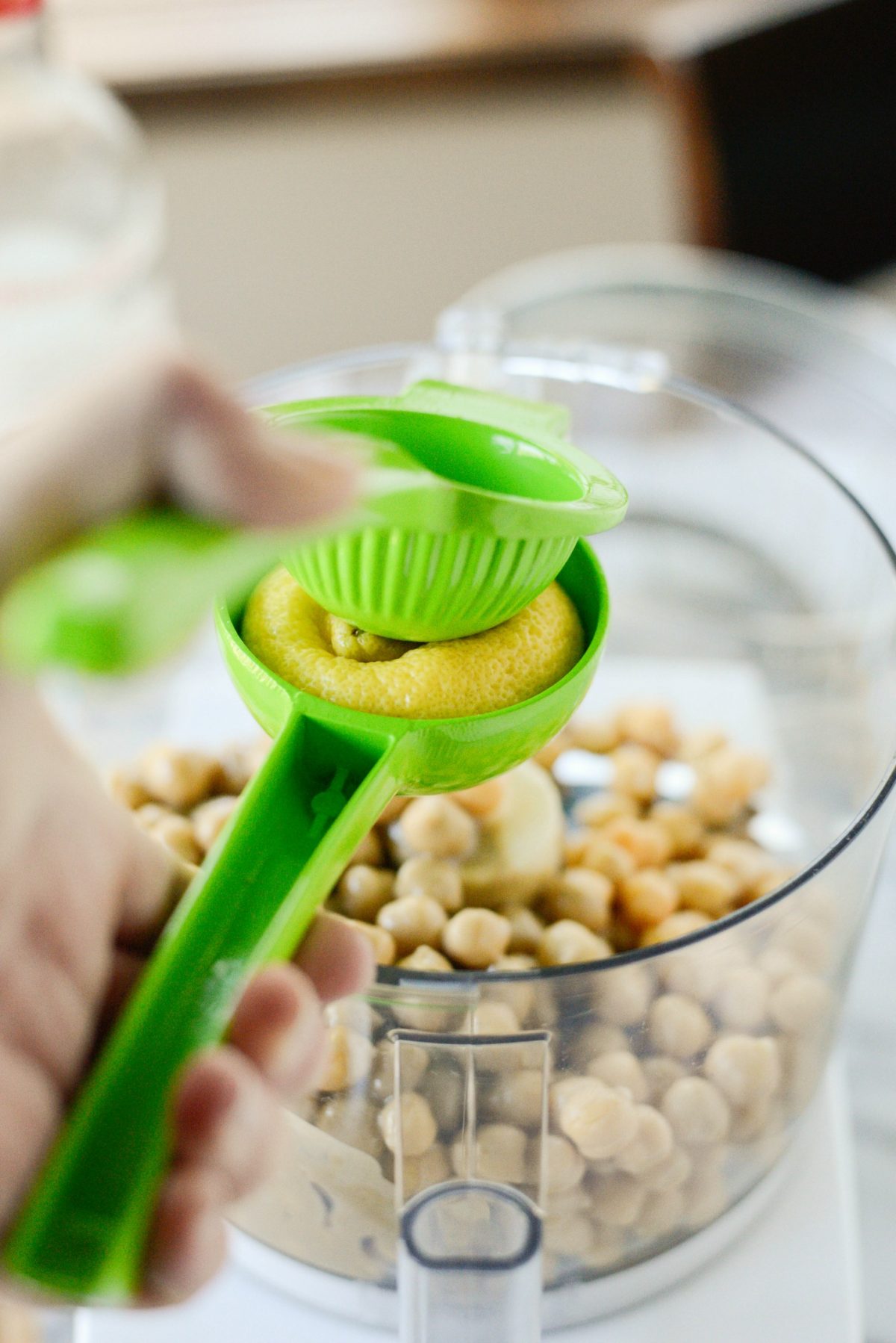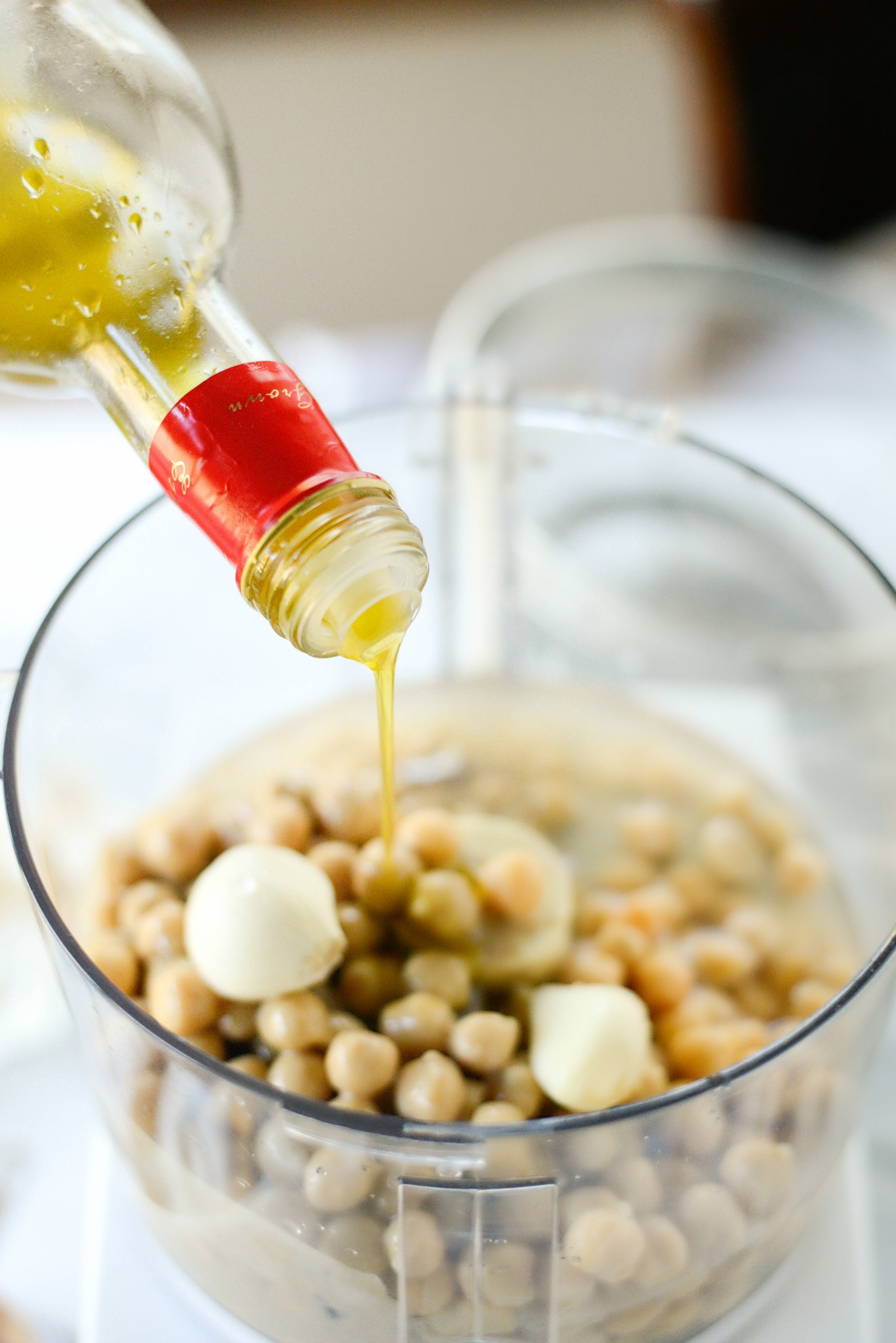 Next, squeeze in the juice from two large lemons, pour in 1/4 cup water (or chicken broth) and 2 tablespoons of olive oil.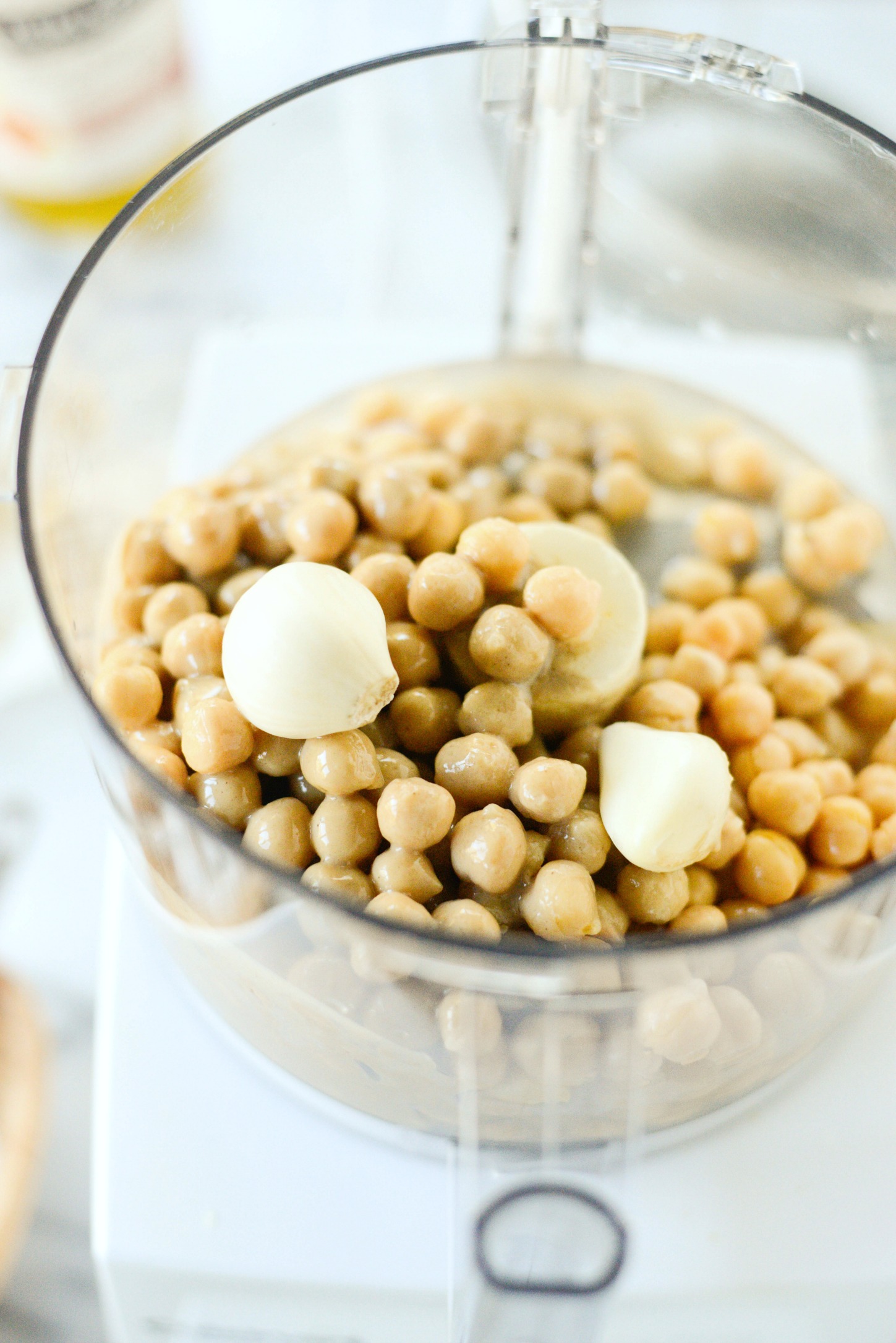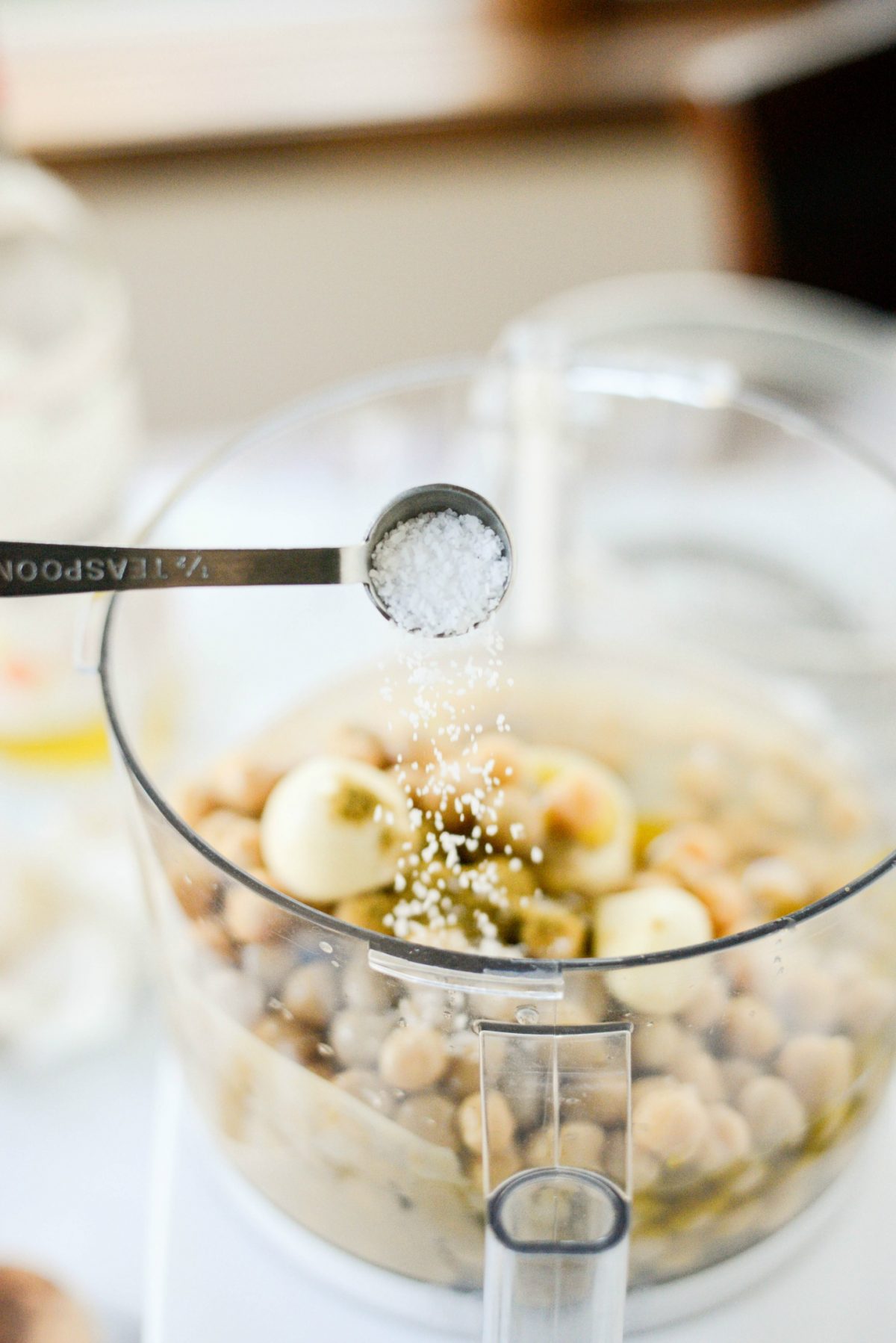 Throw in the garlic, 1-1/2 teaspoon of kosher salt and a teaspoon of cumin.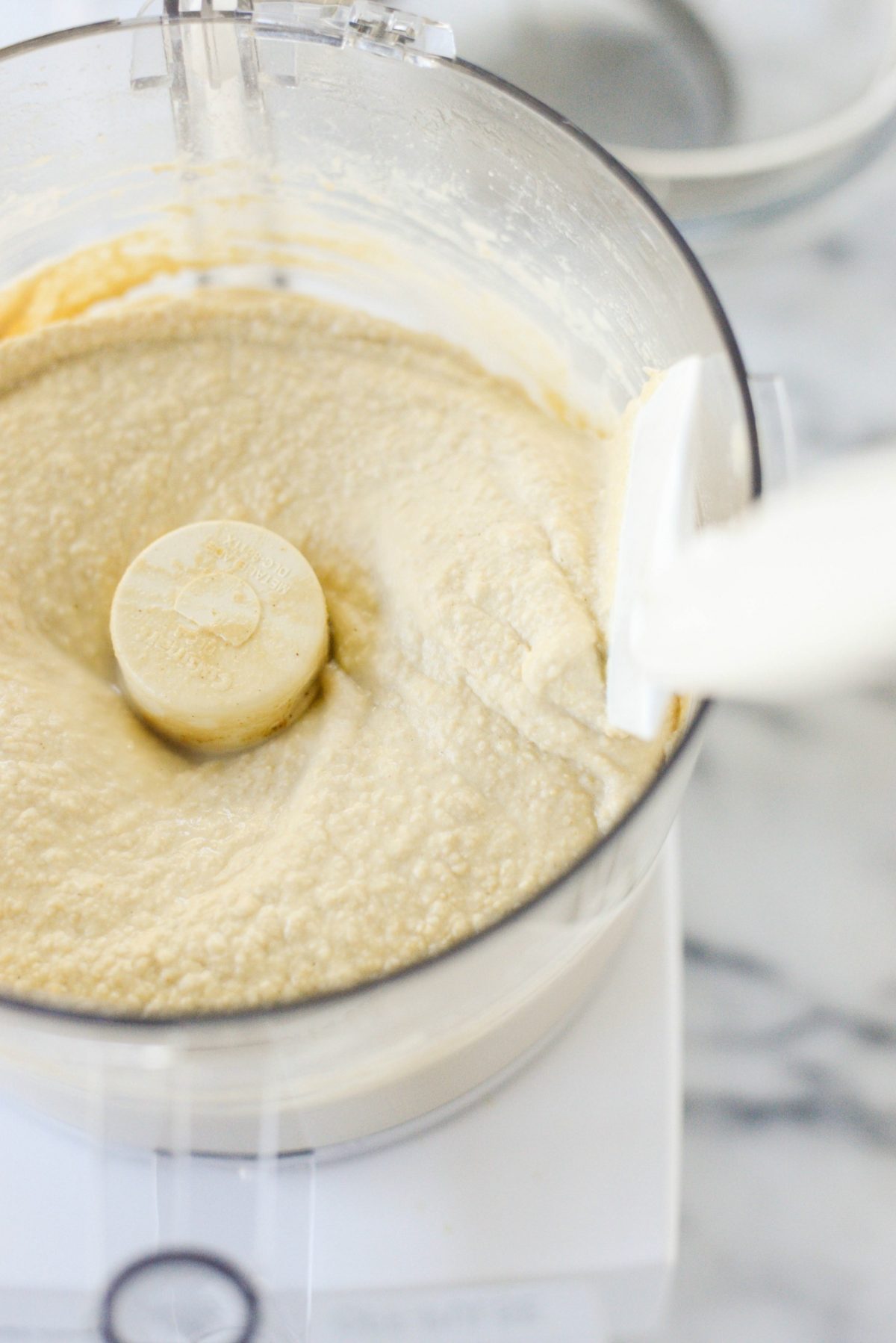 Blend until smooth, scrape down the sides, check for any unprocessed garlic pieces and continue to blend until smooth.
Taste-test and adjusting the flavors to your preference by adding more garlic, salt or lemon juice as desired. If you ask me, this hummus is perfect the way it is. I didn't need to tweak it at all.
Whenever I make hummus, I always make toasted pita wedges. I cut small pita rounds in half (or regular pitas into wedges) and toss them with olive oil and kosher salt before baking for 8 to 10 minutes in a 400° oven.
In Liz's book, she gives instructions on how to toast the pine nuts in the oven. But since my oven was being occupied with the pita bread, I opted to toast them in a skillet on the stove.
Just add some pine nuts to a dry skillet and heat on medium-low. Toss occasionally until the pine nuts are golden brown and fragrant.
Spread the creamy smooth hummus in a thin layer on a serving dish and top with the toasted pine nuts and freshly minced parsley. I personally love my hummus drizzled with a little olive oil. This hummus recipe with toasted pine nuts was my lunch and I don't regret it one bit.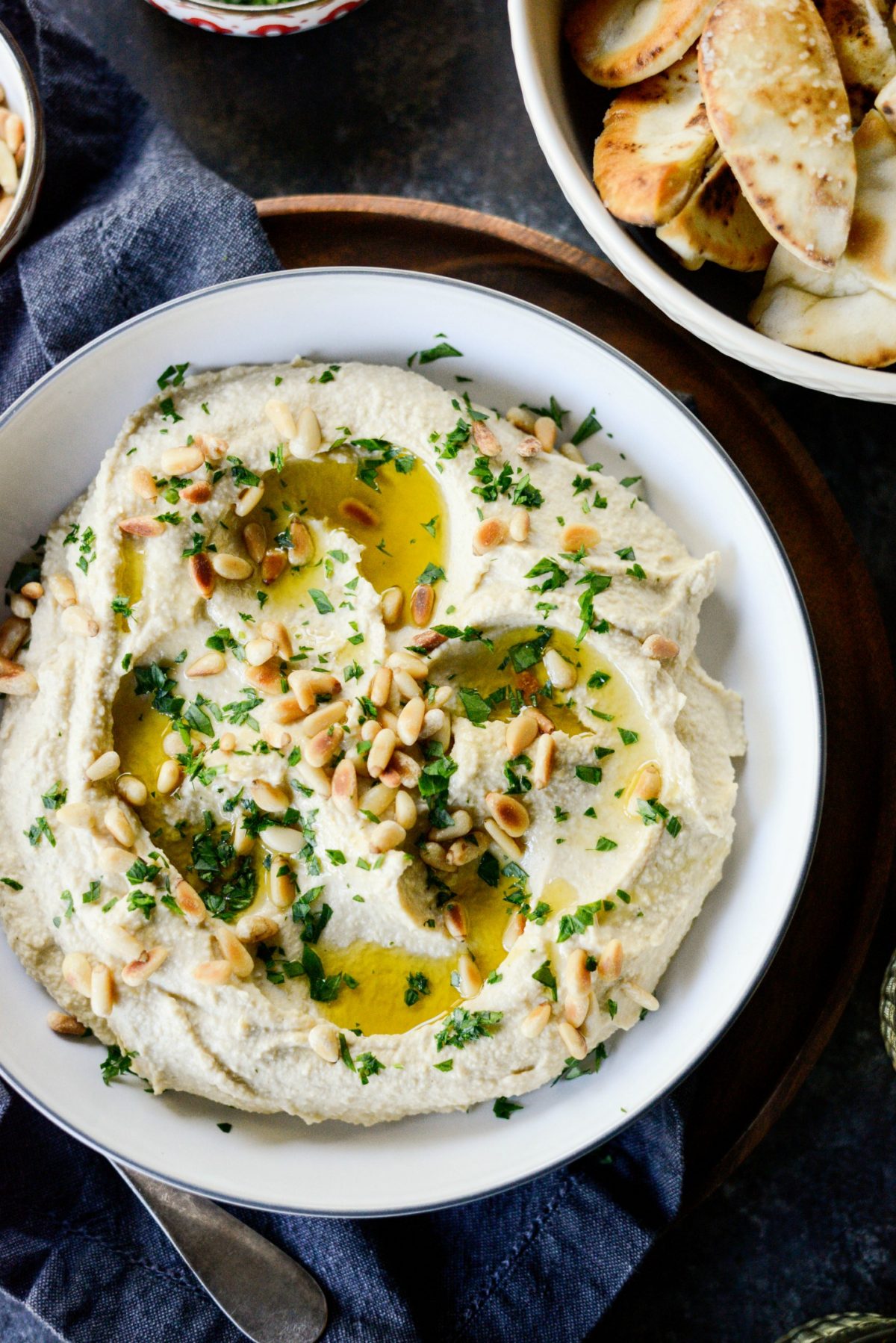 I'm so thrilled that Liz decided to preserve her ancestors recipes by putting together a collection of her family's recipes into a convenient and affordable eCookbook.
You can get Aunt Vieve's Hummus Recipe with Toasted Pine Nuts plus so many more family recipes by purchasing Food From Our Ancestors : The Ultimate Syrian Sunday Dinner by clicking here. Or get the complete collection, including The Ultimate Jewish Shabbat Dinner, The Ultimate Italian Sunday Dinner, The Ultimate Mexican Sunday Dinner and The Ultimate Syrian Sunday Dinner by clicking here.
Thank you Liz! For including your beloved Aunt Vieve's recipe for perfect hummus in you book — which also so happens to be the most delicious hummus I've ever tasted. I mean it. Also, thank you for allowing me to share this recipe. I know she would be so proud to see her recipe shared with and loved by so many. My hummus-loving life is forever changed because of her recipe. It's perfection.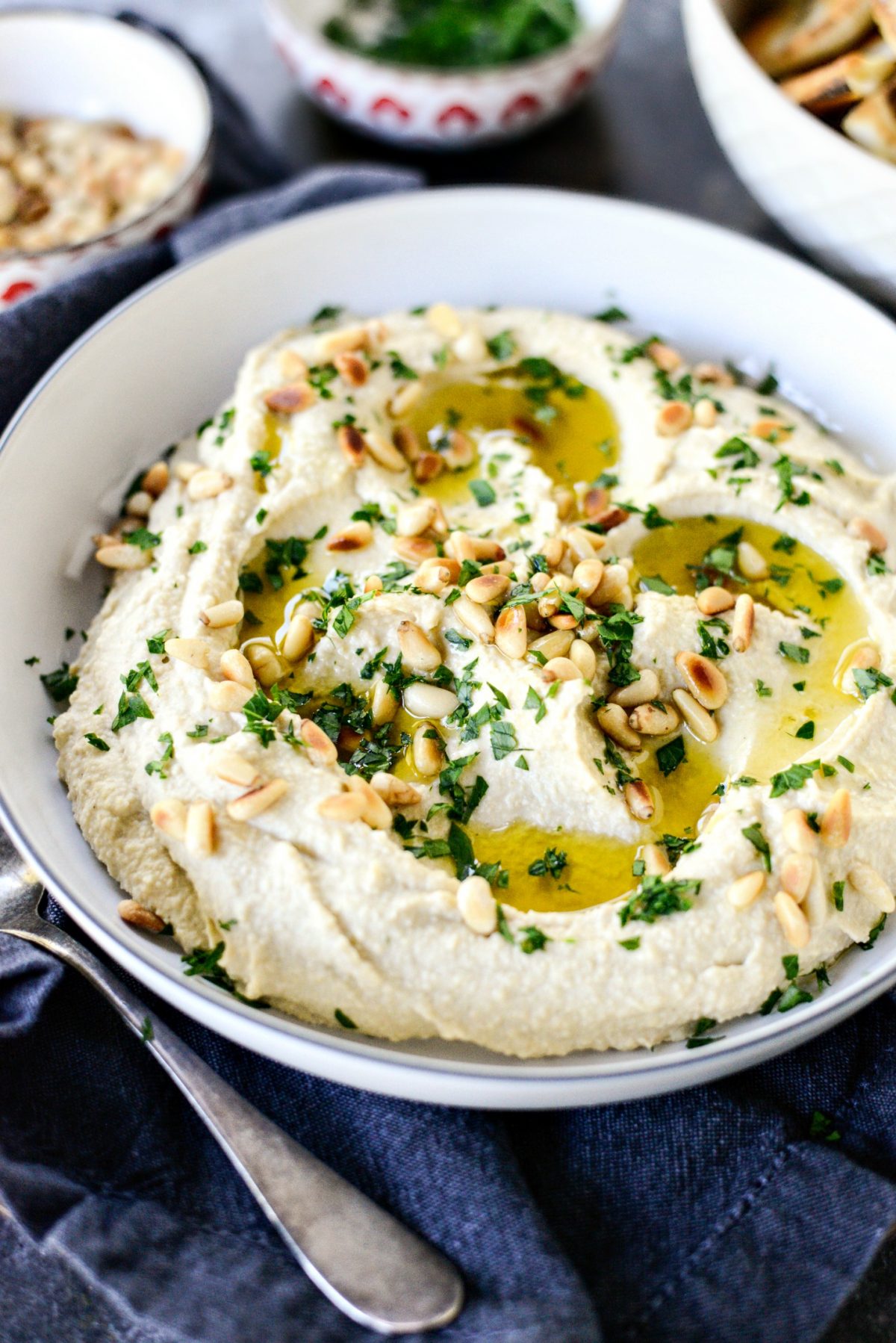 Enjoy! And if you give this Hummus Recipe recipe a try, let me know! Snap a photo and tag me on twitter or instagram!
This post may contain affiliate links.
Buy the Cookbook: Simply Scratch : 120 Wholesome Homemade Recipes Made Easy Now available on Amazon »
THANK YOU in advance for your support!