I'm still grilling all the things, like these super delectable Grilled Beef and Vegetable Kebabs. Beef and an array of veggies marinate in a lemon pepper and brown sugar marinade and are threaded onto skewers before grilling. These kebabs are super easy and are bursting with flavor!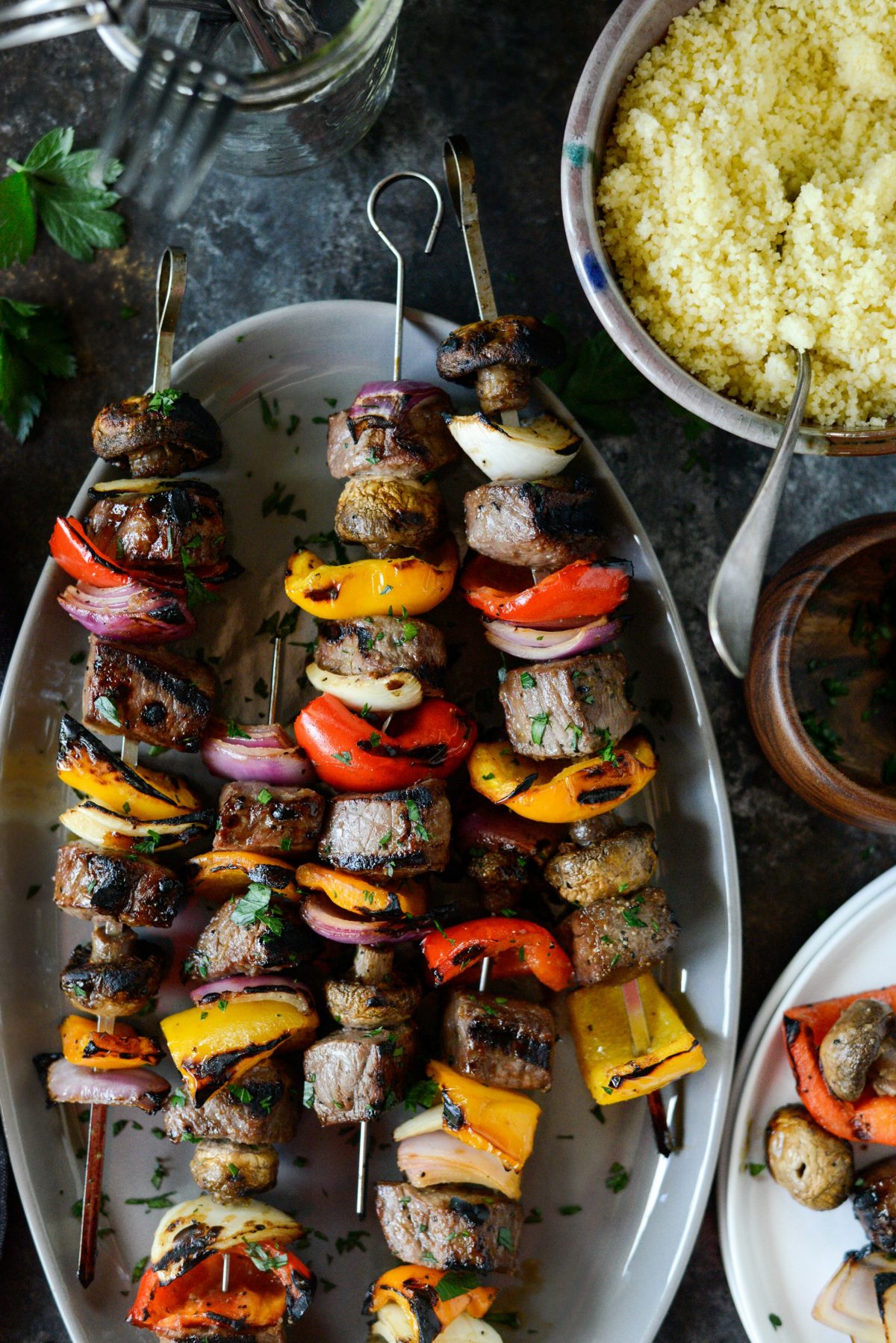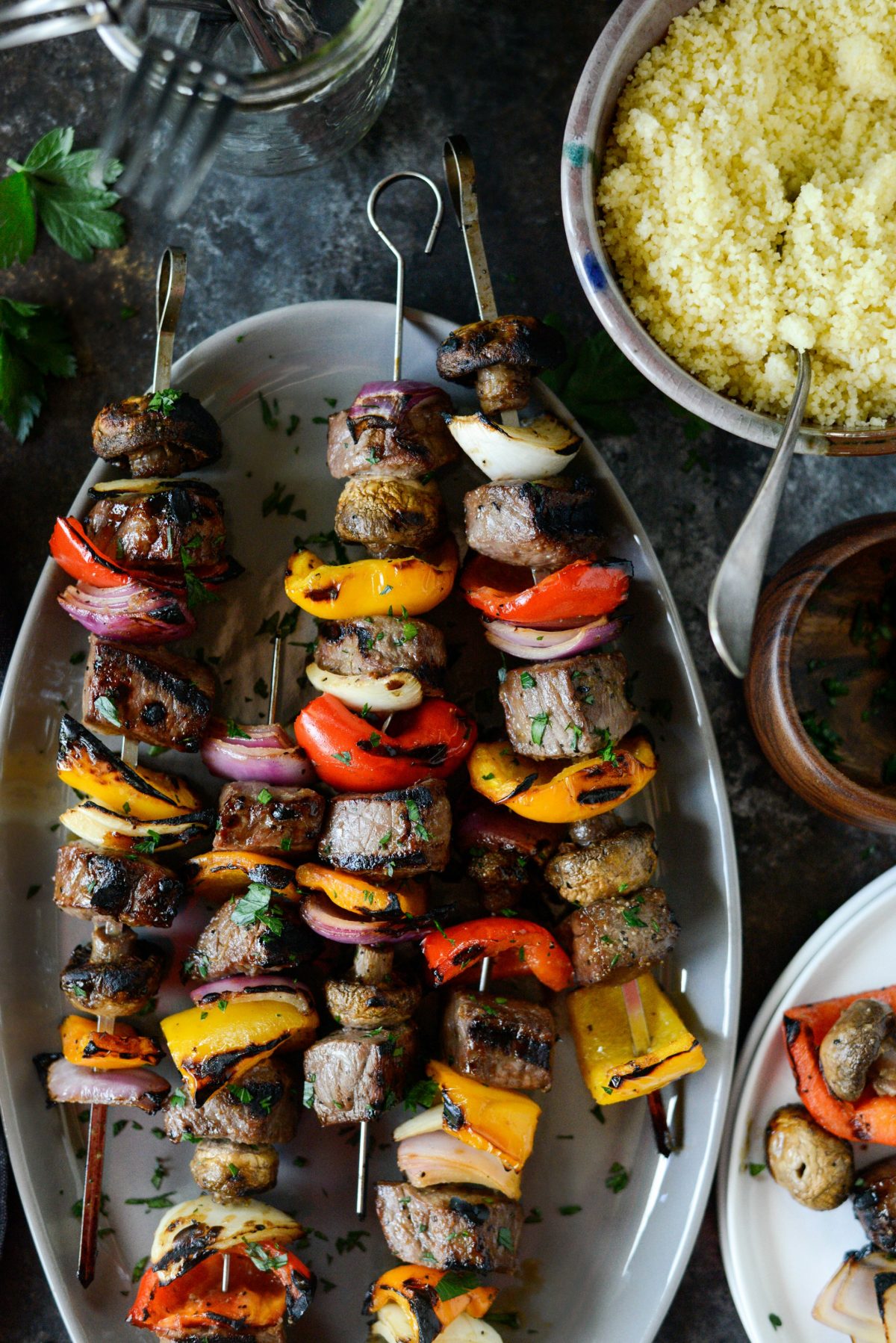 I'm probably the worst kind of friend/family member to have.
Hold on, I'll explain. We go to friends houses and family functions a lot. Sometimes I cook and bring a dish and sometimes I don't. I cook for a living and sometimes, cooking on a "off" day is the last thing I want to do. BUT I love having friends who cook because they are always so generous and willing to give me their recipes so I can share them here with you. Plus food always tastes 100 times better when other people cook it for you, amiright?
This recipe comes from Heather, a friend of a friend that became my friend over the last 15+ years or so. Last summer, Heather grilled these kebabs and Pat and I couldn't get over how delicious they were. Cubed meat, marinated in a sweet and peppery marinade, grilled to perfection with crispy edges and juicy tender on the inside. They were phenomenal to say the least.
So good I basically begged [read: Facebook stalked] her for the recipe. I've made these grilled beef and vegetable kebabs a ton of times since last summer and I'm not getting sick of them anytime soon.
I know we are entering the fall season and grilling might not be on the agenda. I actually started this recipe a few weeks ago, actually it was on the day we lost our water and I couldn't finish the recipe because we had no way to wash dishes, our hands etc. So I made them again last week, just so I could take the final shots and share it here with you guys. But don't let the end of summer stop you, these can definitely be made on an indoor grill, no problem!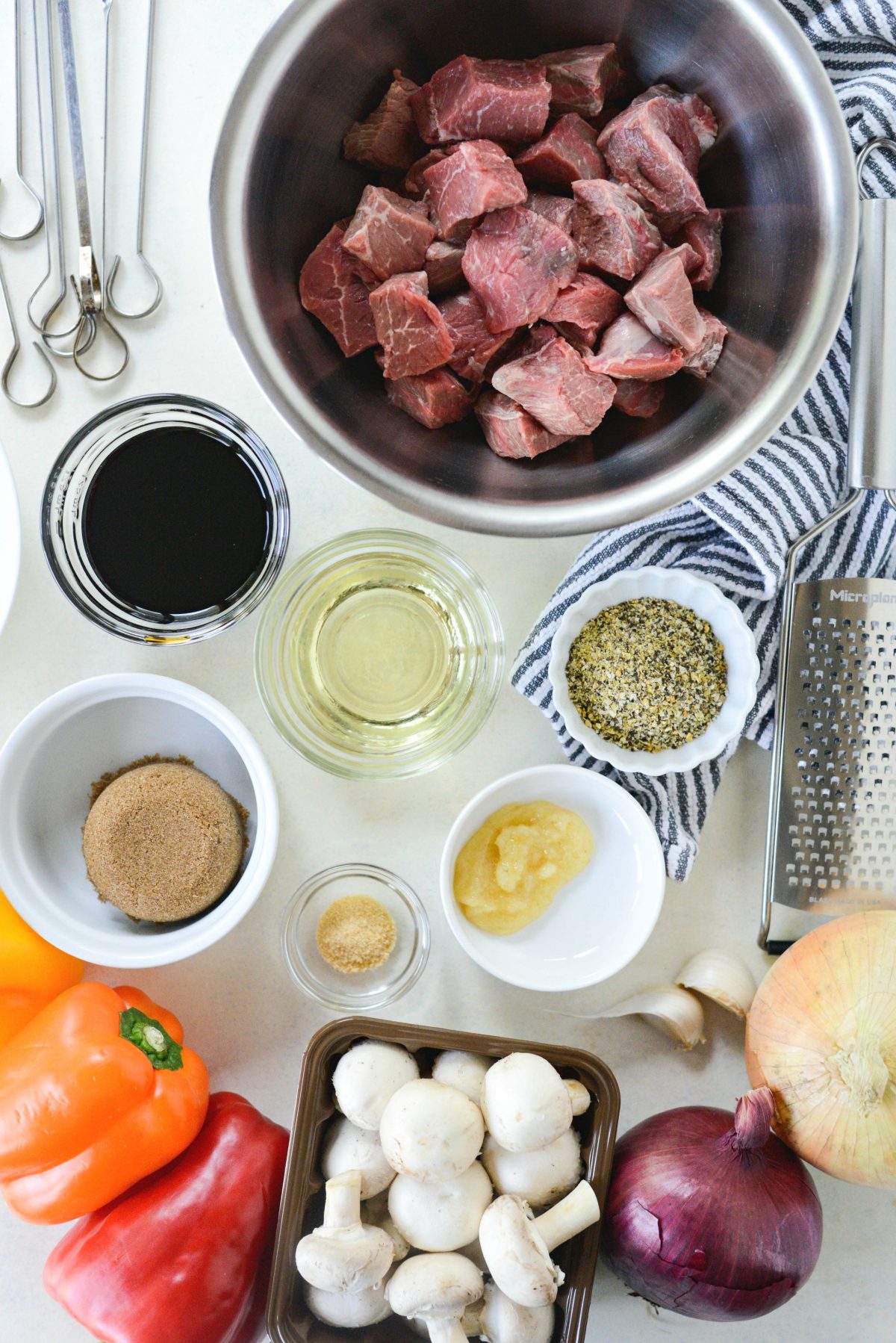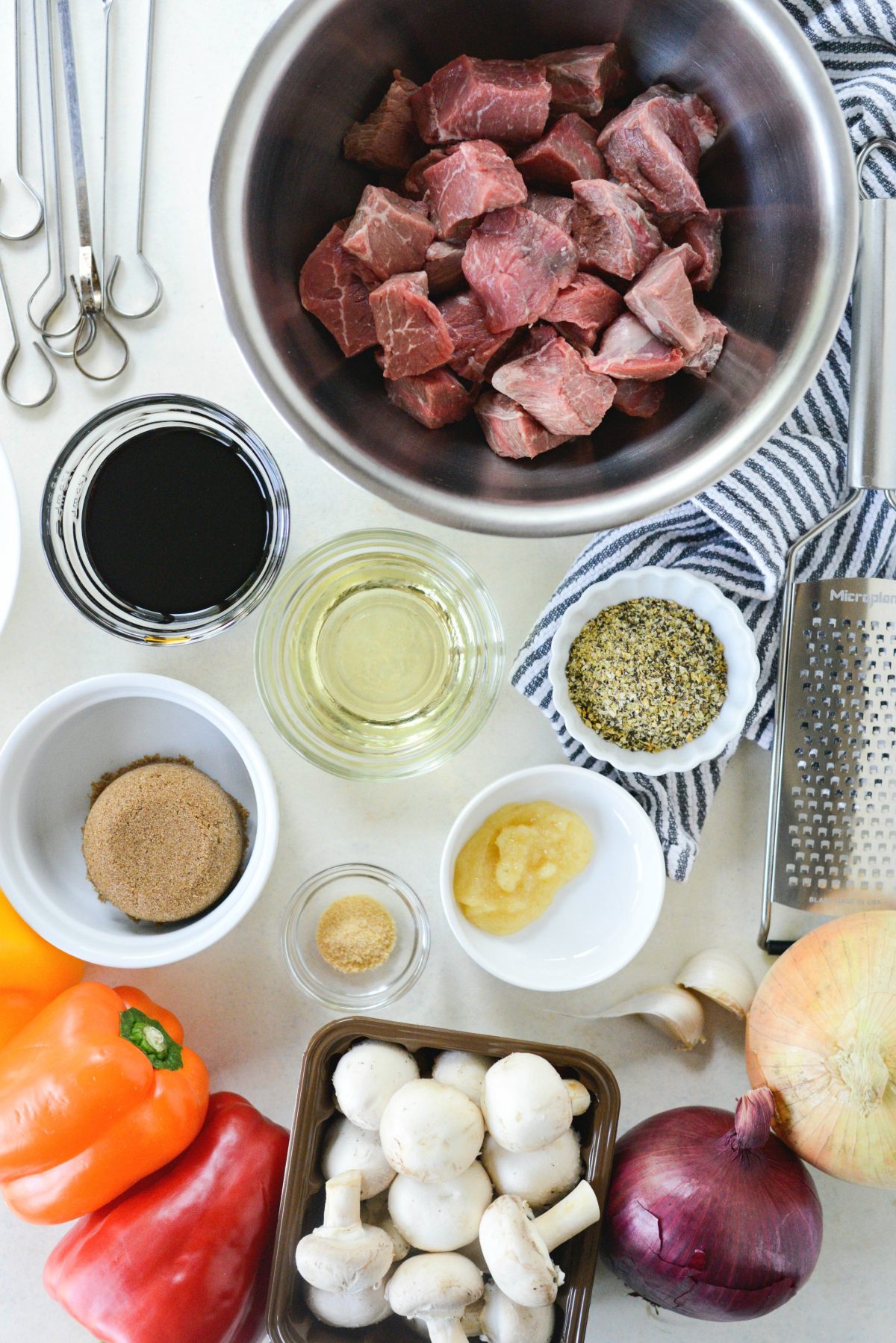 To start, grab all your produce and marinade ingredients. For the produce; I like to use two kinds of onions (red and yellow), and a trio of bell peppers. And even though I'm the only person who likes them, I grill up mushrooms too. But feel free to use any vegetable you want. There's no wrong kebab combo here.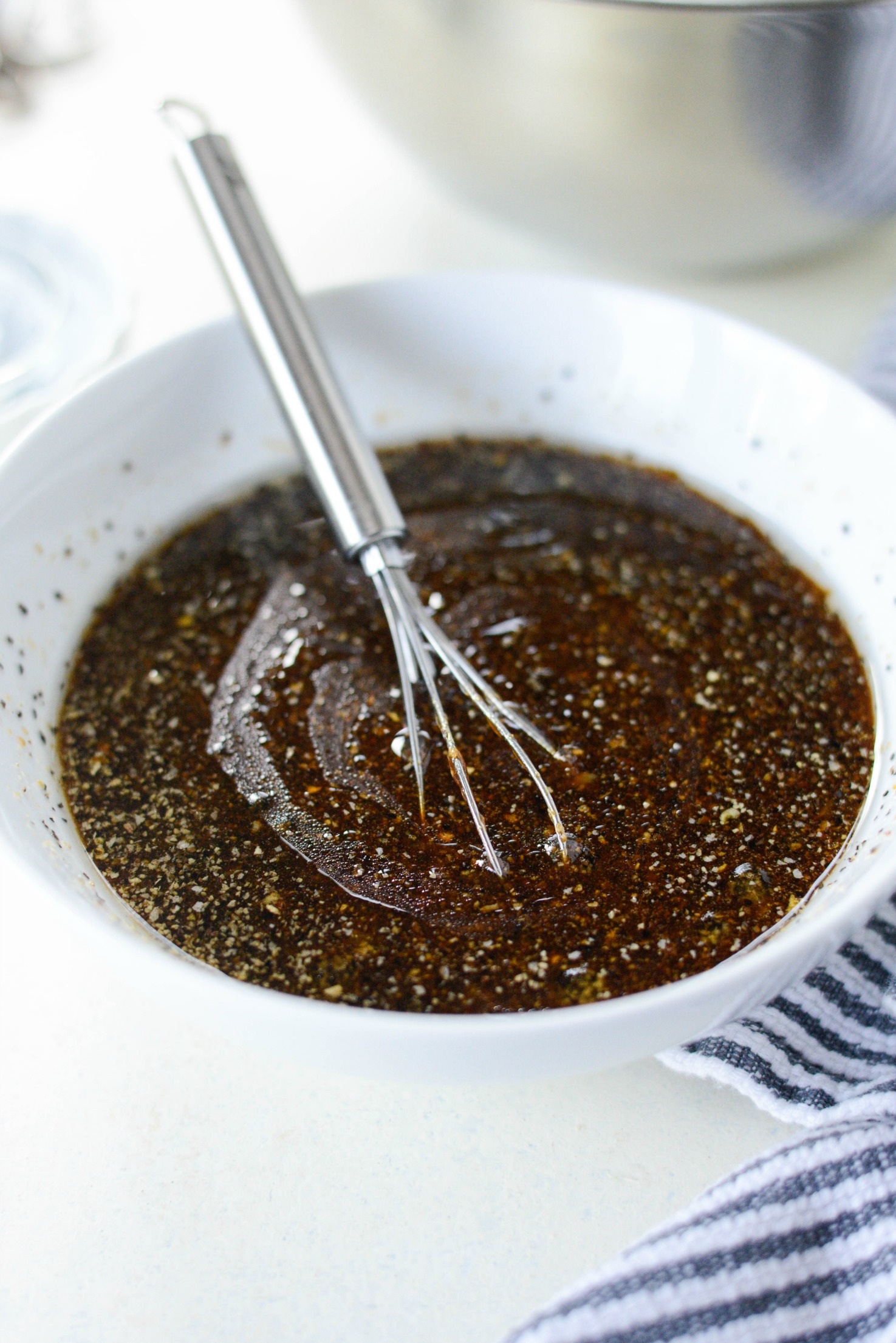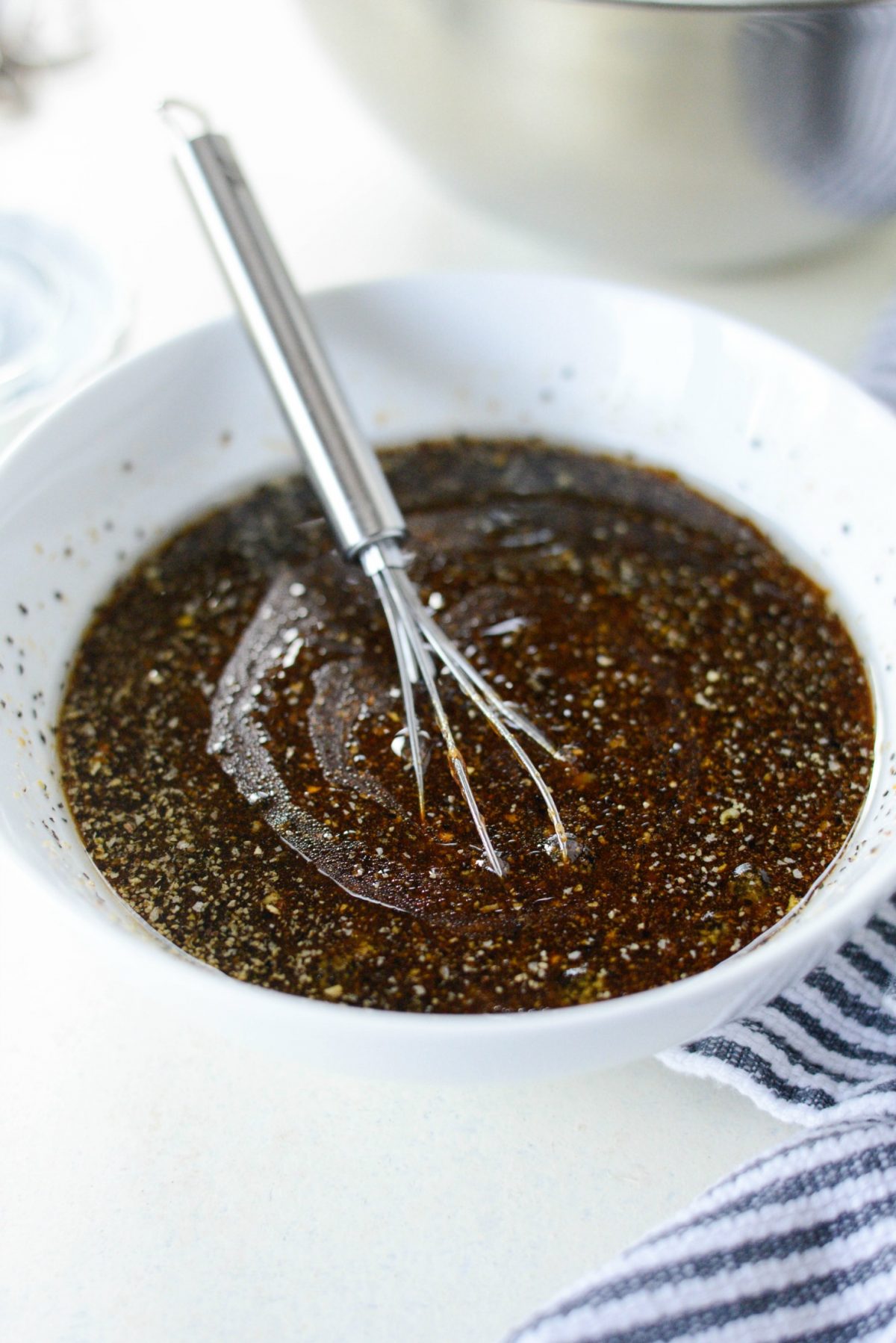 The marinade is just as simple: 1/3 cup low-sodium soy sauce (I'm using low-sodium tamari), 1/3 cup light oil (I'm using extra light olive oil), 1/3 cup brown sugar, 2 tablespoons lemon pepper seasoning (store bought or homemade), 1/2 teaspoon onion powder, 2 gloves garlic (grated) and 1 tablespoon of grated fresh ginger root.
Chop the peppers and onions into large chunks and leave the mushrooms whole. Place them in to a re-sealable bag and pour 1/3 of a cup over top. Seal and shake to coat the vegetables.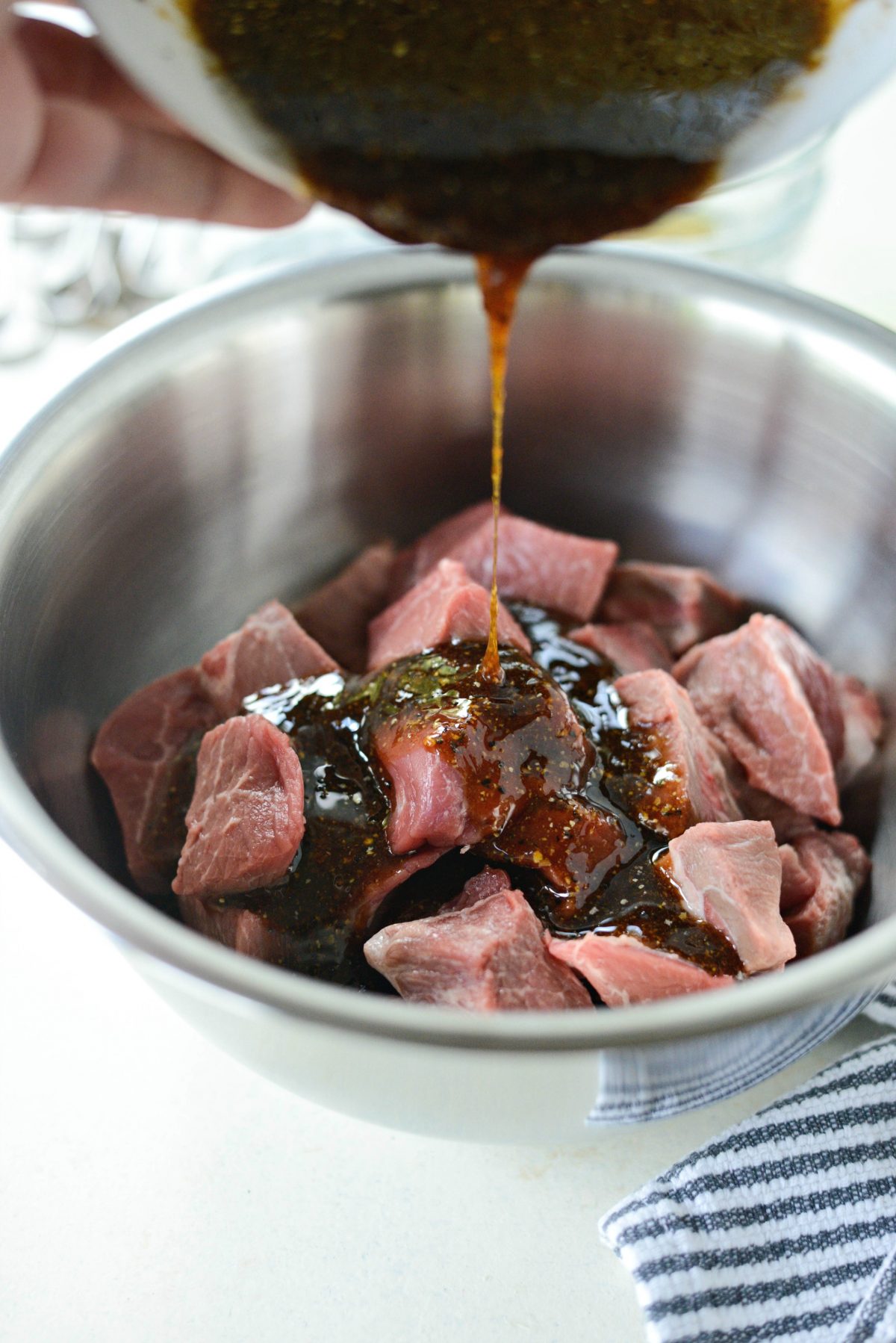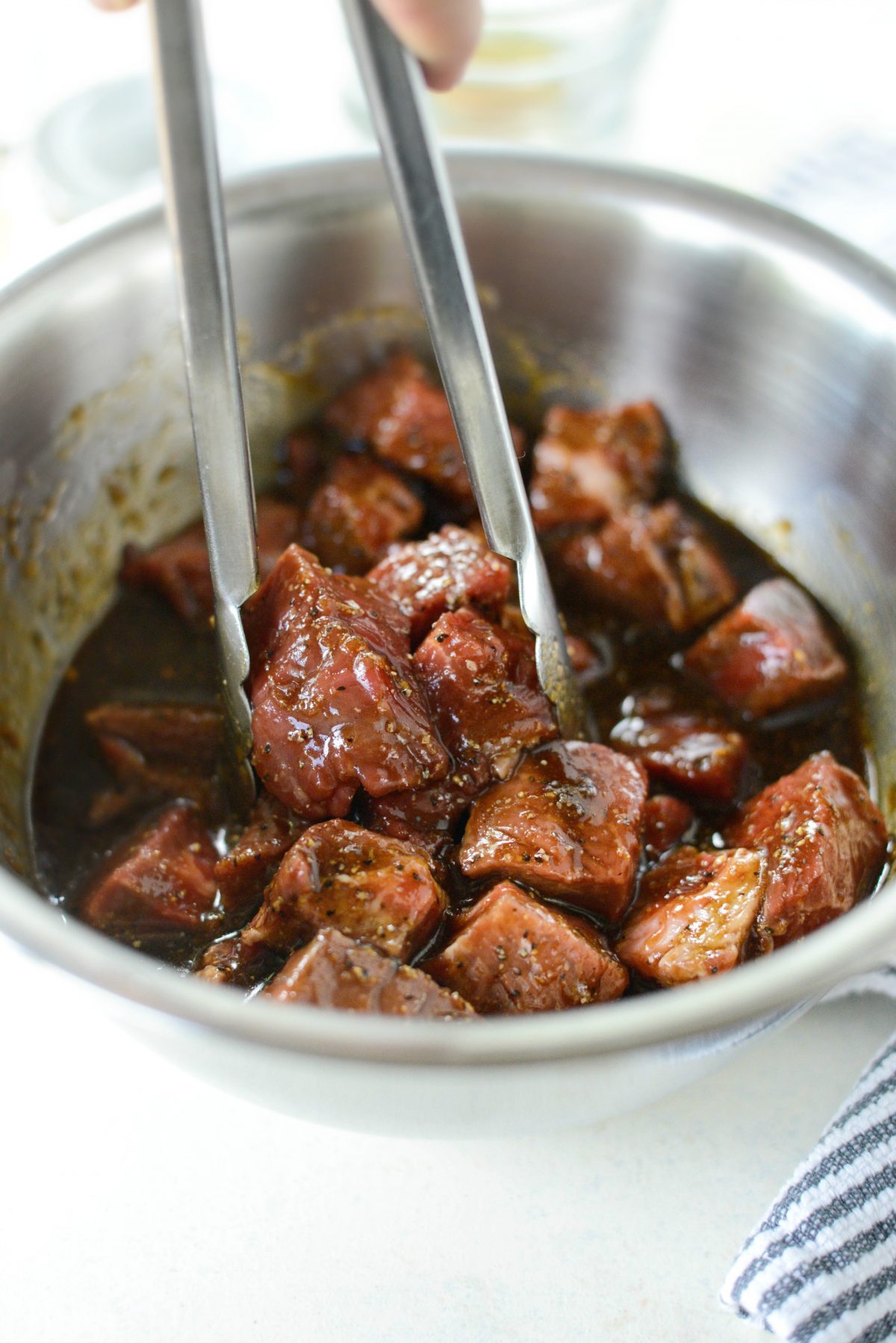 Pour the remaining marinade in with the cubed beef and toss well to combine.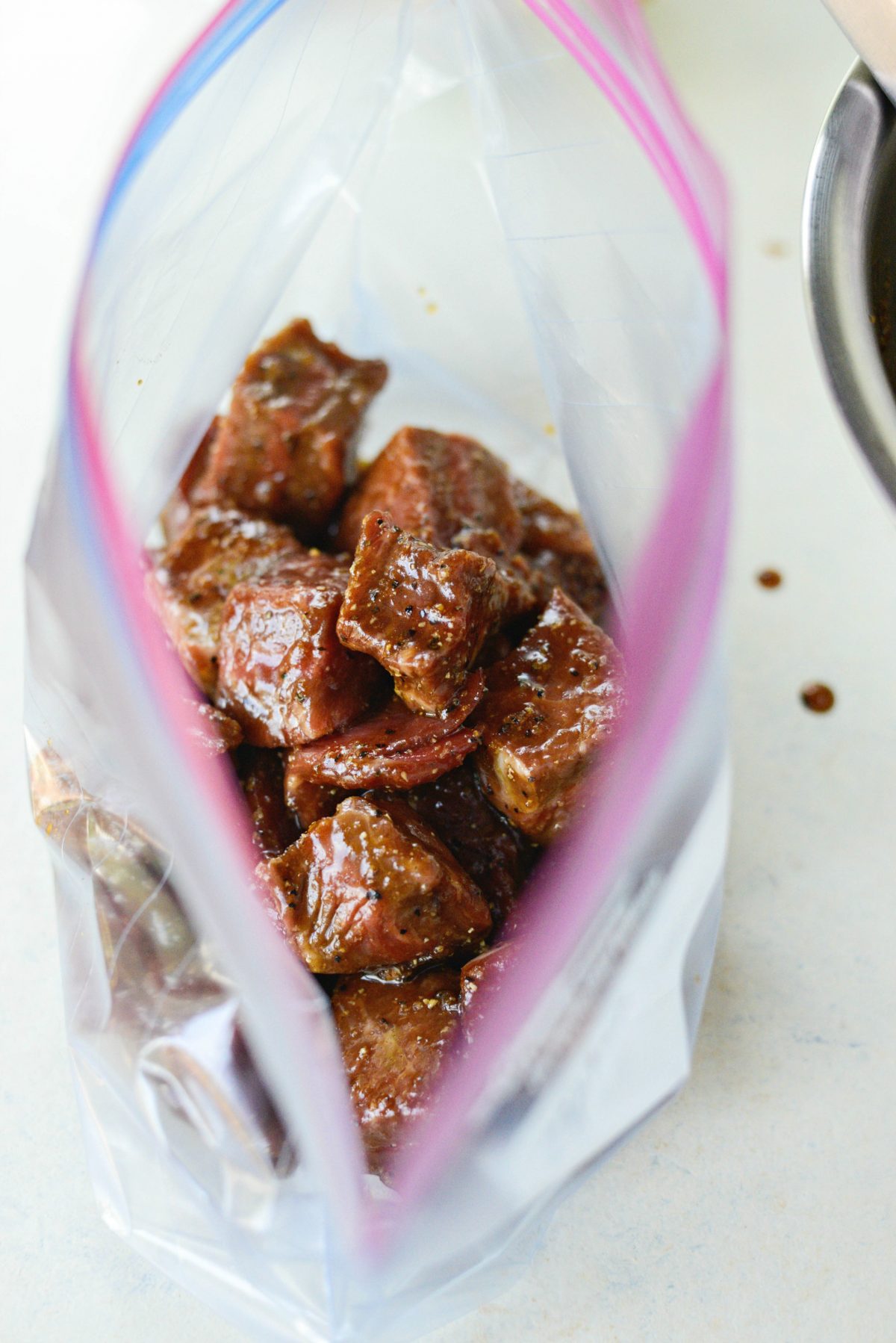 Place the beef into another re-sealable bag and squeeze out most of the air before sealing.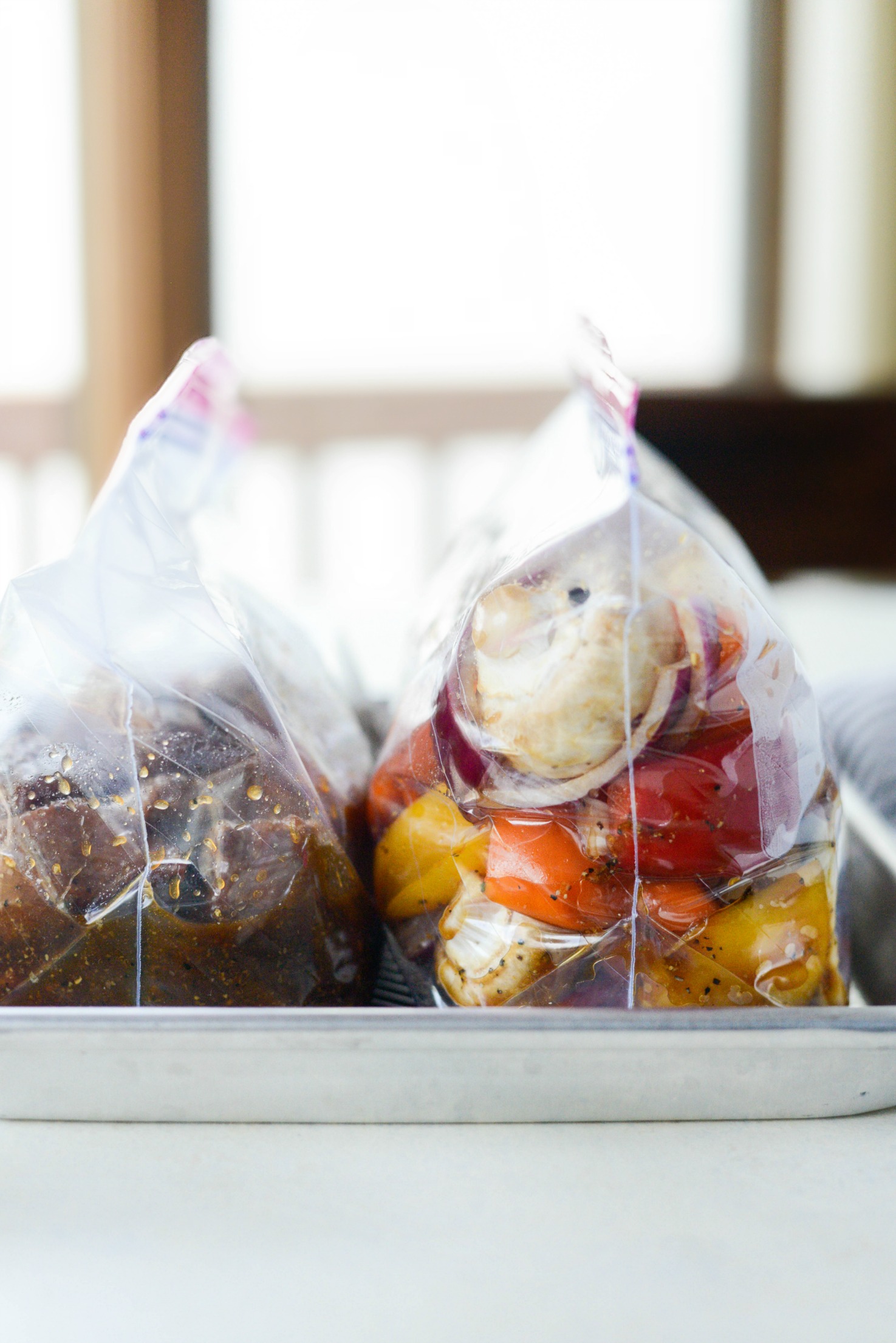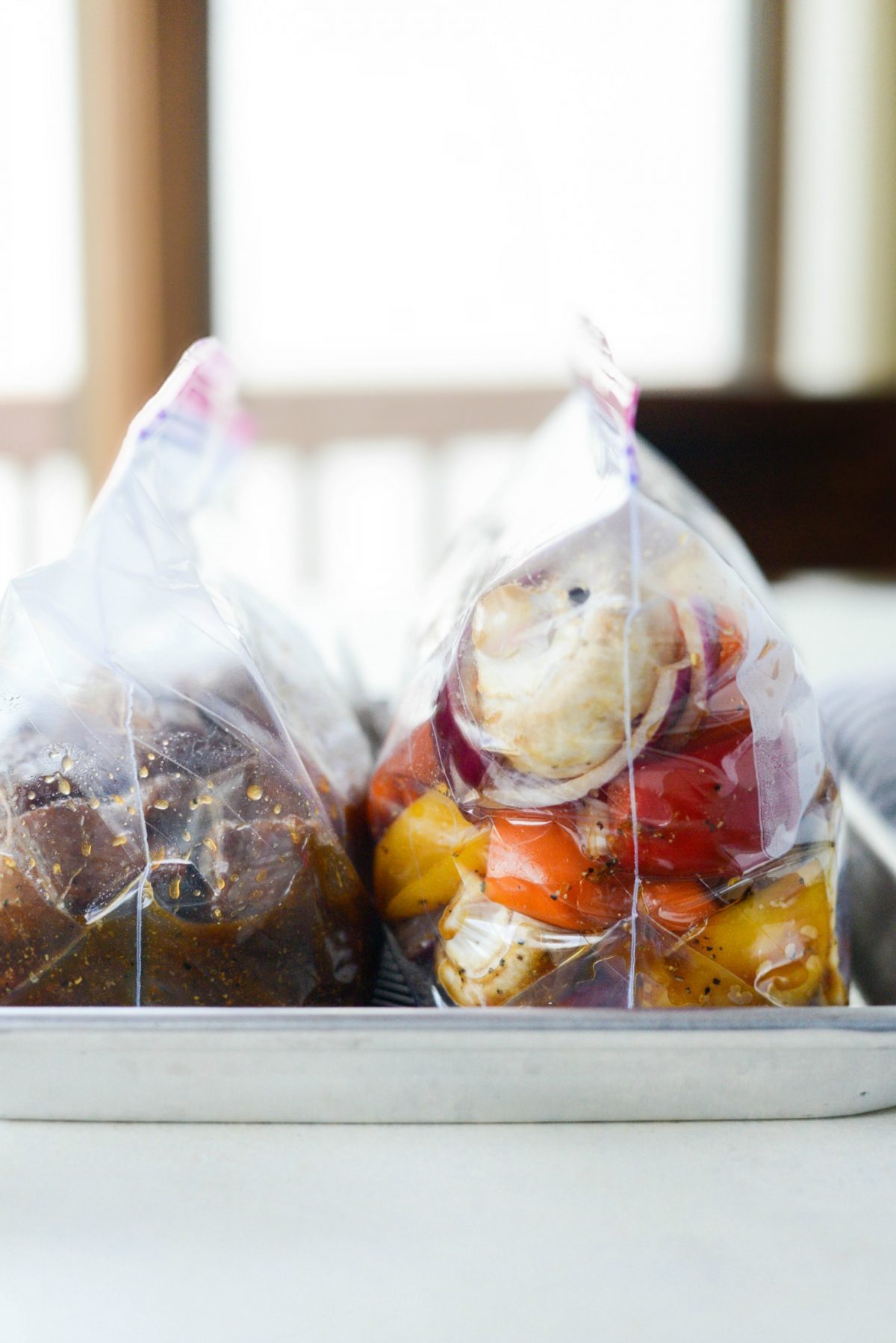 Refrigerate for 8 hours or overnight.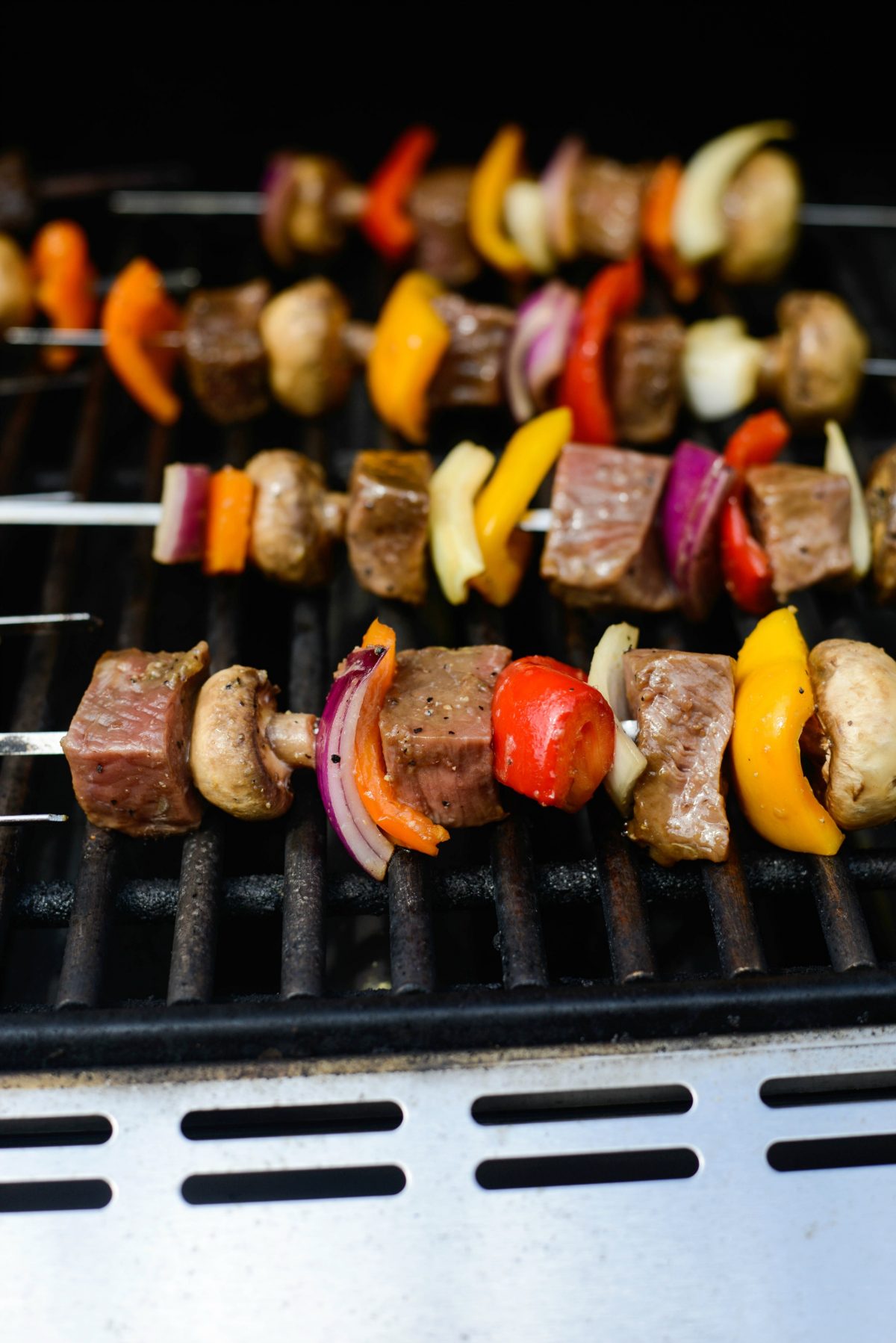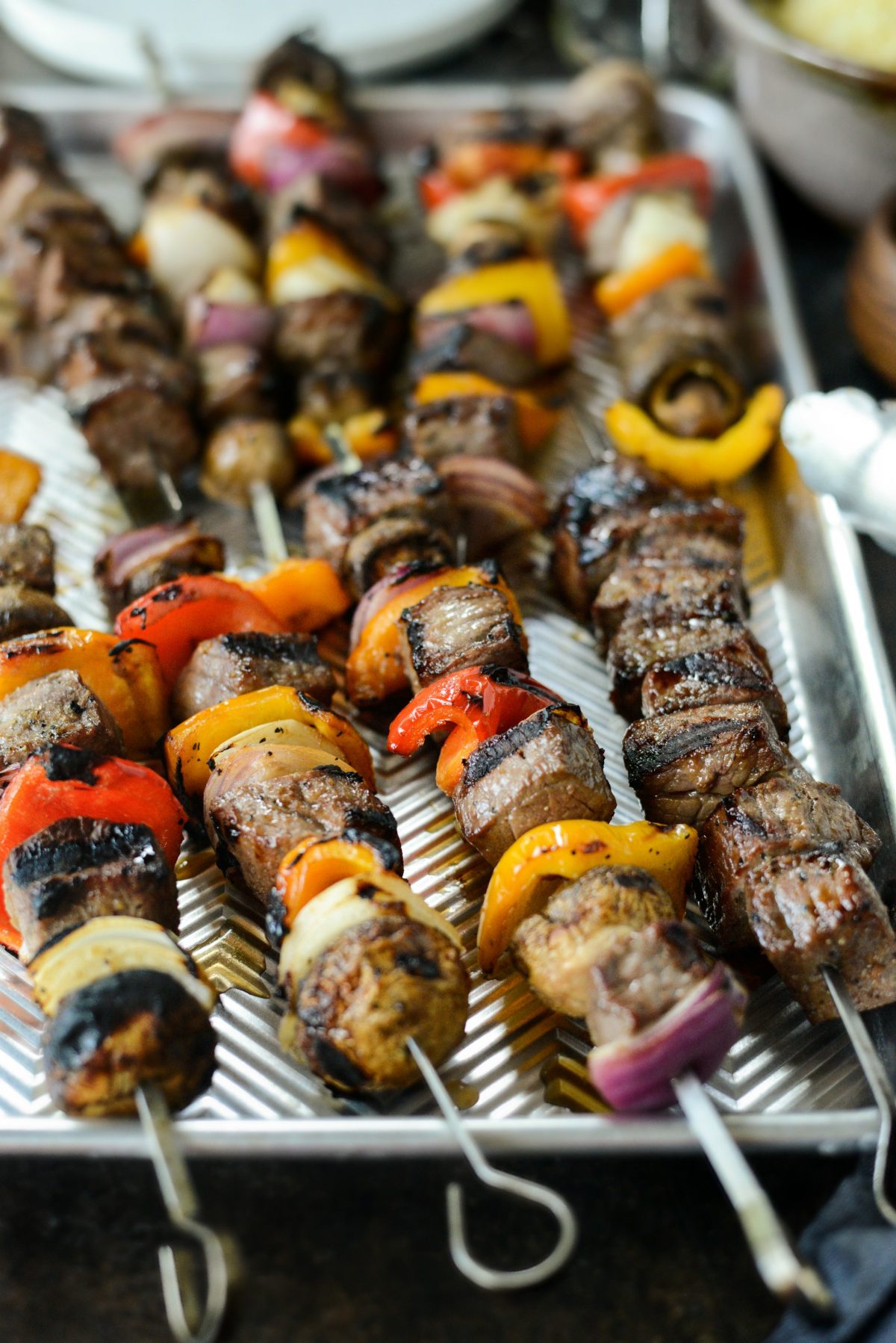 Alternate threading the vegetables and beef onto metal skewers. Preheat your grill to medium to medium-high or 400°. Once hot, grill the kebabs for 4 to 5 minutes before turning and grilling for 4 more minutes or until the beef is cooked to your preference.
Serve immediately!
These Grilled Beef and Vegetable Kebabs literally take only a few minutes on the grill. The edges crisp and caramelize and the flavor is so delicious. Right before serving, I'll fill our bowls with cooked couscous, de-skewer [is that even a word?] a few grilled beef and vegetable kebabs over top and then Pat and I drizzle ours with Sriracha. SO unbelievably good. [the mushrooms are my favorite]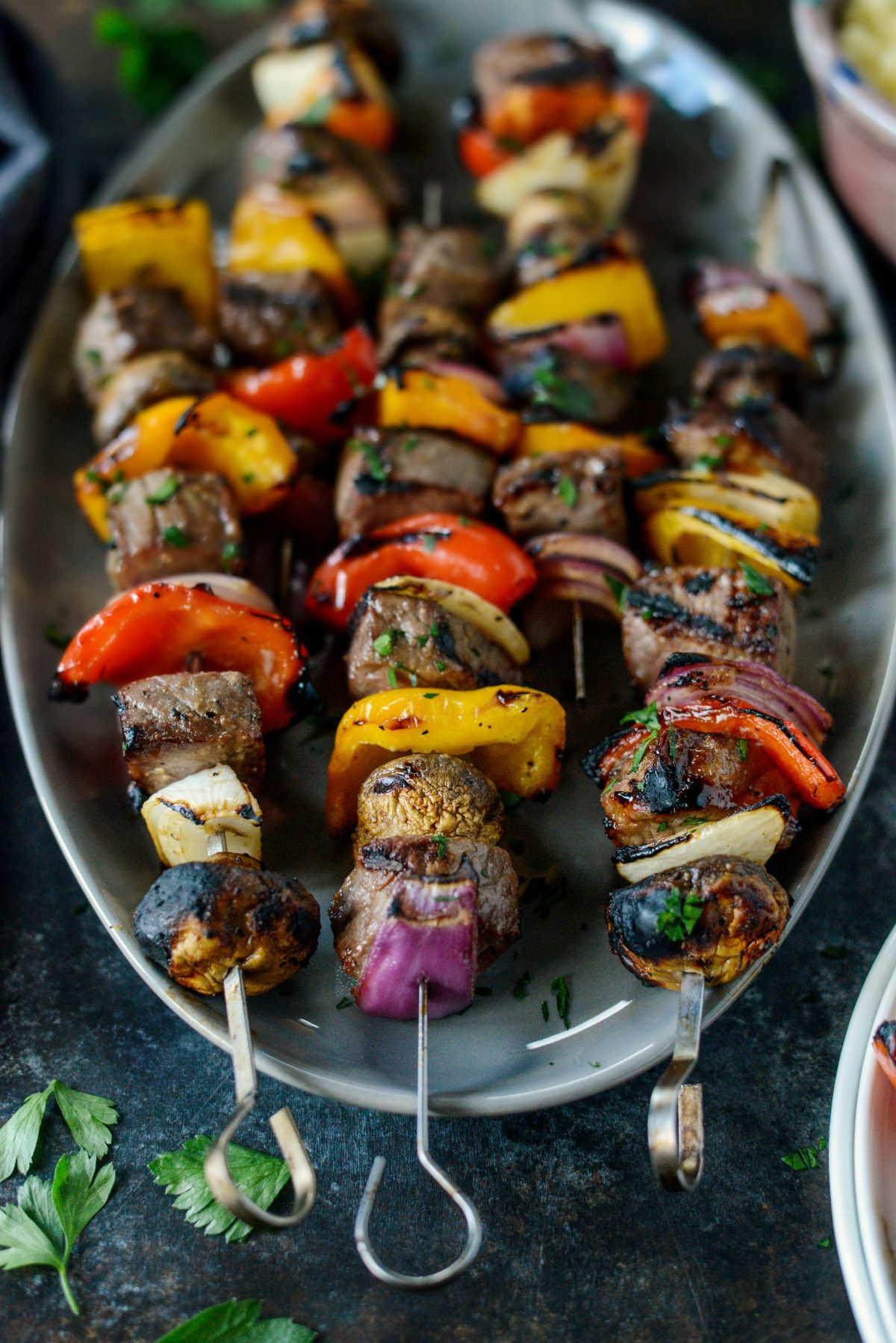 Enjoy! And if you give this Grilled Beef and Vegetable Kebab recipe a try, let me know! Snap a photo and tag me on twitter or instagram!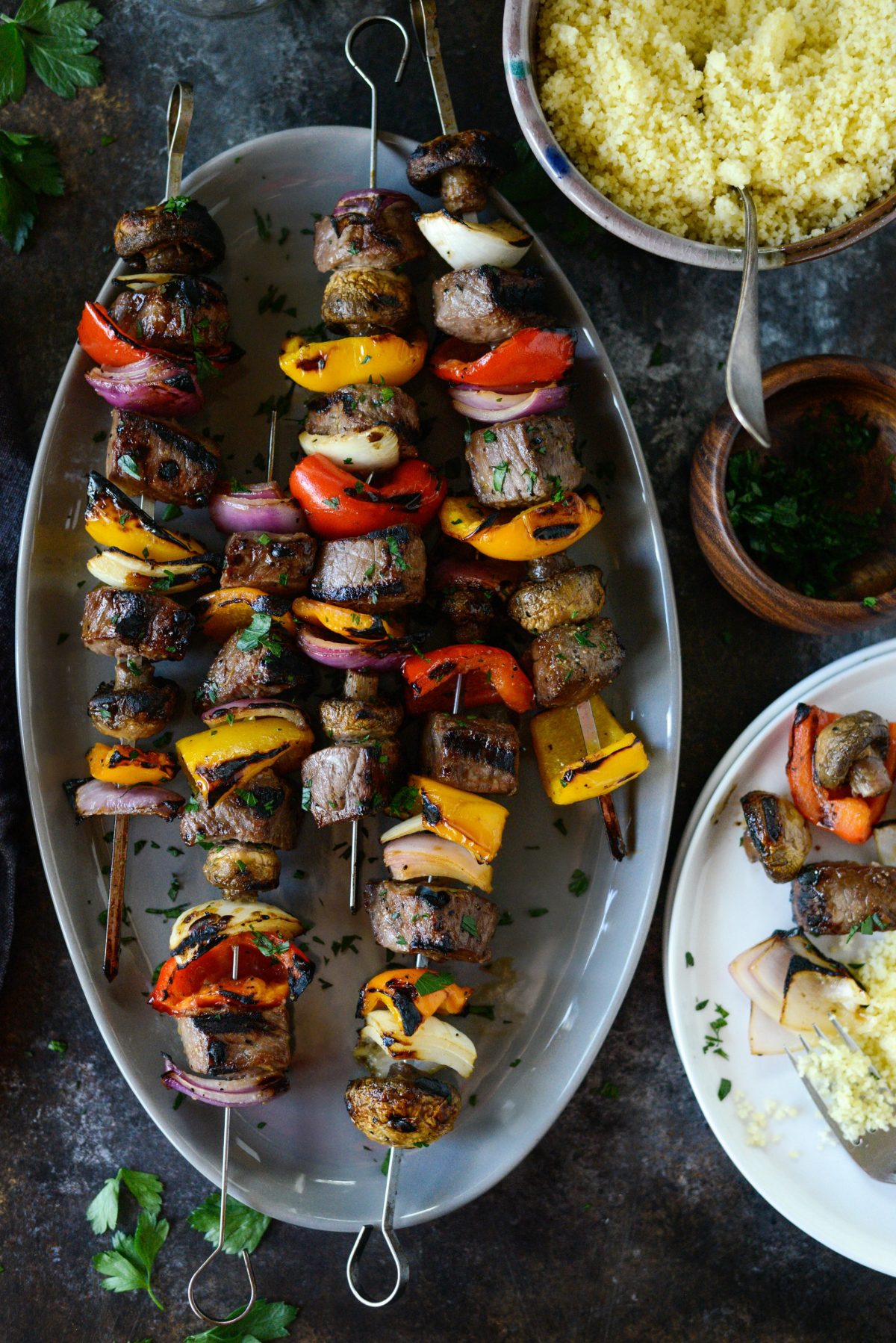 My cookbook Simply Scratch : 120 Wholesome Homemade Recipes Made Easy is now available! CLICK HERE for details and THANK YOU in advance! 
[this post contains affiliate links.]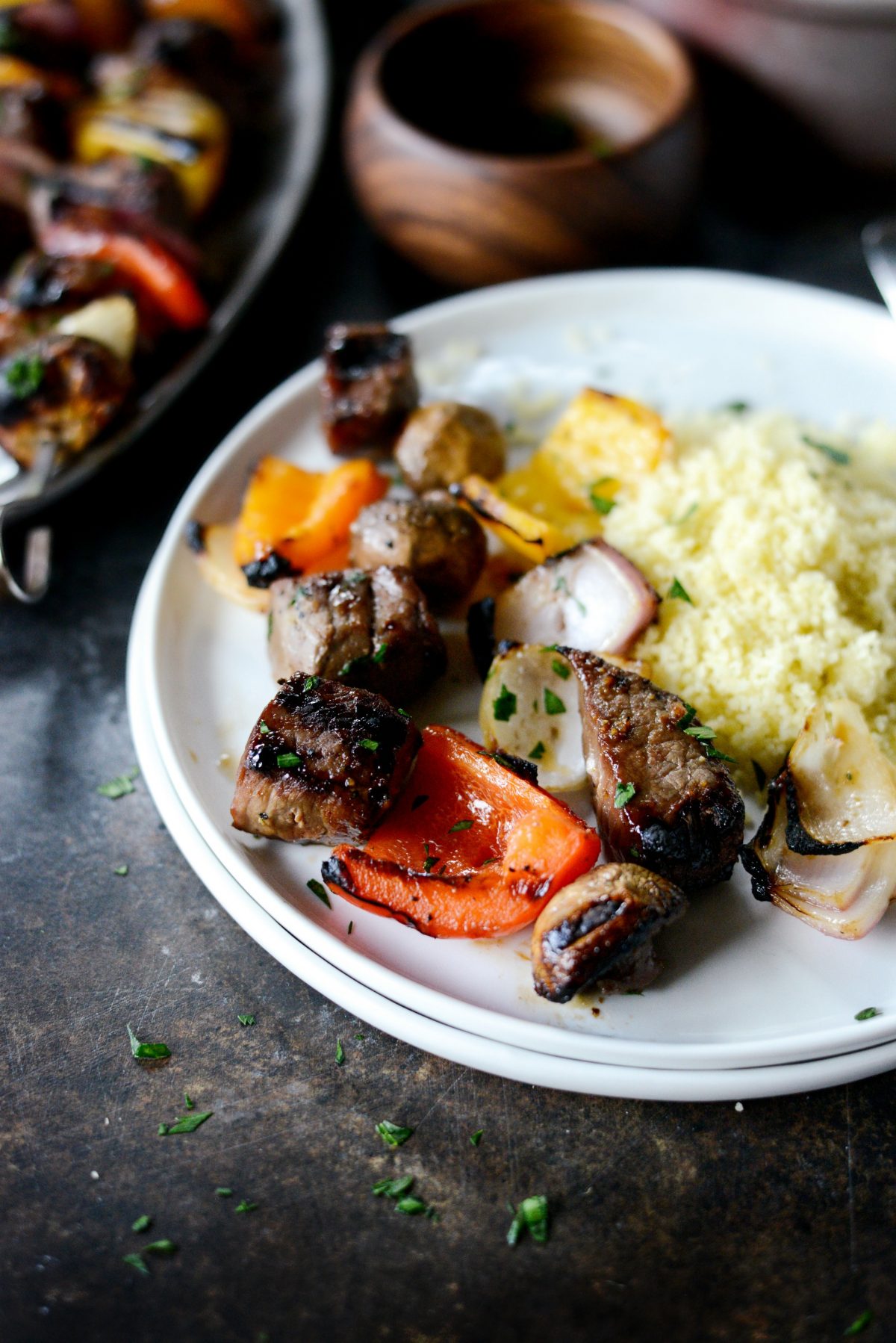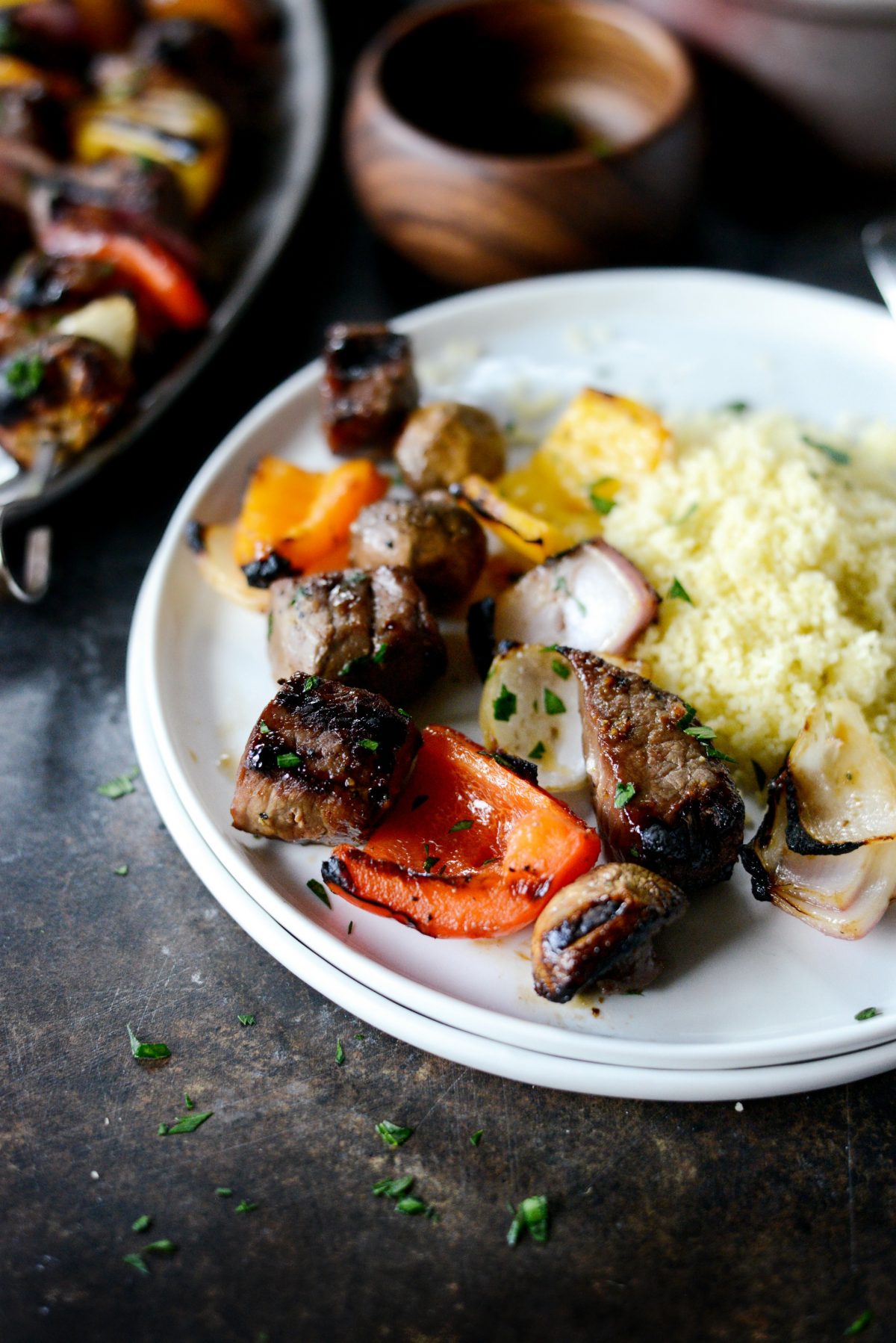 This post may contain affiliate links.
Buy the Cookbook: Simply Scratch : 120 Wholesome Homemade Recipes Made Easy Now available on Amazon »
THANK YOU in advance for your support!