Tea and ice cream collide in this Vanilla Chai Ice Cream! With hints of vanilla, black tea, cardamom, black pepper and cinnamon in a cool and creamy ice cream. The hardest decision is scoop? Or cone?Decisions, decisions.
This summer I made my first-ever egg yolk based ice cream and it was delicious. Usually I go the easy way and make eggless ice cream, because honestly it's easier. But since my taste buds have now experience the indulgence that is "real" ice cream I'm not sure I can go back. Sure it's a little more time consuming and there are a few more dishes to wash but what else is new? My love for the texture, smooth and richness of an yolk based ice cream surpasses all of the extra work it may take. It even scoops better. I mean…
Just look at it.
The flavor of the day today is this Vanilla Chai Ice Cream. I've been on a chai kick for the last few years and I don't see it slowing down anytime soon. Remember last year when I made Chai Pumpkin Pie and then right before Christmas I made this Masala Chai Tea both using my Homemade Chai Spice? Since then, I wrote down a few more recipe ideas showing my love for chai. Now I can check off Vanilla Chai Ice Cream off of the list.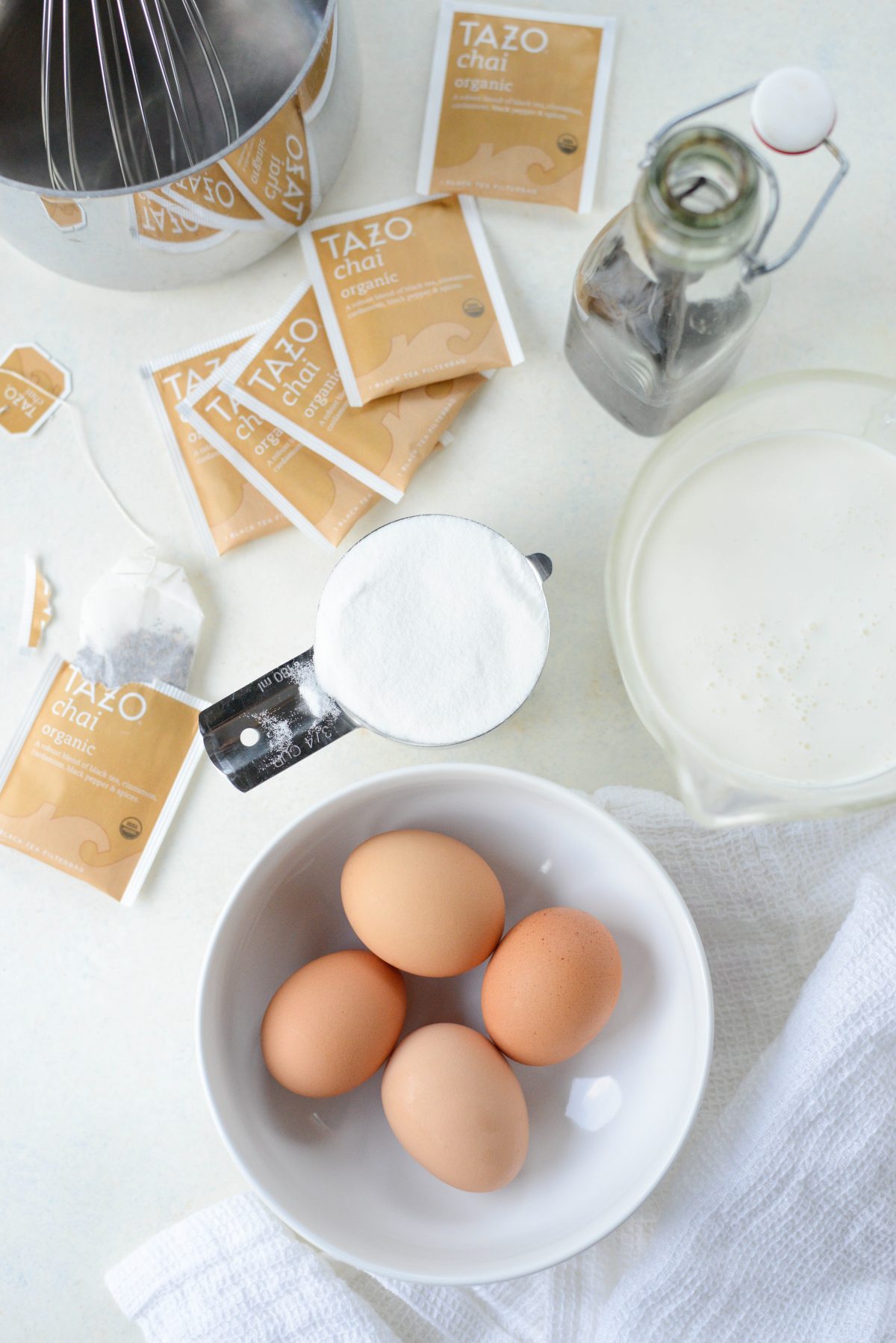 I love tea. Not more than coffee but I love a good cup of tea when I'm not feeling well or with my daughter Haileigh. I have a cupboard shelf dedicated to all different kinds of tea. My favorite chai tea is this one by Tazo. I haven't tried them all, so if you know of a good chai tea feel free to leave me a comment below the post. I'm always on the hunt.
For this ice cream, You'll need 2 cups each half & half and heavy whipping cream, 6 chai tea bags, 4 egg yolks, 3/4 cup super fine sugar and real vanilla extract.
First add the half & half and cream to a saucepan and heat on medium-high heat until hot. NOT boiling. I test it often by dribbling a little off of the whisk on to my finger.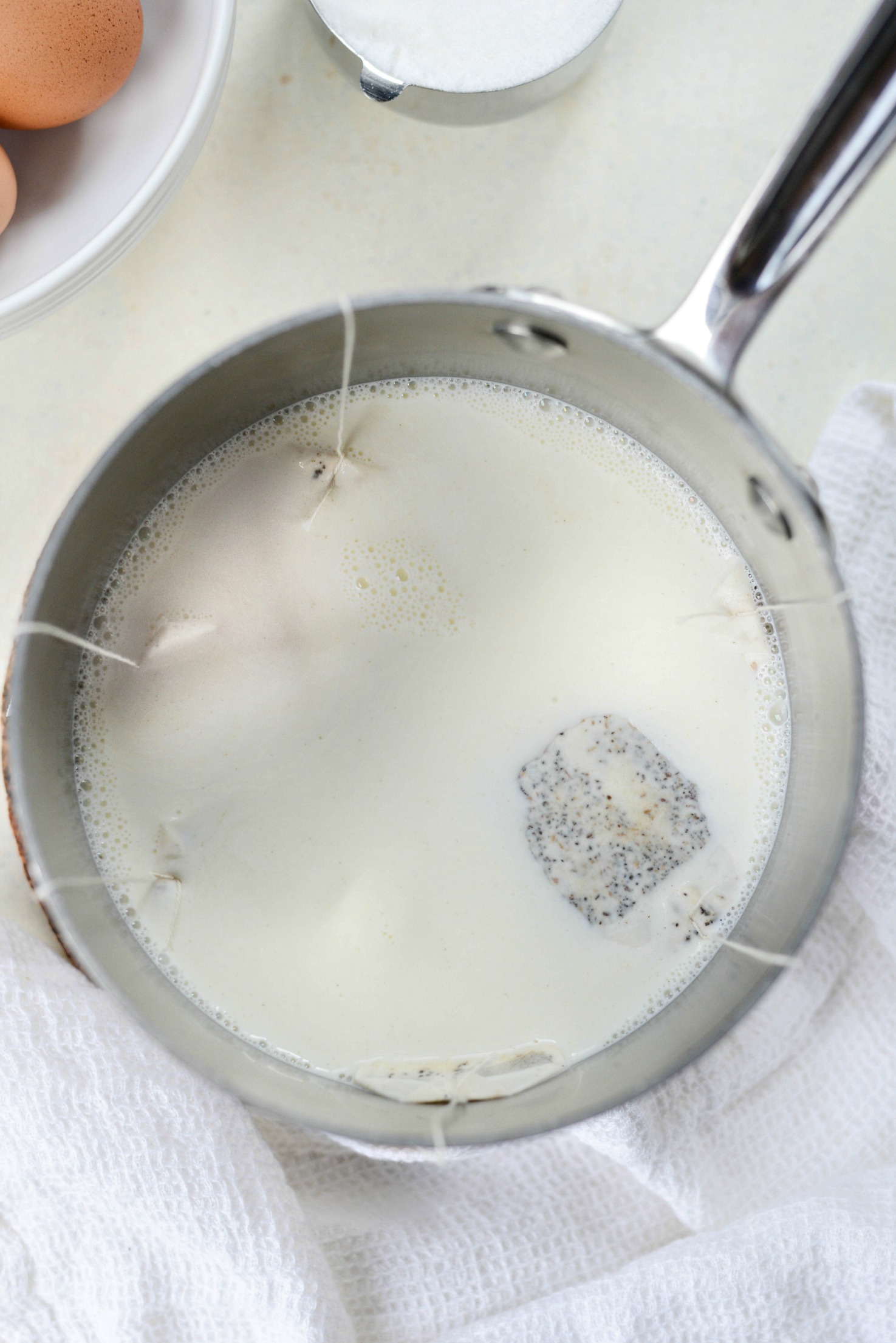 One the cream mixture is hot, I add in the six chai tea bags.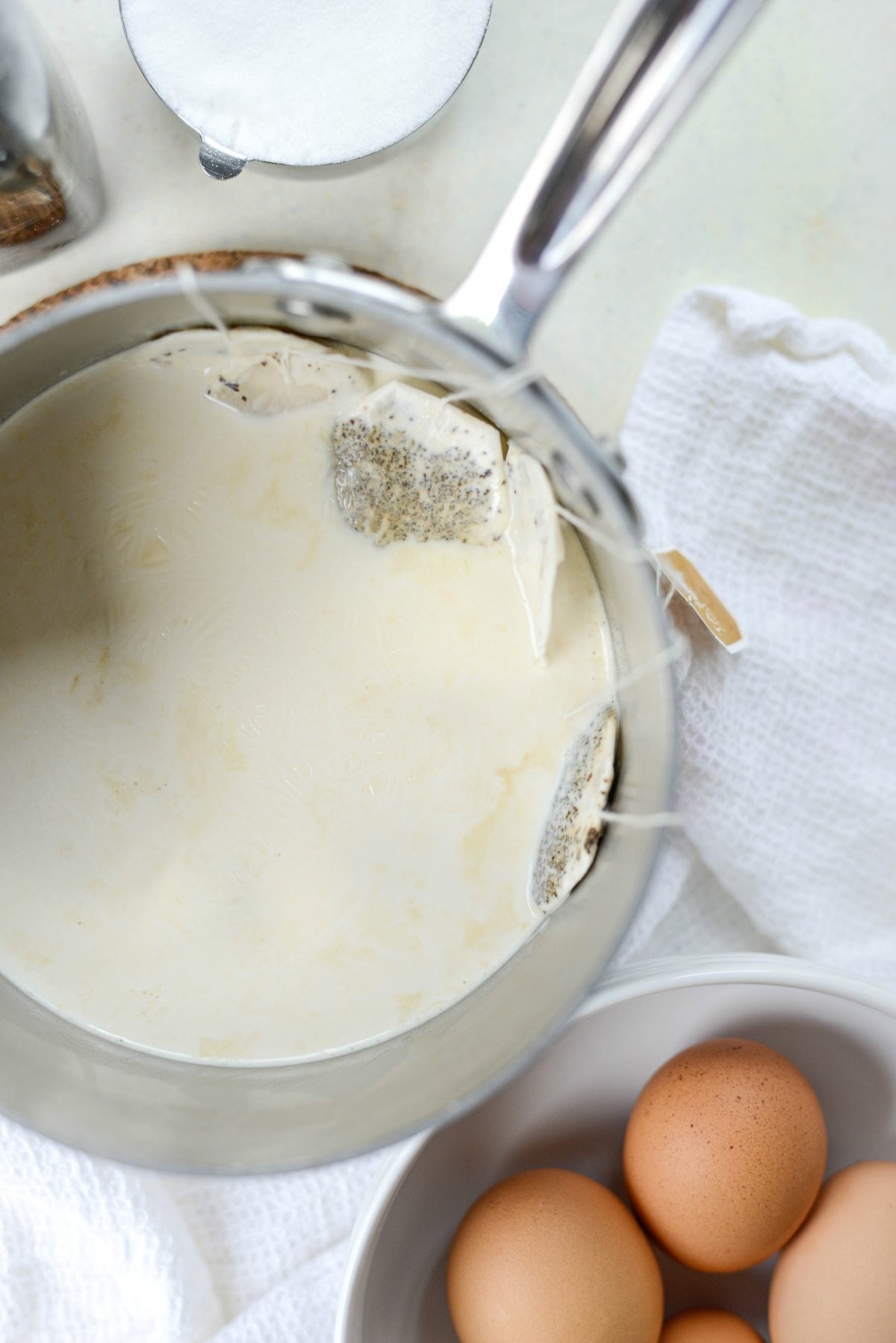 Allow the bags to steep for 30 to 40 minutes.
Squeeze any of the cream out of the teabags before discarding them. Then, just like before, reheat the cream mixture until hot again. It should still be warm so it shouldn't take too long to get it hot again. If there's a milk "skin" on the top of the cream, don't worry about it. Just stir as it reheats.
Meanwhile, separate the whites from 4 egg yolks, adding the yolks and 3/4 cup of superfine sugar to a heat-safe bowl.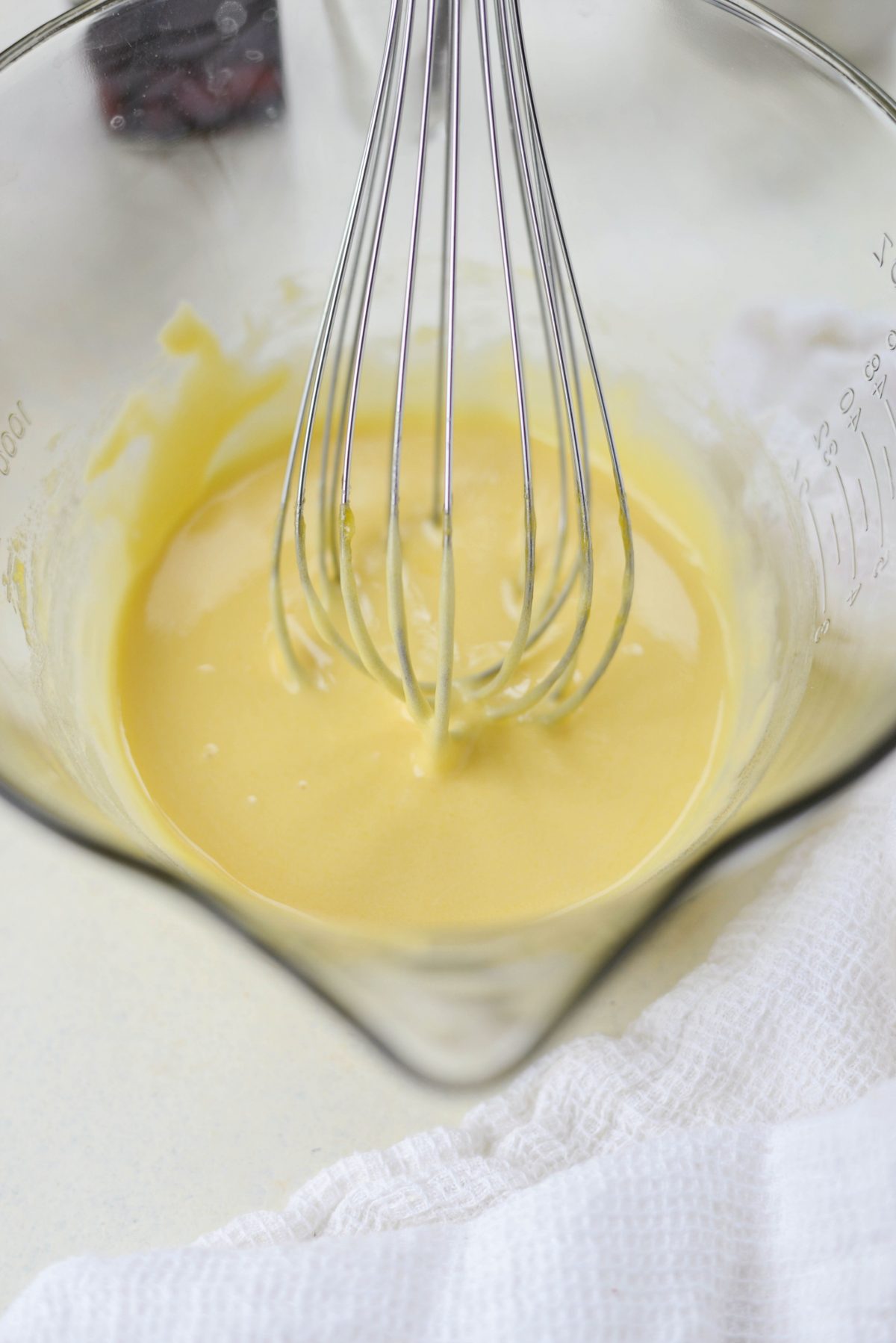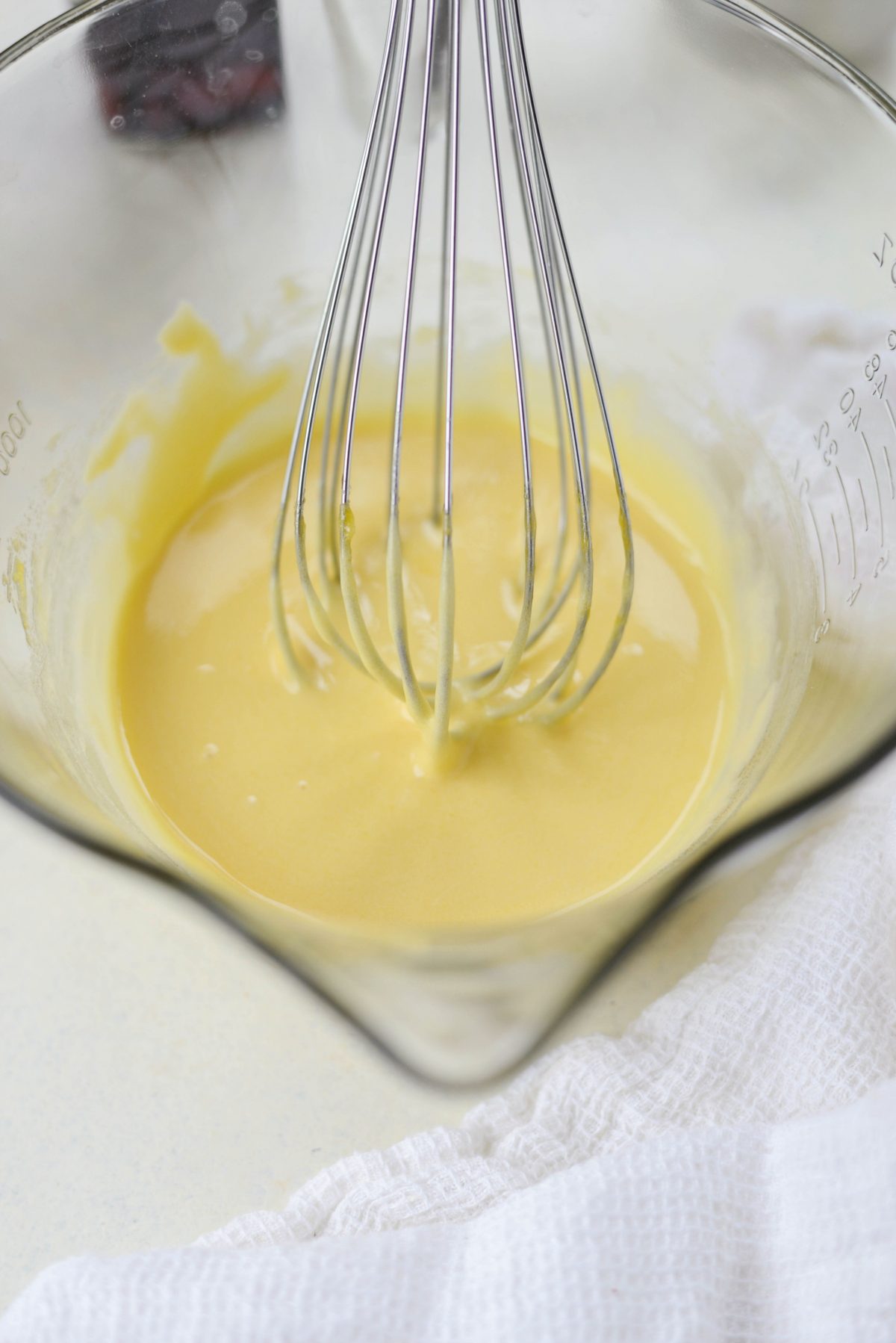 Whisk to combine and until the mixture is pale yellow in color.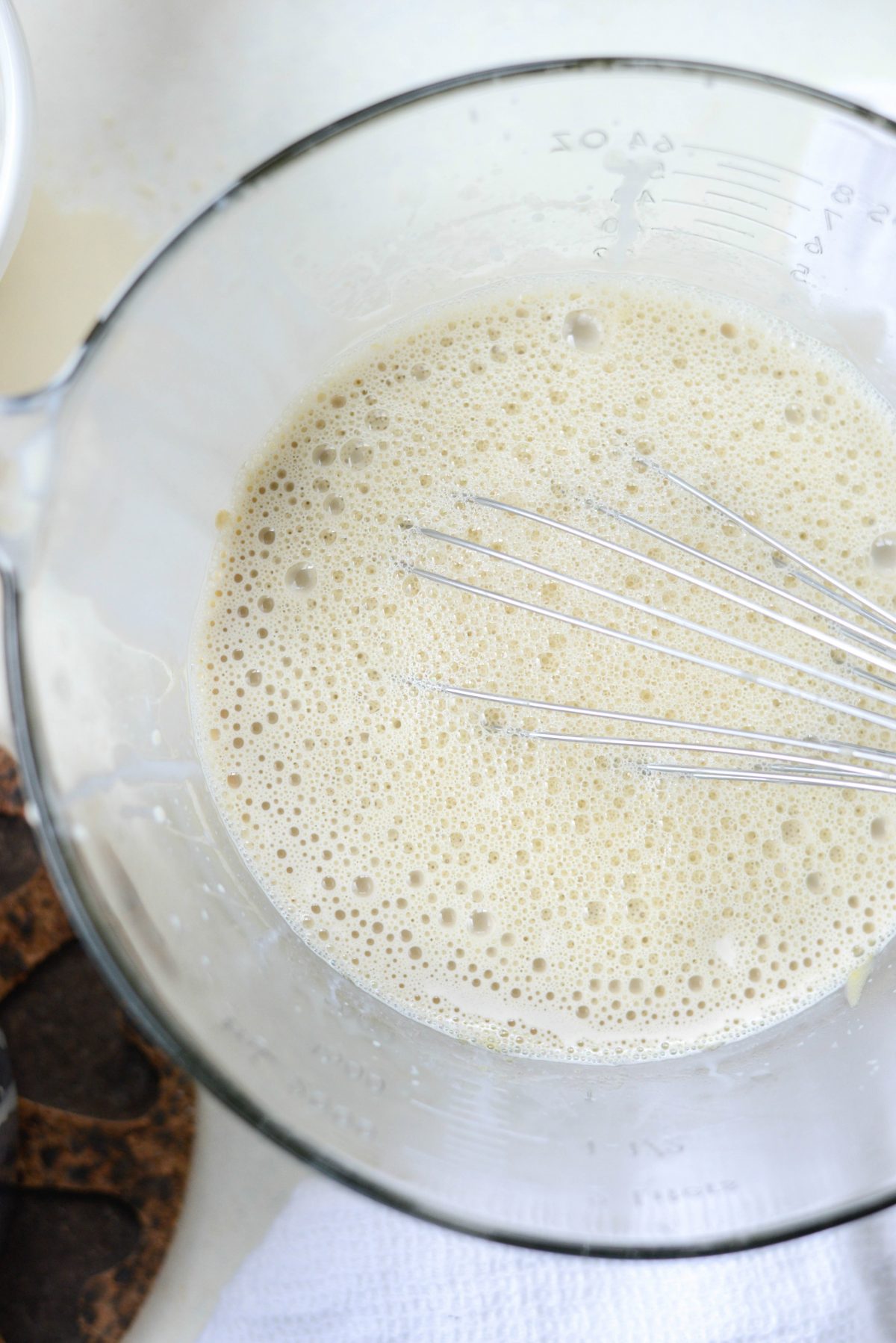 Once the chai cream mixture is hot, add a few splashes of it while whisking the eggs to "temper" them. Add a few more splashes while whisking and then slowly pour the rest of the chai cream in with the eggs. By tempering the eggs, it will keep the eggs from scrambling.
Pour the chai ice cream base back into the sauce pan and heat on medium until it thickens.
It should be thick enough to coat the back of a spoon, and when you drag your finger through it, it shouldn't fill back in.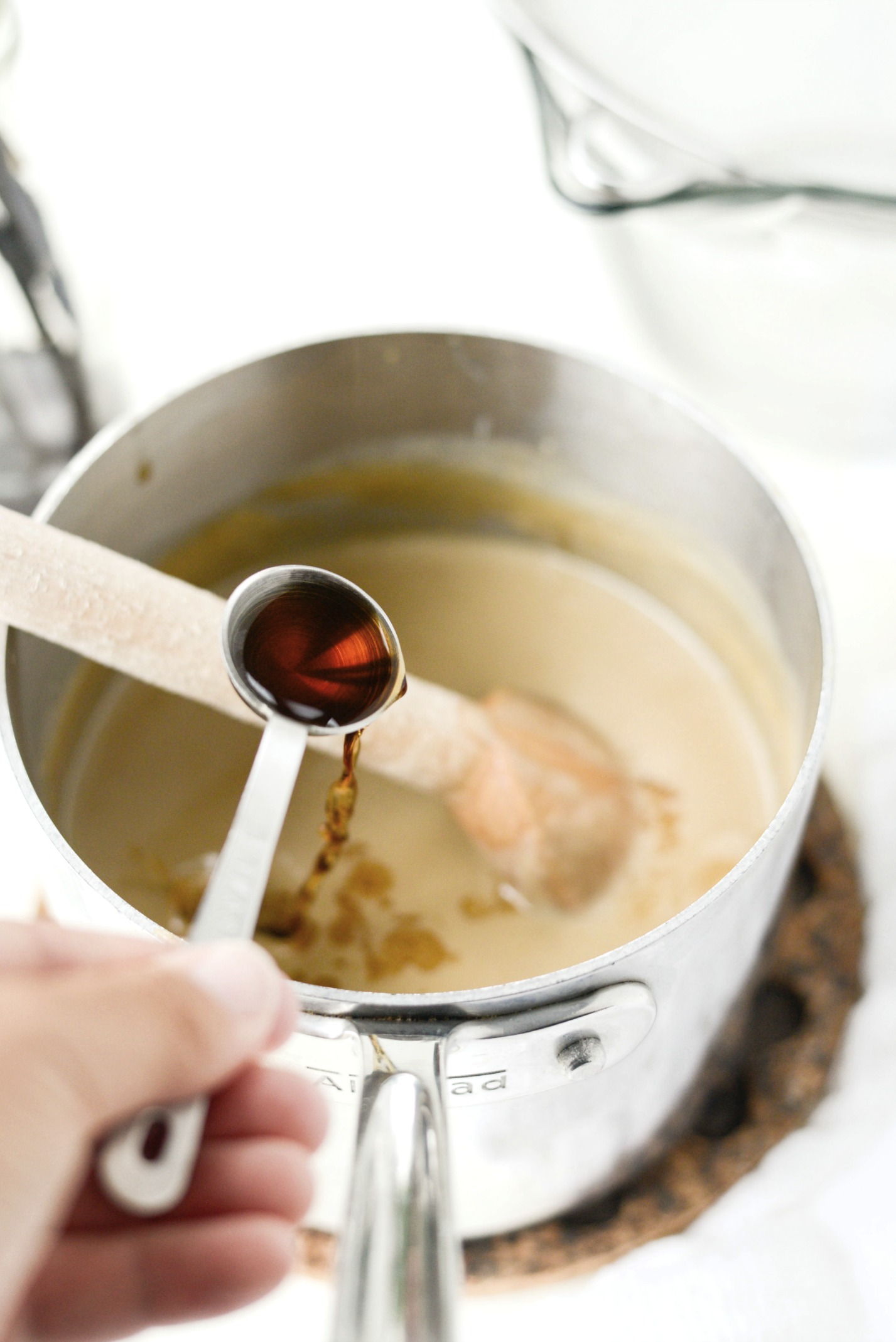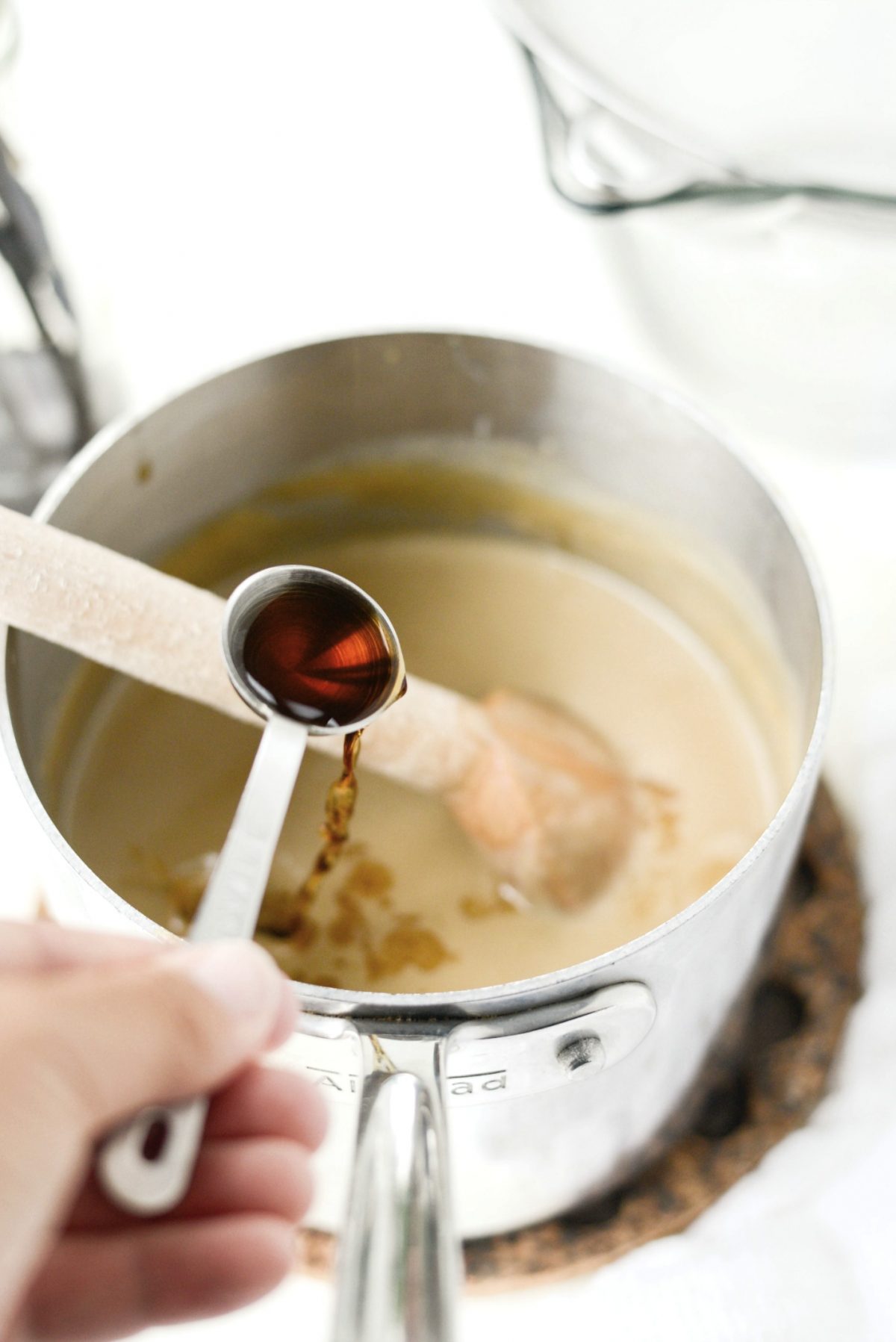 Next, add in a teaspoon of real vanilla extract…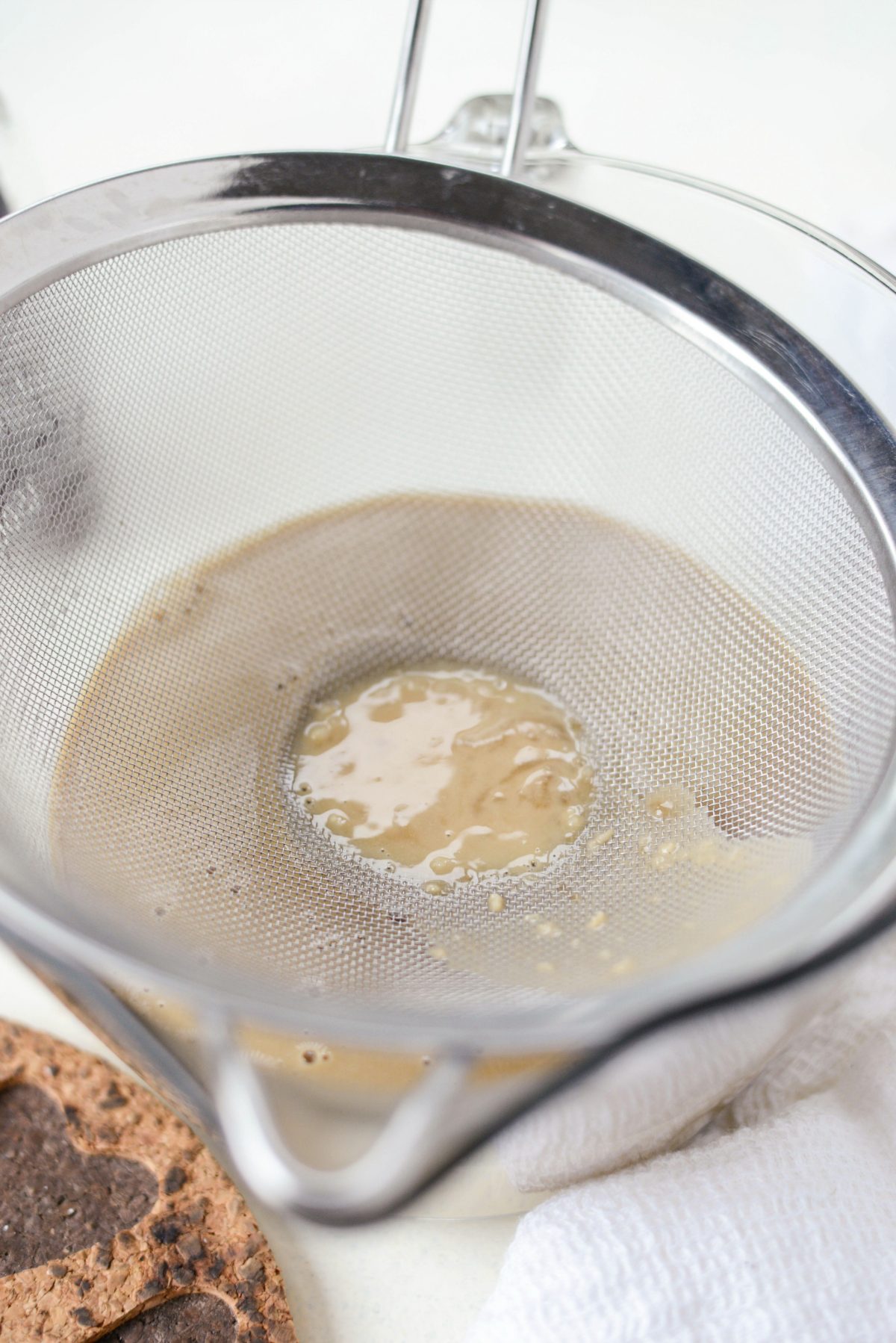 …and strain the ice cream base through a mesh strainer to catch any milk or egg impurities. Trust me, there will be some.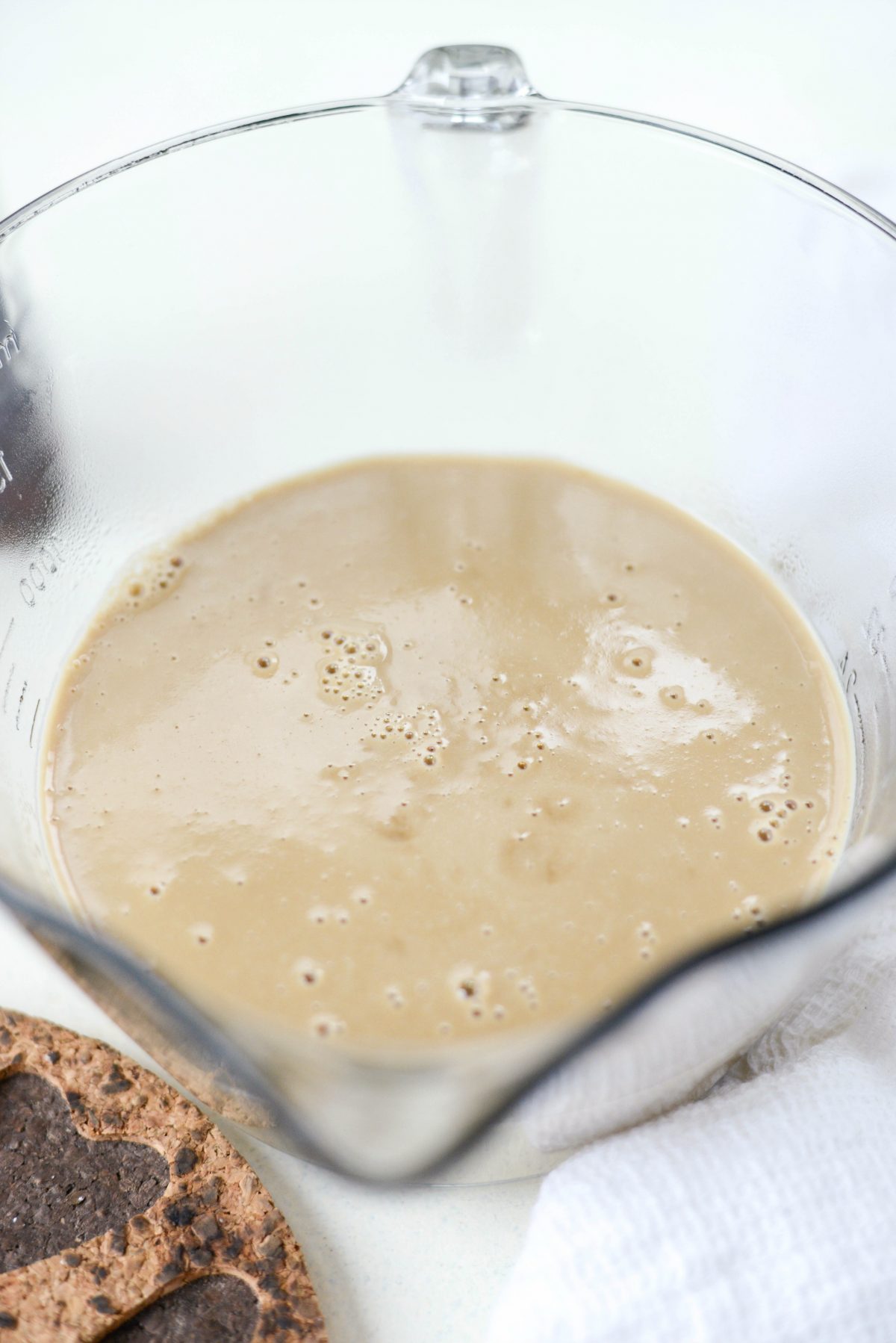 Poof! That's it. Well not it-it but you've made a vanilla chai ice cream base and it should be a cream light brown and smell like a warm hug.
Now, just cover and refrigerate for 2 to 4 hours or until completely cool.
Following your ice cream manufacturers instructions, pour the ice cream base into the ice cream maker and process until thick.
Pour the ice cream into a freezer-safe container, smooth it out and freeze for 4 hours or overnight until solid.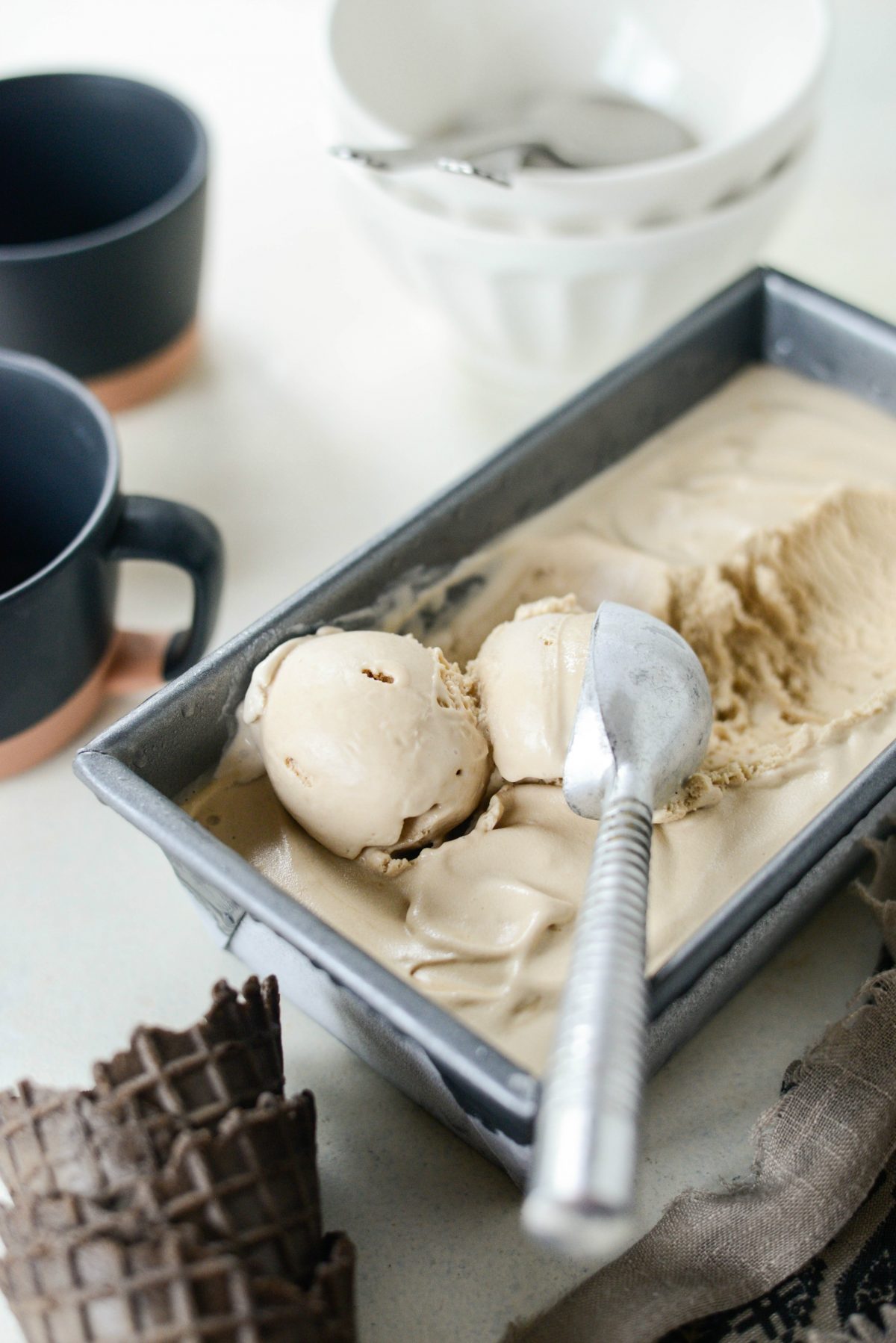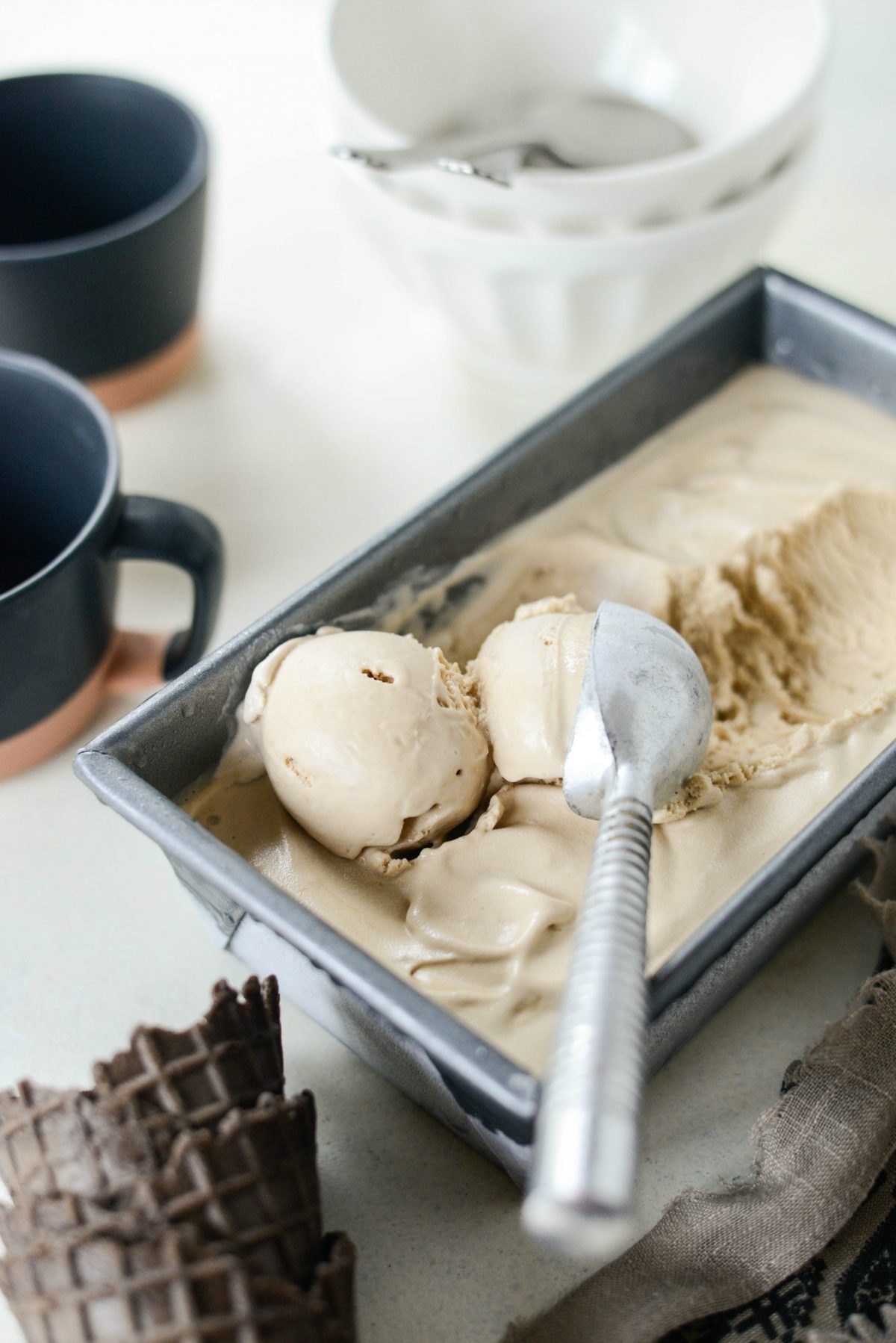 Scoop and serve. It's that simple.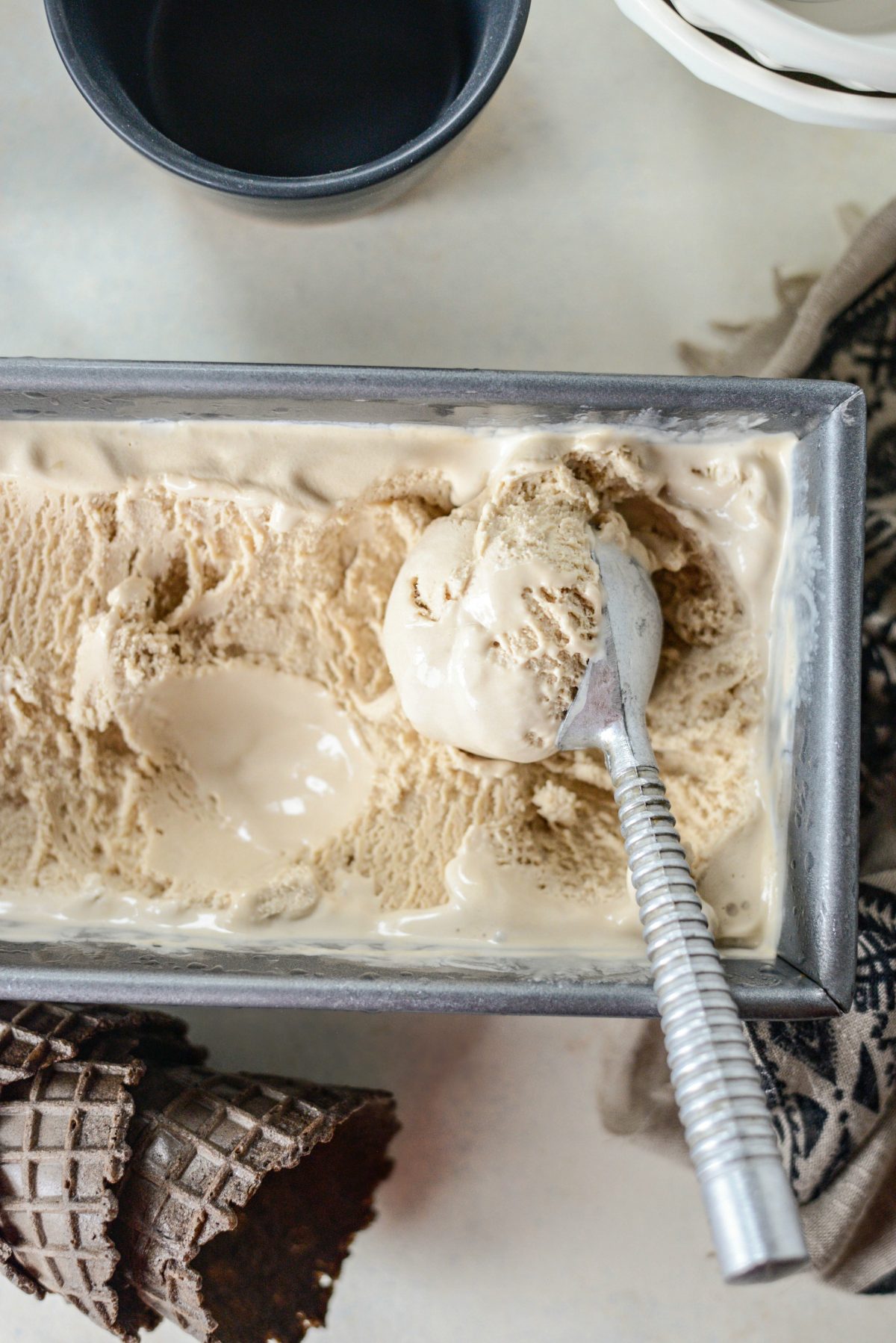 We scooped and served this vanilla chai ice cream into chocolate waffle cones, but it's just as delicious served simply in a bowl.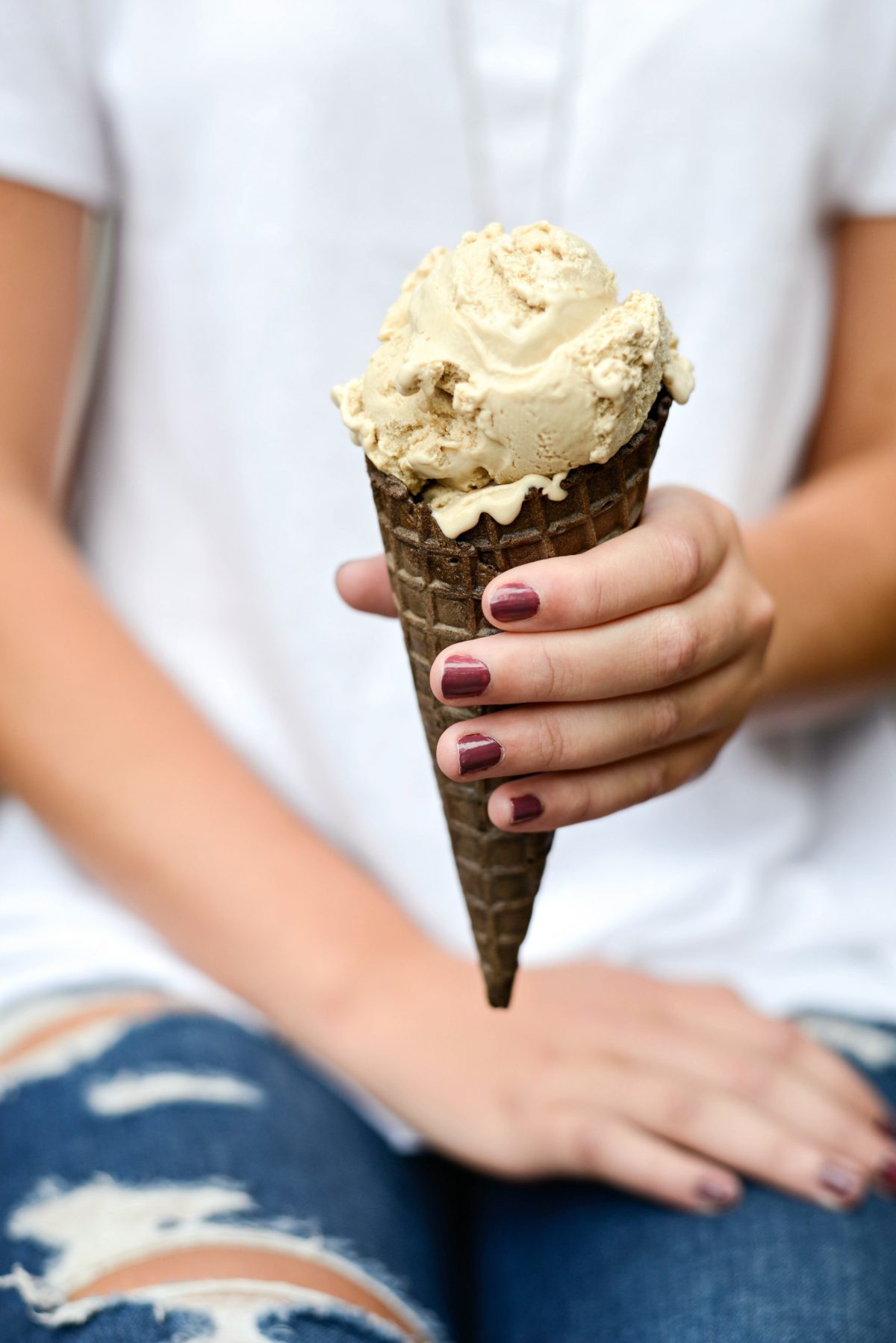 Enjoy! And if you give this Vanilla Chai Ice Cream recipe a try, let me know! Snap a photo and tag me on twitter or instagram!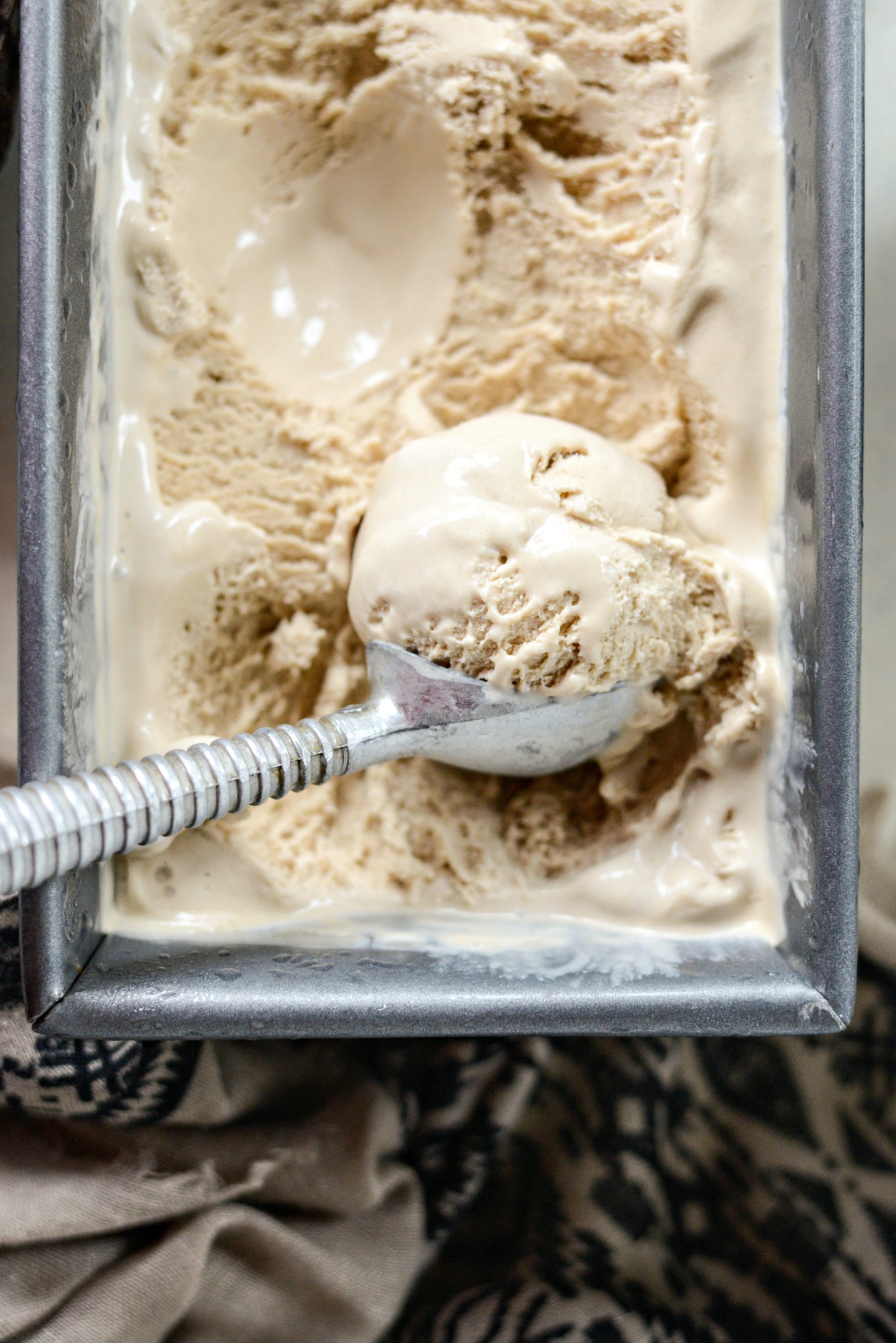 This post may contain affiliate links.
Buy the Cookbook: Simply Scratch : 120 Wholesome Homemade Recipes Made Easy Now available on Amazon »
THANK YOU in advance for your support!