This pistachio toasted coconut pie crust is proof that pie crust doesn't have to be boring. Ground pistachios and pan toasted coconut will take your pie to the next level.
Pie crust may be my favorite thing about pie.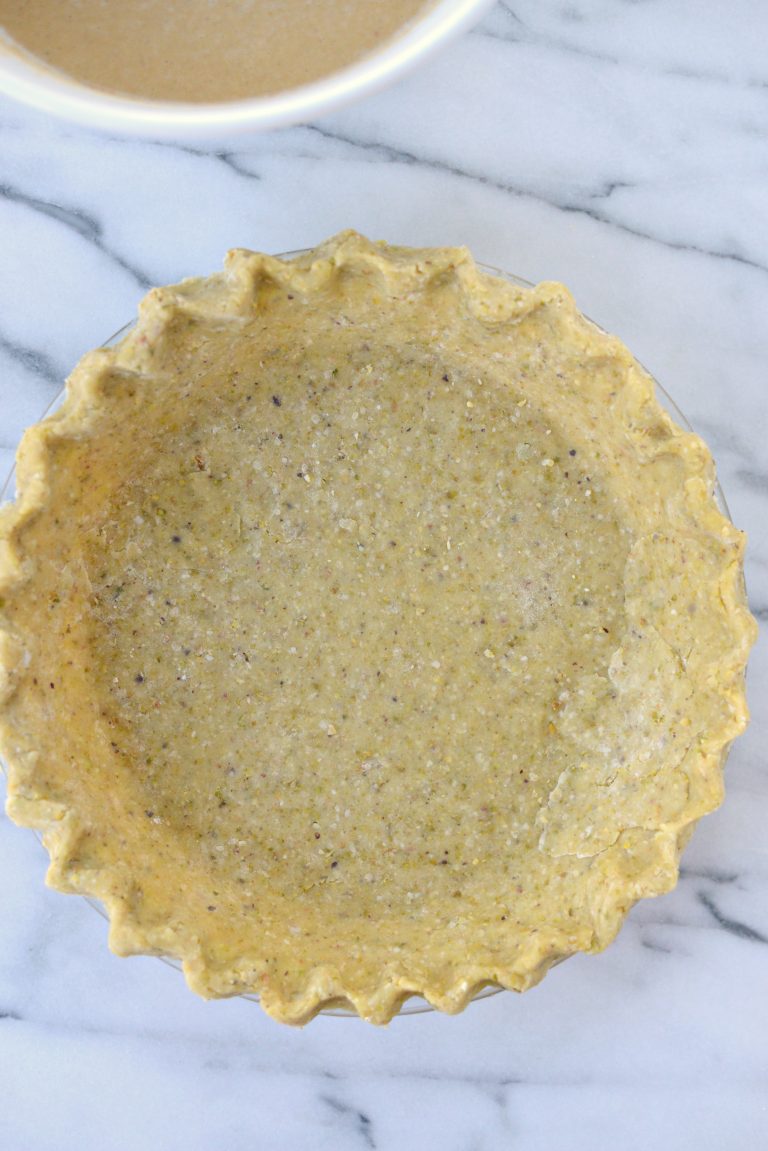 I'm one of those people who will eat my husbands (or anyone's really) edge of  crimped, braided, or if I'm lucky, it's a double pie crust. I've been this way since I was a kid and feel that a pie's crust is just as important as its filling (if not more).
SO I made this delicious pistachio toasted coconut pie crust to go with a delicious pumpkin pie recipe that I'll be sharing shortly. But I'll admit that I held my breath each and every step of the way, when it came to rolling it out, draping it into my pie plate, baking it and then finally being able to slip a forkful of it into my mouth. #drama
The end result? A buttery, toasty and nutty crust. And utterly delicious.
I put my pistachios in my mini food processor and pulsed until finely ground. Dumped them out and added the coconut (that I pan toasted) and pulsed until it was the same size as the pistachios.
Then I gathered all my dry ingredients along with the ice cold butter, cold water and my food processor. [affiliate link.]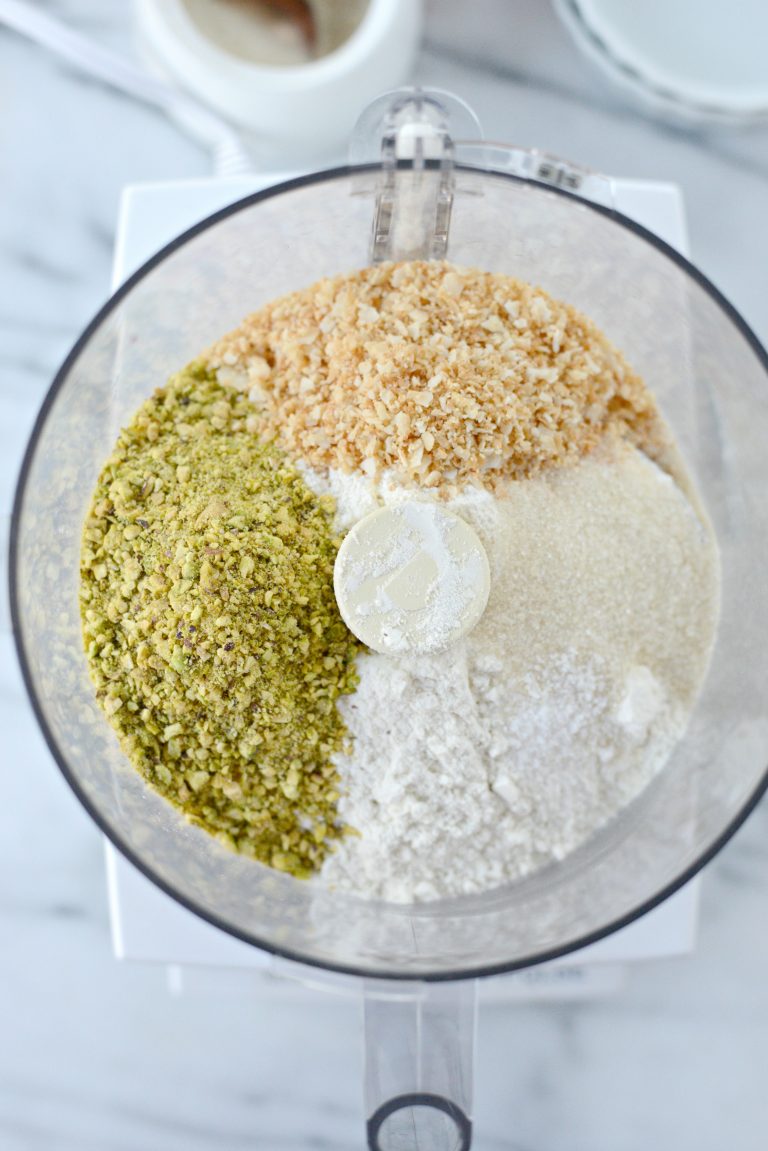 Add all the dry ingredients into your food processor  and do quick pulses to combine.
Next, add in the ice cold unsalted butter.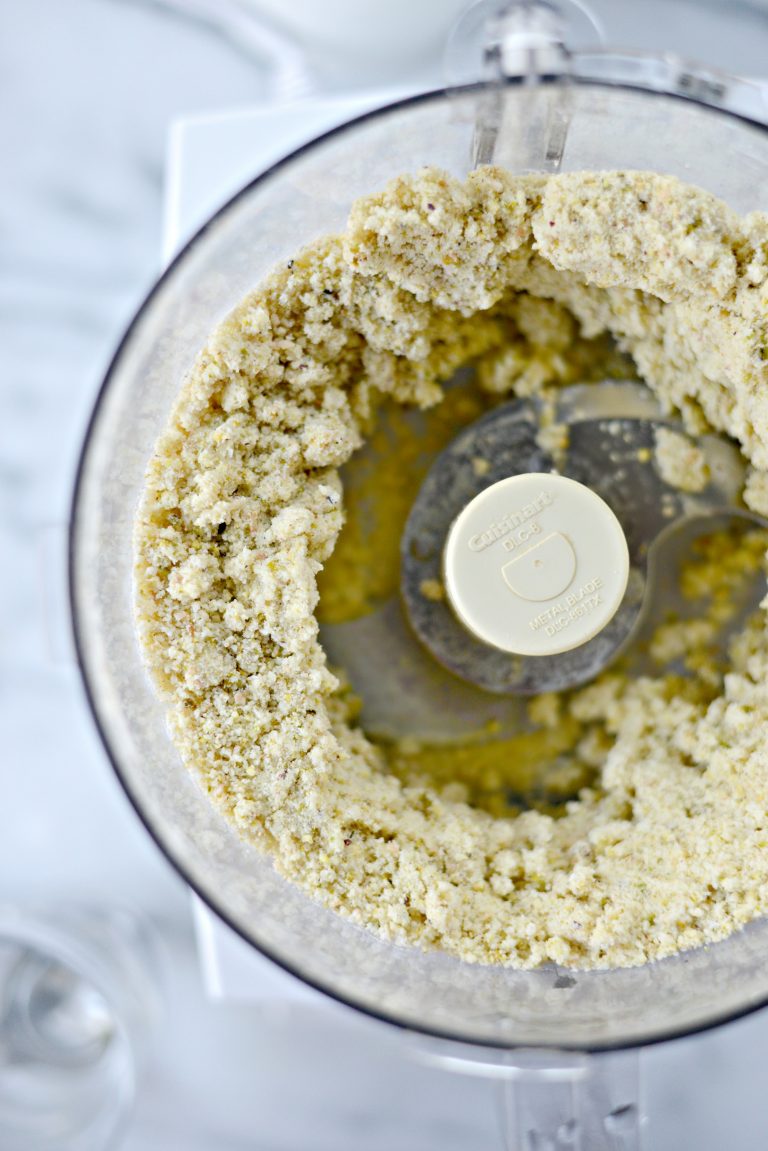 Pulse a few times to work the butter into the dry ingredients (at this point it should still be in big chunks) before adding 2 to 3 tablespoons of ice cold water into the food processor hole while constantly pulsing. The pie dough should be crumbly.
Dump the pie dough onto a clean work surface and shape it into a flat disc. Wrap the dough in plastic wrap, then throw it into your fridge and let it chill for 30 minutes.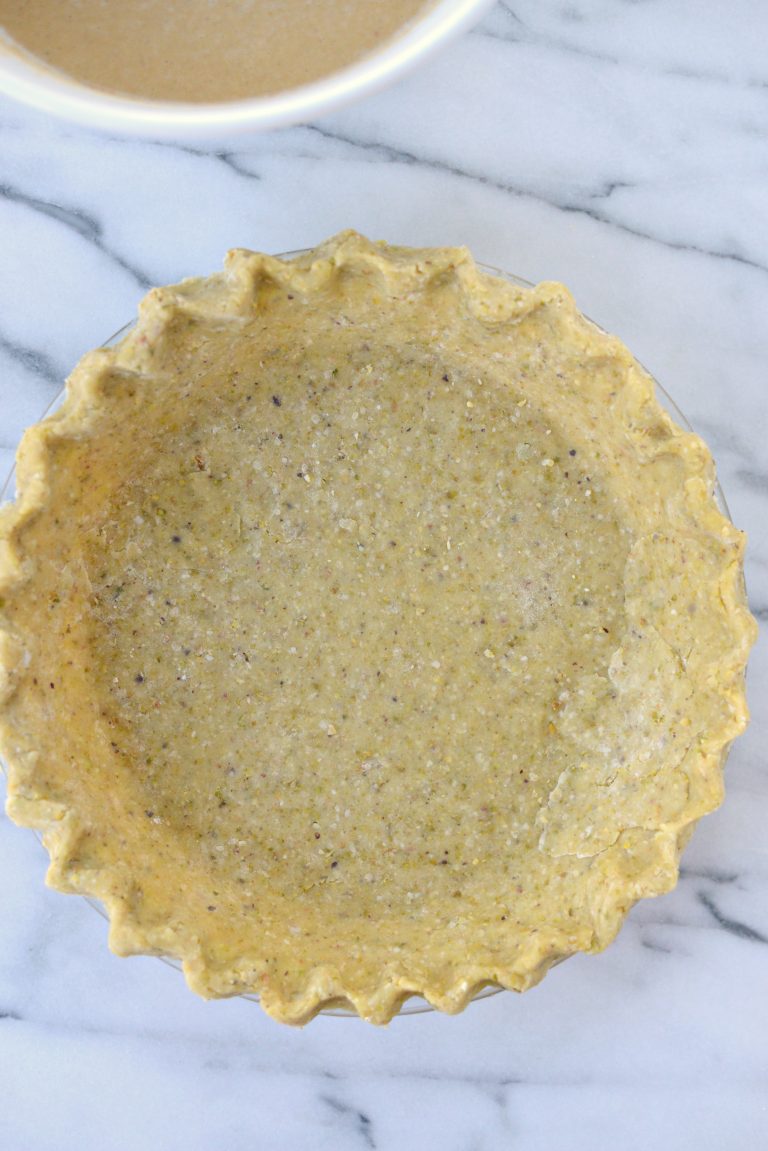 Lastly, drape it over your pie plate. Press the dough to fit, crimp the edges and pop it back into your fridge for 15 to 20 minutes.
Note: this pistachio toasted coconut pie crust is a little more delicate than traditional pie dough. Please keep in mind that you'll need to handle it carefully. But once you have it in your pie plate, you can easily mold it and patch any tears easily. And this crust holds up perfectly once baked. Trust me it's worth it.
Also, this crust is only meant as a bottom crust for single crust pies and wouldn't work as a double pie crust. Also the crust edges tend to brown quickly, so either cover edges with strips of aluminum foil or use a pie crust shield. [affiliate link.]
Use this pie dough with the pie filling of your dreams OR wait for that pumpkin pie recipe I'll be posting, it's a good one!
Other Pie Crust Recipes:
Fresh Herb Pie Crust (in my cookbook)
My cookbook Simply Scratch : 120 Wholesome Homemade Recipes Made Easy is now available! CLICK HERE for details and THANK YOU in advance!
This post may contain affiliate links.
Buy the Cookbook: Simply Scratch : 120 Wholesome Homemade Recipes Made Easy Now available on Amazon »
THANK YOU in advance for your support!