In my house only one soup reigns supreme and that's this one pot broccoli cheddar soup.
It started with my creation of a copy cat version of Panera broccoli cheddar soup that has evolved over time. I originally posted a (very) similar soup ages ago, but over the last 5 years I've changed it a bit, simplified and amplified to fit my life a little better. For example my broccoli cheddar soup now feeds 6 (1 cup) servings and is made in one glorious pot. No more steaming broccoli and all that extra pan business… consider this one pot broccoli cheddar soup your bff for those busy weeknights.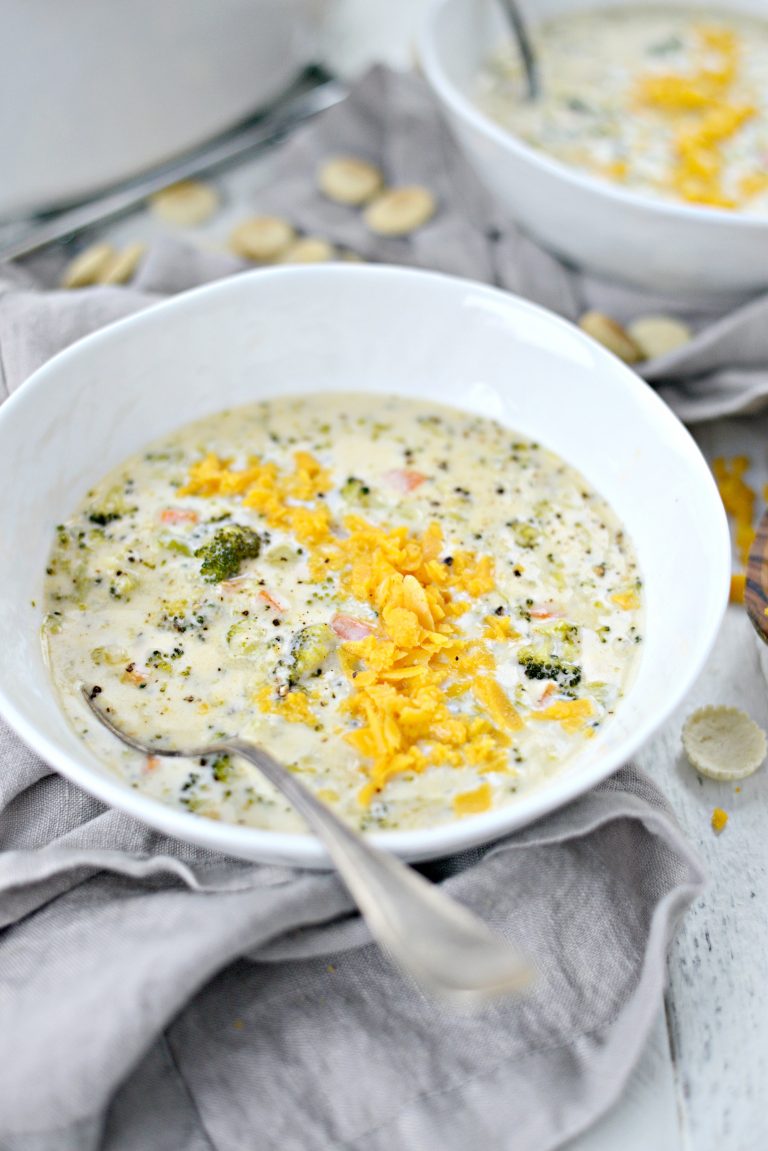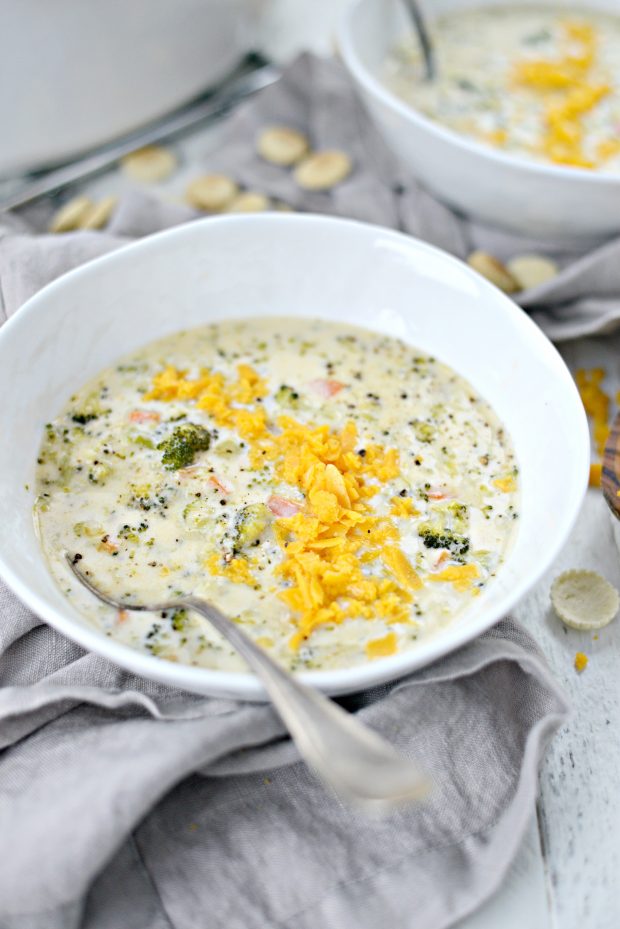 It still has the same fresh broccoli, creamy decadence and sharp cheddar cheese flavor. It's just so much better.
To make This One Pot Broccoli Cheddar Soup You Will Need:
unsalted butter
yellow onion (about 1 small)
diced carrot (about 1 large)
broccoli florets (weight is based on trimmed florets only)
kosher salt
unbleached all-purpose flour
low sodium chicken broth
half & half or whole milk
freshly grated nutmeg
ground black pepper
cheddar cheese, grated (not bagged, pre-shredded)
This soup is not hard by any stretch of the word, but one way to speed things along is to prep the veggies and measure everything out before starting. Getting all your ingredients prepped and ready to go will save you a ton of time.
As far as the broccoli goes, I have come to find that 10 to 11 ounces broccoli florets (once trimmed off the stem and cut into small pieces) is the perfect amount for this soup. Roughly that's 2 good size heads of broccoli.
Heat a large 6-quart dutch oven over medium heat. Once hot, add 6 tablespoons butter and sauté the 3/4 cup both diced carrots and onions. Also add 10 to 11 ounces broccoli florets together. I toss the vegetables around in the butter and sprinkle in a pinch of kosher salt. Then I cover and let them cook, stirring occasionally, for about 8 minutes.
Once the vegetables are tender, add in the 1/3 cup of flour and stir, cooking for about 2 minutes.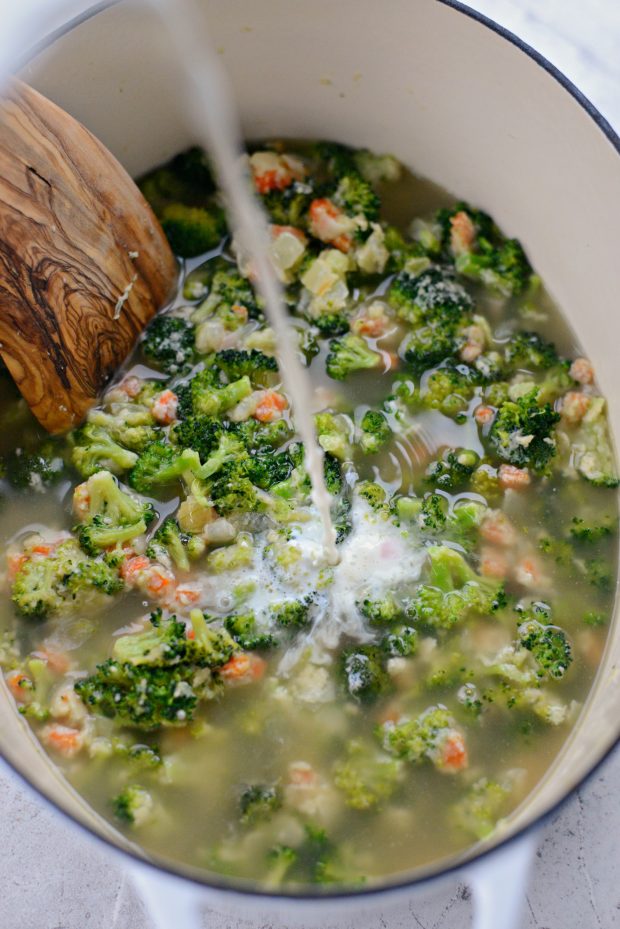 Then I add in 4 cups low-sodium chicken broth and 2 cups half and half (whole milk works too!). Once it comes to a small bubble, I reduce the heat to medium-low and simmer, with the lid askew for about 20 to 25 minutes or until thickened.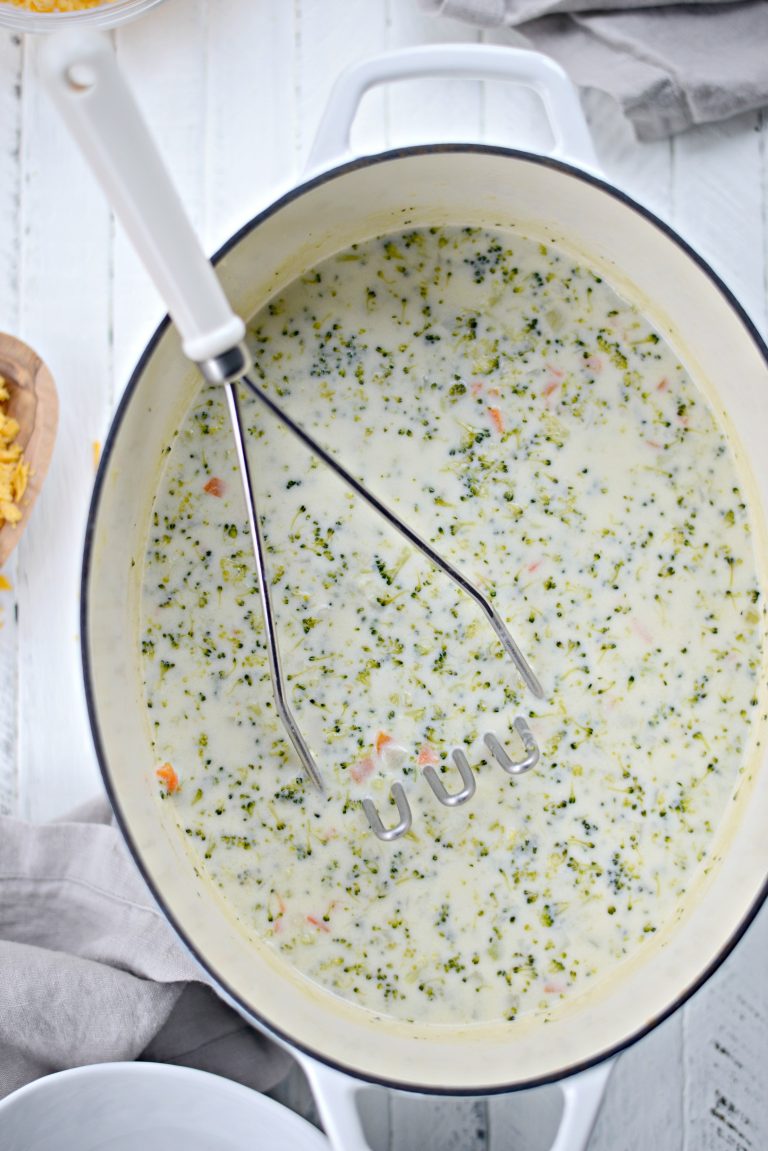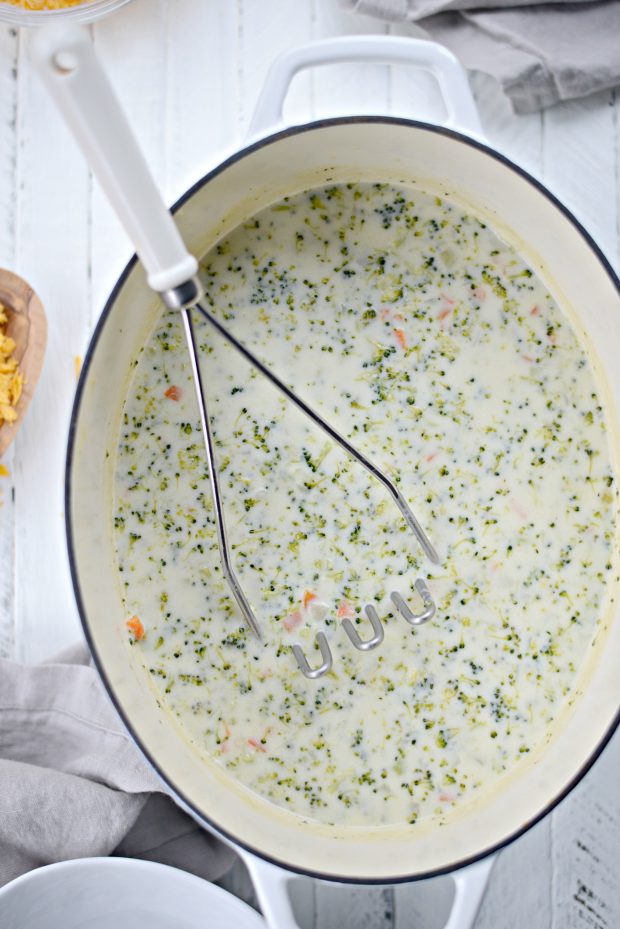 This has bee my trick to breaking up the broccoli since day uno. I just pull out the potato masher and go. to. work. This will also help thicken up the soup. Then I taste test (best part ever!) and season with salt, black pepper and 1/4 teaspoon freshly grated nutmeg.
The nutmeg adds this distinct yet subtle flavor. It's not like you'll really notice it… but it does give this soup that somethin-somethin.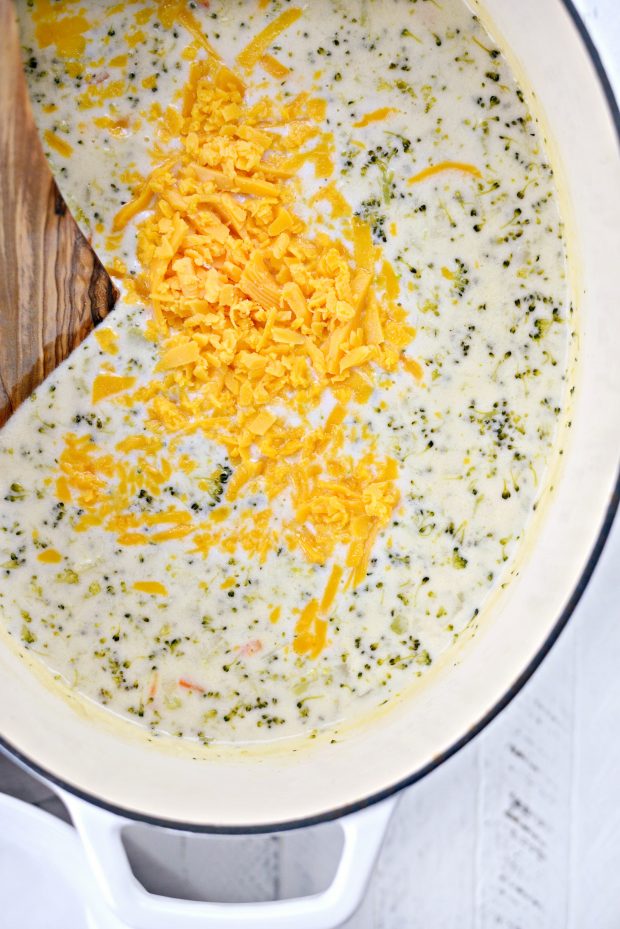 Lastly I add in about 4 to 6 ounces of freshly grated sharp cheddar cheese, saving any extra for serving. You want good quality, grate from the block, cheese. The bagged, pre-shredded stuff is coated in a non-caking or sticking powder (ack!) which will keep the cheese from melting into the soup like it should. Trust me.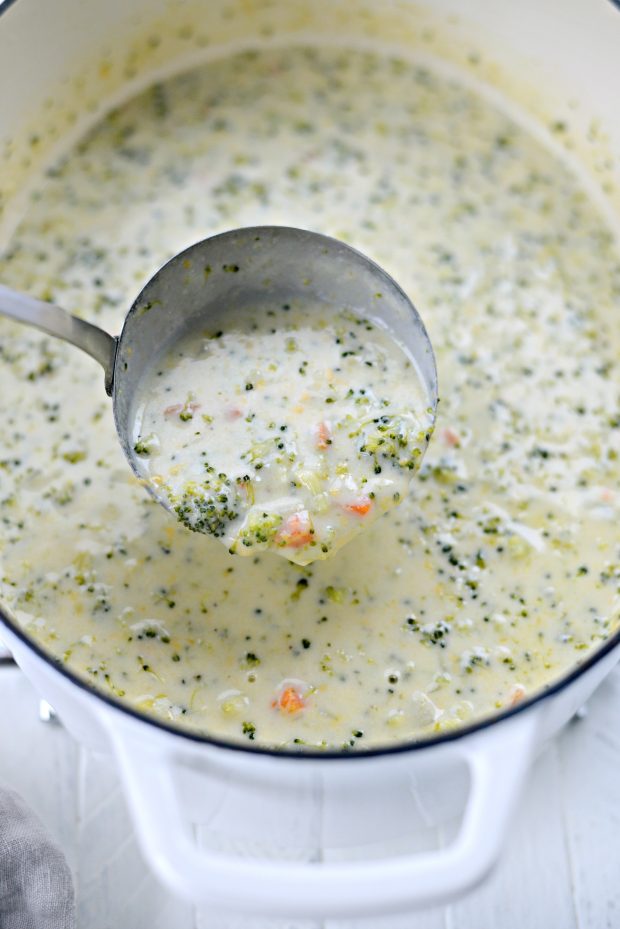 That's it! One pot broccoli cheddar soup for the win!
I ladle it into bowls, top with a tablespoon or so of the remaining cheddar cheese and I always, ALWAYS serve our broccoli cheddar soup with toasted hot ham and cheese sandwiches and oyster crackers for Pat.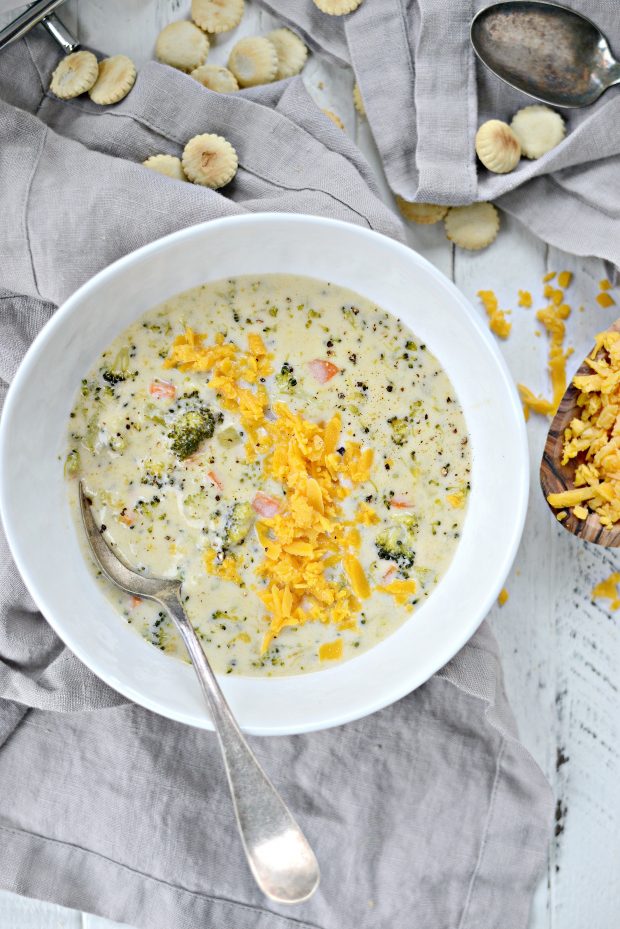 Broccoli and cheddar soup is a classic, my daughter Haileigh's favorite and now can me made in one pot. SO EASY YOU GUYS! I hop you try it. (:
For More One Pot Recipes Click Here!
Enjoy! And if you give this One Pot Broccoli Cheddar Soup recipe a try, let me know! Snap a photo and tag me on twitter or instagram!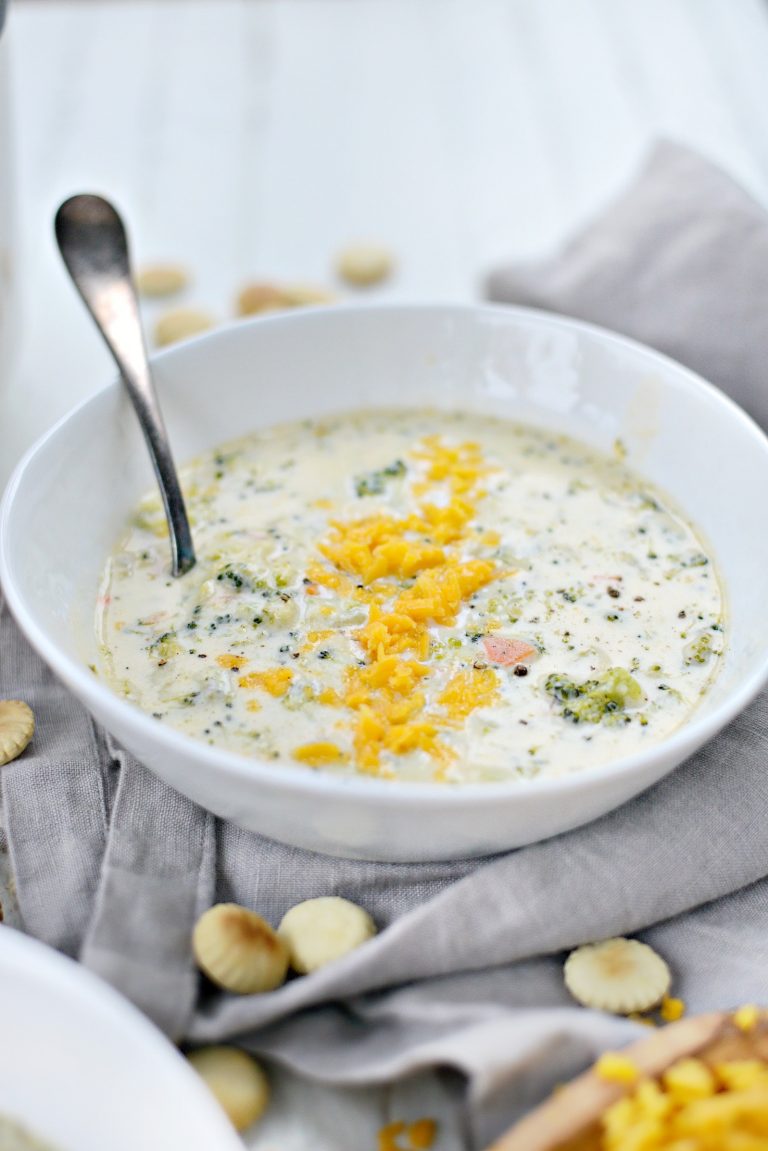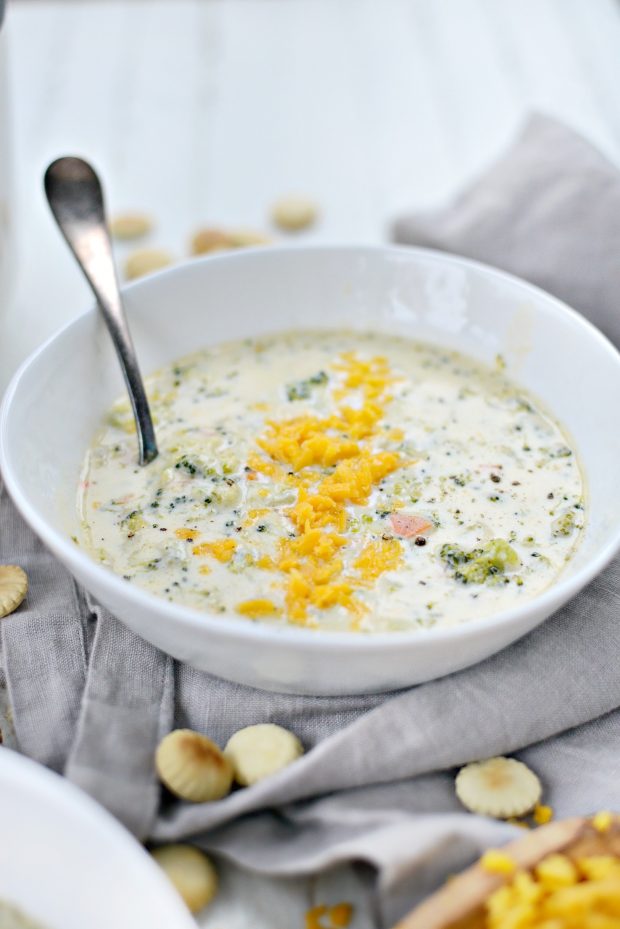 This post may contain affiliate links.
Buy the Cookbook: Simply Scratch : 120 Wholesome Homemade Recipes Made Easy Now available on Amazon »
THANK YOU in advance for your support!