This wholewheat spaghetti with zucchini and spinach almond pesto sauce is wholesome and delicious! With few ingredients like baby spinach, garlic, shallots and toasted almonds tossed with whole wheat pasta and thin ribbons of zucchini – it's really so easy. Serve with garlic toast and you've got yourself one tasty meatless meal!
I'm hoping for a repeat of last weekend, because we pretty much had the best weekend ever.
I know it's Friday and the beginning of a new weekend but I'm still reminiscing over the one we had last. It was a weekend filled to the brim with sunshine, relaxation, cocktails, good food and we ended it on Memorial Day where we lounged on the boat in the middle of our lake, soaking up the sun. Even Pat said that it felt like we took a vacation because we only left home to get groceries.
I made french toast and bacon one morning, Pat made us girls scrambled eggs with toast on another day. I also made these bonkers-awesome Italian subs for dinner because we were feeling all sorts of lazy and then on Sunday (which felt like Saturday) Pat and I together made my mother-in-laws infamous tacos. A recipe I still have yet to share on here… but I will someday, I promise.
Having a weekend without girls softball- except for watching U of M win the NCAA super regional and move on to the College World Series (seriously so much more fun than watching MLB- in my opinion)- opened our schedule up to do nothing absolutely nothing.
Can't all weekends be like last weekend?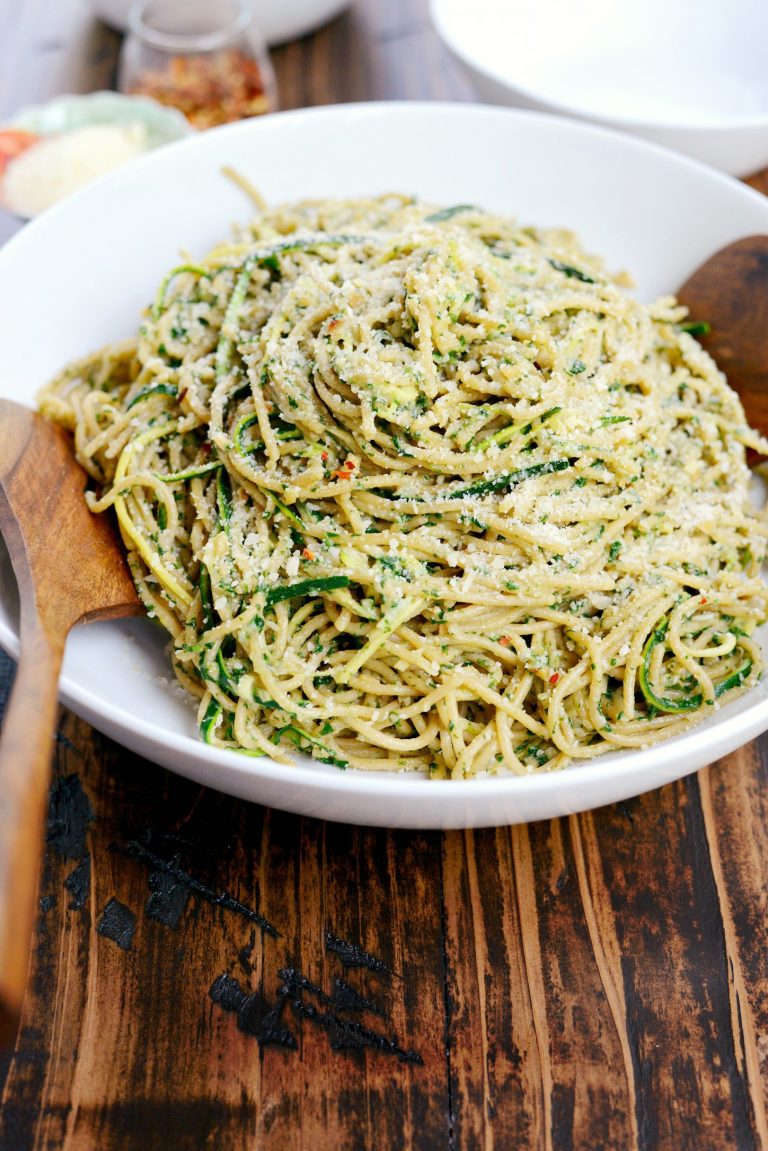 In other news: pasta!
This is one of those clean-out-your-fridge-and-pantry sort of situations. I over bought (typical) zucchinis when shopping for these kebabs so I scavenged the rest of my kitchen and found a half-full jumbo clamshell of baby spinach, the last of my marcona almonds, shallots and garlic and BOOM! I made you a easy, meatless pasta dish.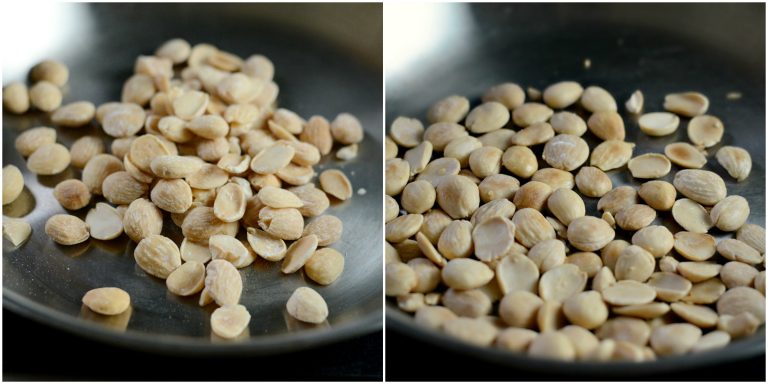 Quickly toast almonds in a dry skillet over medium-low heat until fragrant and lightly golden brown.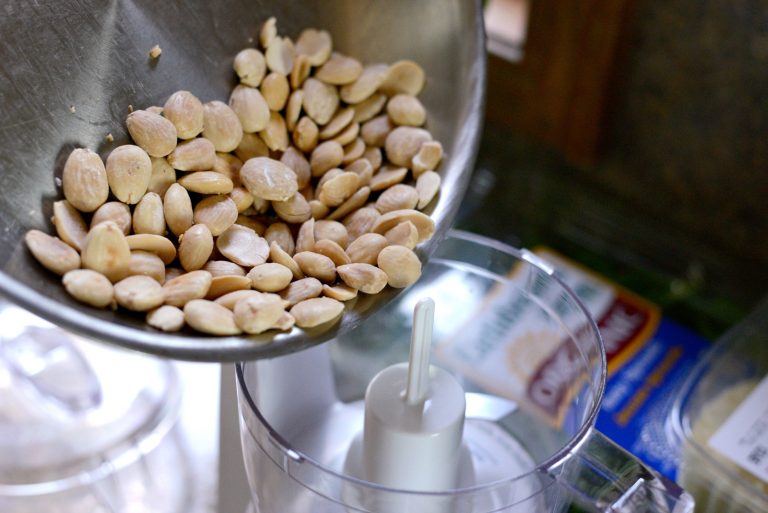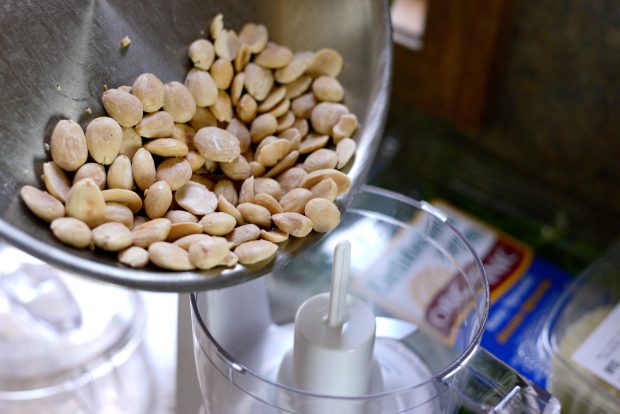 Then add them to a mini food processor and setting off to the side.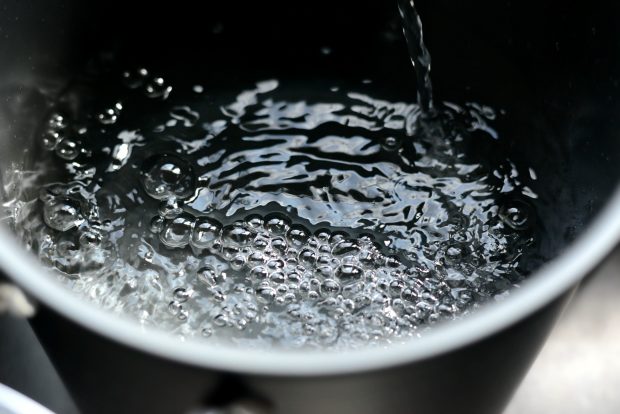 Fill a large pot with water, season with a generous amount (like 1-2 tablespoons) of sea salt and bring to a boil.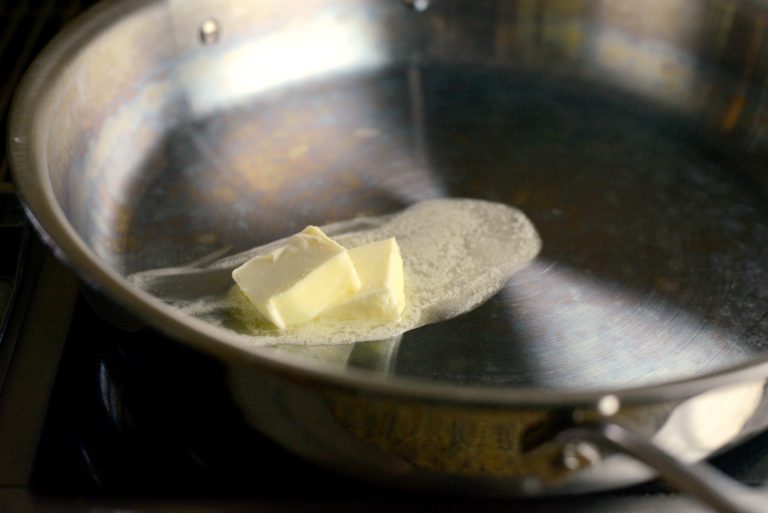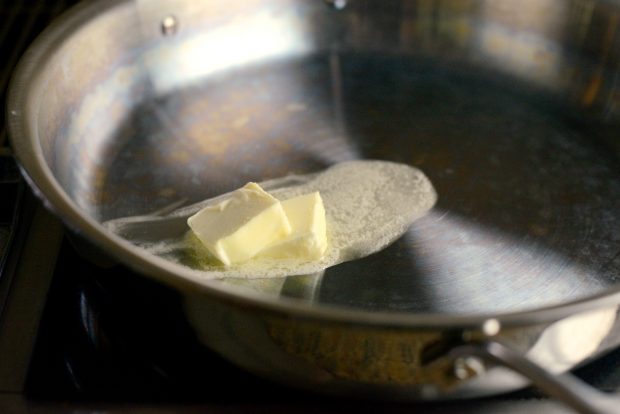 Meanwhile, melt 2 tablespoons (unsalted) butter on medium-low in a 10-inch deep sided skillet…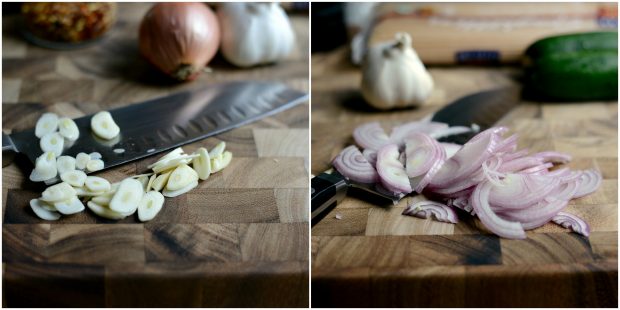 Slice up 3 cloves of garlic and a good size shallot.
Using a julienne peeler or spiralizer, peel 2 small zucchinis.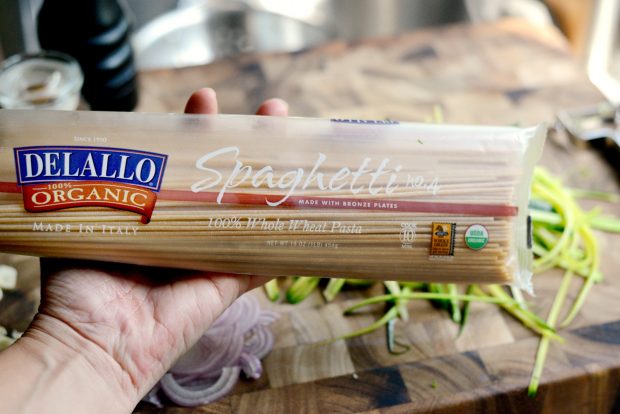 In this recipe I'm using whole wheat pasta but really any pasta will do. You'll just need 1 pound.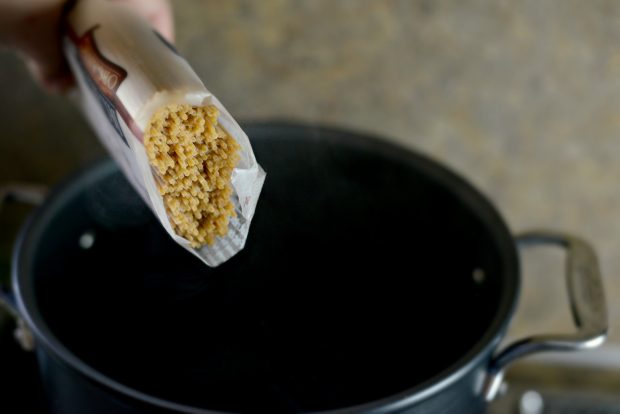 Once the water is at a rapid boil, add the pasta and cook accordingly to the directions on the package.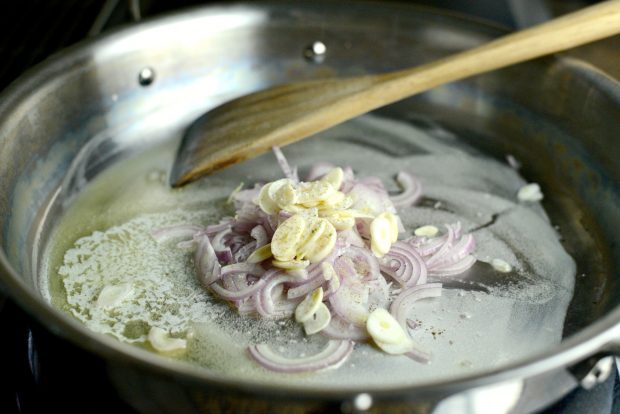 Going back to the pan-o-butter: once melted add in the shallots, garlic and season with a pinch of kosher salt and black pepper.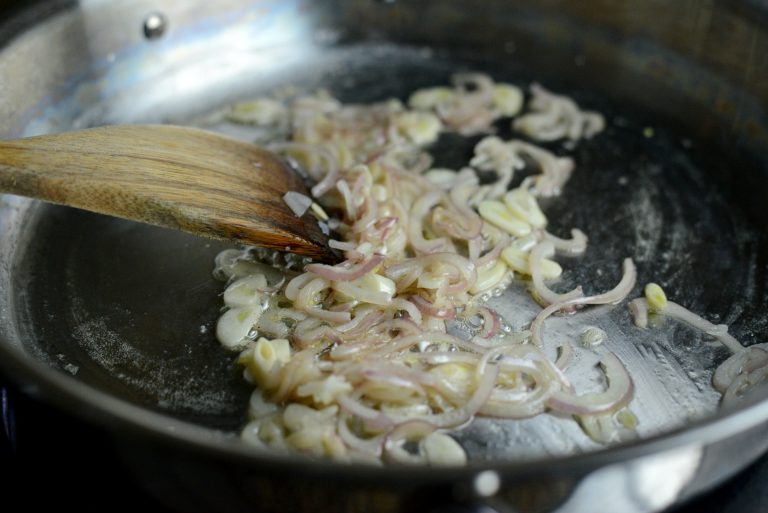 Cook for a few minutes until both have softened.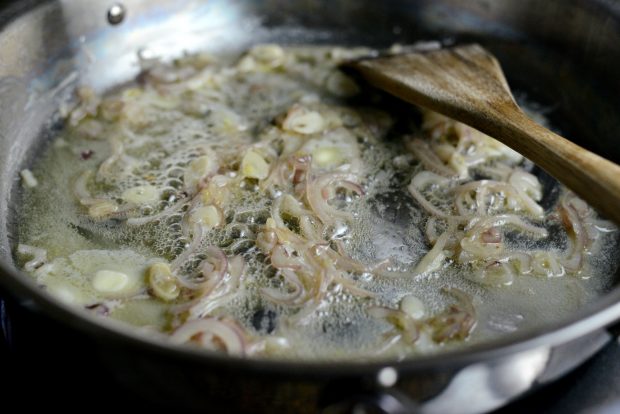 Add in the remaining two tablespoons of butter, now that I think of it, you could do olive oil here if you want to…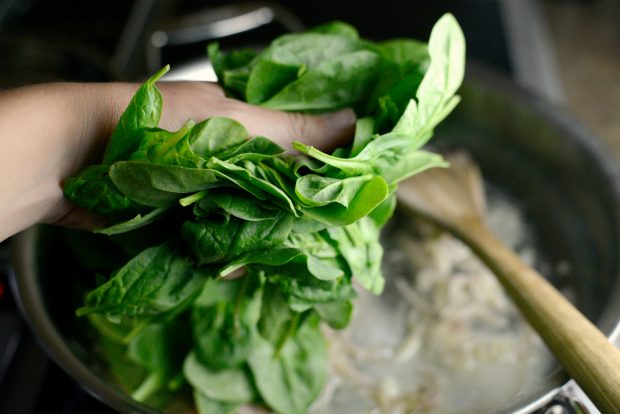 Once melted, add in 3 heaping handfuls of baby spinach.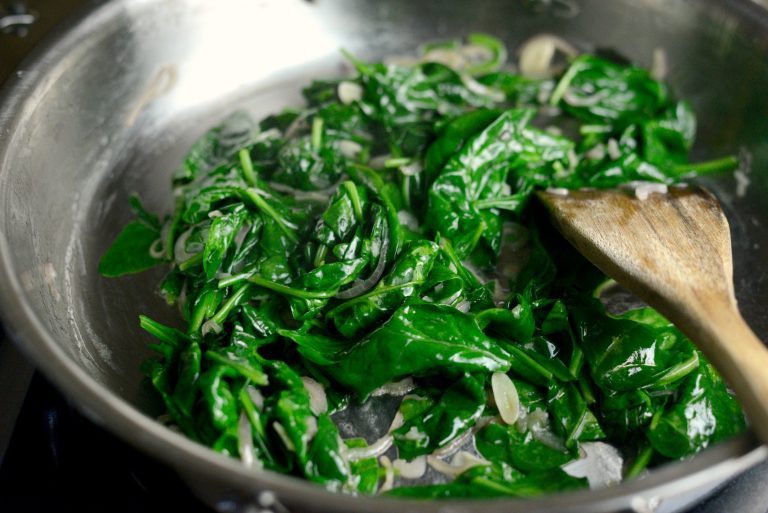 Stir and cook until the spinach is bright green and wilted.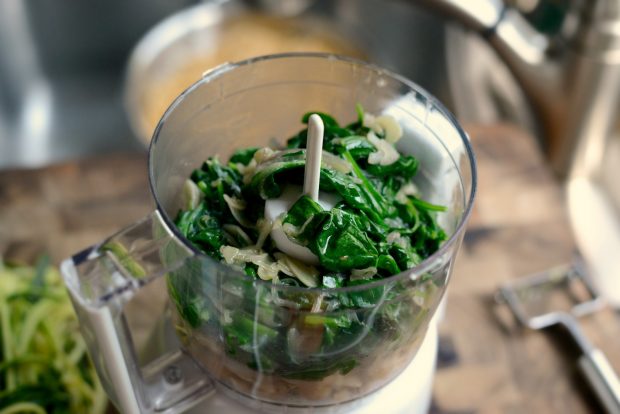 Reduce the heat under the pan to low and add the spinach/garlic/shallot mixture to the almonds in the mini food processor, returning the pan to the heat.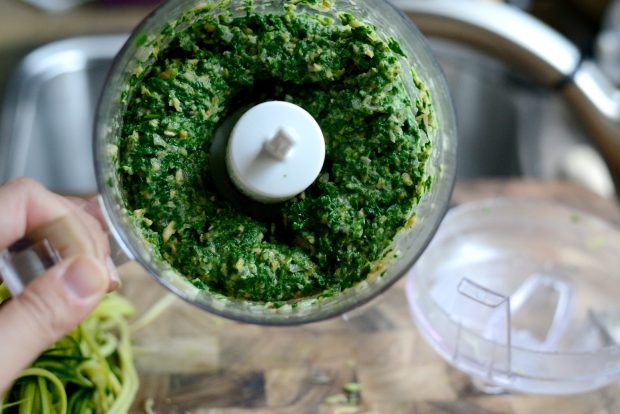 Continue to pulse until it resembles pesto!
By now the pasta should be done. Remove about 2 cups of the pasta water- you will need this to make the sauce.
Drain the pasta.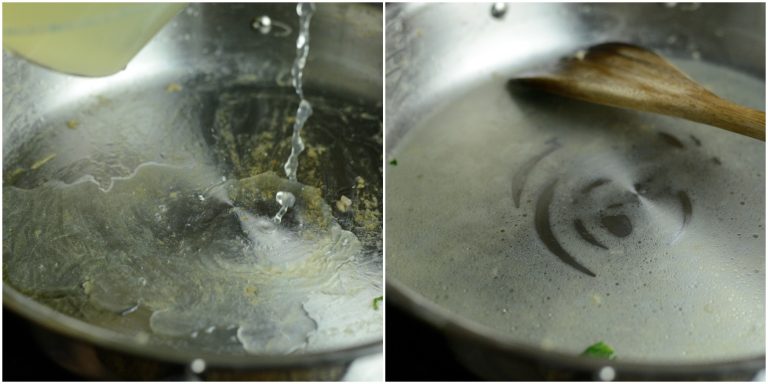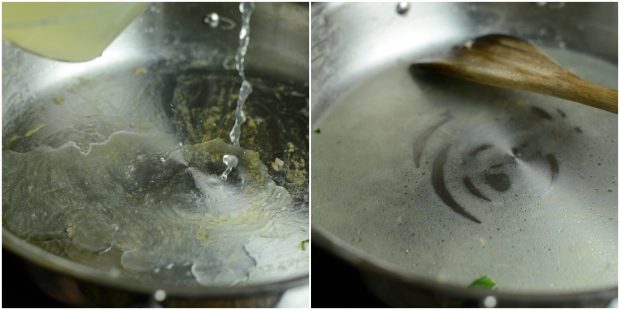 Pour 1/4 or so of the pasta water to the pan and scrape up any browned bits off of the bottom.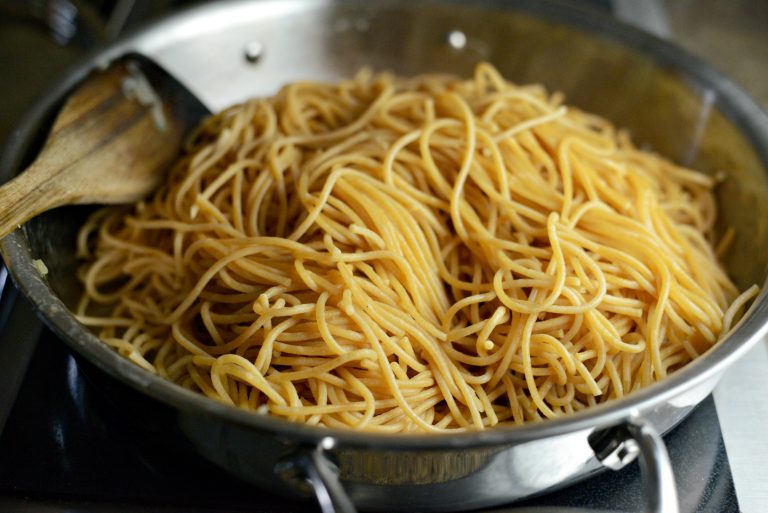 Then, add in the whole wheat pasta.
To that, add the spinach and almond pesto.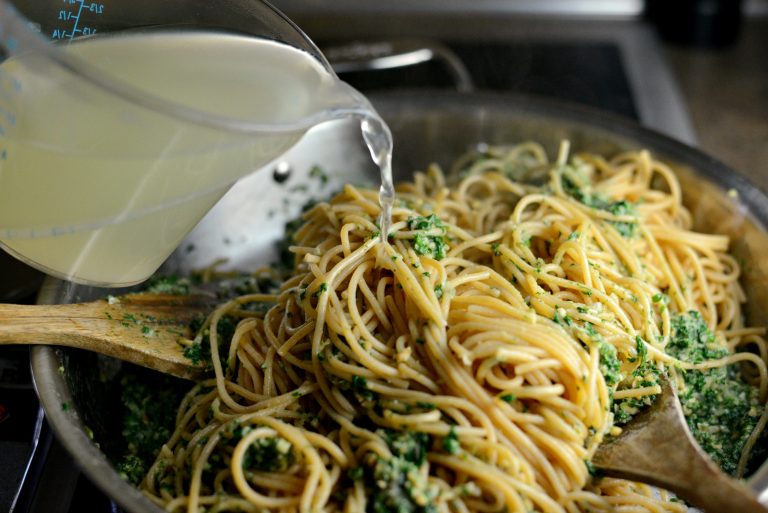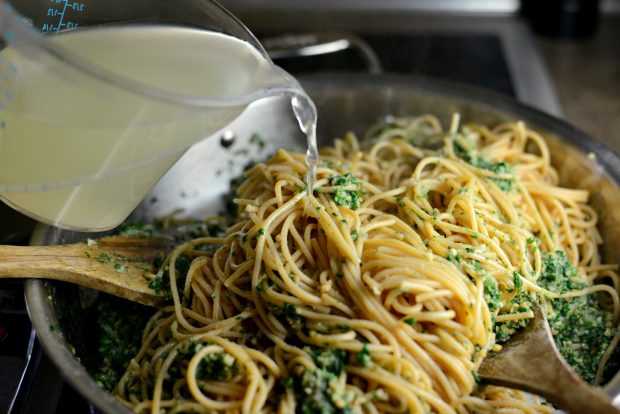 Continue to add as much of the pasta water. This will help thin the sauce out. For me it was close to 1-1/2 cups.
Give the pasta a toss before adding in the zucchini.
Gently toss the zucchini with the pasta, adding more water if needed, then sprinkle in 2 tablespoons freshly grated Parmesan cheese.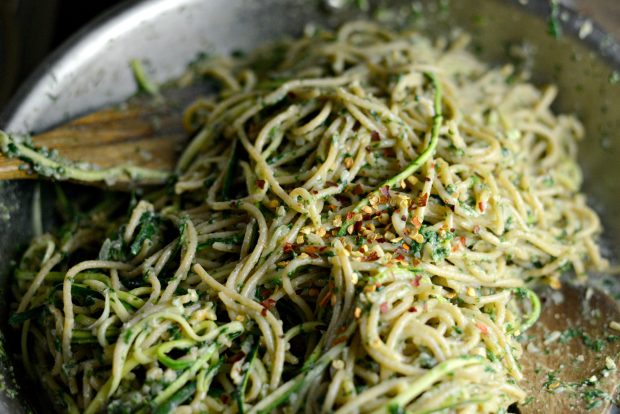 Feel free to add a little red pepper flakes if you want some heat. Clearly I wanted some heat. 😉 Taste-test and season with salt and pepper to your personal preference.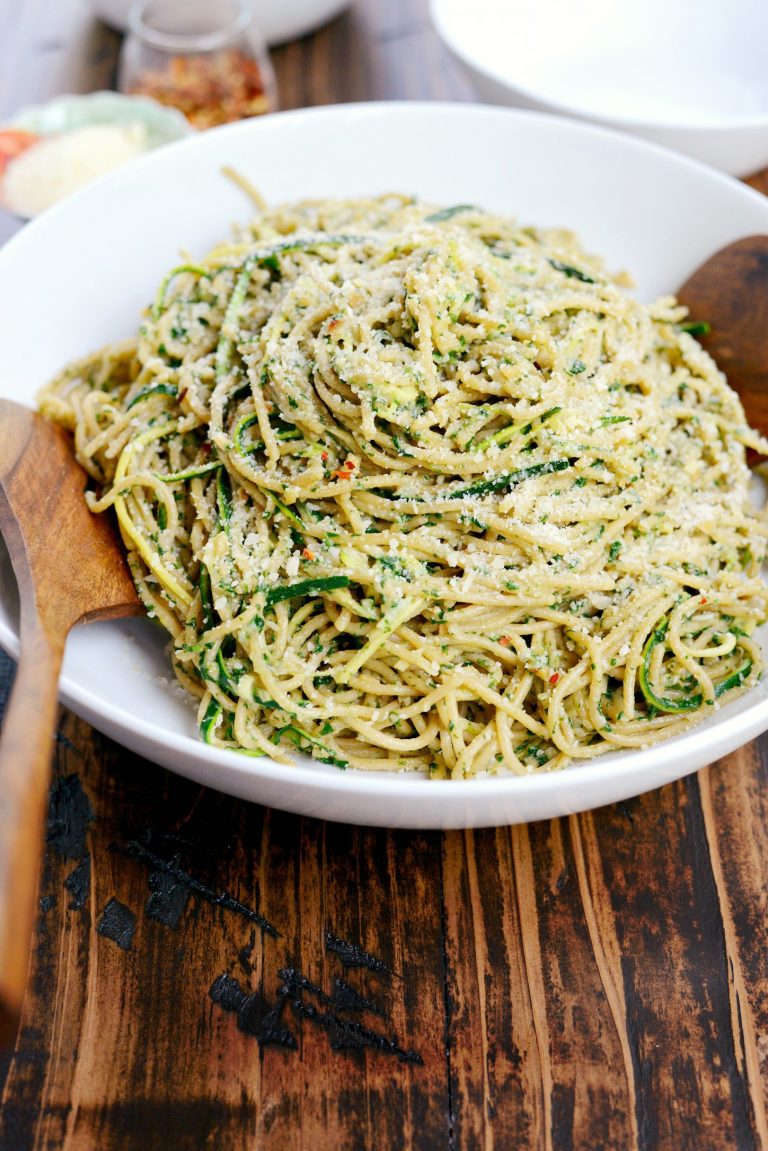 Transfer the pasta in a gigantic bowl and serve!
This is my kind of pasta dish. Light, fresh and simple. Some garlic toast a glass of chilled white wine and I am complete.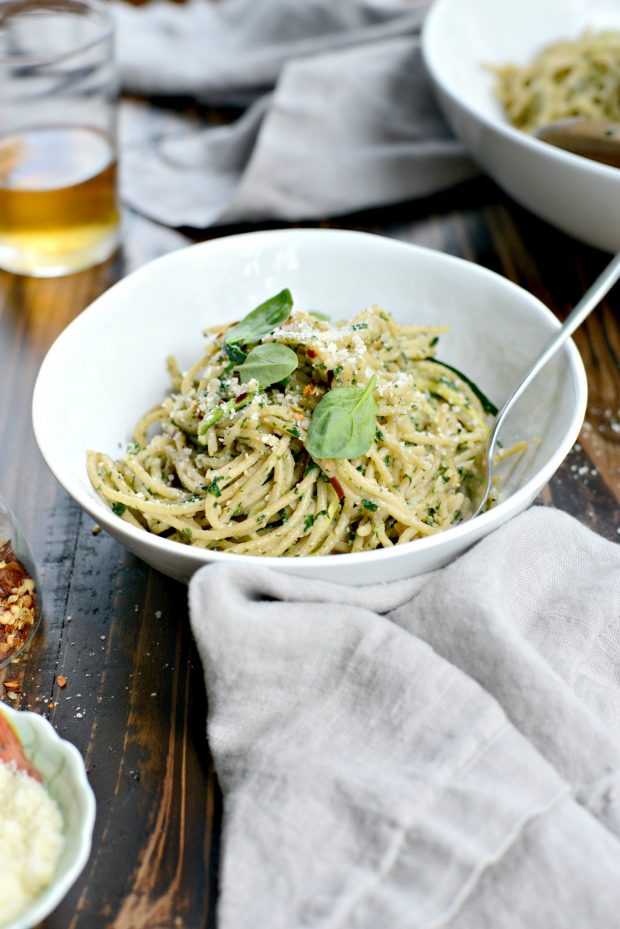 Enjoy! And if you give this spaghetti with zucchini recipe a try, let me know! Snap a photo and tag me on twitter or instagram!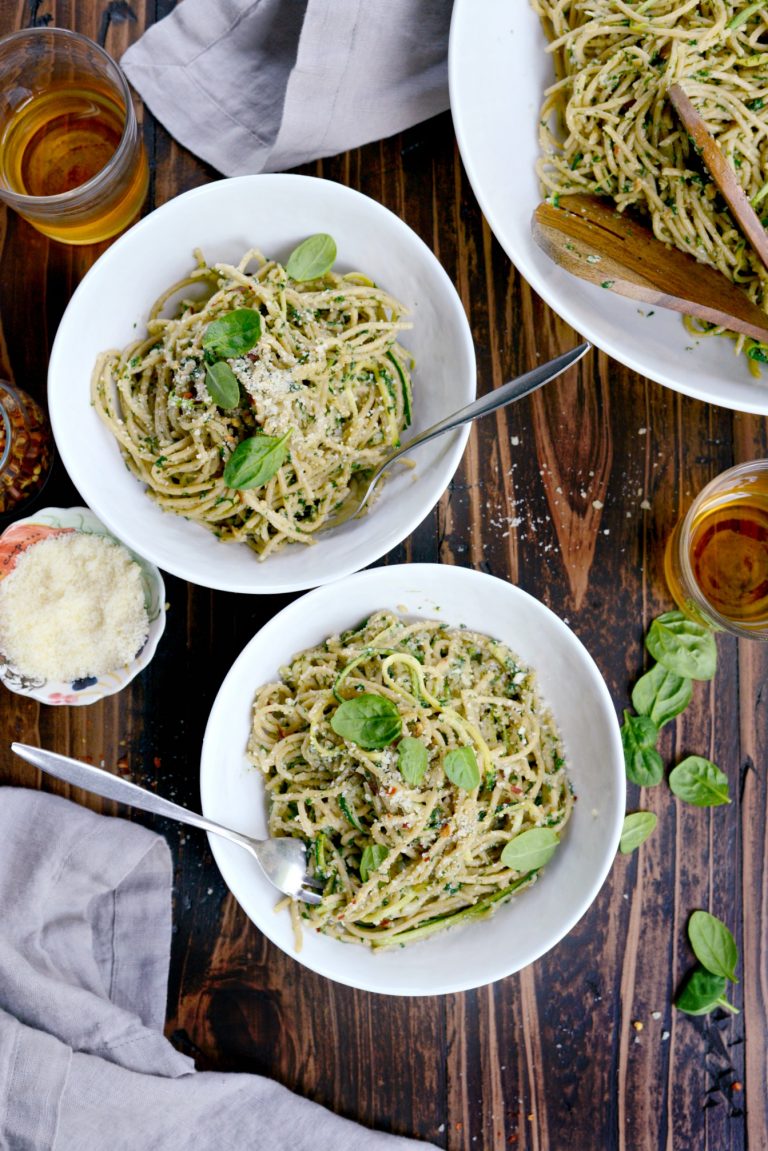 This post may contain affiliate links.
Buy the Cookbook: Simply Scratch : 120 Wholesome Homemade Recipes Made Easy Now available on Amazon »
THANK YOU in advance for your support!