This B.L.A.T. salad tastes exactly like a BLT sandwich (minus the bread! PLUS avocado!) and the dressing is the magical key component.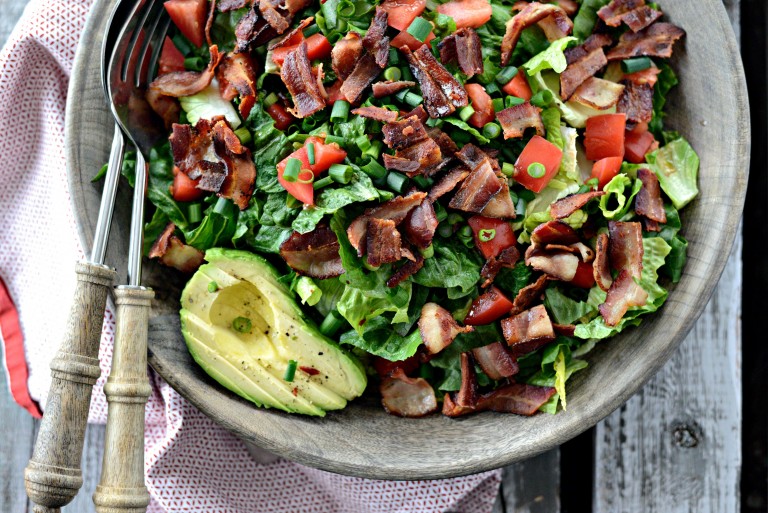 When my sister Julie first told me on to this salad (as you can imagine) I was instantly intrigued and suddenly craving it- because bacon + avocado in a salad = my favorite! When I asked her what dressing does she use, she simply said 'whatever dressing you want'. But a B.L.A.T. salad couldn't have just any dressing. Oh no, no, no!
(Although I'm guessing ranch wouldn't be to shabby either!)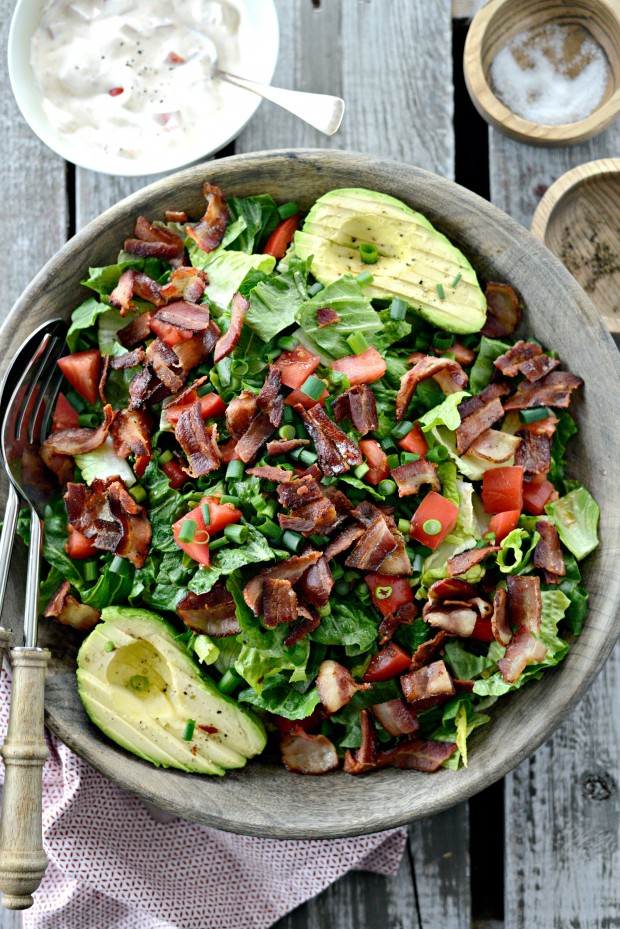 It wasn't until I was thumbing through the Skinnytaste cookbook did I find the dressing that was meant for this salad. I of course made it un-skinny by using regular homemade mayonnaise, and seasoned it up with some s & p, but that's just how we do it is in my house.
If there's a salad you need in your life it's this one and I promise that you won't be disappointed.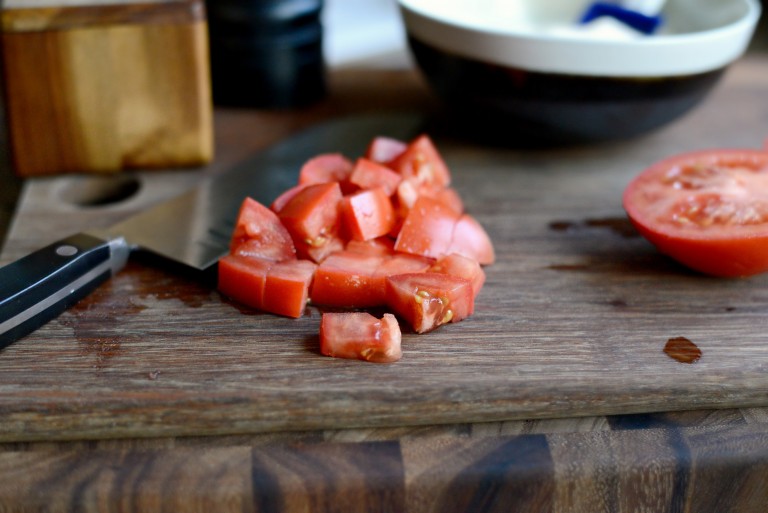 Start by chopping up two large Roma tomatoes.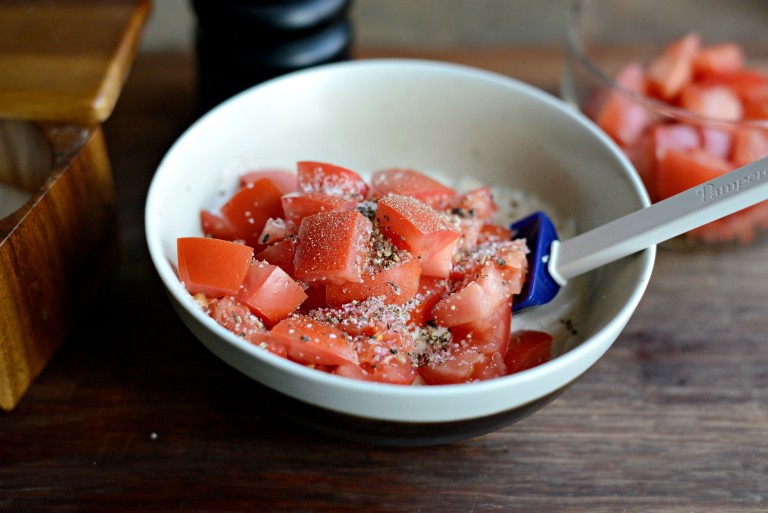 Throw half of the chopped tomato into a bowl with 1/2 cup of mayonnaise (*homemade or store bought). Season with 1/4 teaspoon of kosher salt and 1/8 teaspoon of freshly ground black pepper.
*for my homemade mayo recipe, see my cookbook!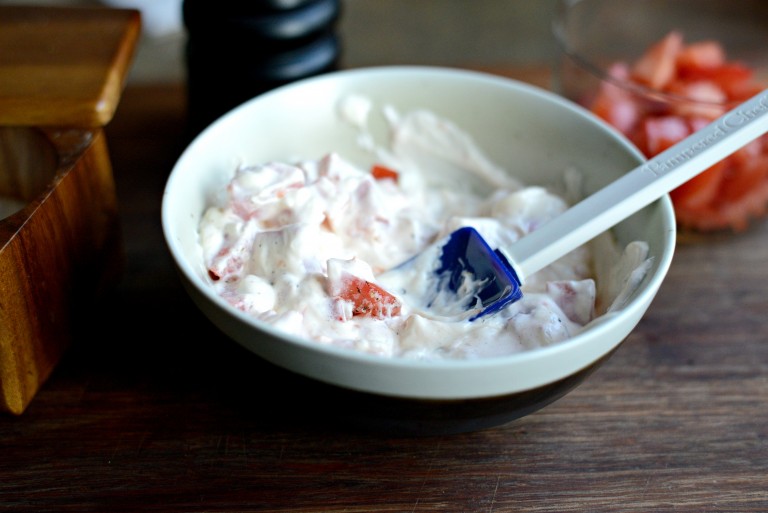 Stir those to combine. That's it! Just cover the bowl with plastic wrap and pop it into the fridge while you work on prepping the rest of the salad. Oh and while it's chilling, the mayonnaise (with the help of the salt) brings out the natural juices of the tomatoes; thinning the dressing out a tad and adding a TON of flavor.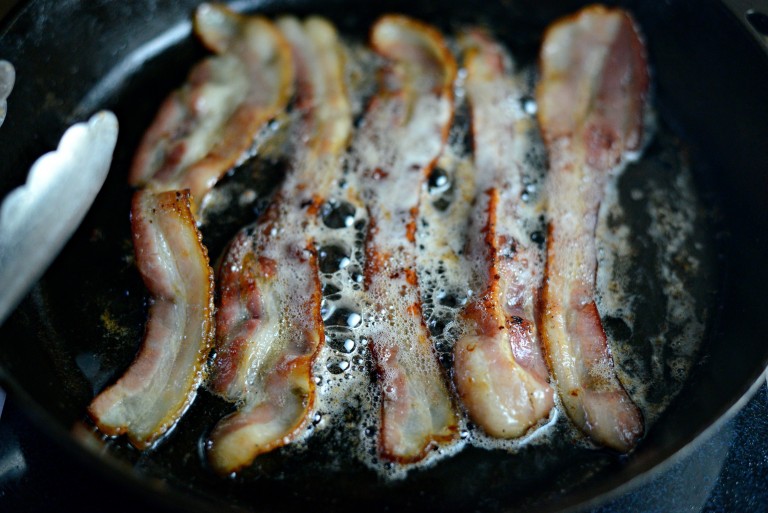 Cook up 10 slices of good quality, thick cut, applewood bacon in a skillet until crispy.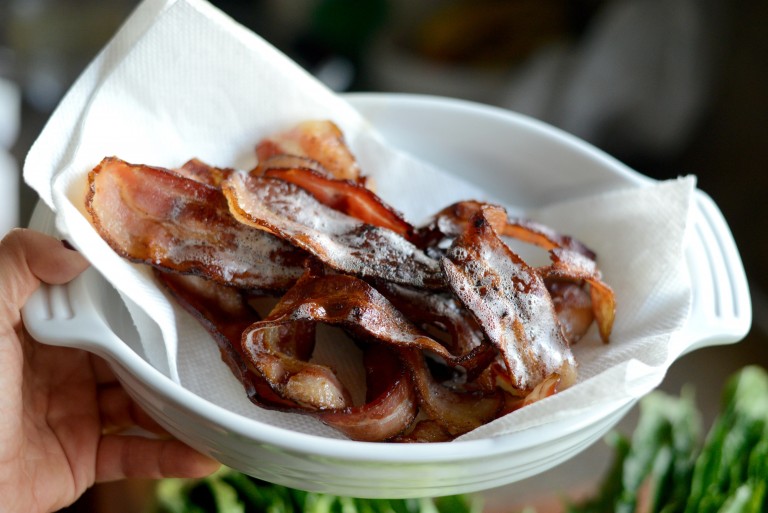 Transfer it to a paper towel lined plate or dish and set it off to the side for a moment.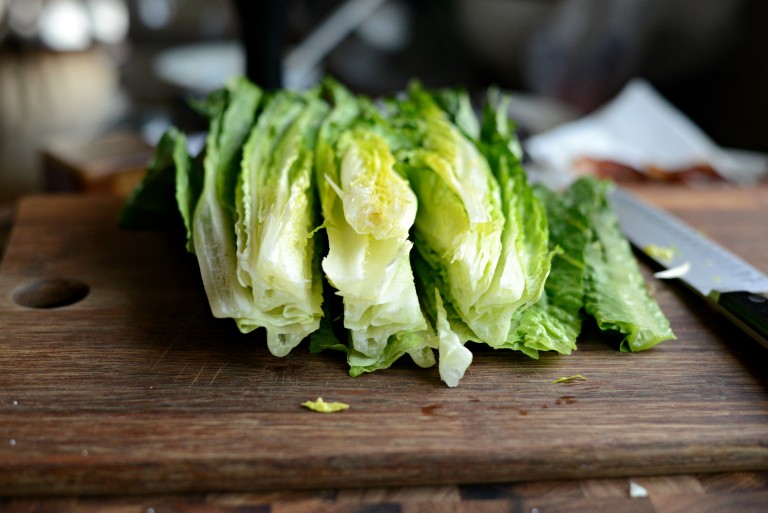 Trim of the root end of a giant head of romaine and cut it in half lengthwise, then into thirds.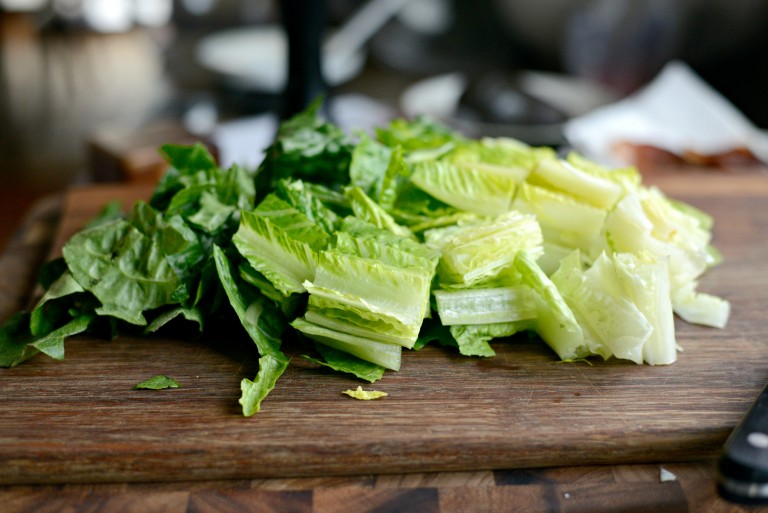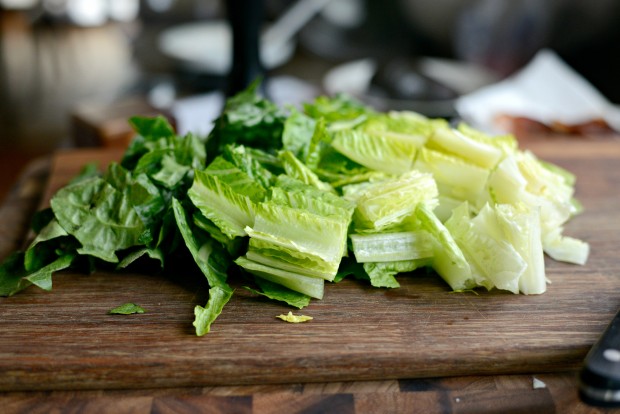 Give it a rough chop…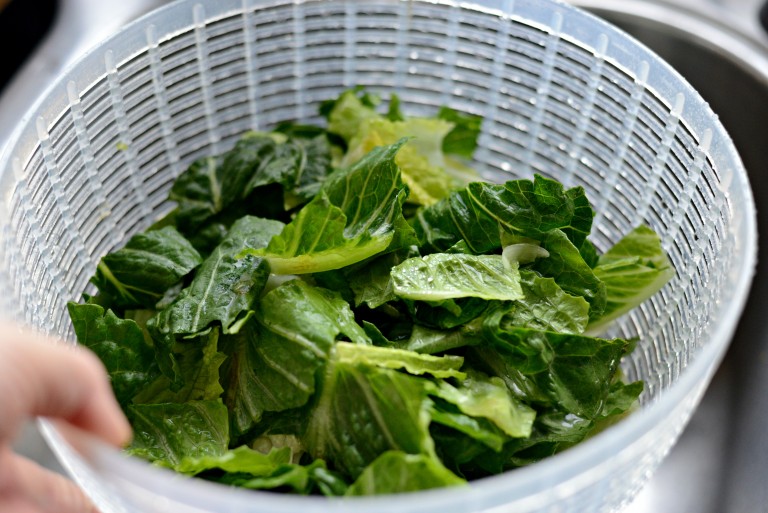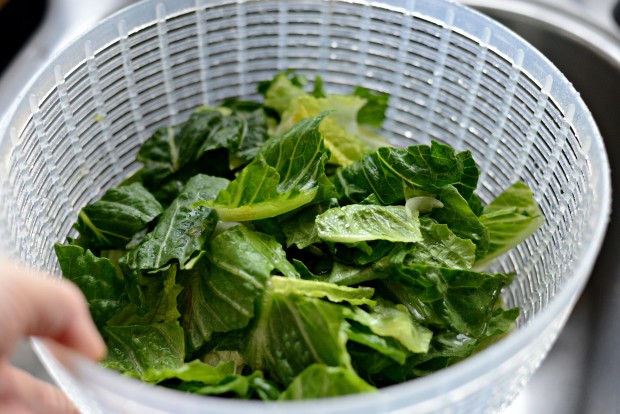 … wash and dry well. Repeat with the second half of the romaine.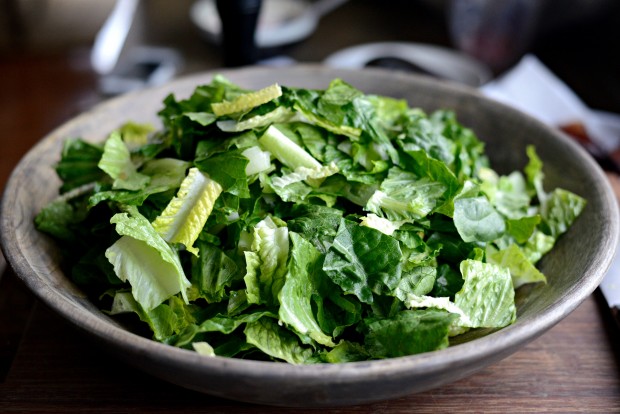 Add the chopped lettuce to a large bowl.
Cut an avocado in half and remove the pit. Peel the skin off and place cut-side down onto a cutting board and slice thin.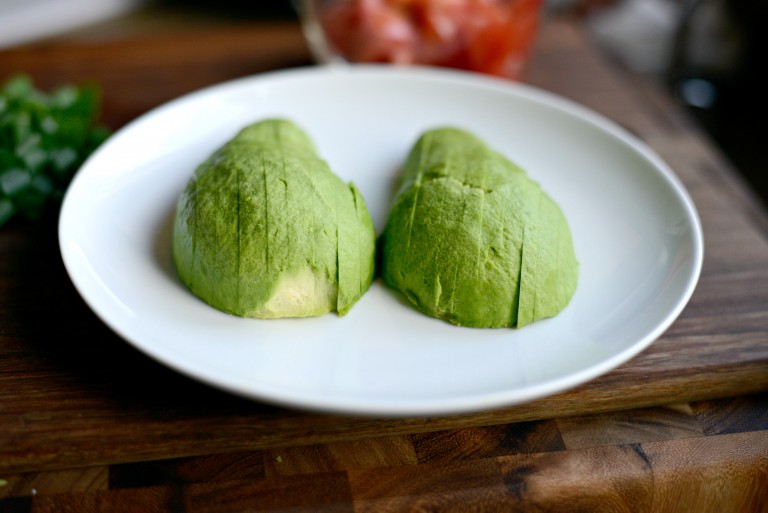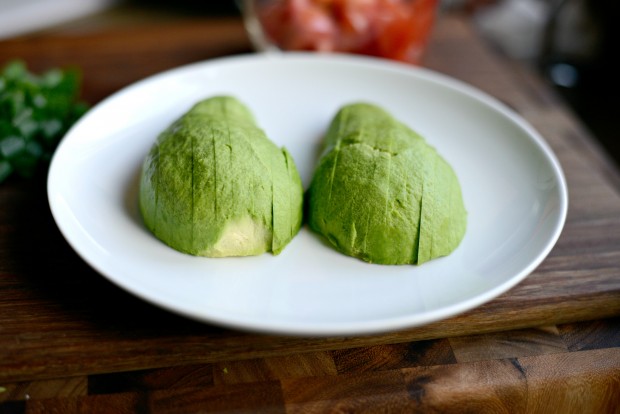 Like so.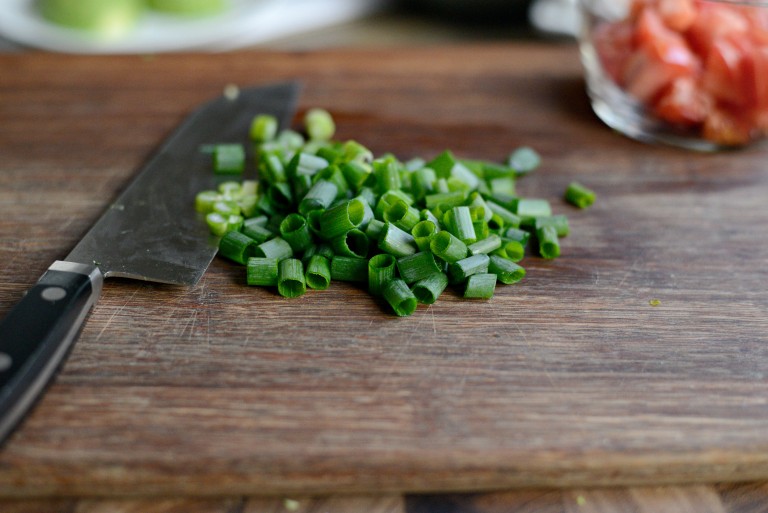 Slice up 4 green onions…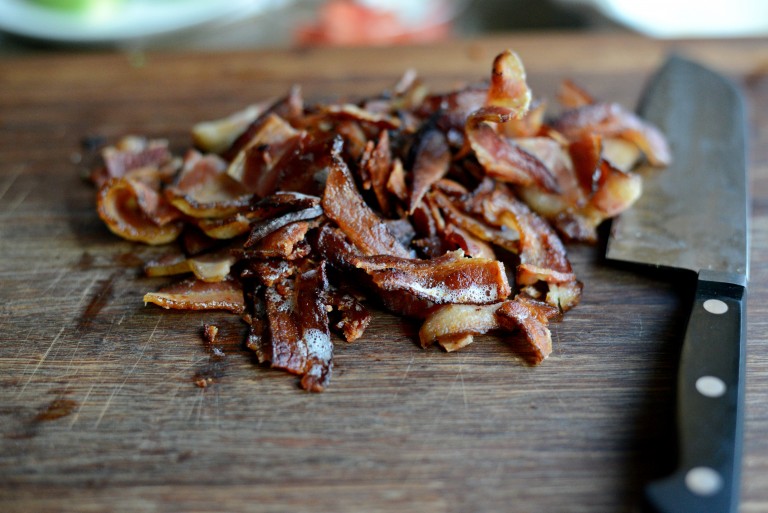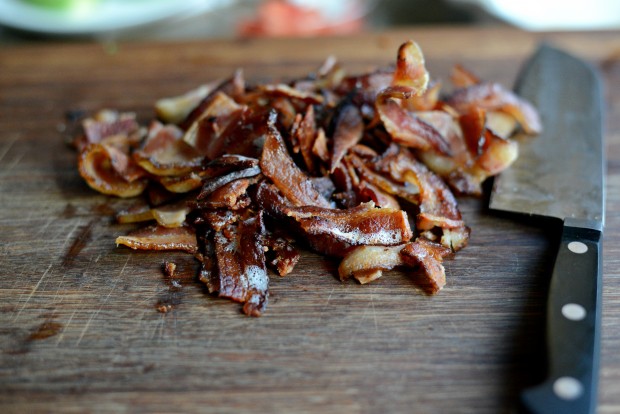 And coarsely chop all that glorious bacon.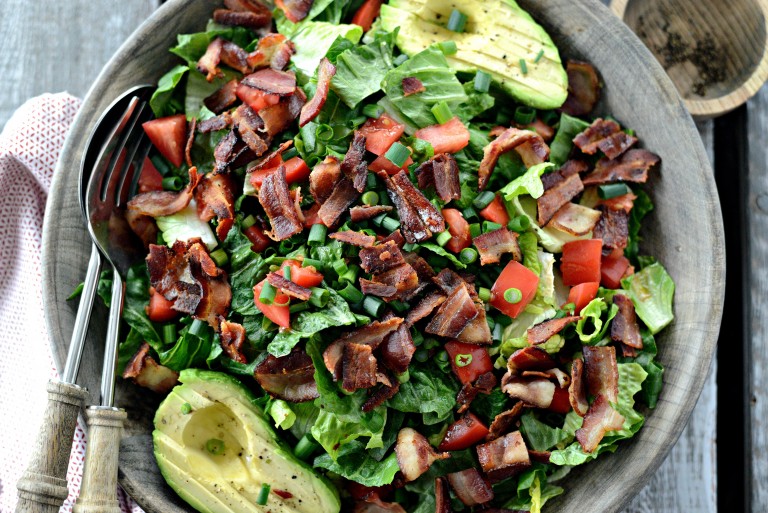 Lastly, sprinkle the reserved chopped tomatoes, the crispy bacon pieces and green onions over top of all that chopped lettuce. Then I wedge the avocados along the edge of the bowl. For this post, I only cut up 1 avo- when serving you'll need 2 or 4 avocado halves. I didn't want the avocado to brown and go uneaten, since I was the only one that would be eating this salad the afternoon I made it. I just cut up another one the next day when I ate the rest of the salad for lunch.
Hold up. Did I just admit to eating this entire salad in 2 days all by myself?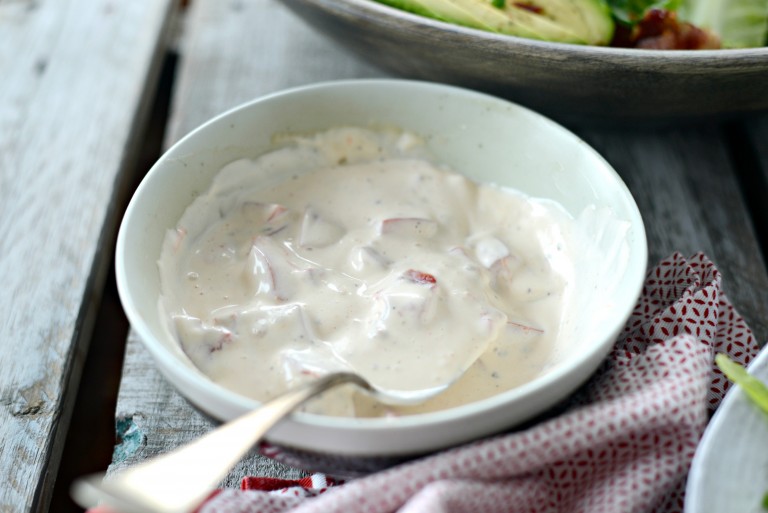 I have no regrets. Especially about that dressing! One word: scrumptious!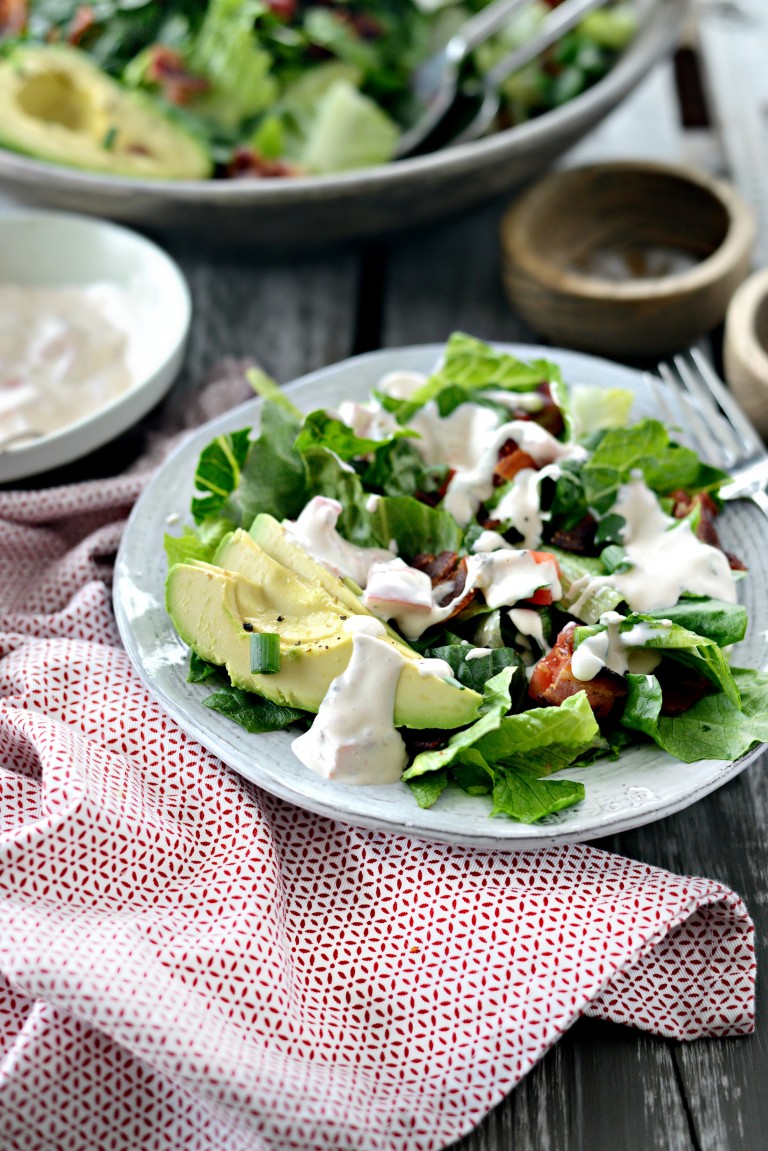 As you can see, I've taken a bajillion pictures of this B.L.A.T. salad hoping to sway you to make it asap! It's the best salad, ever.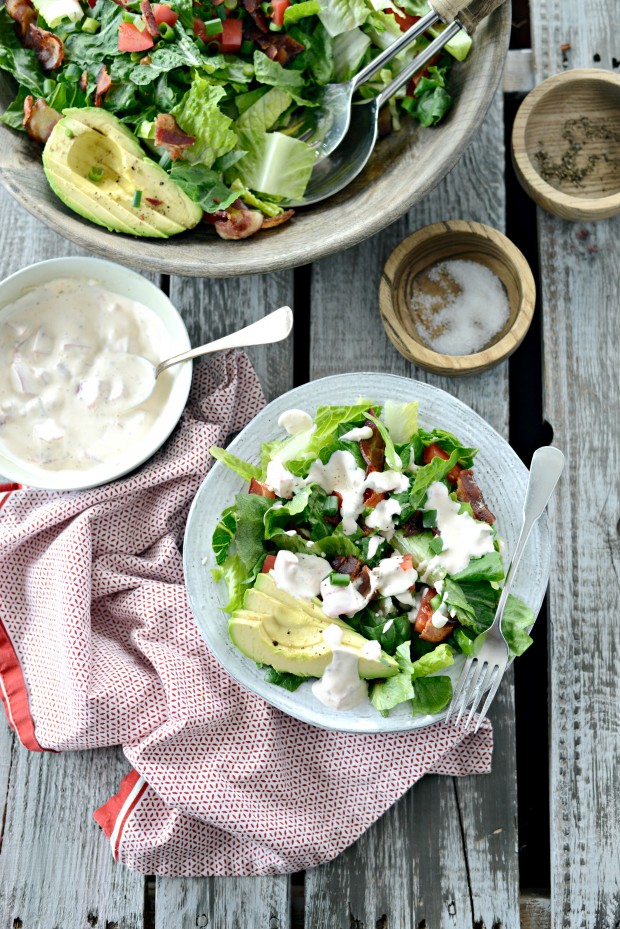 You get all the flavors of a B.L.A.T. sandwich minus the carbs.
Your taste buds will thank you!
Enjoy! And if you give this B.L.A.T Salad recipe a try, let me know! Snap a photo and tag me on twitter or instagram!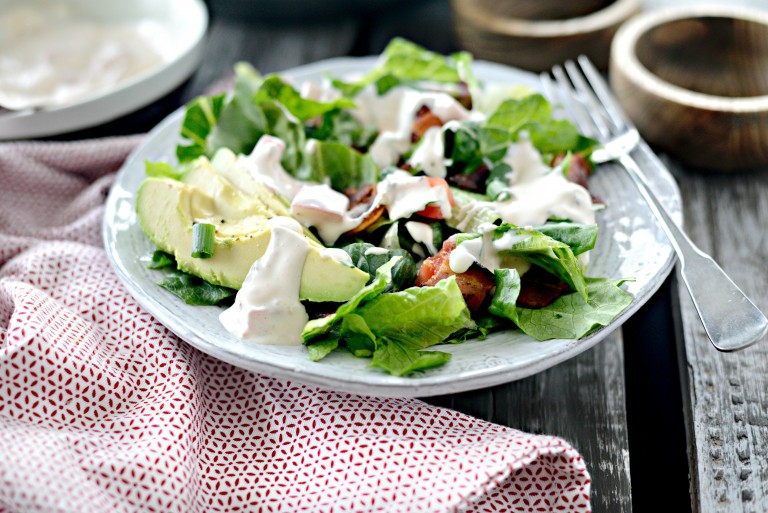 My cookbook Simply Scratch : 120 Wholesome Homemade Recipes Made Easy is now available! CLICK HERE for details and THANK YOU in advance!
[this post contains affiliate links.]
This post may contain affiliate links.
Buy the Cookbook: Simply Scratch : 120 Wholesome Homemade Recipes Made Easy Now available on Amazon »
THANK YOU in advance for your support!