Rosemary, smoked sea salt fingerling potatoes roasted until crispy. Serve with roast chicken, steak and/or anything in between.
I hope you don't mind, but I have yet another easy side dish for you.
A few Sundays ago I had plans to roast a whole chicken for dinner but with zero side dish plans. Pat and I headed out and stopped by our nearby market to grab some things to go with the chicken and a few things for the week. Three pound bags of fingerling potatoes immediately caught my attention, so I grabbed a bag and a few heads of broccoli (for roasting!) to go with our dinner.
Once I was home I quickly pulled this recipe together with the help of my rosemary plant. I love the smell of fresh rosemary. The plant is right by our front steps and I frequently rub my fingers along its branches just to breathe in that woodsy smell.
This recipe is one of those just-sort-of-happened kind of recipes. It's so incredibly simple with its straight forward ingredients and the smoked salt really adds a whole lot of flavor. A simple side dish consisting of 5 ingredients and goes with just about everything. What's not to love?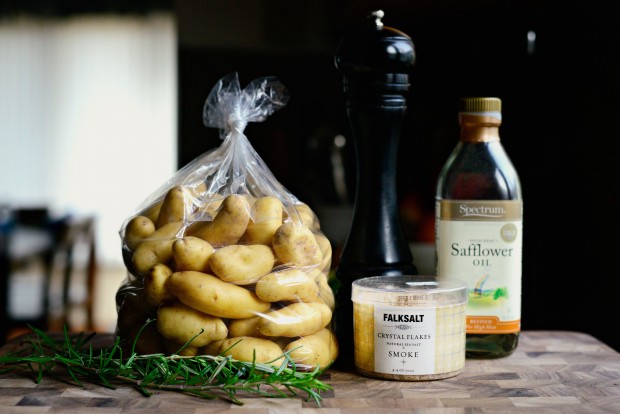 Here are those simple ingredients I was talking about. Nothing too fancy, well, except for that smoked salt maybe.
I weighed out 2 pounds of fingerlings…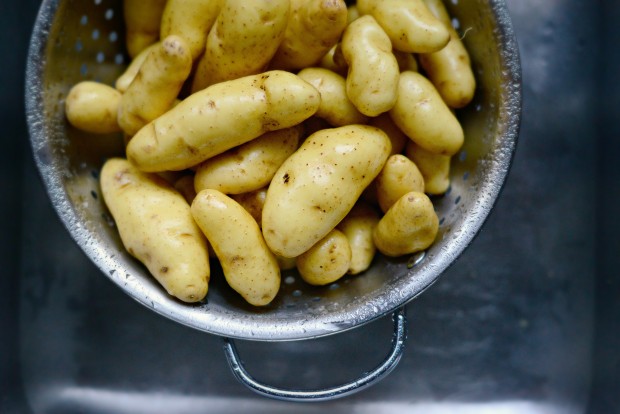 …and gave them a good rinse…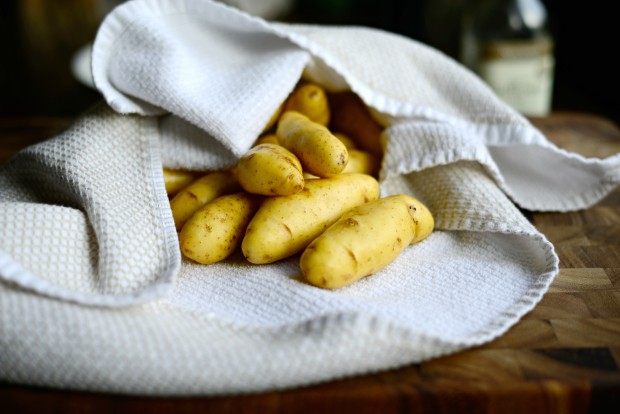 …and pat dry with a kitchen towel.
Slice the fingerlings lengthwise in half.
Strip the leaves from a few rosemary sprigs.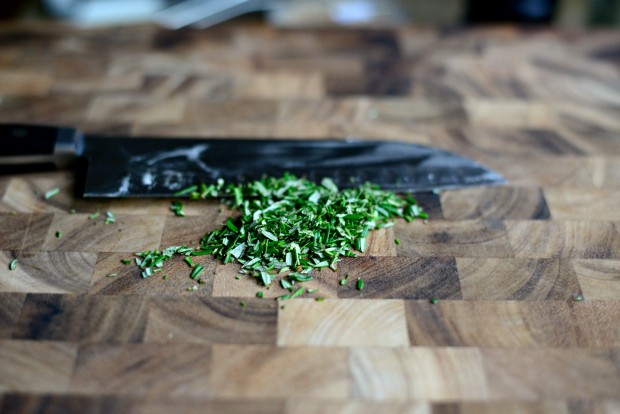 Then use a sharp knife and mince away.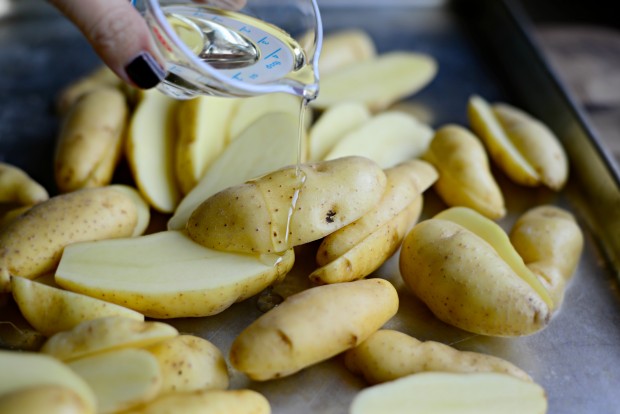 Next, place the potatoes onto a metal baking sheet and drizzle with oil.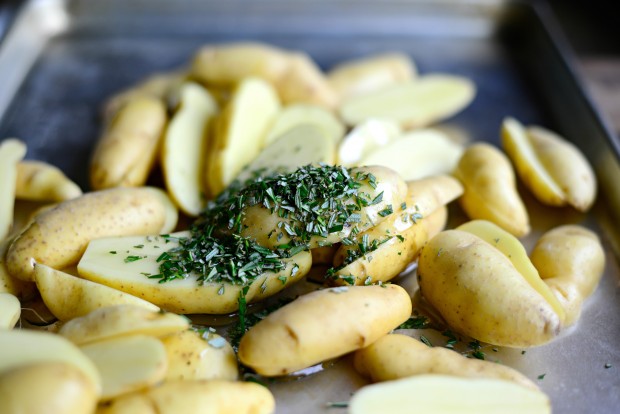 Then add the minced rosemary leaves…
Grab the smoked salt and measure out and add a tablespoon of it.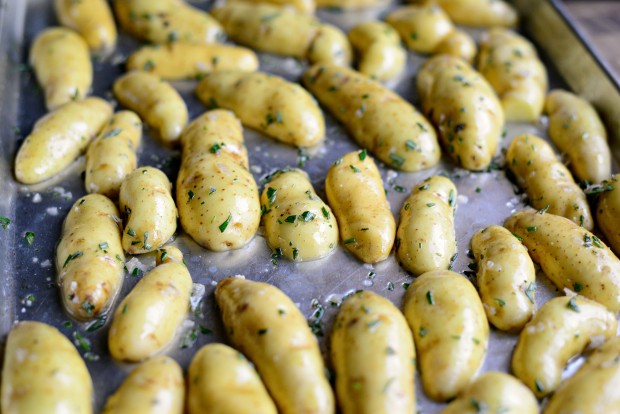 Next, toss until the potatoes are covered generously in oil, the salt and rosemary. Roast in a 400 degree oven for 30-35 minutes or until the bottoms are crispy and deep golden brown.
Don't attempt to try to flip them while they're in the oven or half of the the potato will be stuck to the pan. Be patient and allow the potatoes to cool for about 5 minutes before trying to remove them.
Then season the potatoes with a few grinds of fresh black pepper. Done.
Crisp, salty and rosemary-y on the outside and soft, tender and buttery on the inside. You will love them. Promise.
Enjoy!
My cookbook Simply Scratch : 120 Wholesome Homemade Recipes Made Easy is now available! CLICK HERE for details and THANK YOU in advance!
[this post contains affiliate links.]
This post may contain affiliate links.
Buy the Cookbook: Simply Scratch : 120 Wholesome Homemade Recipes Made Easy Now available on Amazon »
THANK YOU in advance for your support!