This toasted garlic olive oil bread dip is the easiest of starters for any meal. Serve hunks of bread around little ramekins of this toasted garlic oil and watch it disappear!
Please tell me you've had this before and have experienced the deliciousness that is bread dipped in olive oil with crispy fried garlic in it.
Back in the day, Pat and I would go to this popular Italian restaurant chain for two reasons; the cheesecake and this garlicky appetizer. Before taking our order, the waiter or waitress would stop by our table with a small dish filled with toasted garlic and a carafe filled with olive oil. They'd do some fancy hand maneuver and swirl the oil into the toasted garlic bits. We tear the bread, I'd fight him over the last of the loaf and the remaining garlic bits.
I've only ever seen this at that restaurant and since it's now too far for us to drive to and maybe even no longer open, I make my own version.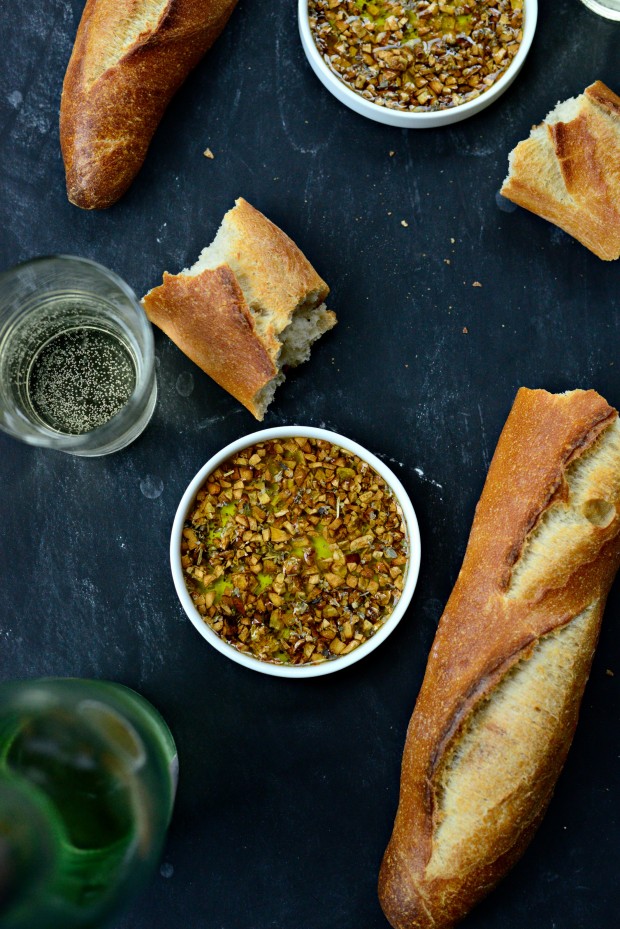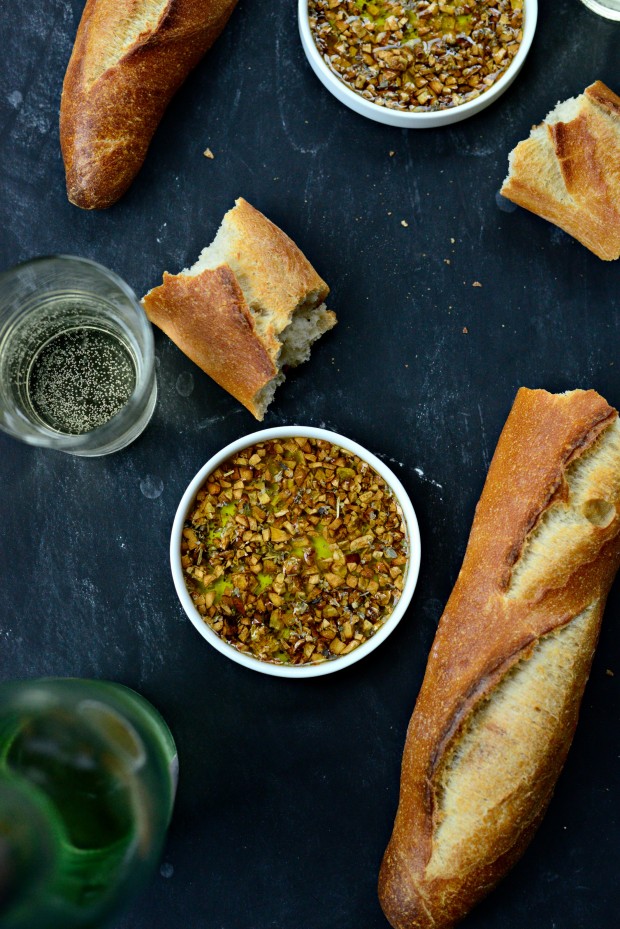 This toasted garlic olive oil is an easy appetizer to whip up on short notice. Most of us have the ingredients on hand already and all you'll need to do is swing by a bakery for a crusty baguette. This is my go-to app for most occasions, especially ones that include wine and girlfriends and baked Brie.
To Make This Toasted Garlic Olive Oil Bread Dip You Will Need:
fresh garlic
extra light oil (for frying)
extra virgin olive oil (for serving)
a large crusty baguette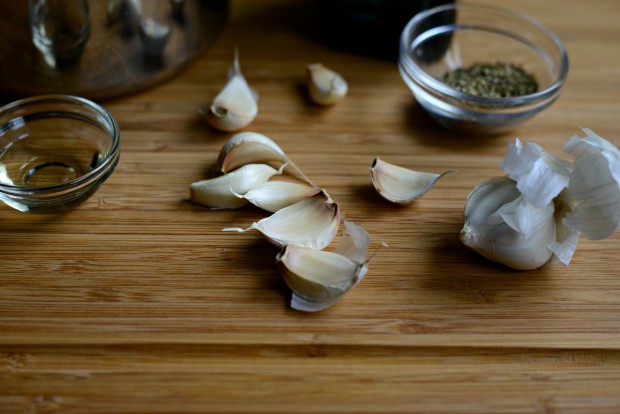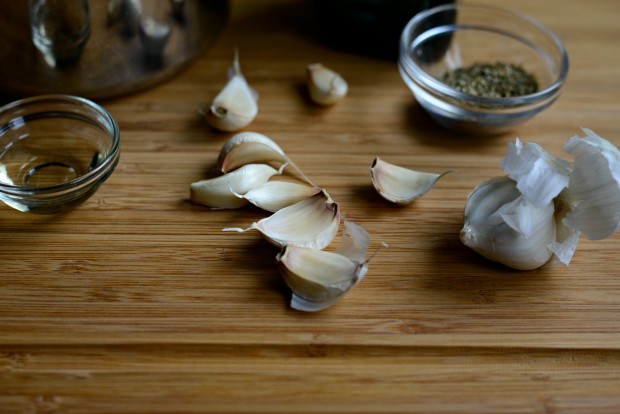 Remove about 6 to 8 large cloves of garlic from a head of garlic, leaving the outer skin on.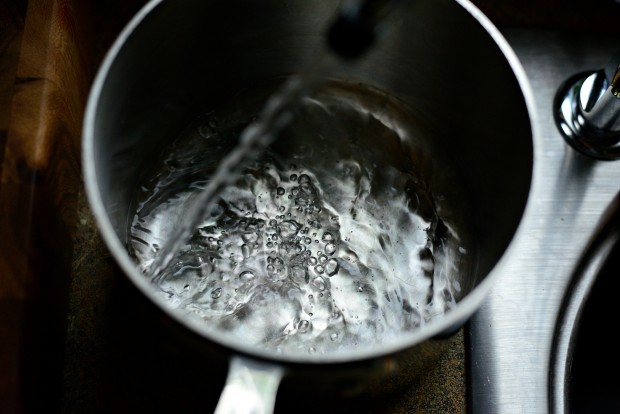 First fill a medium saucepan with water…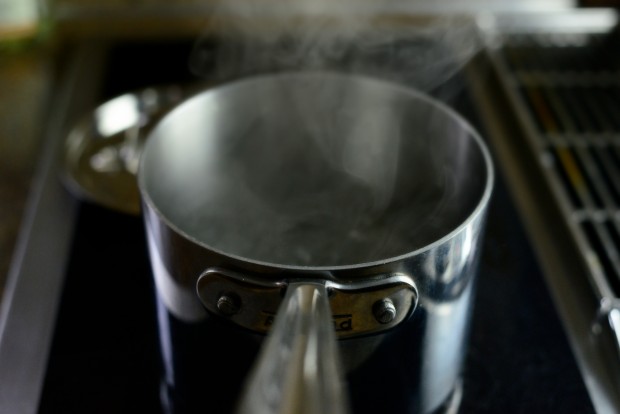 …and bring it to a boil.
Then reduce the heat to medium-low and add in the garlic cloves.
Simmer the garlic cloves for about 10 minutes or until you can easily pierce a clove with a fork.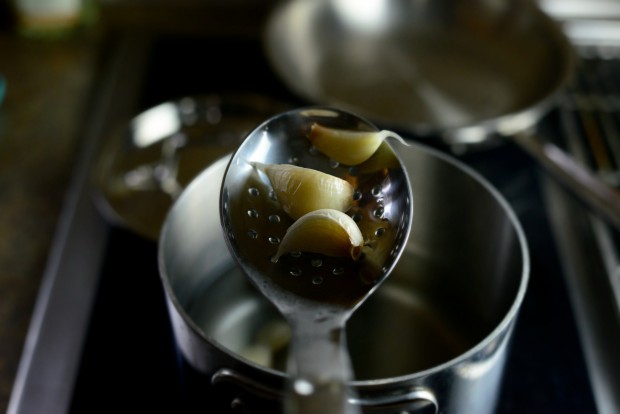 Use a slotted spoon to transfer the garlic to a cutting board.
When safe enough to handle, peel the skins from each clove of garlic.
Just in case you were wondering, jarred garlic will not work in this recipe
Then mince them up pretty fine and uniformly.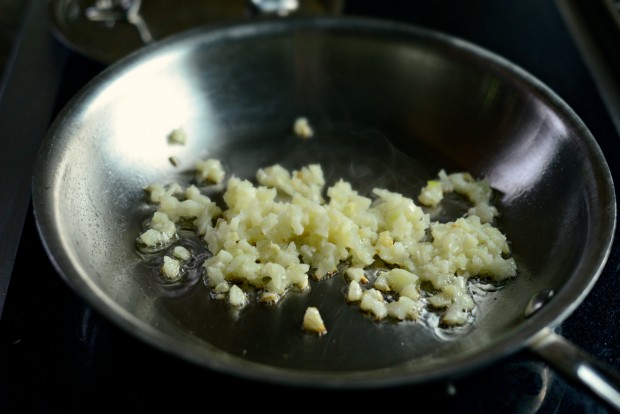 Then heat 1 tablespoon of extra light olive oil in a small, 8-inch skillet over medium heat. Once hot add in the garlic and stir often.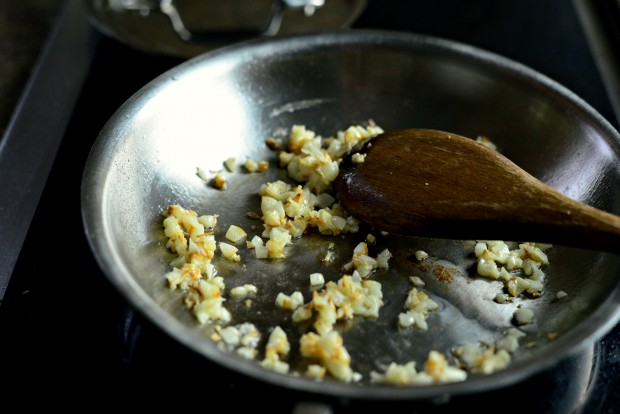 Keeeeep stirrrring!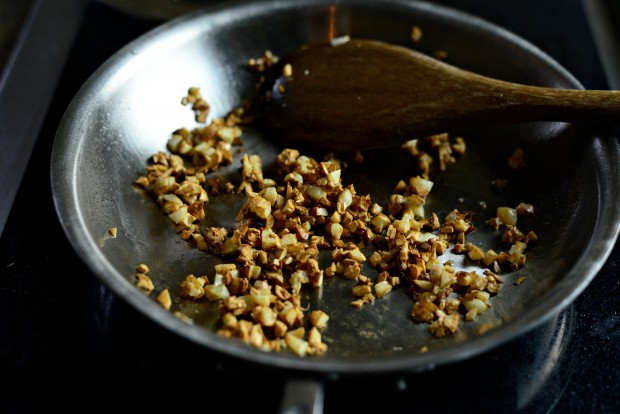 The key is to not over toast. Over toasting the garlic will make it bitter and grody.
Then transfer the garlic to a paper towel lined plate. The garlic will continue to crisp as it cools.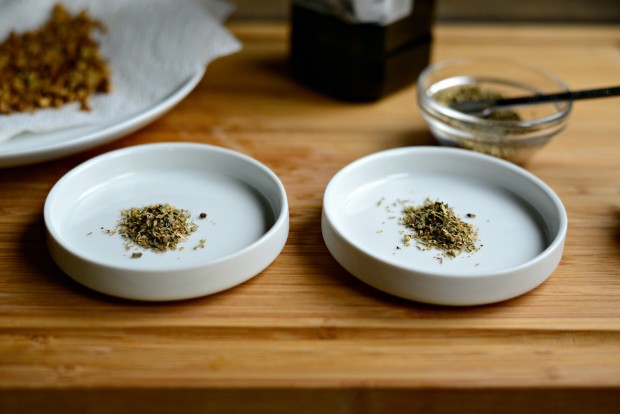 Meanwhile, divide 1-1/2 teaspoons of Italian seasoning among 2 small plates.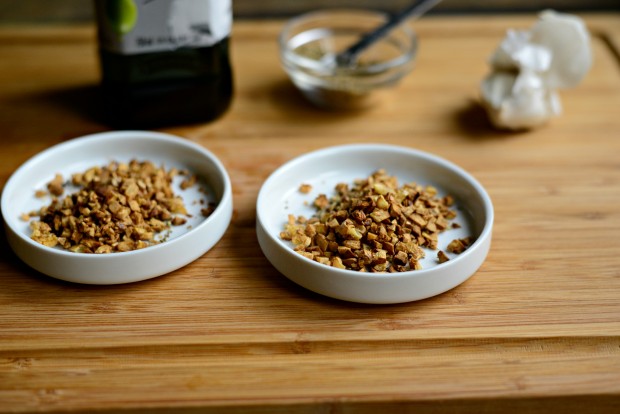 Then divide the toasted garlic pieces.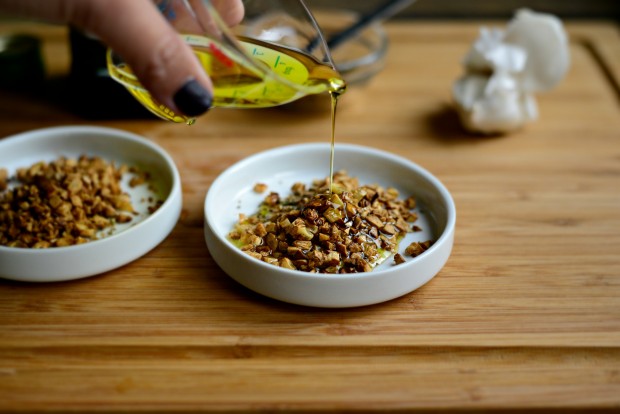 Lastly drizzle 1/4 cup of olive oil (or more depending on plate) over the garlic and dried herbs.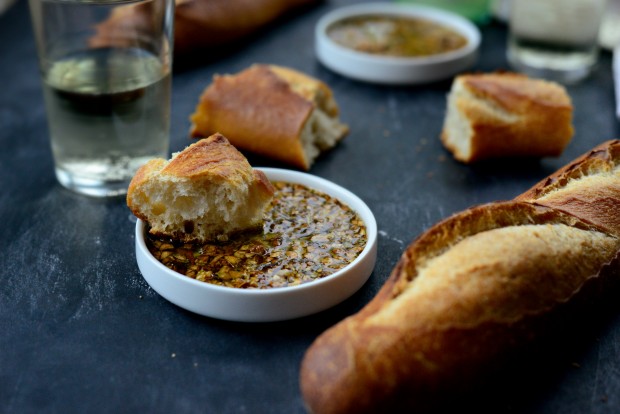 Lastly, tear of hunks of bread and start dipping into the toasted garlic olive oil.
Garlic breath here we come!
Enjoy! And if you give this Toasted Garlic Olive Oil recipe a try, let me know! Snap a photo and tag me on twitter or instagram!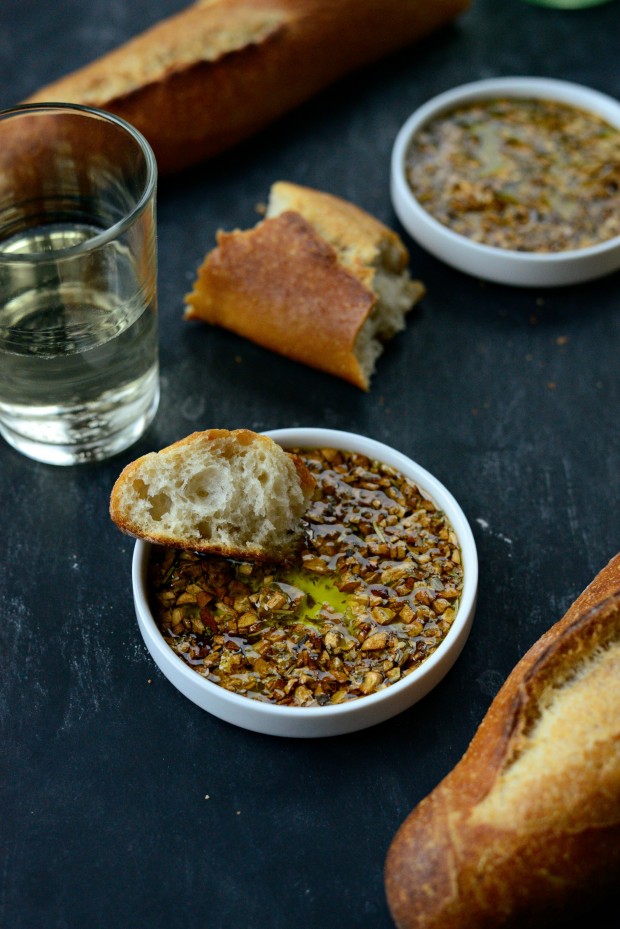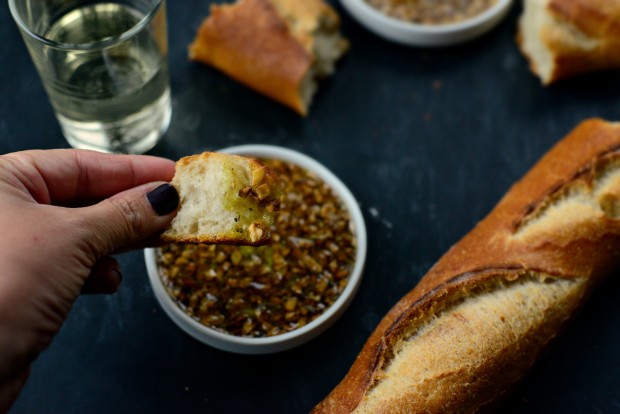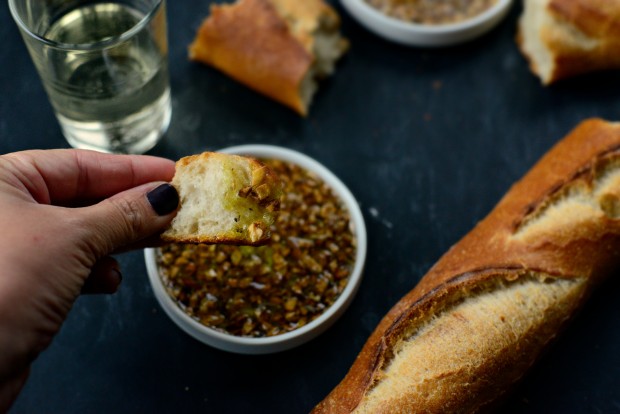 This post may contain affiliate links.
Buy the Cookbook: Simply Scratch : 120 Wholesome Homemade Recipes Made Easy Now available on Amazon »
THANK YOU in advance for your support!