Filipino Pancit is a popular dish that is typically has a protein (chicken and/or pork), carrot, cabbage, spices and such and tossed thin rice noodles.
I like to broaden my family's ethnic cuisine horizon from time to time.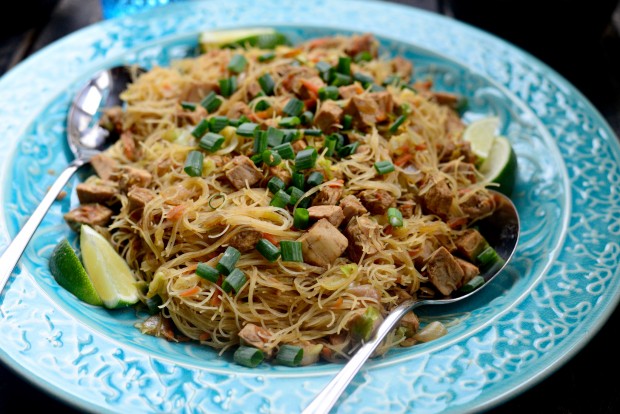 Like when I made this North African shrimp dinner, these Moroccan lettuce wraps and the super delicious shawarma skewers. They're getting better at the whole "trying new things" concept because 9 times out of 10 they actually like it. Huh, imagine that?
So this is my newest recipe to throw at them and my latest addiction; pancit. Pancit is a popular Filipino dish that typically has a protein (chicken and/or pork), onions, garlic, carrot, cabbage, spices and such and tossed with soaked, thin rice noodles. It's good. REAL good. I'm actually eating a bowl of it as I try to type. Noodles are everywhere.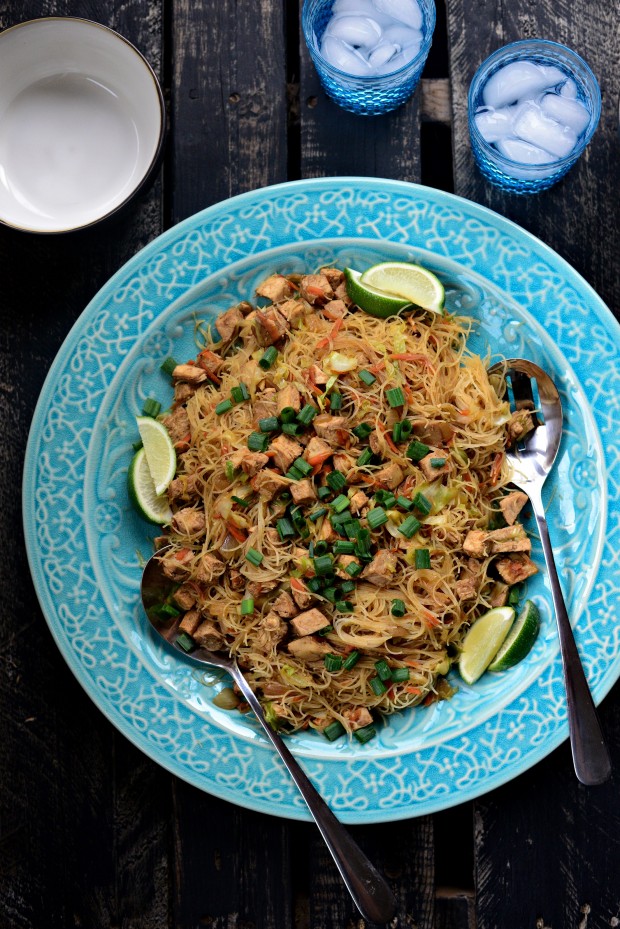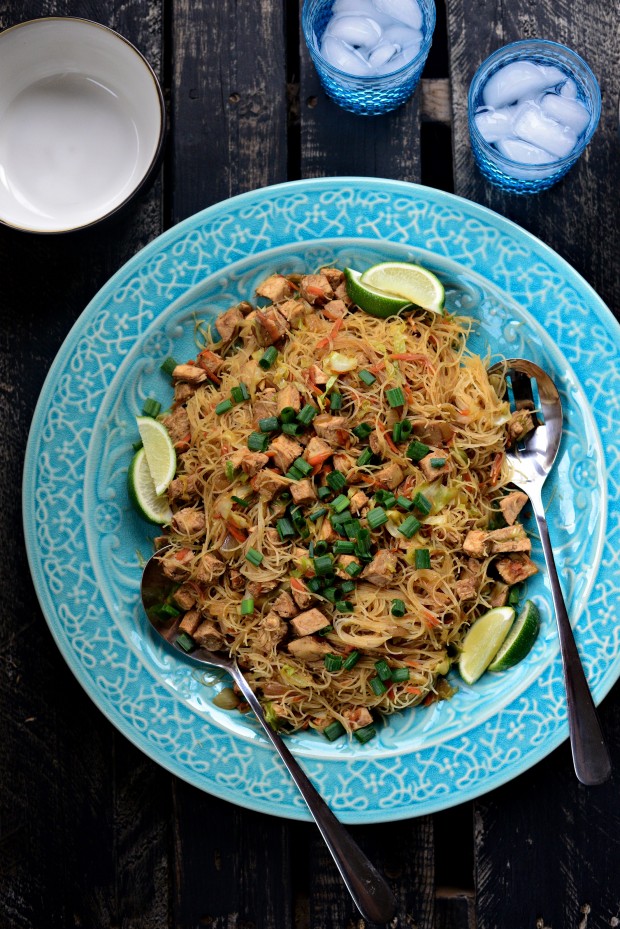 This Filipino pancit recipe is from a Filipino friend/co-worker of my Mom's that she worked with at the hospital. So I can only assume that it's pretty close to authentic. There's probably lots of different methods, ingredients and things to change this up; more vegetables, more garlic… but this is the recipe my mom has always made. Did I mention it's fantastic?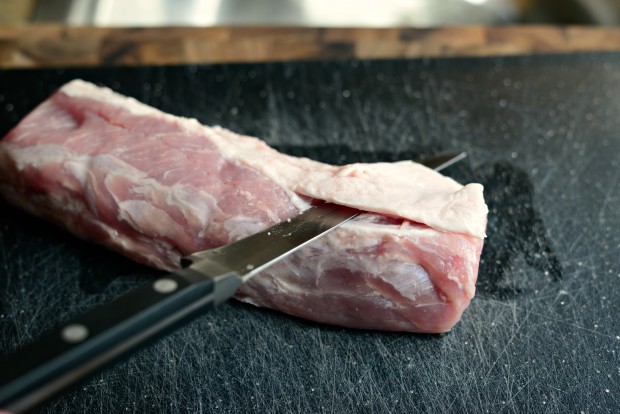 To start, you'll need a pound of both pork and chicken. I found a 1 pound pork loin and with a sharp knife, removed the thick layer of fat.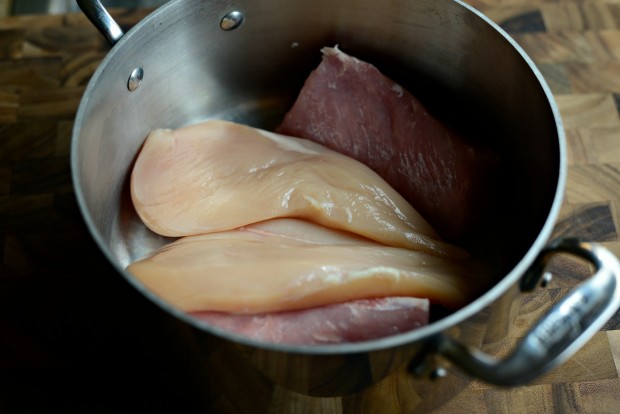 Then I cut it in half to fit into a pot along with a pound of boneless, skinless chicken breasts.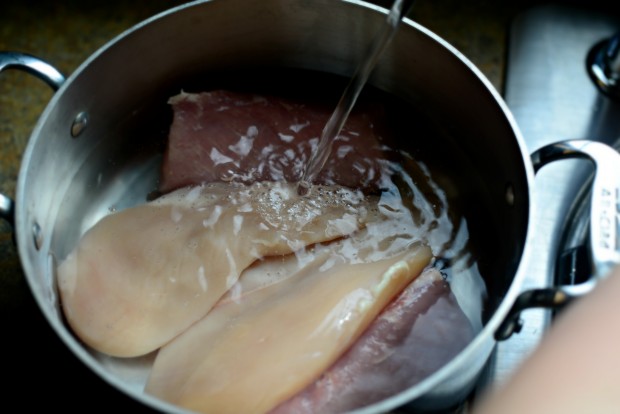 Then fill the pot with with enough water to cover the chicken and pork…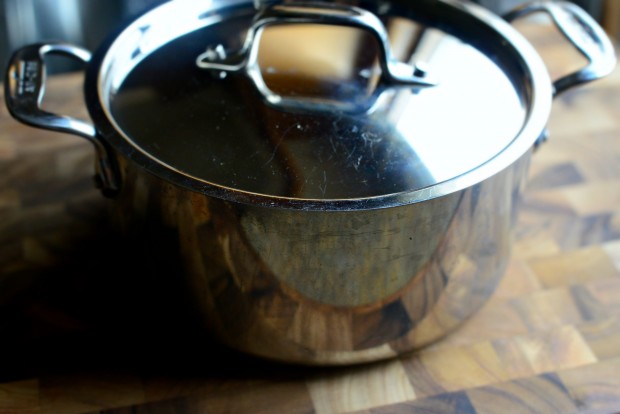 Cover with a lid, bring to a boil and poach for 20 minutes.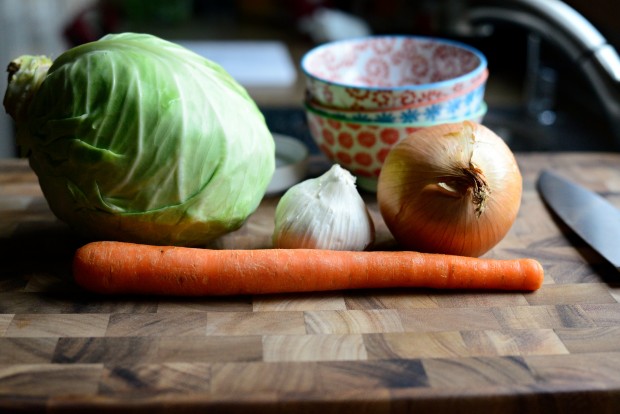 Meanwhile prep the veggies!
I bought a teeny tiny head of cabbage at the store. Trim off the core and cut in half…
Slice…
…and coarsely chop. You only need a cup and a half.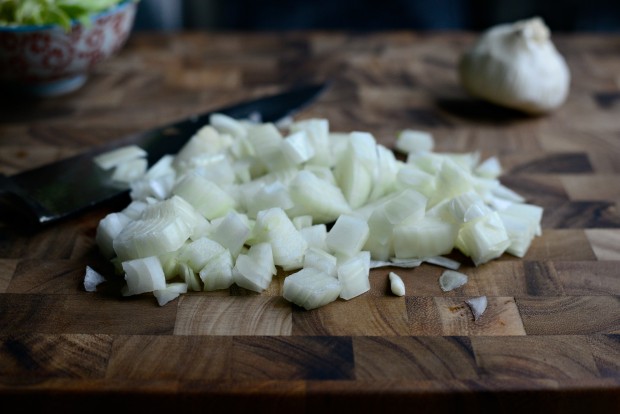 Dice up one medium yellow onion…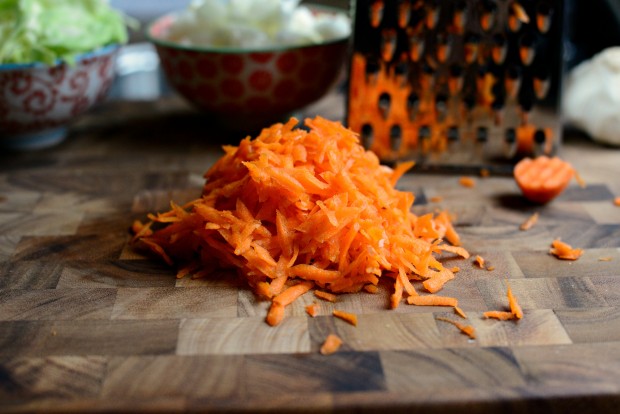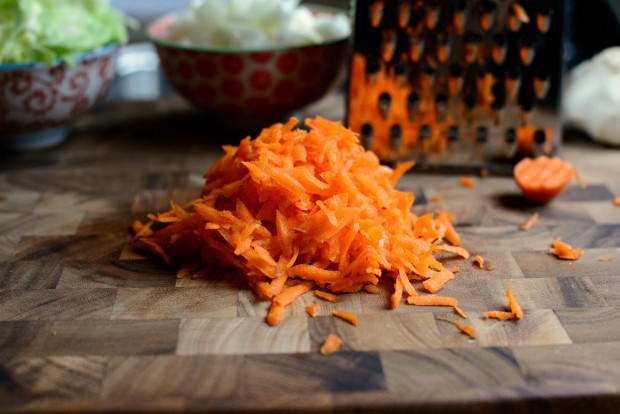 And grate 1 large carrot or 3/4 cup.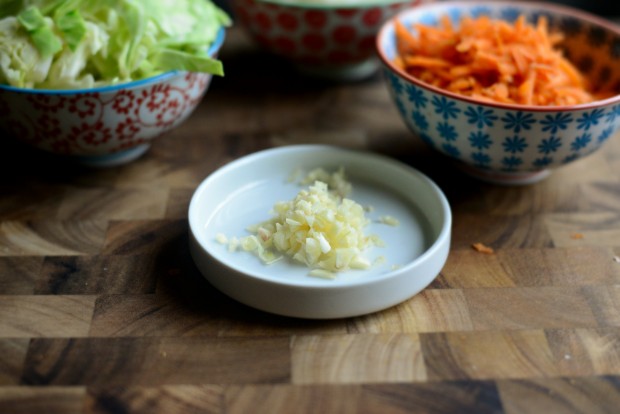 Lastly, mince up three large cloves of fresh garlic.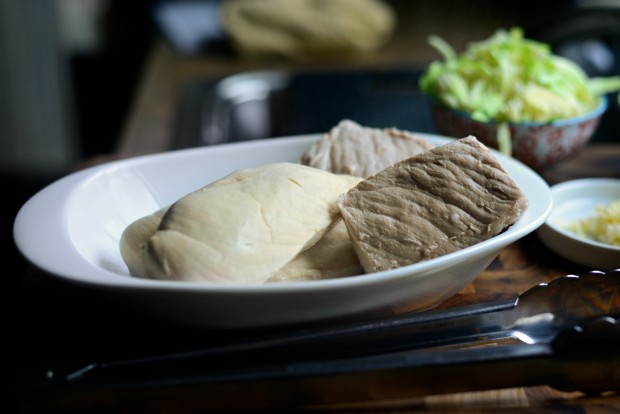 Once the chicken and pork are cooked, use tongs to remove and set aside to cool slightly. Do NOT pour those cooking liquids down the drain, you'll need them in a little bit.
Once the meat has cooled and is safe to handle, dice into bite-size pieces.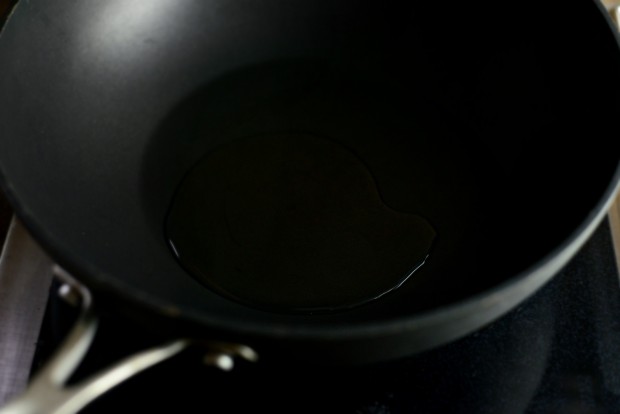 Heat a large wok, or cast iron skillet with a tablespoon of safflower oil over medium-high heat.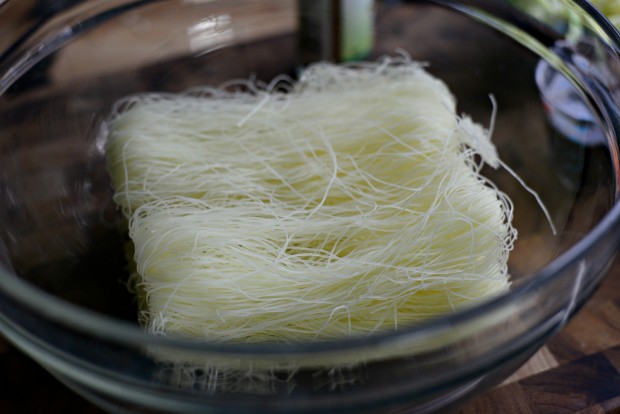 While the pan is preheating, place the rice noodles into a large bowl.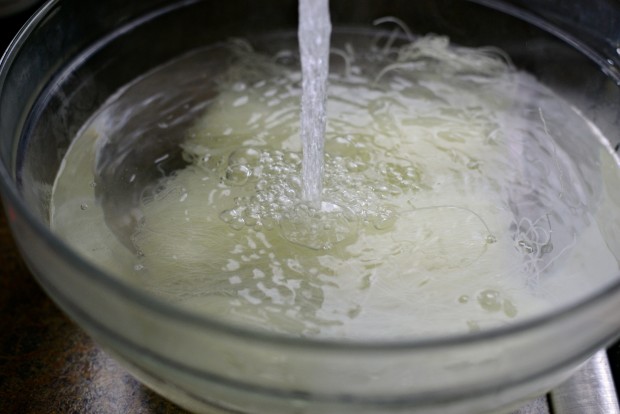 Cover with hot tap water…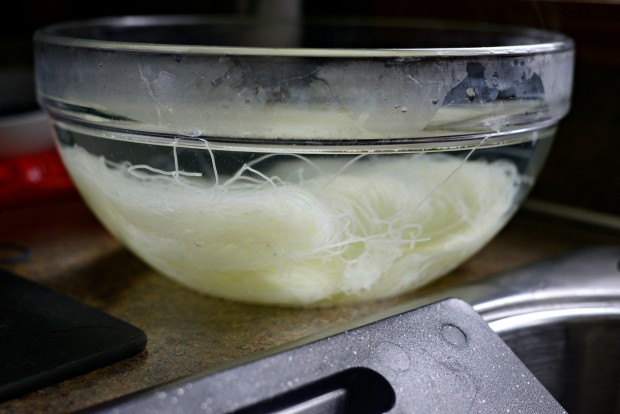 …and let them soak for 8 minutes.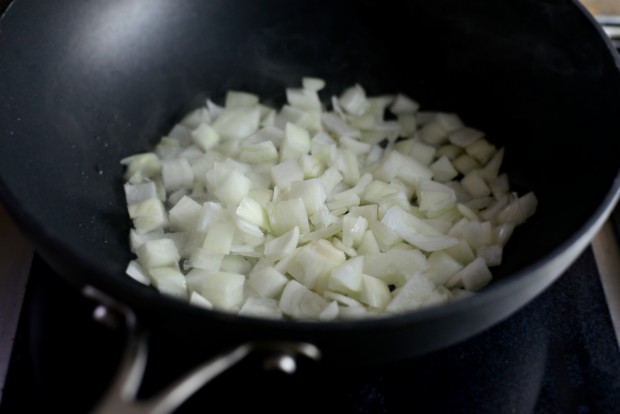 Meanwhile, add the onion to the hot wok…
…and cook until soft.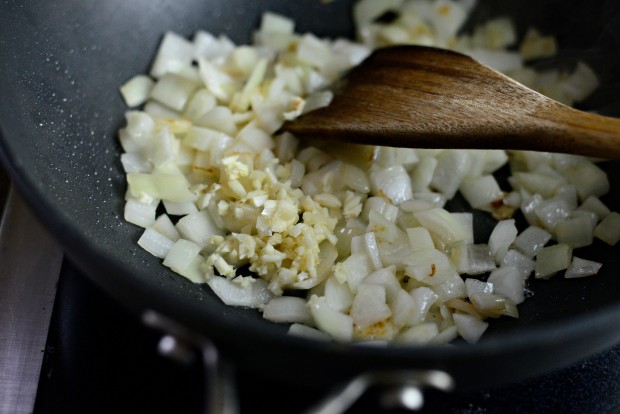 Add in the minced garlic and cook for 1 minute.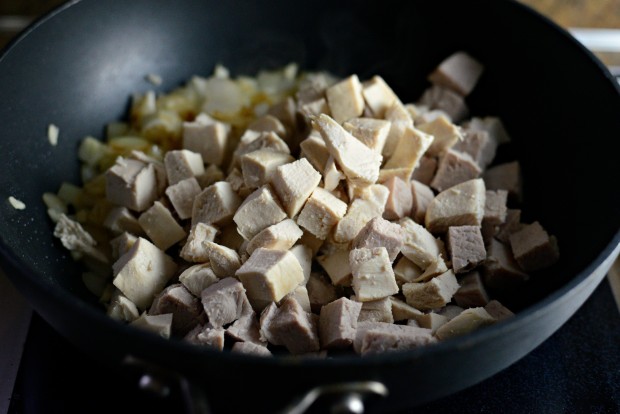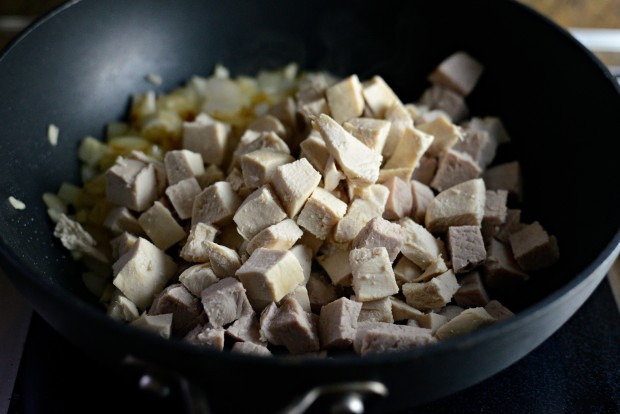 Next, add in the cubed pork and chicken.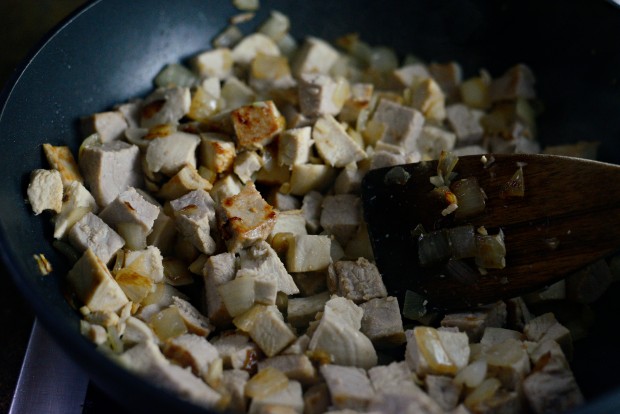 Toss to coat in the oil and cook for 4 to 5 minutes or until they start to brown.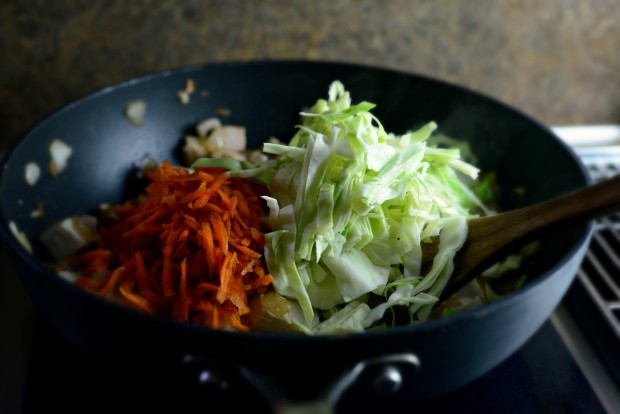 Throw in the grated carrot and chopped cabbage…
Stir and cook for 2 minutes.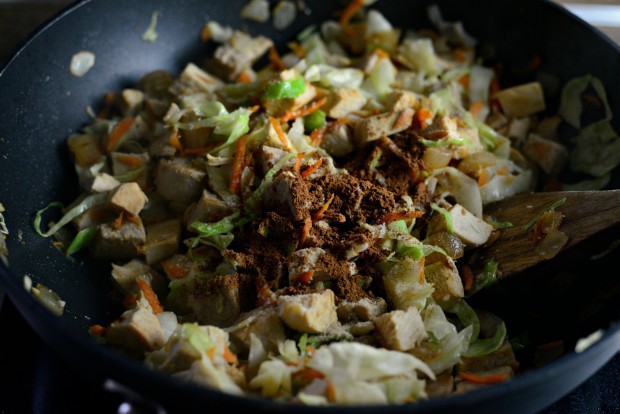 Add in 1/2 teaspoon of kosher salt, 1/4 teaspoon white pepper and 1 to 1-1/2 teaspoons Chinese 5-spice.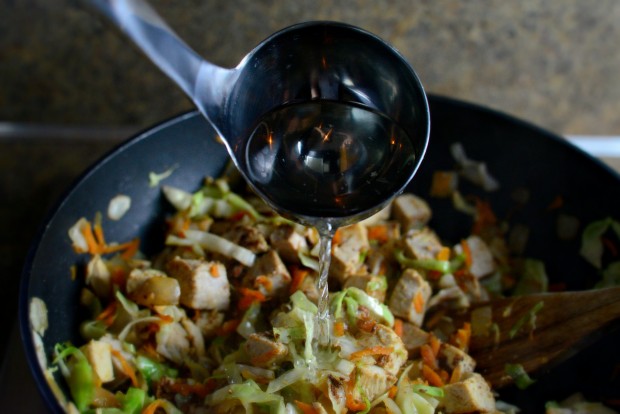 Add in a ladle or two of the reserved cooking liquids…
…3 tablespoons low sodium tamari (or use low sodium soy sauce if you have that).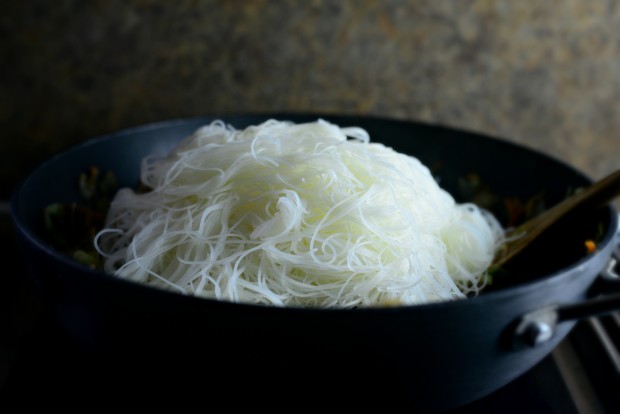 Drain and add in the rice noodles.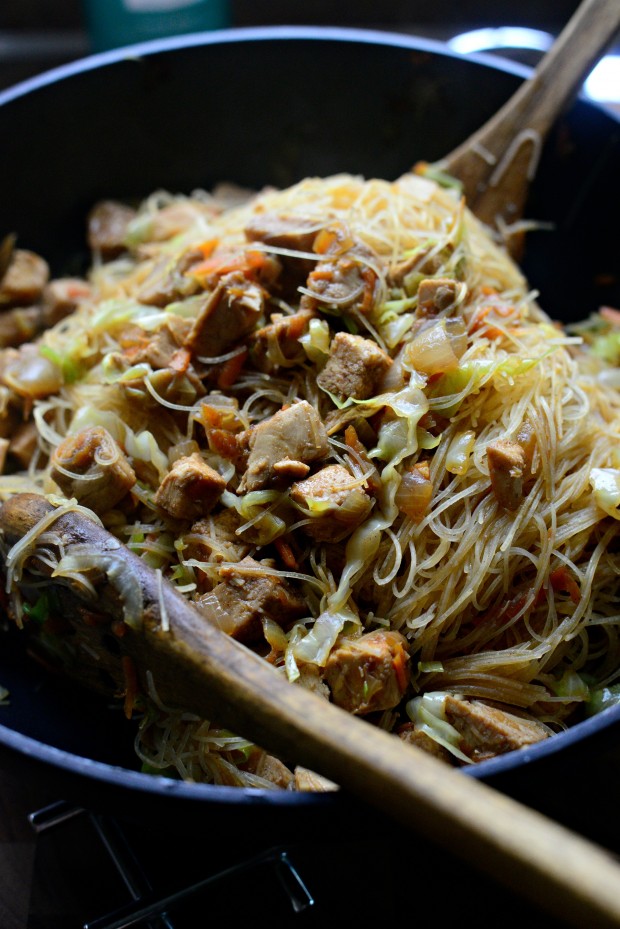 Toss one last time to combine, adding more cooking liquids as needed.
Serve with sliced green onions and lime (or lemon) wedges.
Finally, serve family-style and dig in!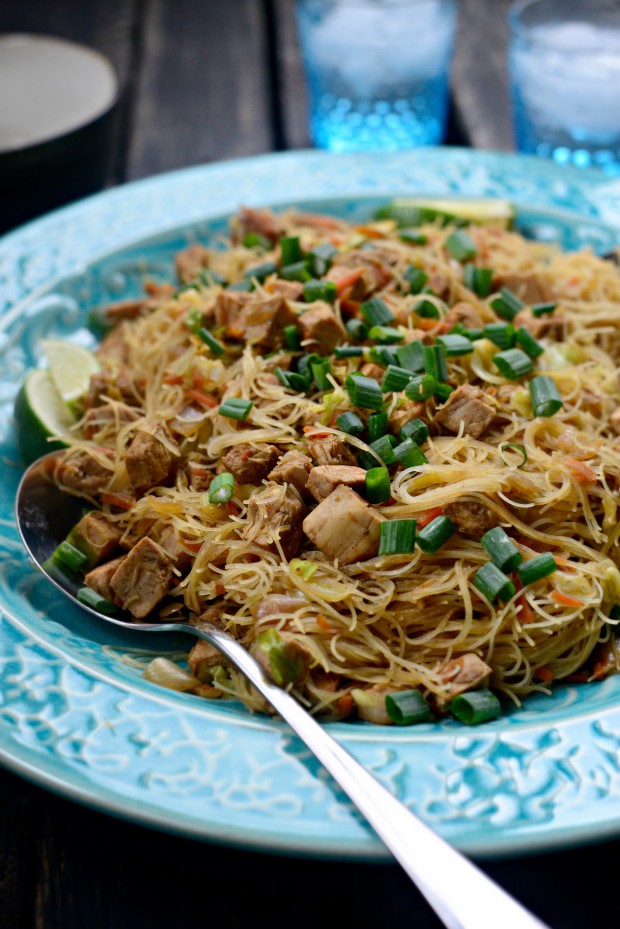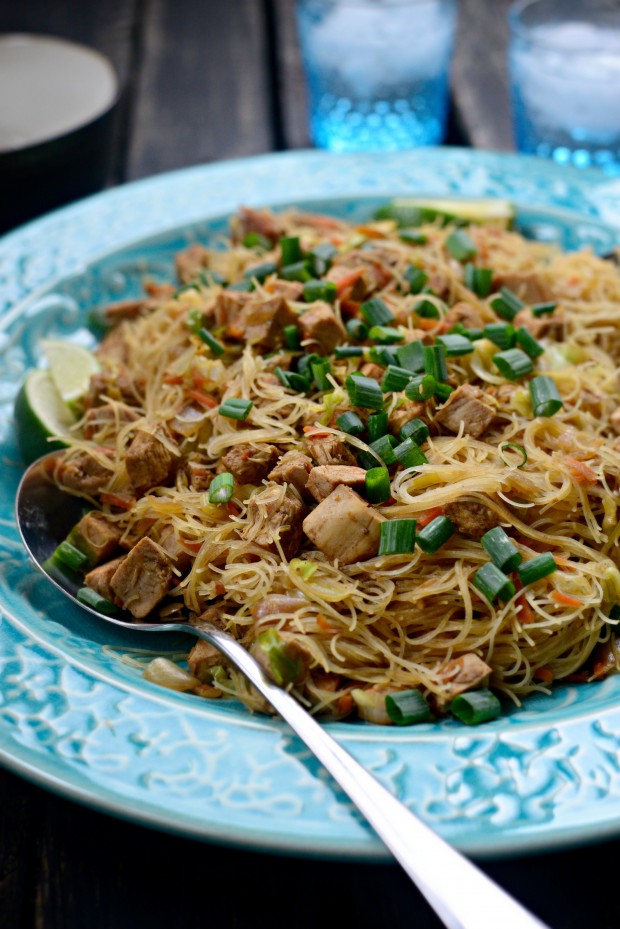 My husband and I are gluttons for spice. I add a smidge of chili paste to mine, hot sauce for him. But a pinch or seven of red pepper flakes would work just fine too.
Enjoy! And if you give this Filipino Pancit recipe a try, let me know! Snap a photo and tag me on twitter or instagram!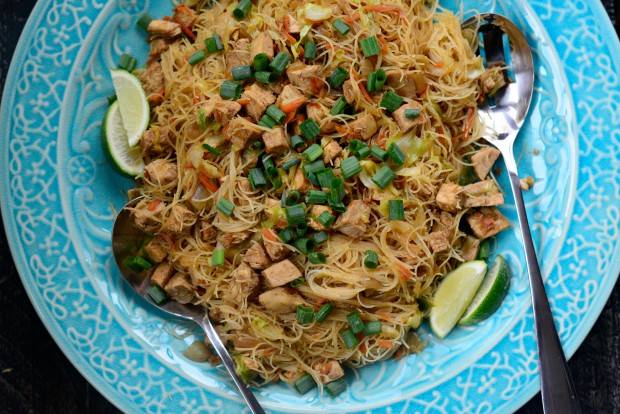 My cookbook Simply Scratch : 120 Wholesome Homemade Recipes Made Easy is now available! CLICK HERE for details and THANK YOU in advance!
[this post contains affiliate links.]
This post may contain affiliate links.
Buy the Cookbook: Simply Scratch : 120 Wholesome Homemade Recipes Made Easy Now available on Amazon »
THANK YOU in advance for your support!