Grilled Thai Chicken Satay served over flavorful ginger coconut rice… oh and there's a delicious peanut sauce too!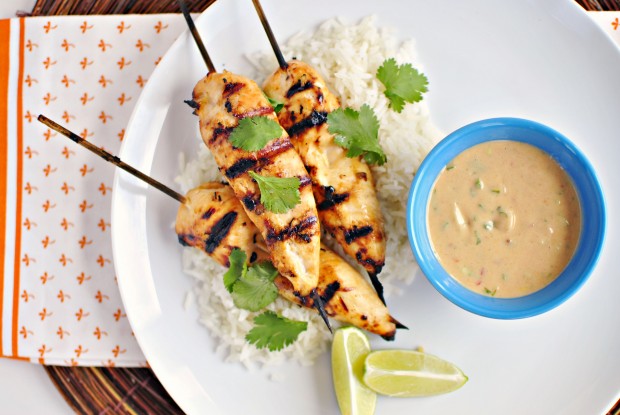 Today it's two recipes for the price of one. I'm feelin' generous and one really needs to go with the other in order to experience the whole delicious effect. It's a harmony of sorts. You'll dig it.
Well I'm happy to report spring has finally sprung here in the mitten! It's been in the 70's and going strong so this weekend I decided to dust off my grilling recipes. In this Thai-inspired grilled satay, chicken marinates in a delicious concoction of coconut milk, lemongrass, lime juice and garlic.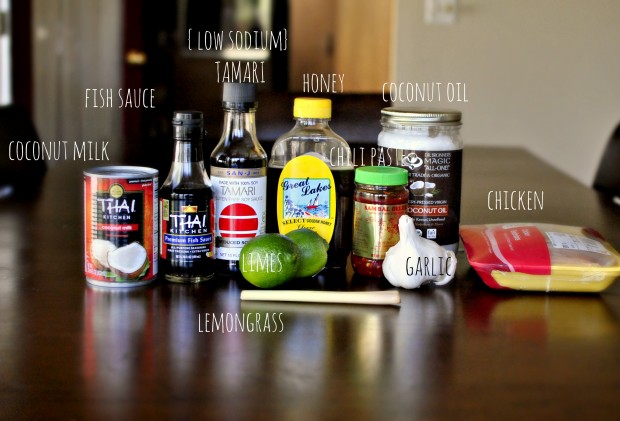 So you guys, this easy chicken satay recipe was one I've been working on for a while now and I know you'll like it. Ever since I had made these beef skewers last year I wanted to make a chicken version… but with a little Thai flair. I wasn't sure how these would go over with my family, one isn't a coconut fan and the other isn't a fan of peanut butter anything [WHAT?] she's obviously adopted. Just kidding! But once I saw everyone's empty plates I knew it was a hit. Pat said the Thai Chicken Satay were really good and my youngest told me "I'm totally diggin' this chicken Mom".
So you see, you're destined to love these.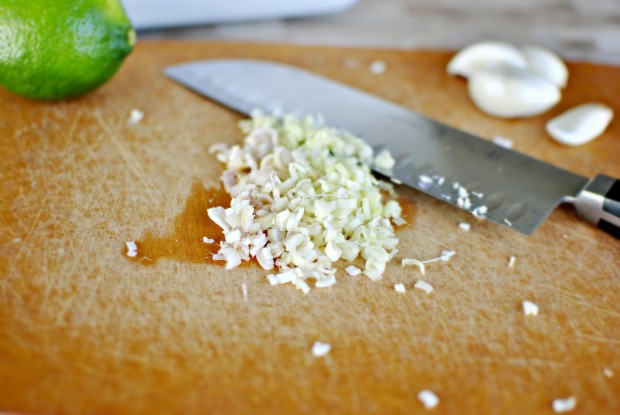 Start by finely chopping up one to two lemongrass stalks. The ones Pat picked up were only 5 inches long.
Then mince up 4 cloves of garlic.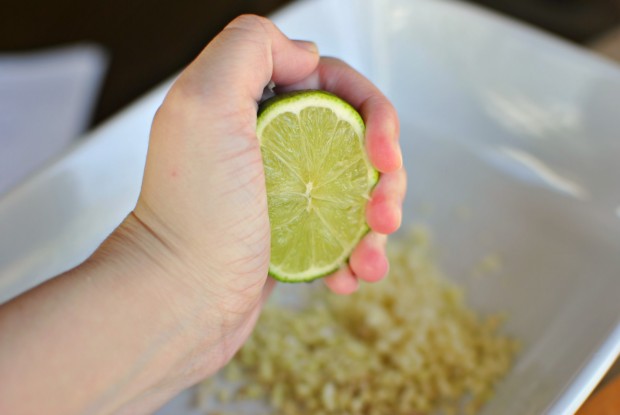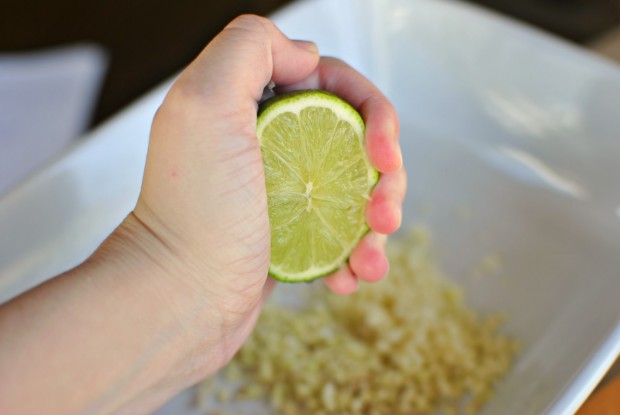 Add those to a large dish and squeeze in about a quarter cup of fresh lime juice.
Drizzle in the honey, tamari, fish sauce and, for a little kick, I add a teaspoon of chili sauce [sambal oelek].
Then pour in a couple tablespoons of coconut oil that has been heated so it's liquefied.
Lastly pour in a third cup of coconut milk.
Whisk all those goodies together until smooth.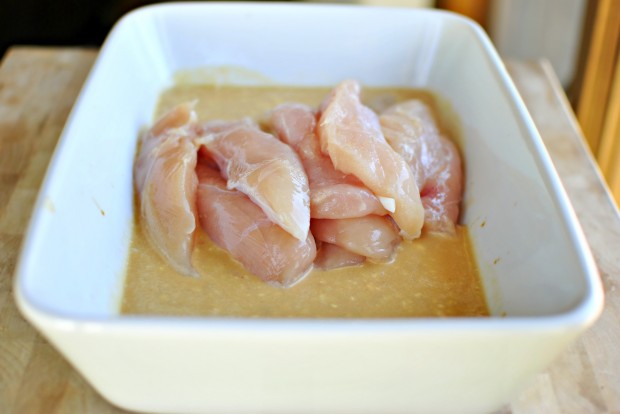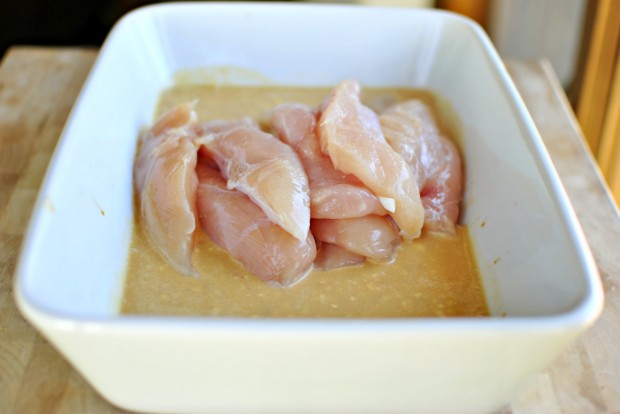 Throw in the chicken tenders. This is not quite two pounds of chicken tenders, 1.80 l-b's to be exact… which fed us four perfectly.
Toss them around to coat, cover and pop them into the fridge to marinate for 2 hours.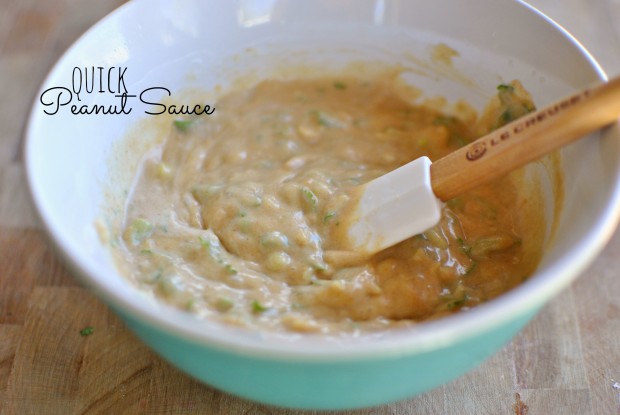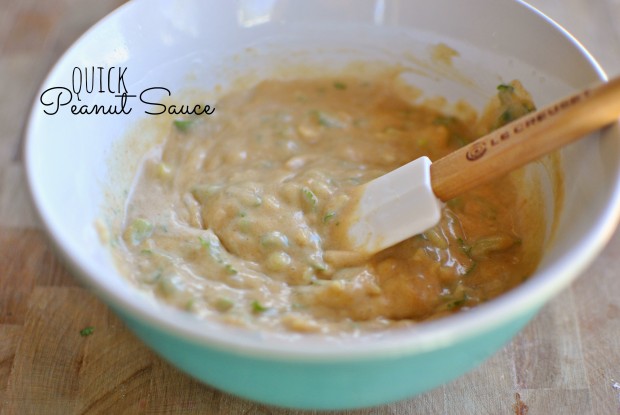 Mean while I got moving on this quick peanut sauce. It's basically; peanut butter, coconut milk, lime juice, fish sauce, garlic, green onions, cilantro and a little more of that chili paste. Issss ssssoooooo goooooood.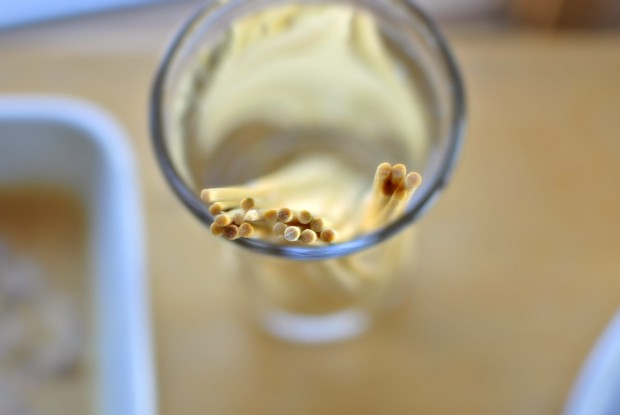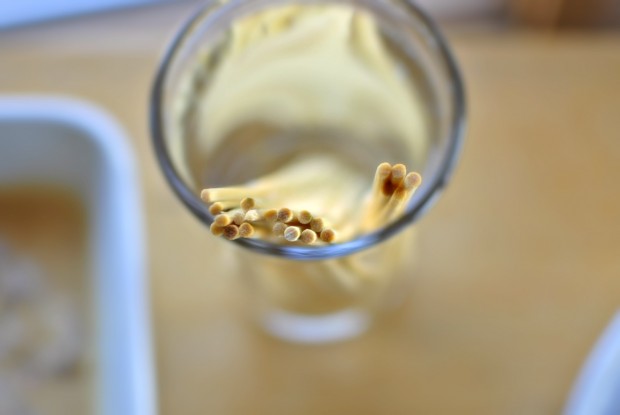 I also soaked some wooden skewers in an extra tall glass of water. This will help them from catching on fire while on the grill. They'll char a bit… but won't ignite, which is a good thing. Make sure you flip these so all of them are soaked evenly.
I also made the coconut ginger rice. My sister passed this recipe on to me and I've adapted it to feed my fam. It's most definitely my favorite rice dish! Slice up a good-size piece of ginger (about 2 to 4 inches) into 5 or 6 thick coins. Hit the ginger coins with the blunt handle of your knife to bust them up, and add to the rice cooker. I'll give you both rice cooker version and stove-top version in the printable at the bottom of the post.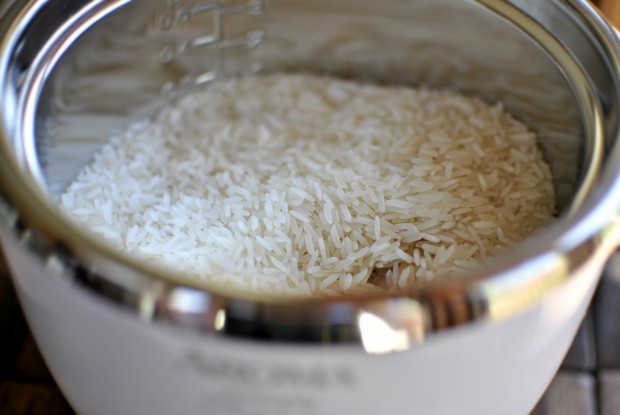 Add two cups of Jasmine rice. Jasmine is a KEY ingredient, plain white rice just won't do here I promise. Throw in a teaspoon and a half of kosher salt as well.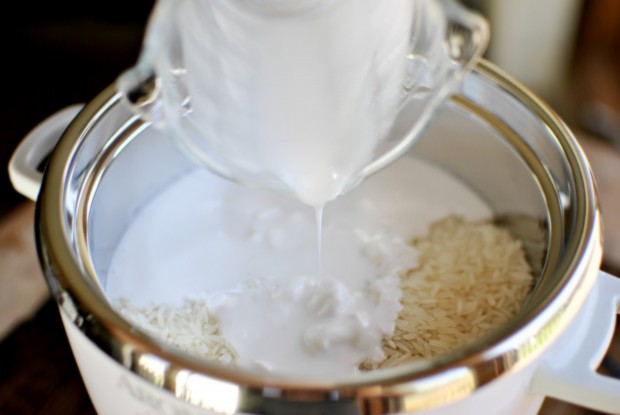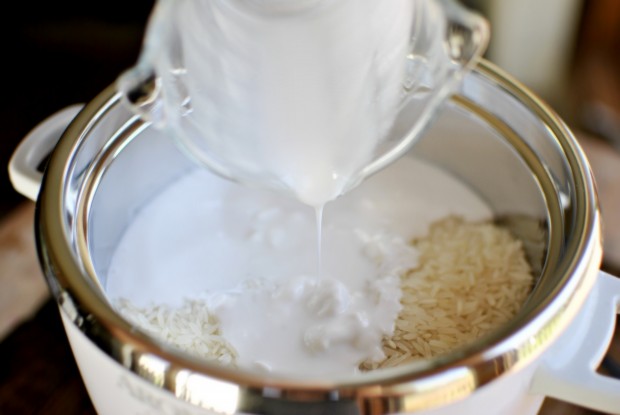 Pour in 10 ounces of coconut milk…
Then add just enough water to reach a certain line in your rice cooker. If you were making this in a pot on your stove, add enough water to the coconut milk to equal four cups total. Put the lid on a flip a switch is all I do.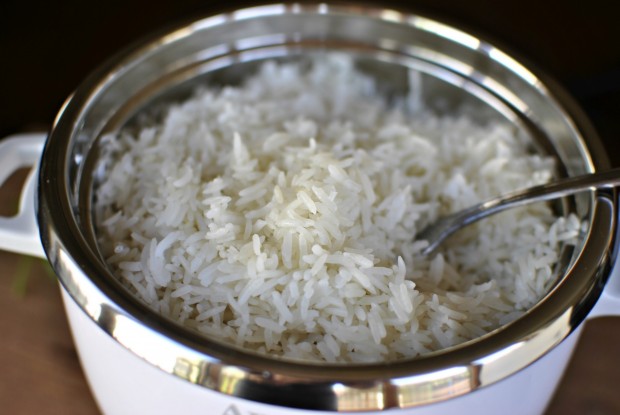 You could also toss in some cilantro for an extra punch of freshness!
NOTE: Pat likes his rice, and this make 8 cups (give or take) so feel free to cut this recipe in half if you don't want the extra rice.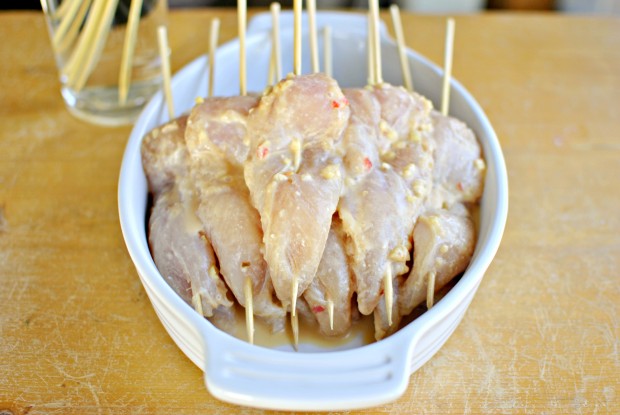 Oncethe chicken is done marinating, thread the chicken onto the skewers and preheat your grill to medium-high.
Next, grill the chicken for 4-6 minutes a side or until they have grill marks and are fully cooked.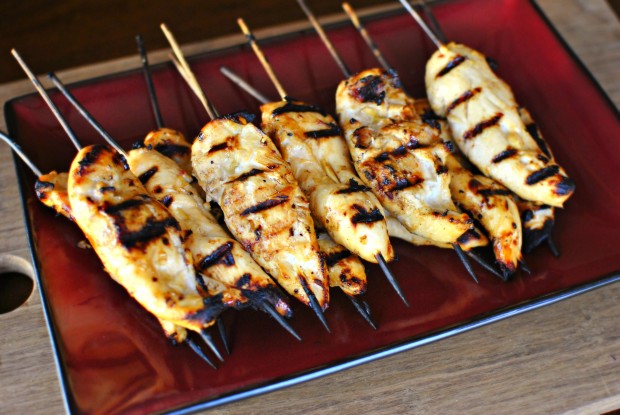 Ta-daaaa! Thai Chicken Satay!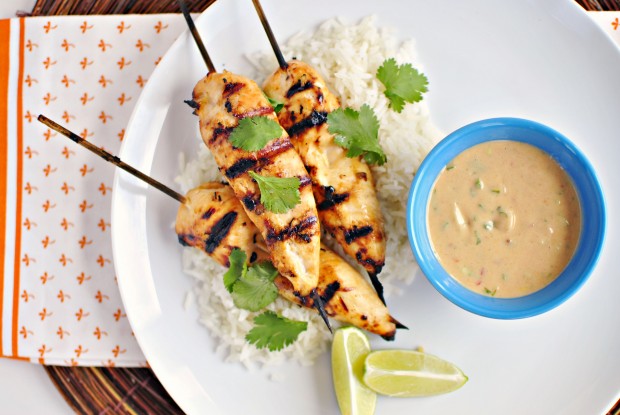 Here they are in all their glory. I like to remove the Thai Chicken Satay off of the skewers and then drizzle copious amounts of the peanut sauce over top. Can you say HEAVEN?!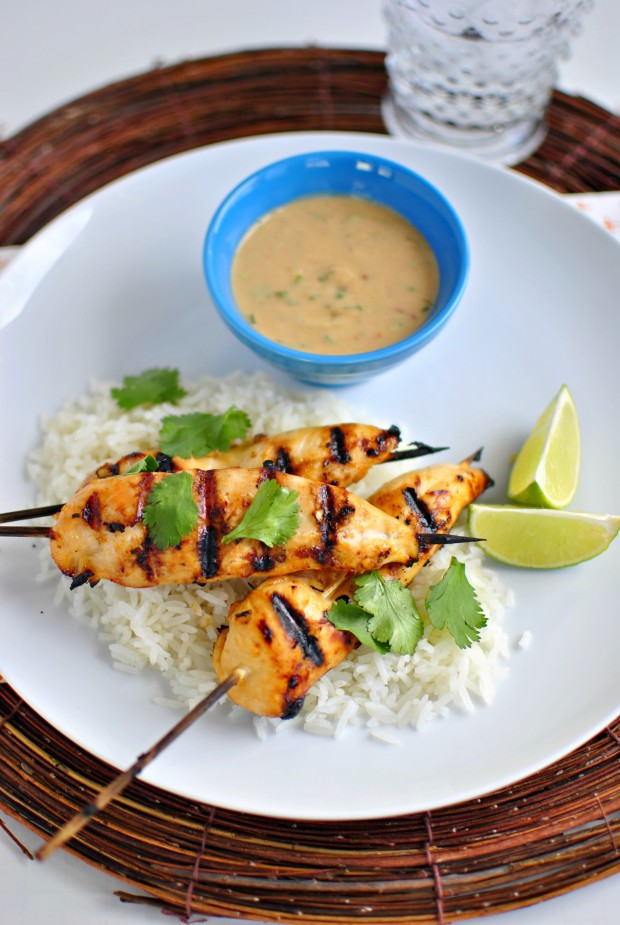 I'm so excited for the leftovers.
Enjoy! And if you give this Thai Chicken Satay recipe a try, let me know! Snap a photo and tag me on twitter or instagram!
My cookbook Simply Scratch : 120 Wholesome Homemade Recipes Made Easy is now available! CLICK HERE for details and THANK YOU in advance!
[this post contains affiliate links.]
This post may contain affiliate links.
Buy the Cookbook: Simply Scratch : 120 Wholesome Homemade Recipes Made Easy Now available on Amazon »
THANK YOU in advance for your support!