After a weekend of traveling and socializing I stayed in on Monday and made myself a pumpkin coffee cake.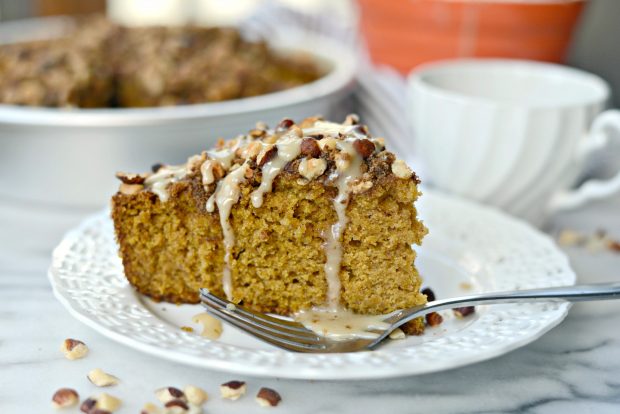 Kind of random, I know but I'm somewhat of an intro/extrovert. I love socializing and group settings but once it's over I need some recovery time.
So I bake. It's kind of like therapy, I suppose. I swear it works, at least for me. I tackled unpacking, the mountains of laundry and baked. Best. Monday. Ever.
So after rifling through my pantry I decided I would make a pumpkin coffee cake with a hazelnut (!!!) streusel and drizzled with a maple glaze. Hazelnuts because I found a bag in my fridge and thought it would totally work. Glaze because everything is better glazed.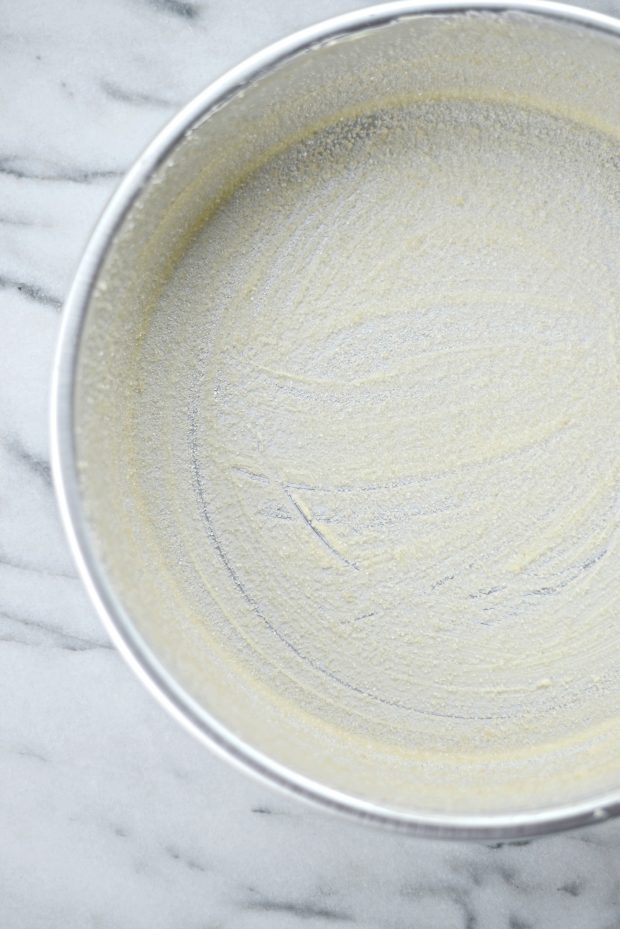 This is a riff of the roasted banana coffee cake from my book, I just swapped in pumpkin, added fall spices and mascarpone cheese. So delicious and pairs perfectly with fall and coffee. (:
First things first, I buttered and sugared a 9-inch cake pan. The sugar acts like flour would and keep the cake from sticking. BONUS it adds a sweet and crunchy exterior to the cake.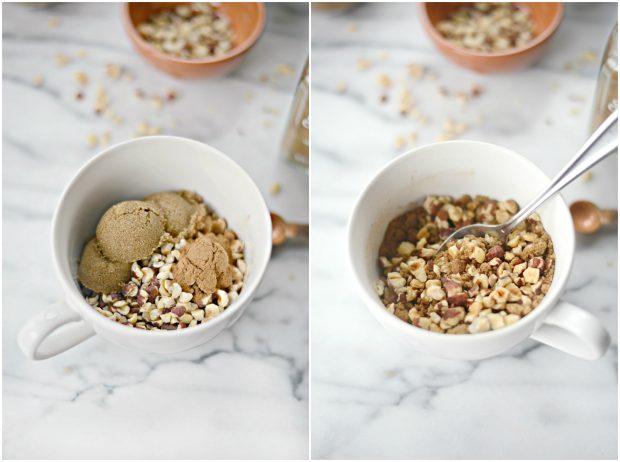 The streusel is easy! It's just chopped nuts, brown sugar and cinnamon. Mix and set to the side.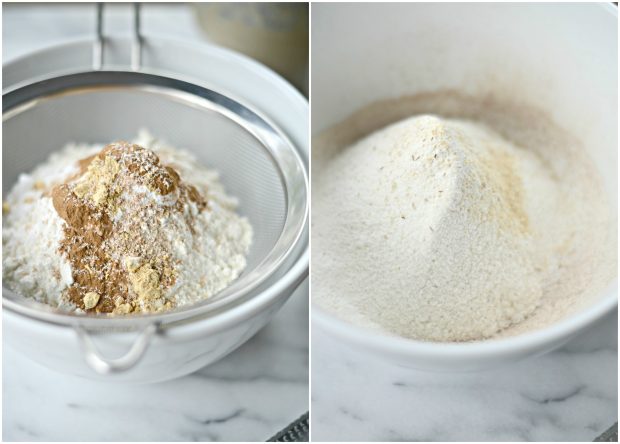 Then I sifted the flour, baking soda and powder and spices into a medium bowl. This pumpkin coffee cake is spiced with cinnamon, ginger and nutmeg– so it smells pretty darn amazing once sifted.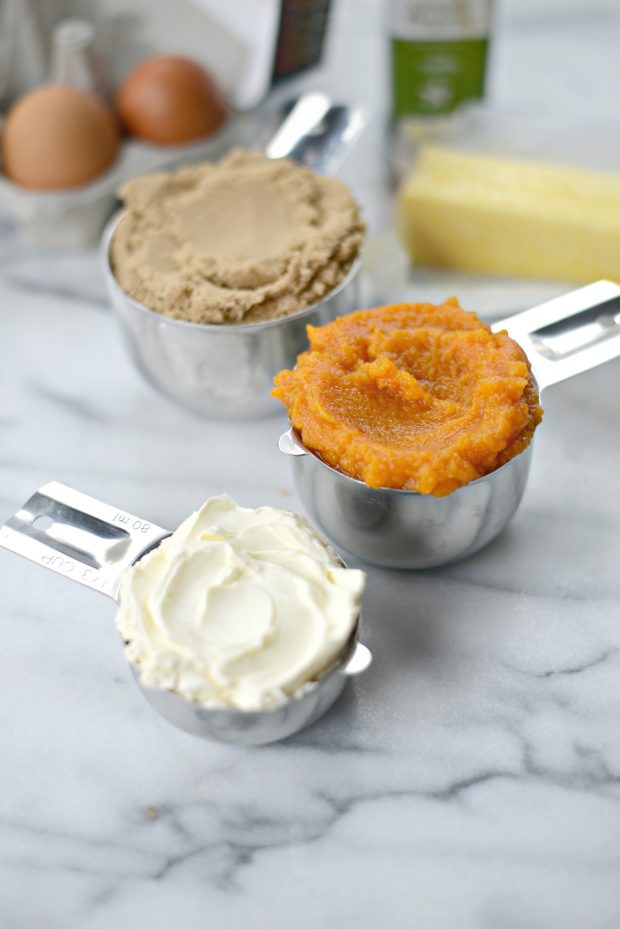 Then I creamed together the butter, sugar and mascarpone cheese in my stand mixer. Then I added one egg at a time, mixing well after each egg before adding in the pumpkin and vanilla extract.
If you don't have or can't find mascarpone then you can swap in cream cheese.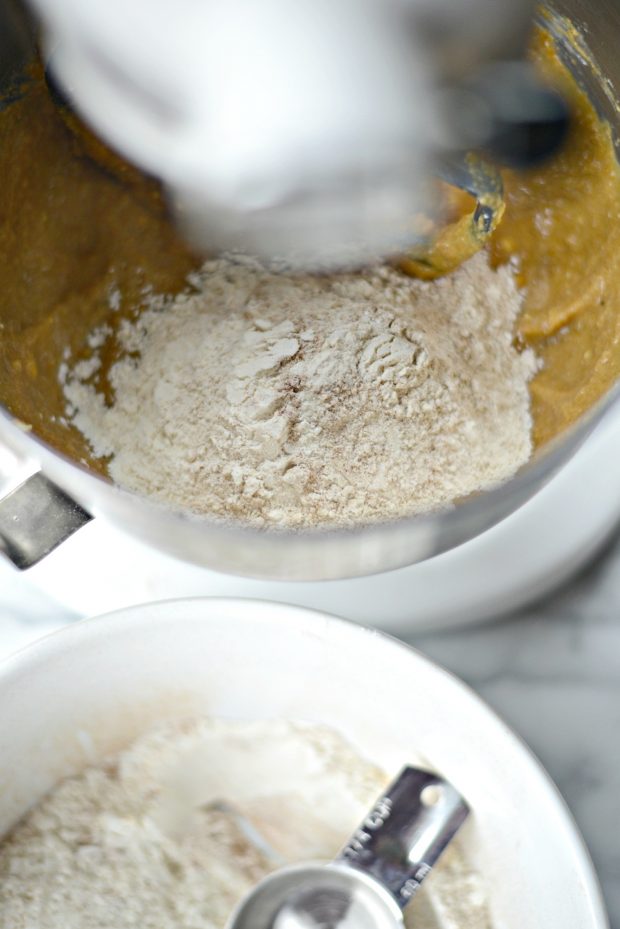 Once combined, I then added a little of the flour mixture at time. Until incorporated, being careful not to over mix.
Batter = done.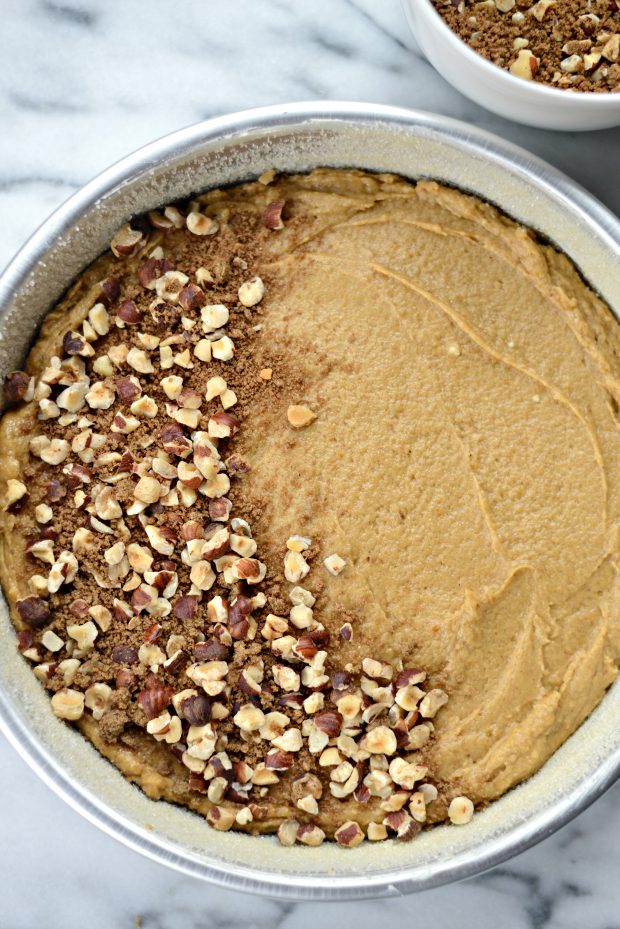 Pour the batter into the prepared pan, spread smooth with spatula. Sprinkle the hazelnut streusel mixture over top and bake on the middle rack of your oven for 40 to 45 minutes or until a toothpick comes out with only a few crumbs (not batter) attached.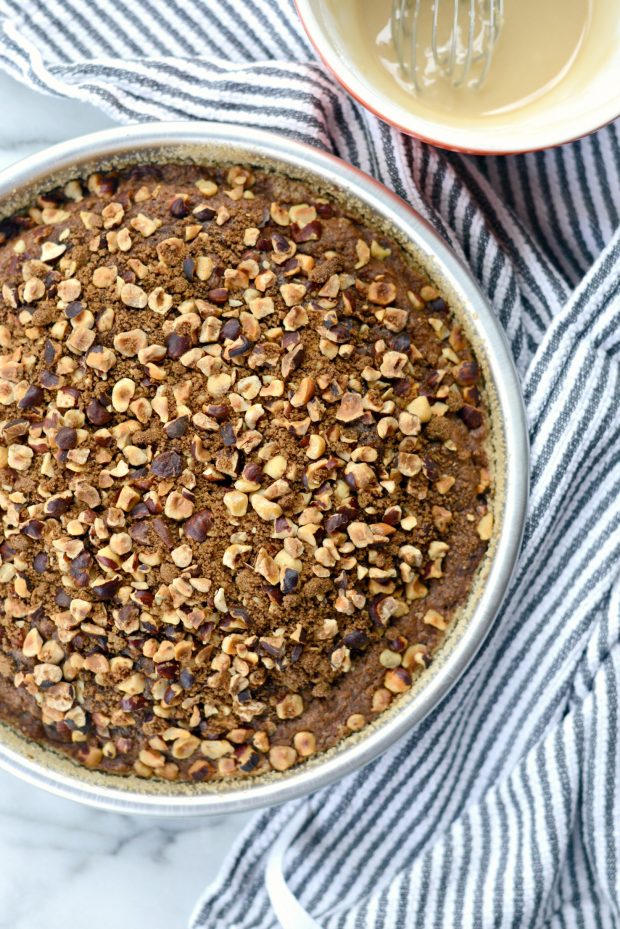 Let the cake cool a bit before slicing into it. In the meantime, whisk together the 1/2 cup of powdered sugar with 2 to 3 teaspoons of whole milk, 1 teaspoon maple syrup and 1 teaspoon vanilla.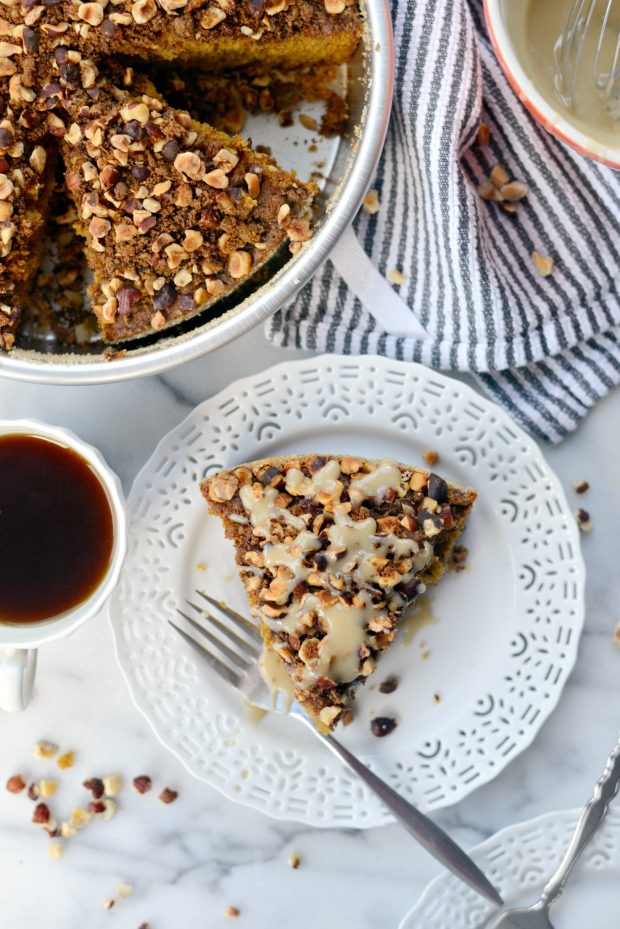 Then drizzle slices of pumpkin coffee cake with the maple glaze. Grab a fork and a steamy mug of coffee (or tea!) and get ready to fall in love.
Ps. I may or may not have purposefully poured glaze on my fork. You know, everything is better with glaze so…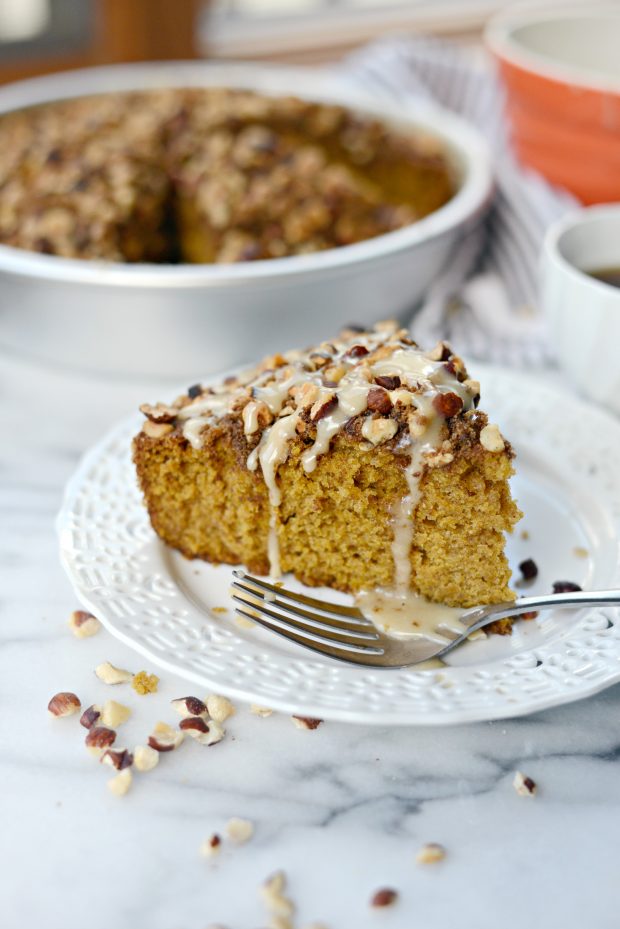 My cookbook Simply Scratch : 120 Wholesome Homemade Recipes Made Easy is now available! CLICK HERE for details and THANK YOU in advance!
Yield: about 8
Pumpkin Coffee Cake with Hazelnut Streusel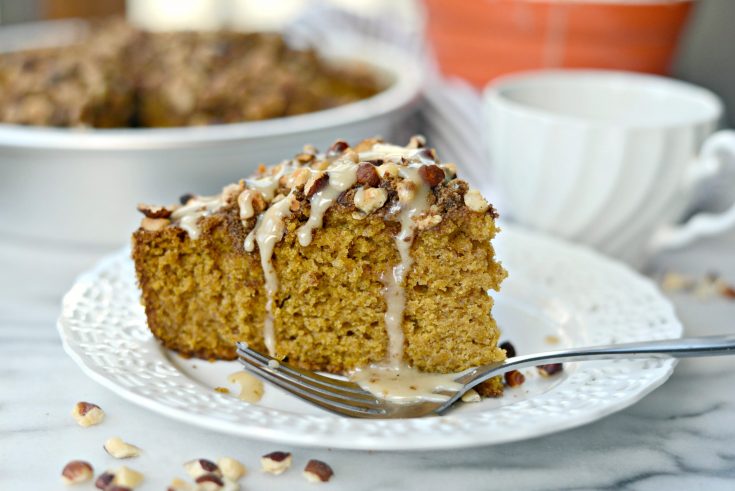 This pumpkin coffee cake is spiced with ground cinnamon, ginger and nutmeg, then topped with brown sugar hazelnut streusel and drizzle with a maple glaze.

Prep Time 20 minutes

Cook Time 45 minutes

Total Time 1 hour 5 minutes
Ingredients
1 tablespoon unsalted butter
2 tablespoons sugar
STREUSEL:
3/4 cup chopped hazelnuts
3 tablespoons dark brown sugar
1 teaspoon ground cinnamon
CAKE:
1-1/2 cups unbleached all purpose flour
1 teaspoon baking soda
1 teaspoon baking powder
2 teaspoons ground cinnamon
3/4 teaspoon ground ginger
1/4 teaspoon grated fresh nutmeg
1 stick unsalted butter (room temperature)
1/3 cup mascarpone cheese (room temperature)
1 cup light brown sugar
2 large eggs
2/3 cup pumpkin puree (not pie filling)
1 teaspoon pure vanilla extract
GLAZE:
1/2 cup powdered sugar
2 to 3 teaspoons whole milk or half and half
1 teaspoon pure maple syrup
1 teaspoon vanilla extract
Instructions
Preheat your oven to 350° and butter a 9-inch cake pan. Add the 2 tablespoons of sugar, shake to coat and set off to the side.

In a small bowl combine hazelnuts, 3 tablespoons of dark brown sugar and 1 teaspoon cinnamon, then set off to the side.

In a medium bowl sift together the flour, baking soda, baking powder, 2 teaspoons cinnamon, 3/4 teaspoon ground ginger and a 1/4 teaspoon of freshly grated nutmeg.

In the bowl of your mixer, cream together the butter, mascarpone and light brown sugar. Add in 1 egg at a time, mixing after each one. Add in the pumpkin puree and vanilla, mix until combined.

Pour cake batter into prepared cake pan and sprinkle with hazelnut mixture.

Bake on the middle rack of your oven for 40 to 45 minutes or until a cake tester comes out clean.

Cool completely before serving.

In a small bowl whisk together the powdered sugar, whole milk, maple syrup and vanilla. If too thick, add more milk. If too thin, add a little more powdered sugar.

Drizzle glaze over slices of pumpkin coffee cake.
Recommended Products
As an Amazon Associate and member of other affiliate programs, I earn from qualifying purchases.
[this post contains affiliate links.]